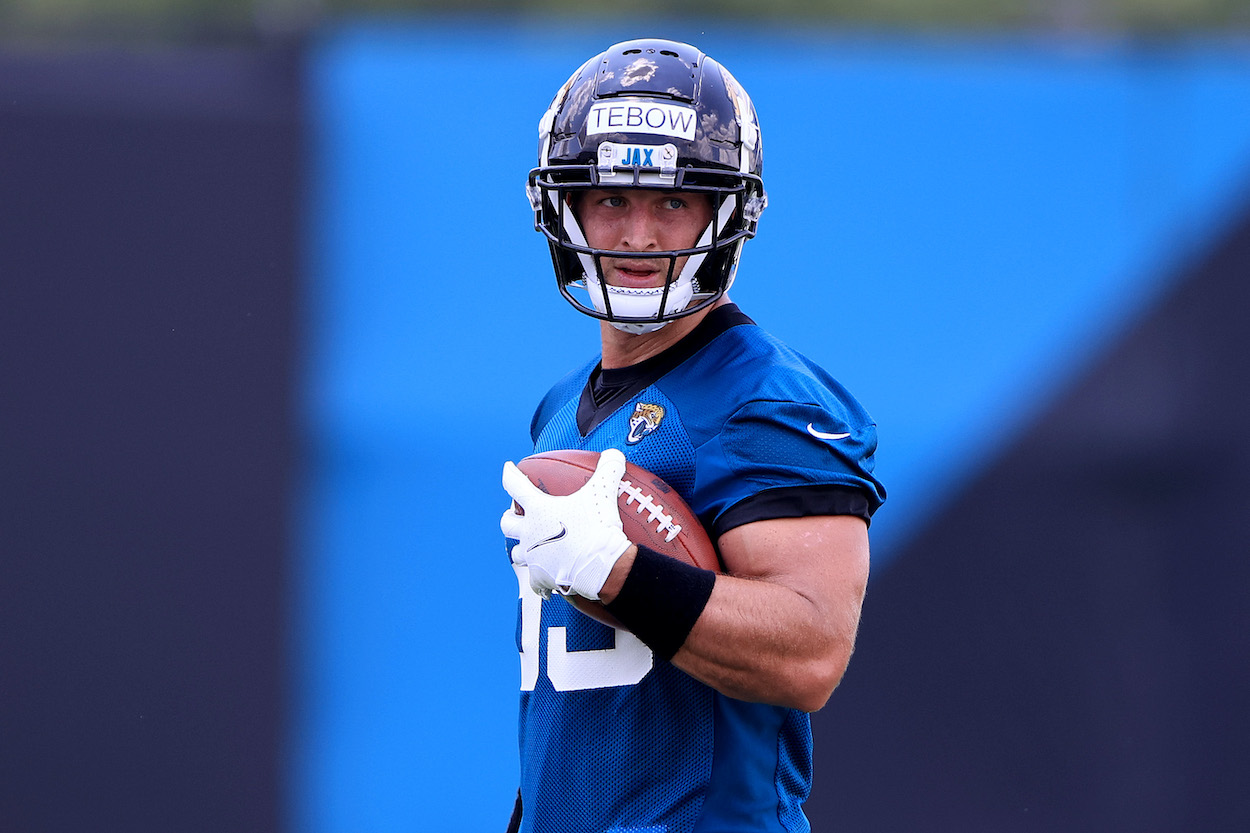 A U.S. State Gave Tim Tebow $1.2 Million to Fight Human Trafficking
Tim Tebow can seemingly do it all. He can play quarterback, tight end, baseball, and do it all while be a kind, generous guy. Another thing the new Jacksonville Jaguars pass-cather does is fight against human trafficking. To help Tebow do this, the state of Tennessee is giving his foundation a $1.2 million budget grant.
It sometimes seems like the Legend of Tim Tebow grows every day. He wins National Championships, the Heisman Trophy, NFL playoff games, and he plays baseball. Now, he might even play tight end.
Off the field, this legend might be even larger. Tebow is a devout Christian, a philanthropist involved in many causes, married to a former Miss Universe, and seemingly an all-around nice guy. He almost sounds like Superman.
The state of Tennessee sure seems to think so. They recently gave Tebow $1.2 million to fight human trafficking.
Tim Tebow is a philanthropist who supports many causes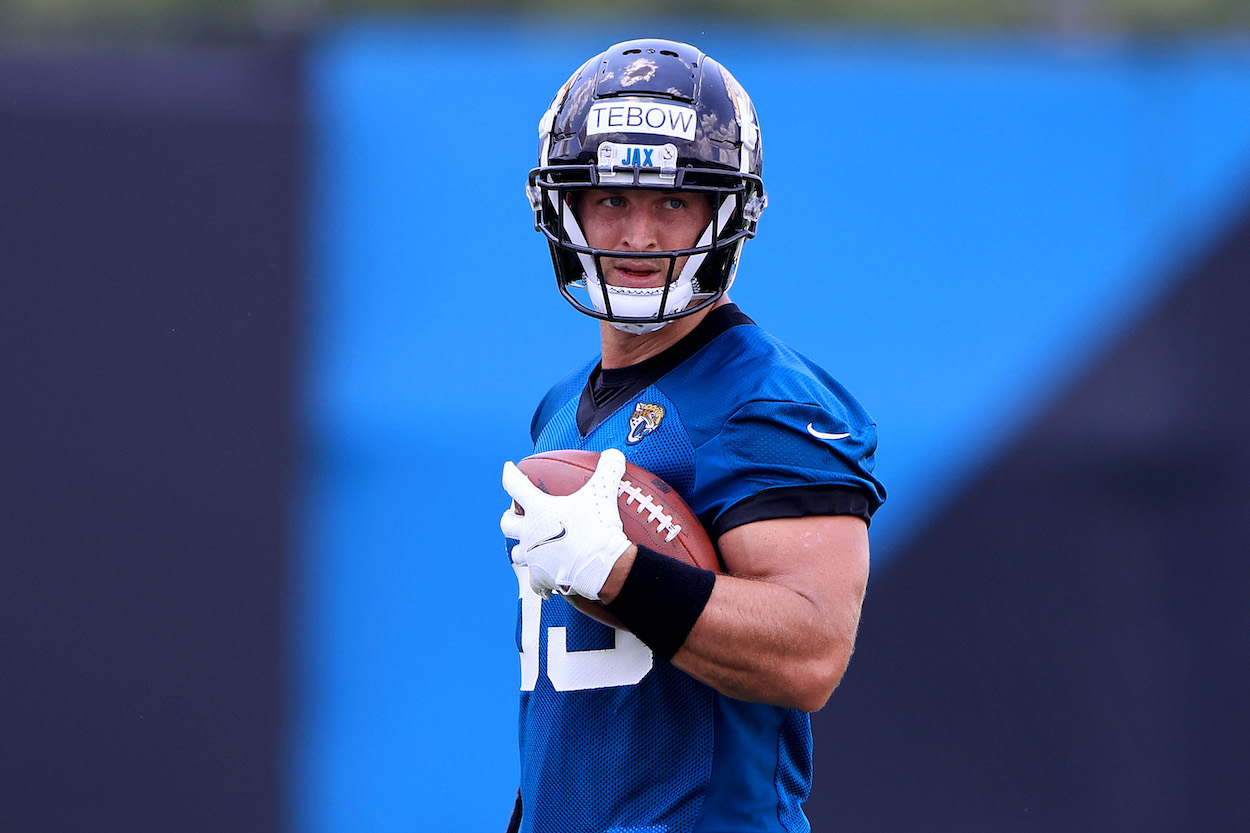 Tebow's parents were Christian missionaries in the Philippines when the former Florida Gator was born. According to the Tim Tebow Foundation website, his experiences in the remote villages of the island nation during his formative years led to his faith-based philanthropic foundation.
Over the years, many have celebrated Tebow's acts of charity and kindness. In one recent story, Tebow visited a homeless shelter in Phoenix, Arizona, to donate 50 pairs of shoes, according to Fox News. When he found that he didn't bring enough, Tebow gave away the footwear he was wearing. The former Broncos QB also took down everyone's name who didn't get new shoes and sent them a pair.
There are plenty of anecdotes like this about Tebow's kindness and generosity, but he does the bulk of his charitable work through his foundation. With this charitable venture, the Jacksonville Jaguar tight end focuses on four main pillars: special needs ministry, orphan care and prevention, children with profound special needs, and anti-human trafficking.
Tennessee gave Tebow's Foundation $1.2 million to combat human trafficking 
This last pillar caught the attention of Tennessee Gov. Bill Lee's Chief of Staff, Blake Harris. Tebow and Harris, as reported by ESPN, met at country star Luke Bryan's restaurant when crooner's wife, Caroline, introduced them. 
The introduction started several months of discussions about the state and Tebow's foundation working together. The result is a $1.2 million budget item in the 2021 Tennessee state budget to support Tebow's anti-human trafficking efforts.
At the announcement of the partnership, the former Mets minor-leaguer said of the deal, "Today is about every life that's being trafficked in the state of Tennessee, around the country and around the world.'"
Tebow is back on the football field for the first time in years
The soon-to-be 34-year-old is doing a lot off the field these days but is still making headlines on it as well. After four years in the New York Mets minor league organizations, Tebow signed with the Jacksonville Jaguars in the 2021 NFL offseason. The move reunites the now-tight end with his college coach, Urban Meyer.
Tebow hadn't played in an NFL game since 2013 when he played quarterback for the New York Jets. He threw for 39 yards on six completions in his two appearances that season. Now, Tebow has reinvented himself as a pass-catcher for Jaguars' No. 1 overall pick, QB Trevor Lawrence.
If nothing else, signing Tebow seems like a culture move by Meyer. The upstanding quarterback-turned-tight-end's locker room presence should be a good influence on Lawrence. It should also help Meyer win over his new players in his first crack at NFL head coaching.  
There is always a chance Tebow could make an impact on the field too. Jaguar-watchers are suggesting he could have a role on the team similar to Taysom Hill in New Orleans. This would mean he would play a multitude of positions, including quarterback, in different situations to keep the defense on its heels. With Tebow's skill set, this could be especially effective down by the goal line.
Will this work out and help Meyer, Lawrence, and the Jags find success, or is this just a gimmick? We'll find out once the season starts, but for now, there's only one thing we know for sure.
With Tim Tebow, anything is possible.
All stats courtesy of Pro Football Reference