Tim Tebow Had Just a Single Chance to Catch a Pass in the NFL and It Didn't Go Very Well
Tim Tebow, who's hoping to make the Jacksonville Jaguars roster as a tight end, had just one chance to catch a pass during his first run in the NFL and it didn't go well.
For those who've been living under a rock for the last few weeks, soon-to-be 34-year-old Tim Tebow is back in the NFL with the Jacksonville Jaguars. Well, at least for now.
Nearly six years removed from his last stint in the league with the Philadelphia Eagles and more than eight years removed from his last official NFL game with the New York Jets, the former Heisman Trophy-winning quarterback has finally made the move to tight end in an attempt to make the Jags roster, a move many believe could have prolonged his NFL career in the first place.
But Tebow was adamant about being an NFL quarterback and when he could no longer cut it, he was…well, cut. He dabbled in broadcasting and spent three years in the New York Mets' minor-league system but is now hoping to resume his football career catching passes from Trevor Lawrence. Whether or not he'll actually catch a pass from the Jaguars' first-ever No. 1 overall pick beyond the preseason (if even then) remains to be seen.
What we do know, however, is that Tebow never caught a pass at Florida or in the NFL. He was, however, thrown one pass while with the Jets and it did not go well at all.
Tim Tebow didn't catch a single pass at Florida or in the NFL with the Broncos and Jets
In three years playing for Urban Meyer at the University of Florida and three NFL seasons with the Denver Broncos and New York Jets, Tebow appeared in a total of 92 games, including bowl games and playoff games. In those 92 games, he completed 853 of 1,403 passes (60.8%) for 12,159 yards with 107 touchdown passes against just 25 interceptions, also adding 3,999 yards on 904 rushes (4.42 yards per carry) and 70 scores on the ground.
But in those same 92 games, Tebow never recorded a single reception. One would think he may have gotten one on some trick play under Meyer with the Gators or when he was used in the wildcat formation in the NFL but that's not the case. However, he was targeted once while with the Jets and it didn't turn out very well at all.
Tebow was thrown one pass in the NFL and it hit him in the head
On September 23, 2012, Tebow and the Jets visited Miami for an early-season AFC East showdown with the Dolphins. After two seasons with the Broncos, Tebow had been traded a few months earlier when Denver brought Peyton Manning to town and was adjusting to his new role with his new team as Mark Sanchez was the starting quarterback.
With about six and half minutes remaining in the third quarter with the game tied at 10-10, the Jets lined up for a 3rd & 3 on their own 27-yard line. Tebow began the play on the right side approximately three yards behind the line of scrimmage but went in motion as Sanchez made his snap count. Tebow paused briefly just before the snap, proceeded to roll out to the left but apparently had no idea the ball was going to be thrown as quickly as it was because when he turned his head, the ball was already right in his face and smacked off the top of his helmet before going out of bounds. As the NFL is a little strict on posting highlights, we don't have the official footage but if you'd like to check out the play, you can do so here.
Luckily for the Jets, they secured a 23-20 win in overtime but Tebow didn't get one more ball thrown his way the rest of the year and was released the following April.
He'll have his work cut out for him to make the Jaguars' 53-man roster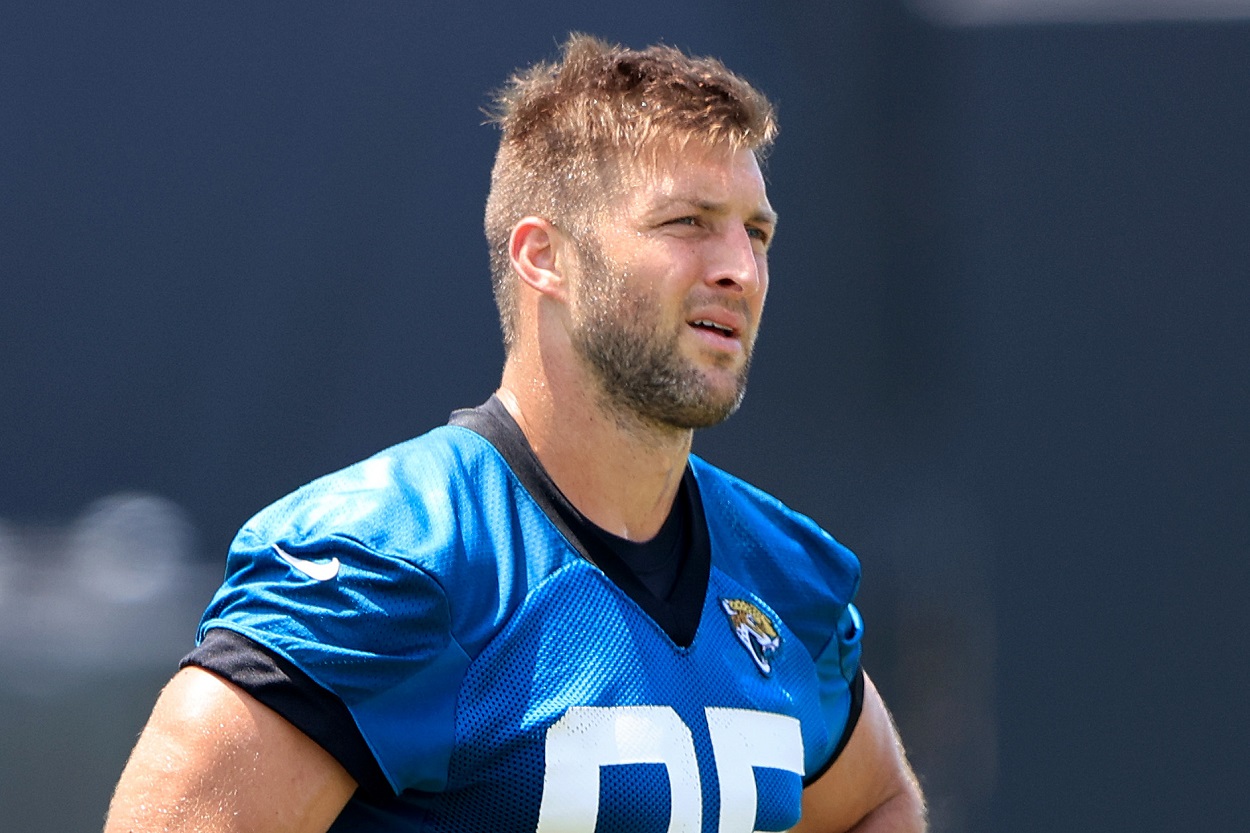 When it was announced Tebow would be signing with the Jaguars, there was plenty of backlash as it's unheard of for a guy in his mid-30s to receive a contract offer after a six-year absence to play a position he never has before. Some didn't seem to like that he got another shot at the NFL while Colin Kaepernick remains unemployed (at least in football), which makes sense. Some believe he only got the shot with the Jags because Meyer is the coach and that obviously makes a ton of sense as well.
But he's only signed to a minimum contract with no guarantees and the chances of him actually making the 53-man roster are pretty slim. He'll get the chance to prove himself in camp and preseason games and such but it's a long shot that Tebow will be wearing a Jacksonville uniform come Week 1. Unless it's a practice squad uniform and maybe he won't want to do that. So we'll just have to wait and see how all of this plays out.
Stats courtesy of Sports Reference