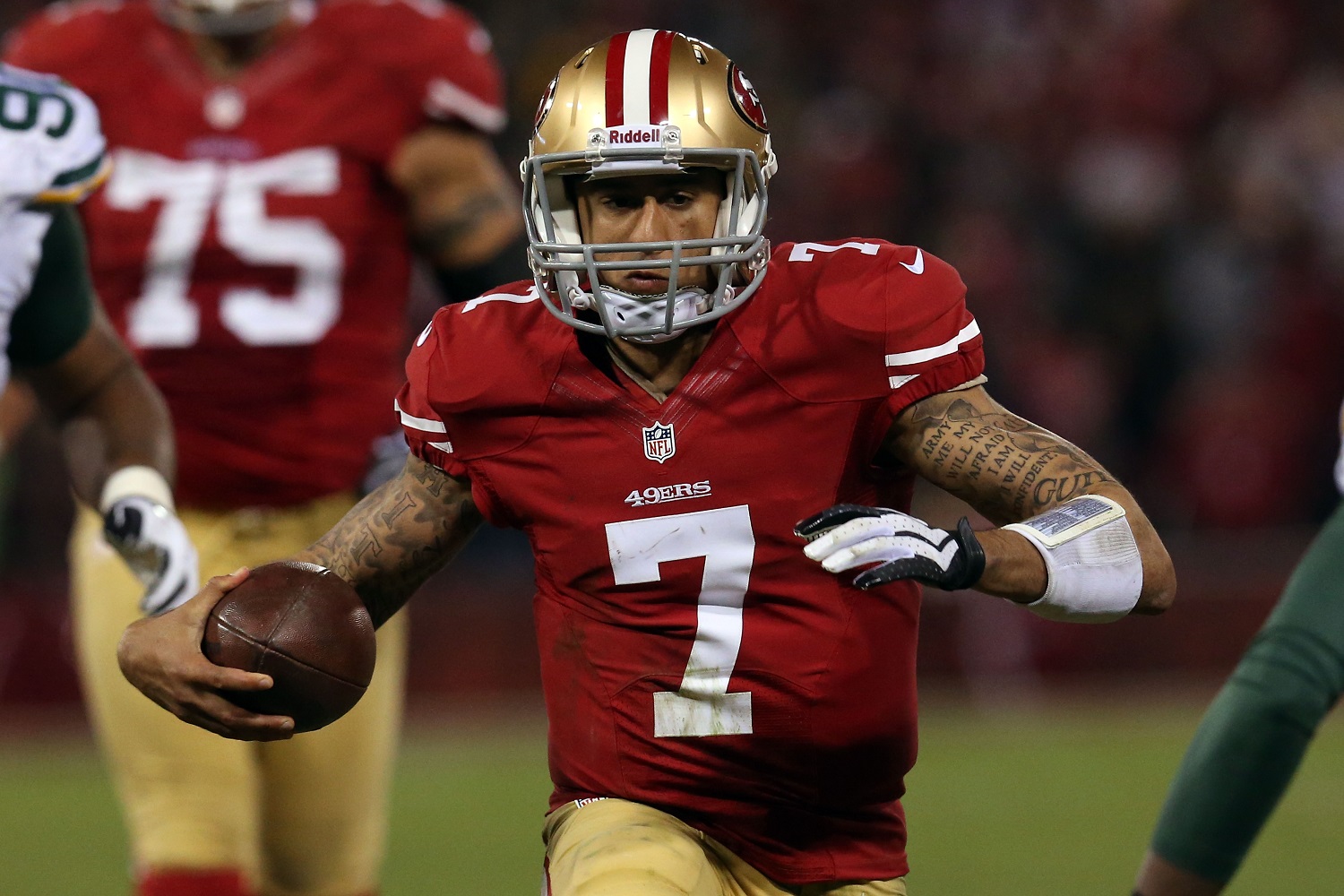 Colin Kaepernick Holds an NFL Playoff Record That's Going To Be Very Difficult to Break
Former San Francisco 49ers quarterback Colin Kaepernick set an impressive record against the Green Bay Packers in 2013 that's not likely to fall soon.
Colin Kaepernick may not be in the NFL anymore but the former San Francisco 49ers quarterback still holds an impressive NFL playoff record and at least that can't be taken away from him like his career was. Actually, the record we're speaking of pertains to the regular season as well, which makes it all the more impressive. Of course, we're talking about Kaepernick's incredible 181-yard rushing performance against the Green Bay Packers in 2013, which stands as the greatest performance on the ground by a quarterback in NFL history.
Colin Kaepernick is the only player in college football history with 10,000 passing yards and 4,000 rushing yards
While not heavily recruited out of high school for football as most schools (and the Chicago Cubs) wanted him for his baseball skills, Colin Kaepernick was determined to make it as a football player and took a scholarship offer to the University of Nevada, the only school that wanted him for his sport of choice.
Initially the backup quarterback for the Wolfpack as a freshman in 2007, Kaepernick became the starter about midway through the season and proved to be quite the dual threat as a passer and runner, throwing for 2,175 yards and 19 touchdowns and rushing for an additional 593 yards and six scores.
As the full-time starter as a sophomore, Kaepernick proved what kind of crazy numbers he could put up in a full season by passing for 2,849 yards with 22 touchdowns while rushing for 1,130 yards and an additional 17 touchdowns, which earned him WAC Offensive Player of the Year honors, which he would also win in 2010 as a senior.
In four years at Nevada, Colin Kaepernick threw for 10,098 yards with 82 touchdown passes and ran for 4,112 yards and another 59 scores. To this very day, he remains the only player in college football history to throw for 10,000 yards and rush for 4,000 yards.
He rushed for 2,800 yards with the San Francisco 49ers
Colin Kaepernick continued to use his legs to his advantage when he was drafted into the NFL by the San Francisco 49ers. He only appeared in three games as a rookie in 2011 but when he took over as the Niners' starting quarterback midway through the 2012 season, he was able to showcase his running abilities to a much bigger audience than he'd had at Nevada.
Kaepernick was consistently one of the league leaders at his position as it pertained to rushing yards, at least when he was healthy, and he ended his six-year career with 2,300 regular-season rushing yards and an additional 507 yards in the postseason with 181 of those yards coming on one special day against the Green Bay Packers.
Colin Kaepernick ran for 181 yards in a playoff game, which is both a regular season and NFL playoff record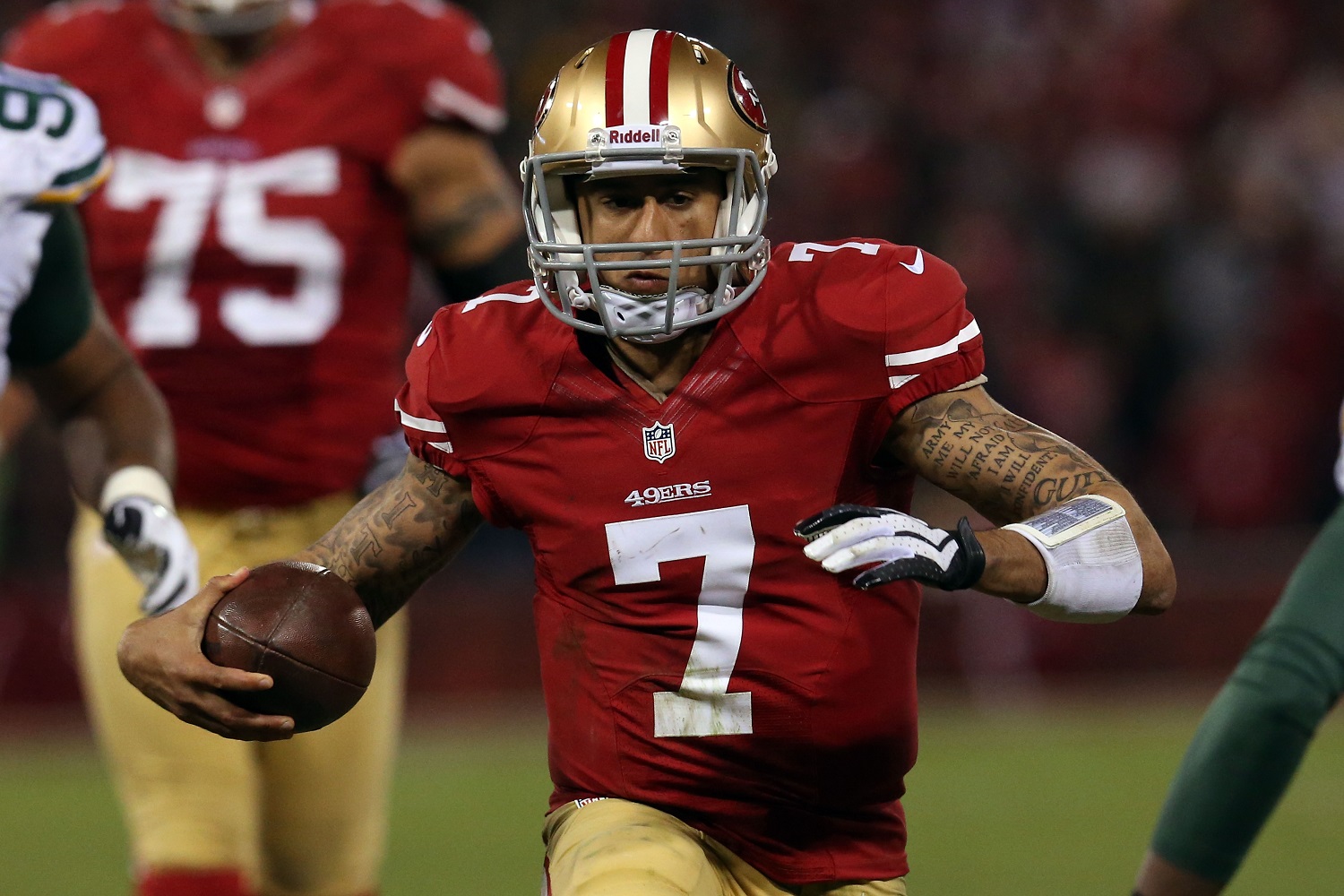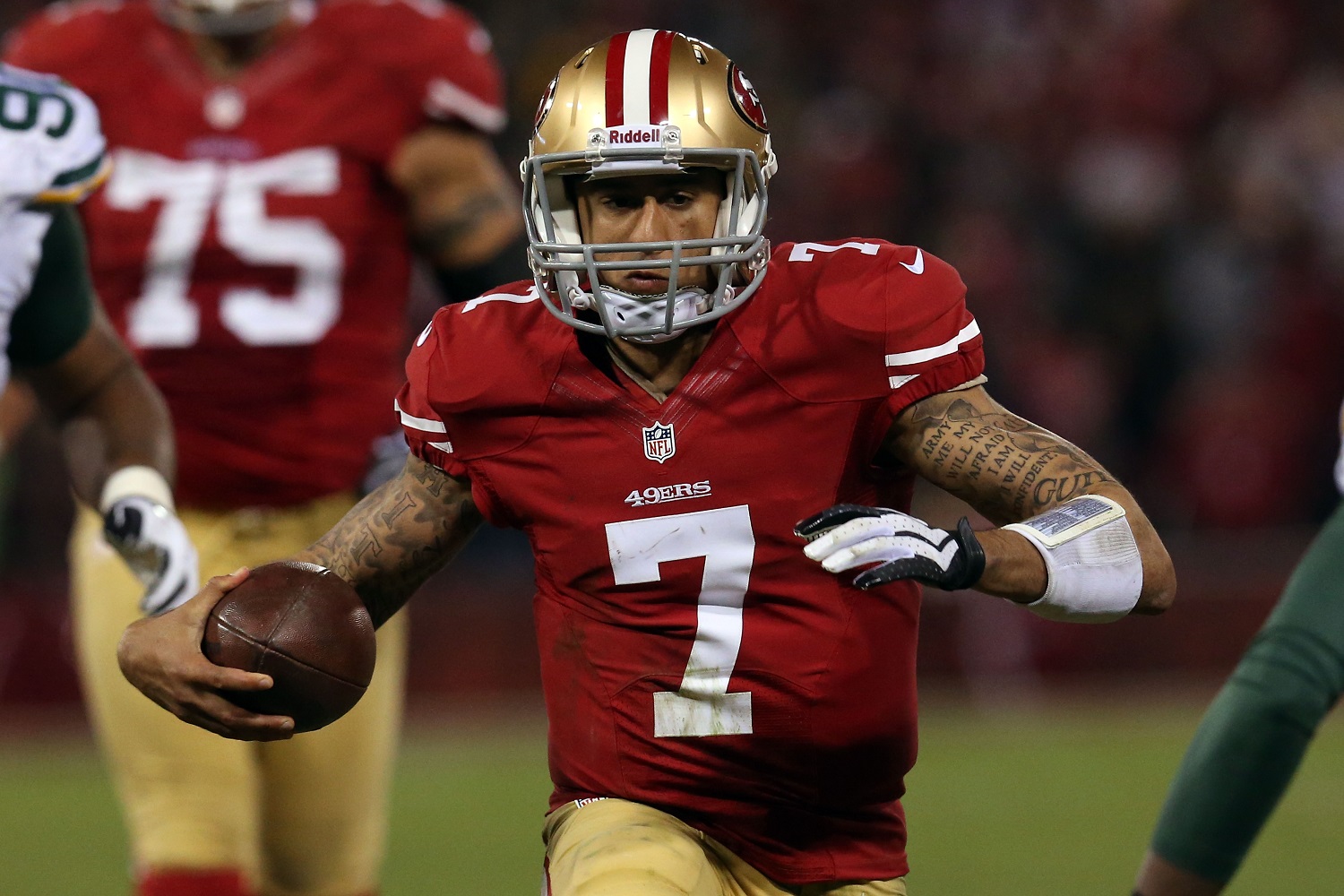 On January 12, 2013, in his very first postseason start, Colin Kaepernick rushed for 181 yards and two touchdowns on just 16 carries (including two kneel-downs) in the second-seeded San Francisco 49ers' 45-31 win over the Green Bay Packers in the divisional round, setting a new NFL record for rushing yards by a quarterback in any game, regular season or postseason.
Michael Vick had previously held the record with a 173-yard performance in a regular-season overtime win against the Minnesota Vikings in 2002. It should be noted that 46 of those yards came in the extra frame on his game-winning touchdown run. Vick also previously held the NFL playoff record for single-game rushing yards by a quarterback with a 119-yard performance against the St. Louis Rams in 2005.
In addition to breaking both of Michael Vick's records that day, Colin Kaepernick, who also threw for 263 yards and two touchdowns in that win over the Packers, became just the third quarterback in history to throw for two touchdowns and run for two touchdowns in an NFL playoff game. Only Jay Cutler and Otto Graham, who did it twice, had accomplished such a feat until that point.
Given the number of fantastic running quarterbacks in the NFL these days, it's certainly possible that Colin Kaepernick's record could fall at some point but it's going to be extremely difficult.
Stats courtesy of Sports Reference