Why Jerry Jones Will Never Bring Colin Kaepernick To the Dallas Cowboys
From the moment Dallas Cowboys quarterback Dak Prescott went down with that gruesome ankle injury in Week 5 against the New York Giants, fans have been calling on Jerry Jones to bring in former San Francisco 49ers signal-caller and political activist Colin Kaepernick.
The calls got even louder when backup Andy Dalton suffered a concussion in Week 7 after taking a vicious hit to the head at the hands of Washington Football Team linebacker Jon Bostic, leaving rookie Ben DiNucci to take the first-team snaps.
Look, it would be great if Jerry Jones and the Dallas Cowboys would be the ones to bring Colin Kaepernick back to the NFL. And the fact is that the Cowboys could truly use a quarterback like him right now. But let's get real here. It's never going to happen.
Colin Kaepernick hasn't played in the NFL in nearly four years
The last time Colin Kaepernick took a snap in the NFL was on January 1, 2017. The San Francisco 49ers were finishing up a highly disappointing season and closed out their campaign against Seattle, a game the Seahawks won by two, 25-23. Kaepernick completed 17 of 22 passes that day for 215 yards with a touchdown and had a 122.3 passer rating, his highest of the season. With the 49ers planning to release him during the 2017 offseason, Kaepernick opted out of his contract and became a free agent. And we all know what happened with that.
Throughout the 2016 season, Colin Kaepernick refused to stand for the national anthem in protest of police brutality and social injustice. Then just 29 years old and clearly still a very capable NFL quarterback, Kaepernick went unsigned through the entire offseason, although a couple of teams said they thought about signing him but nothing ever came of it.
Kaepernick then filed a grievance against the league as he felt he was being blackballed and judged for his political acts and not his performance on the field. This grievance was settled in 2019 for an undisclosed amount.
Kap would be a great fit with the Dallas Cowboys
So how would Colin Kaepernick fit in with the Dallas Cowboys? It's actually a perfect match.
Andy Dalton is a very solid quarterback. But given the state of the Cowboys' offensive line, Dallas needs a quarterback that can get out of the pocket and make things happen and Colin Kaepernick fits that bill. Sure, he's older now but he's still in his early 30s (his 33rd birthday is on Election Day) and he's still clearly in great shape. In the years he's been gone from the NFL, he's continued to work out with the hope that someone would take a chance on him.
And just look at the weapons he'd have. The Cowboys have a phenomenal receiving core with Amari Cooper, Michael Gallup, and CeeDee Lamb and Kaepernick has proven that he can perform well when he has weapons. Ezekiel Elliott has had some trouble holding onto the ball this season but is always a threat and, as mentioned, Kaepernick would be a perfect quarterback in Dallas right now as the offensive line has suffered a number of big injuries. Even now, Colin Kaepernick would likely be one of the best running quarterbacks in the NFL.
Nobody quite knows how much money Colin Kaepernick would be looking for but it's really a moot point anyway as Jerry Jones would never bring him in.
Jerry Jones would never bring Colin Kaepernick to the Dallas Cowboys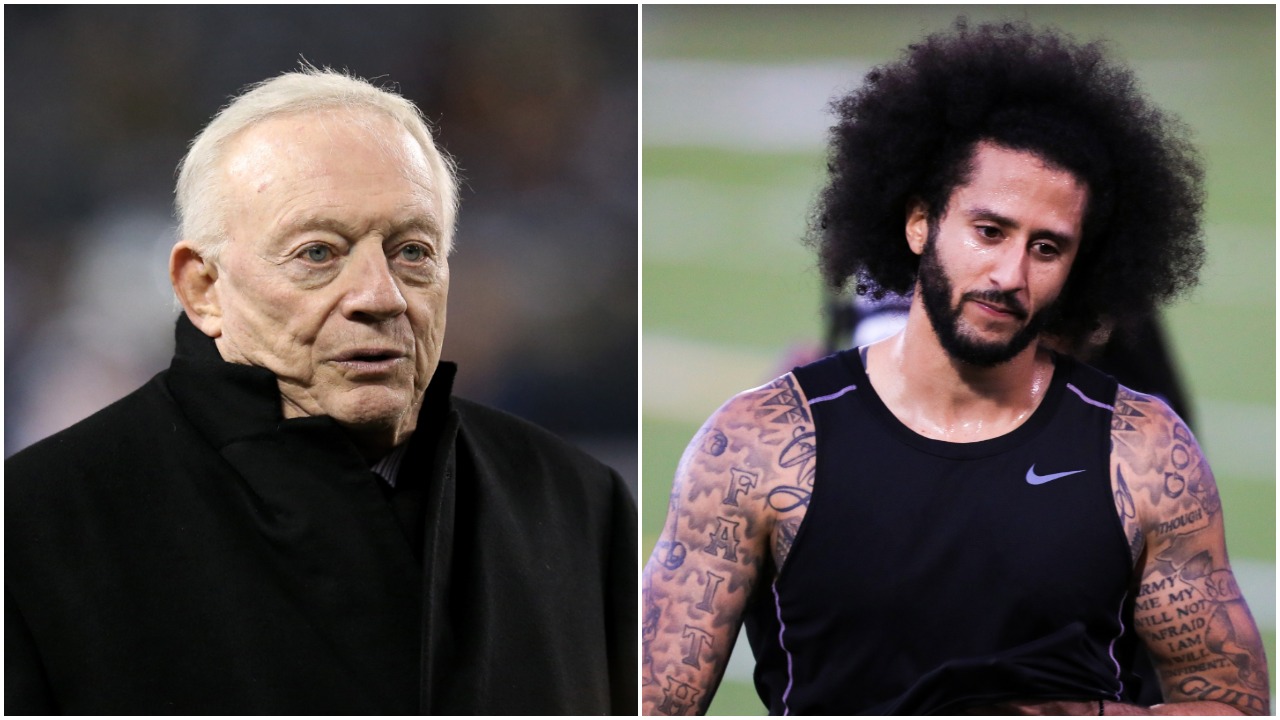 As much fun as this is to talk about, talk is all it's ever going to be. There is absolutely no way that Jerry Jones will ever bring Colin Kaepernick to the Dallas Cowboys.
For starters, Jones, similar to seemingly every other NFL owner and/or general manager, likely wouldn't want the media circus that would surround a Kaepernick return. Just last year, Jones called Kaepernick's public workout a "circus" and that's exactly what it would be if Kap signed in Big D.
There's also the matter of Jones' strict national anthem policy. He did seem to loosen it a little bit heading into the 2020 season but it's likely that he still wouldn't be into what Kap would probably be looking to do.
Oh, there's also the fact that Jerry Jones was one of the first owners deposed in Colin Kaepernick's lawsuit, which was actually a result of the aforementioned policy. There's no way that Jones has forgotten about that and there's likely still some hard feelings there.
Does Colin Kaepernick belong in the NFL? Absolutely. But will Jerry Jones and the Dallas Cowboys be the ones to give him another chance? Absolutely not.
All stats courtesy of Pro Football Reference