Travis Etienne and Najee Harris Can Change the Stigma of Drafting 1st Round Running Backs
There are certain rules in today's game that good football teams live by.
NFL teams are supposed to go for it on fourth and short, eschew field goals for seven points, pass on running downs, and never draft a running back in the first round.
That said, rules are made to be broken, and in the 2021 NFL draft, two teams broke that last rule. The Pittsburgh Steelers selected Alabama running back Najee Harris at No. 24, and with the very next pick, the Jacksonville Jaguars picked Clemson's leading rusher, Travis Etienne.
Are these bad picks that broke the cardinal rule, or do these two "running backs" have the skill sets to make this tenet obsolete?
Travis Etienne and Najee Harris were stars at Clemson and Alabama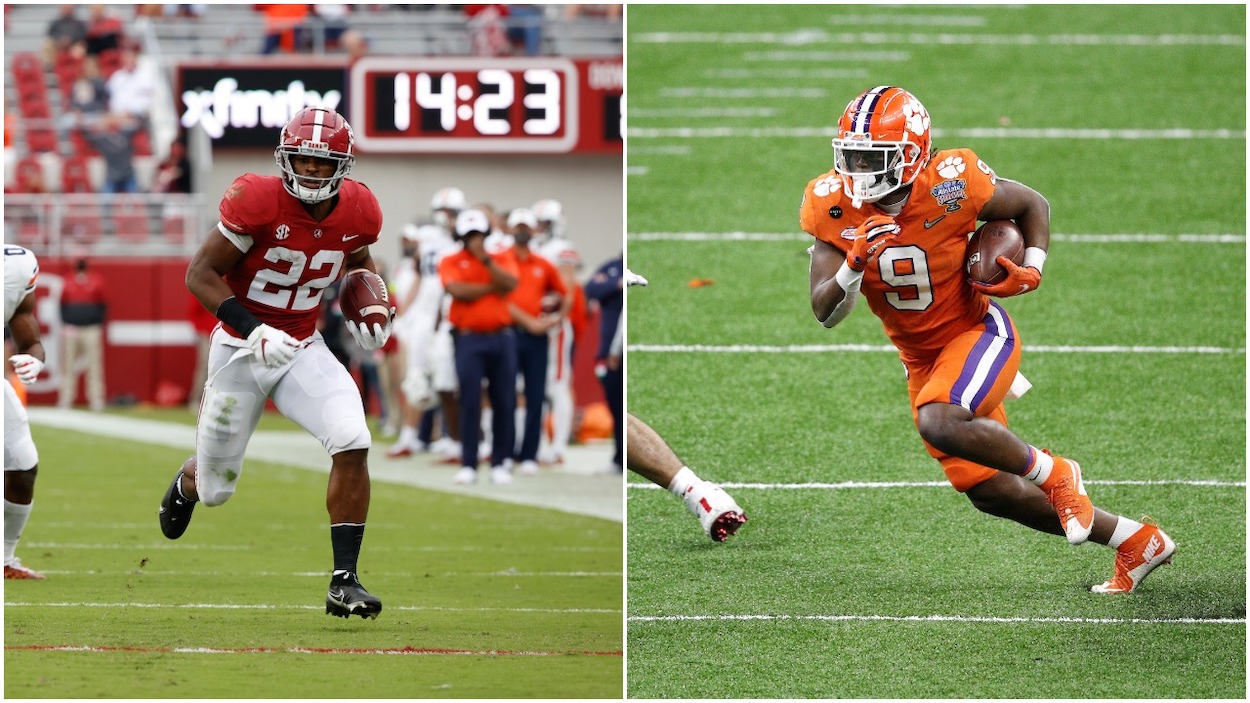 Harris and Etienne were far and away the best running backs available in the 2021 draft. These two both have the size, speed, and skill that NFL scouts look for in running back prospects, and they also have the college production to match.
Harris is a big, bruising back in the mold of another former Crimson Tide runner, Derrick Henry. At 6'1" 232 lbs., he racked up 3,843 yards and 46 touchdowns on the ground in his four years at Alabama. Even in talented, crowded backfields under Nick Saban, Harris stood out.
Etienne opted to stay in school for his senior season despite already cementing his first-round status. This fourth year just added to his already impressive resume that includes 4,592 yards rushing and 70 rushing touchdowns.
Whether or not you believe drafting a running back in the first round makes sense, with this type of college production, there was no question these two would be in the top 32 picks.
Both running backs add value as receivers in the NFL
Harris was a promising but underutilized receiver in college. His 781 career yards and 11 touchdowns on 80 catches are fine but nothing special. In fairness, when you play with receivers from Calvin Ridley to Jerry Jeudy to DeVonta Smith, it shouldn't be a surprise that you're not the number one target.
The running back has reportedly been putting in a lot of work catching the ball at Steelers minicamp. When asked about his receiving, Harris confidently told ESPN:
I've always been catching the ball, man. I always do that, always do that. Not to brag or nothing. What the heck. It wasn't luck, I'll tell you that. I'll do it again for you. It's not something I work on. I've been doing it since, like, middle school. I've got big hands, man.
Etienne is also a natural when it comes to catching the ball, and his stats back it up. The dual-threat running back caught 102 balls for 1,155 yards and eight touchdowns at Clemson. His senior year, he averaged 12.5 yards per reception.
At Jaguars minicamp, Etienne is working out exclusively at wide receiver to improve his positional flexibility and value. When asked about this move, first-year head coach Urban Meyer told Jaguars.com:  
We thought at the worst-case scenario you have a running back with the skillset of a wide receiver and best-case scenario you have a hybrid player that can do both, and that's what we're hoping to develop with Travis.
Running backs catching the ball is nothing new but changing a running back into a hybrid player is a novel idea and one that could save their value.
Positional flexibility is the key to running backs regaining their value
Over the last 20 years, the NFL turned into a passing league. A player who you hand the ball to 25-times per game for three yards and a cloud of dust just doesn't have the value they once did. Not to mention these types of players take more physical pounding than almost anyone else on the field, which shortens their careers dramatically.
There have been 50 running backs picked in the first round since 2000, as opposed to 89 from 1980-1999. This stat, coupled with running backs' diminishing free-agent value, shows precisely what most of the NFL thinks of the position in 2021.
Harris and Etienne can change this if they can prove that they are not just "running backs" but actually versatile offensive weapons that give coaches and coordinators more scheme flexibility. Current running backs like Carolina's Christian McCaffrey and New Orleans' Alvin Kamara are already showing what creative play-callers can do with hybrid players.
If Harris and Etienne can continue this trend, an influx of future NFL running backs who get big first-round contracts might owe them a debt of gratitude.
All stats courtesy of Sports Reference