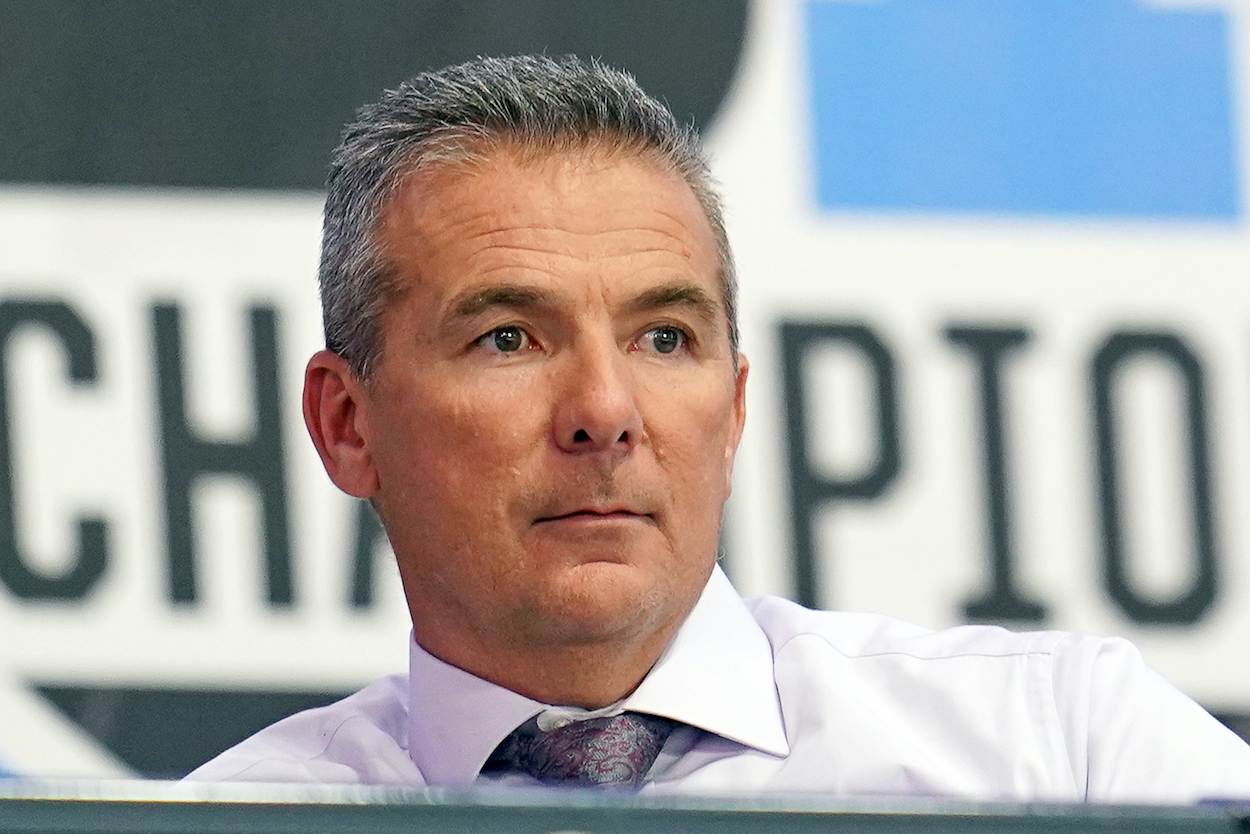 The Jacksonville Jaguars Stole the Crowned Jewel of the NFL Draft, but Urban Meyer Suffered His First NFL Heartbreak in the Process
Urban Meyer hasn't even been an NFL coach for four months, and he already suffered a major heartbreak courtesy of the New York Giants.
Urban Meyer couldn't have asked for a better start to his tenure with the Jacksonville Jaguars. The first-time NFL head coach stole the crowned jewel of the 2021 NFL draft by taking Trevor Lawrence with the No. 1 overall pick. Then, just a few hours later, Meyer brought aboard Lawrence's college teammate, Travis Etienne, to join him in Jacksonville's star-studded backfield.
Although the first round of the draft was a major victory for the Jaguars, Meyer still suffered a broken heart last Thursday night at the hands of the New York Giants.
Urban Meyer had an exceptional first NFL draft with the Jaguars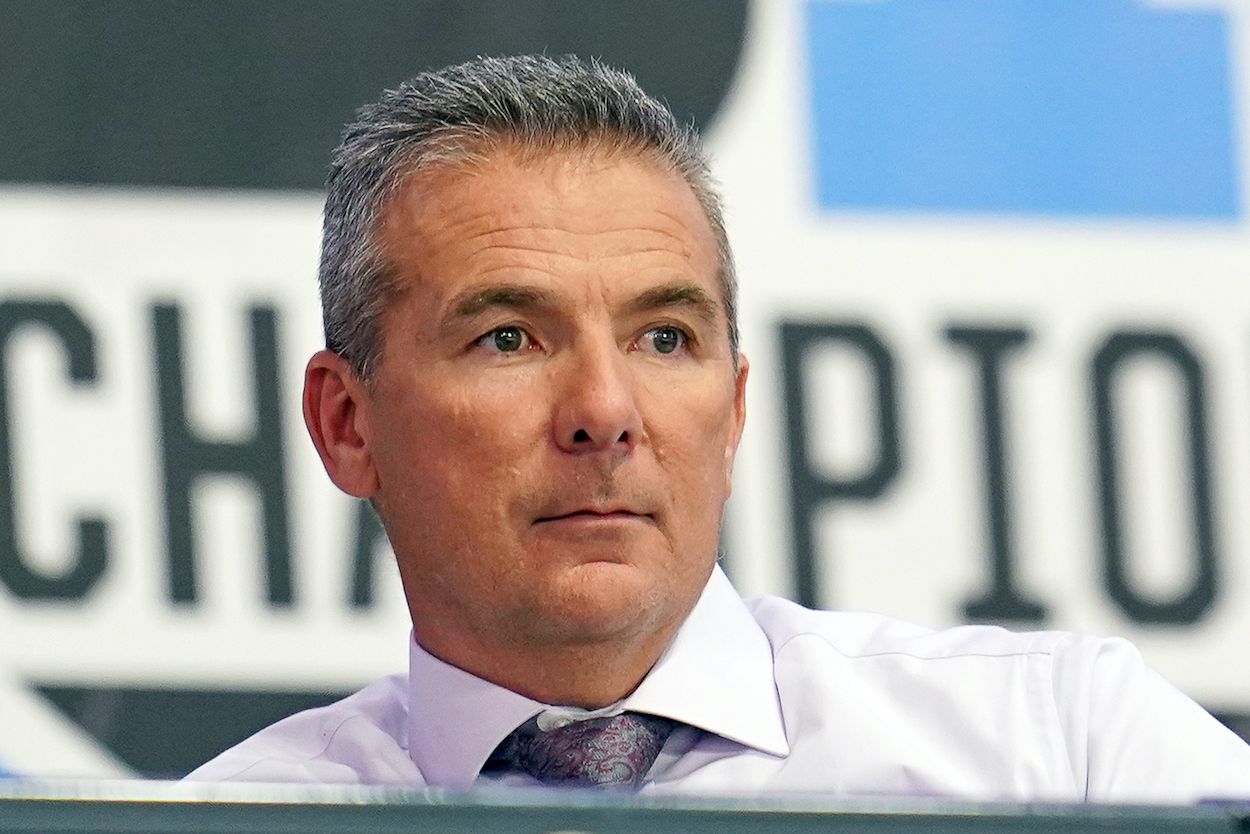 2021 has been a year of firsts for Meyer.
He accepted his first NFL head coaching job in January when he joined the Jaguars. Then, in late March, he brought in his first free agency class. Last Thursday, Meyer made his first NFL draft selection as a head coach, and he couldn't have done much better with it.
Because the Jaguars finished with the worst record in the league last year at 1-15, Meyer won the lottery by being able to draft Lawrence with the No. 1 overall pick. Widely considered the best quarterback prospect coming out of college since Andrew Luck, Lawrence should put the Jags in a position to be a Super Bowl contender in the near future.
Not a bad start for Meyer in his first NFL gig.
When Jacksonville got back on the clock at pick No. 25, it decided to team up Lawrence with his backfield mate at Clemson. Etienne will step in with James Robinson to immediately form one of the brightest young running back duos in the league.
Meyer filled out his roster with Georgia CB Tyson Campbell, Stanford T Walker Little, Syracuse S Andre Cisco, USC DT Jay Tufele, UAB DE Jordan Smith, Ohio State TE Luke Farrell, and Georgia Tech WR Jalen Camp.
But Meyer missed out on one enticing prospect in the first round of the draft, and it broke his heart.
Meyer suffered his first NFL heartbreak in the 2021 draft
After Meyer scored Lawrence with Jacksonville's first pick in this year's draft, he set his eyes on a game-breaking weapon for his new QB. The Jaguars eventually settled on Etienne with their next pick, but Meyer originally had someone else in mind.
During an appearance on ESPN's College GameDay the morning after the first round, Meyer revealed he missed out on a prospect that "broke his heart." On Saturday, Meyer revealed that player to be Florida WR Kadarius Toney.
Toney went five picks ahead of the Jaguars to the Giants at pick No. 20.
"I've gotten to know him over the last couple weeks and obviously my connection with [Gators] coach [Dan] Mullen and those guys," Meyer said. "You watch [Toney] play, he's a human highlight reel."
Meyer still excited for his backup choice
Even though Meyer missed out on his dream weapon for Lawrence, he's still excited the team was able to add Etienne to its budding offense.
"He's much more than a running back," Meyer said of the Clemson running back. "He's a slash. We did not recruit him just because he's a running back. We probably wouldn't have. He's a guy that had a lot of production in the passing game at Clemson. He's got excellent hands and he'll be dual trained. Those [dual-threat players] are hard to find, too, but if you can find one we know how to use him. With him, I expect him [to make] an instant impact."