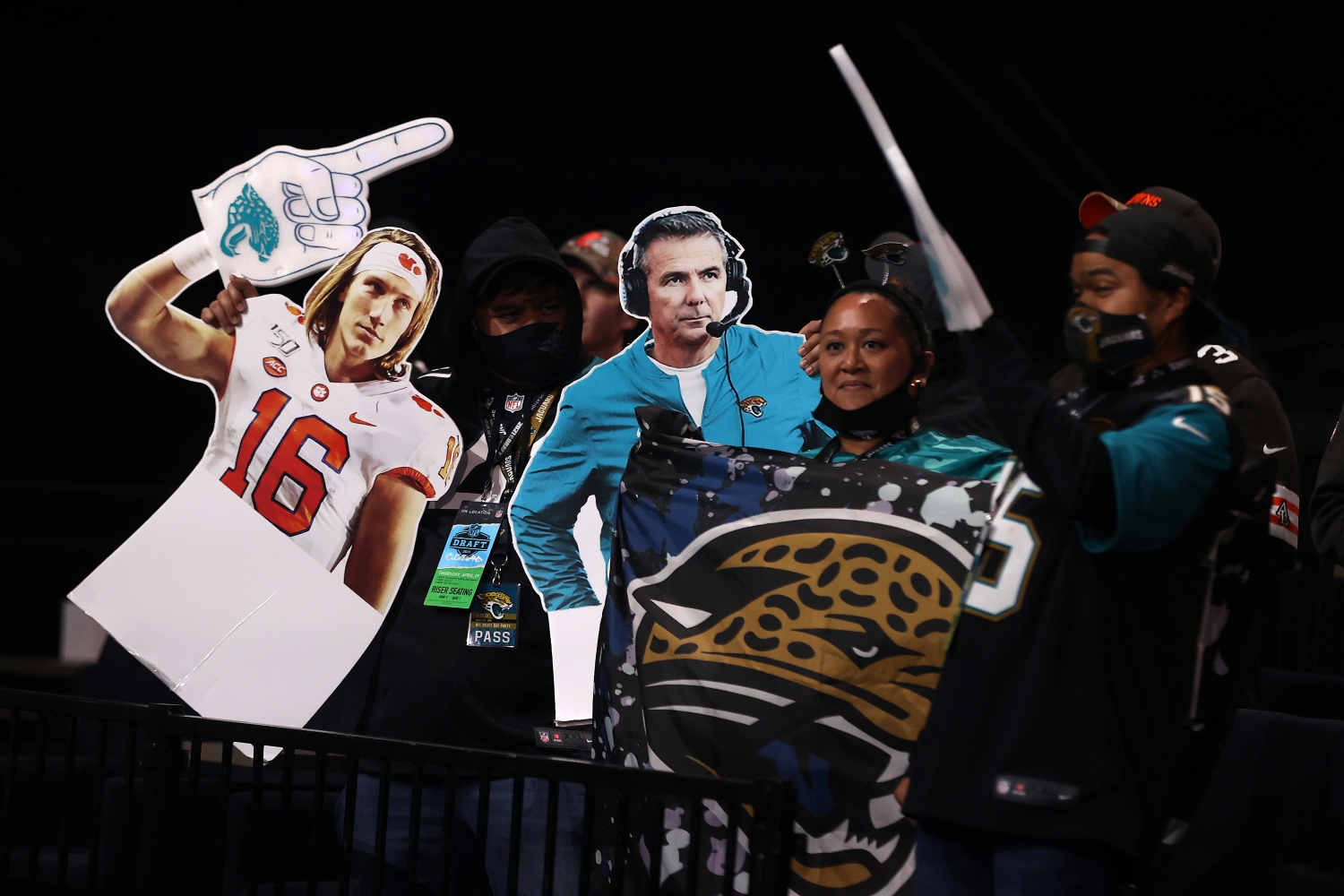 Urban Meyer and the Jaguars Made NFL Draft History by Committing a Foolish Mistake
Urban Meyer made a massive mistake by taking a player at a non-premium position with the 25th overall pick in the 2021 NFL draft. Will the Jaguars regret taking Travis Etienne?
The Jacksonville Jaguars took a step in the right direction by taking Trevor Lawrence with the first overall pick of the 2021 NFL draft. After securing one of the most coveted quarterback prospects of all time, Urban Meyer had a chance to add another elite talent at pick No. 25.
However, rather than investing a valuable asset on a premium position, the Jaguars made NFL draft history by making a foolish mistake.
Urban Meyer could have gone in a number of directions after taking Trevor Lawrence No. 1 overall
Jacksonville kicked off the first round by officially making Lawrence the new face of the franchise. The former Clemson star faces a tall task in turning around a Jaguars team that bottomed out at 1-15 last season. But based on his college production and overall skill set, Lawrence has a chance to quickly become one of the NFL's biggest stars.
Meyer and his staff watched a number of other blue-chip prospects come off the board before the Jaguars came on the clock again. At pick No. 25, several intriguing defensive players remained available, including Northwestern cornerback Greg Newsome II, Georgia cornerback Eric Stokes, and Alabama defensive tackle Christian Barmore. On the offensive side of the ball, receivers Rashod Bateman and Elijah Moore also had yet to be picked.
Of course, the Jaguars didn't even have to make a pick at all. The team could have traded down and acquired more capital to infuse the roster with talent. But that didn't happen. Instead, the Jaguars made a foolish mistake and managed to make NFL draft history in the process.
The Jaguars made NFL draft history thanks to a foolish mistake
Meyer's first two picks came from the same school. After taking Lawrence first overall, the Jaguars used their other first-rounder on Clemson running back Travis Etienne. By reuniting the two college teammates, the Jaguars became the first team in the Common Draft Era to take a quarterback and a running back from the same school in the first round.
But that shouldn't be anything to celebrate. In fact, Meyer deserves tremendous criticism for utilizing the 25th overall pick on a player who the Jaguars simply didn't need—at least not at that spot in the draft.
Jacksonville stumbled upon a 1,000-yard rusher by signing James Robinson as an undrafted free agent last spring. The 220-pound back showed intriguing long-term potential as a do-it-all weapon in 14 starts. Yet, even though they already have a rock-solid running back on a cheap contract, the Jaguars stunningly used a first-round pick on the exact same position.
How many times do NFL teams have to get burned by following this practice? Todd Gurley didn't turn out to be such a great investment for the LA Rams. Ezekiel Elliott hasn't lived up to his expensive contract extension in Dallas. And, perhaps most laughably, the Jaguars already made this mistake by taking Leonard Fournette over Patrick Mahomes and Deshaun Watson in 2017.
Will Jacksonville regret using a first-round pick on Travis Etienne?
The Jaguars better hope Etienne can buck the trend of first-round running backs not working out. If not, they will be kicking themselves a few years from now for not taking a player at a more critical position of need with the 25th overall pick.
Etienne provided big-play ability in college, but he lacks the size and bulk of a traditional No. 1 running back. He must prove he can absorb the physical punishment of playing against much bigger, faster defenders. Plus, he doesn't have a clear path to playing full-time snaps with Robinson and Carlos Hyde ahead of him on the depth chart.
That's not to say Etienne can't become a solid pro. Maybe his speed will add another dimension to Jacksonville's offense. And it certainly helps that he has a strong connection with Lawrence. Yet, it's hard to ignore the history of first-round backs failing to live up to their draft pedigree.
In this case, the Jaguars made a foolish choice to invest more resources on a non-premium position. If players taken right after Etienne end up becoming Pro Bowlers, it will only make Jacksonville look even worse for committing a classic draft-day mistake.
Like Sportscasting on Facebook. Follow us on Twitter @sportscasting19.