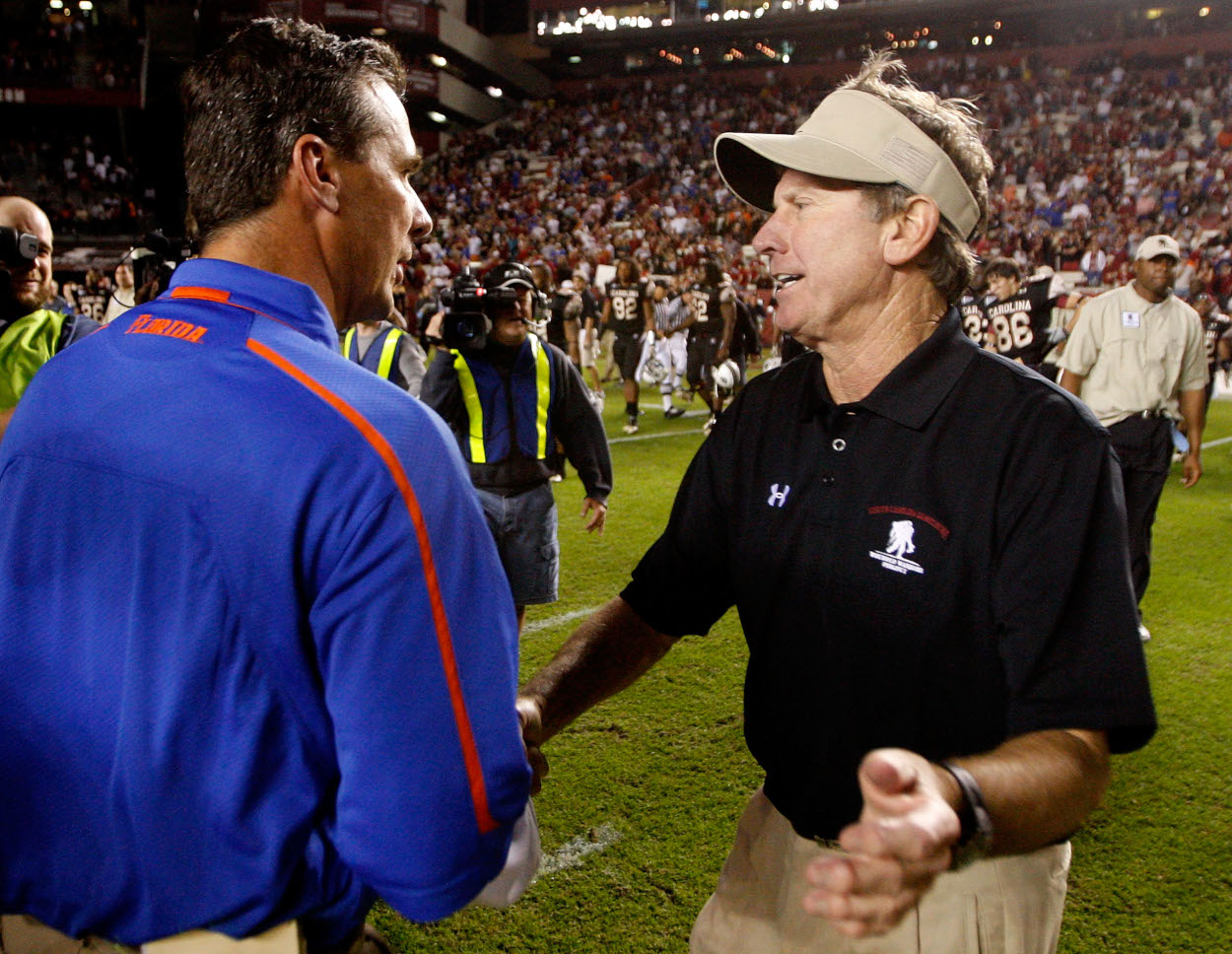 Urban Meyer Should Be Careful Following the Steve Spurrier Blueprint in Jacksonville
Urban Meyer is a former University of Florida head coach trying to succeed in the NFL. He needs to avoid moves like Steve Spurrier made when in the same position.
Jacksonville Jaguars head coach Urban Meyer wants to be the exception rather than the rule. No matter how successful, college football coaches have generally struggled when entering the NFL head coaching ranks. That is a trend that goes back decades, so it's not going to be a new phenomenon if Meyer's pro coaching career tracks more like Chip Kelly's than it does Jimmy Johnson's.
But Meyer's most recent move might put him in a slightly different category. One former NFL coach with a long collegiate coaching career doesn't quite fit the "no pro experience" mold. He failed in large part because he didn't so much want to build a professional team as he wanted to recreate his old roster from his college days. That experience didn't end well.
Urban Meyer turns to a familiar face for an unfamiliar job
As a collegiate coach, Urban Meyer has few peers. In 17 seasons at four schools, Meyer's teams were 187–32, good for a ludicrous .854 winning percentage. He won two BCS national championships within three seasons at Florida. After the 2014 season, he added a College Football Playoff title while at Ohio State.
Meyer last coached in 2018. He retired at the end of the season, citing health concerns and a long suspension he served at the beginning of that season. The Jaguars hired him on Jan. 14. That means this retirement lasted twice as long (two seasons) as his first when he left Florida following the 2010 campaign.
On Monday, ESPN reported the Jaguars were preparing to sign former Florida quarterback Tim Tebow to a one-year contract to play tight end. Tebow quarterbacked Meyer's second BCS title team for the Gators and rewrote the school and SEC record books while in Gainesville. He has never played tight end and last played football in 2015, when he was cut in the preseason by the Philadelphia Eagles. The signing looks a lot like someone doing an old pal a favor.
Getting the band back together didn't work for another former Florida coach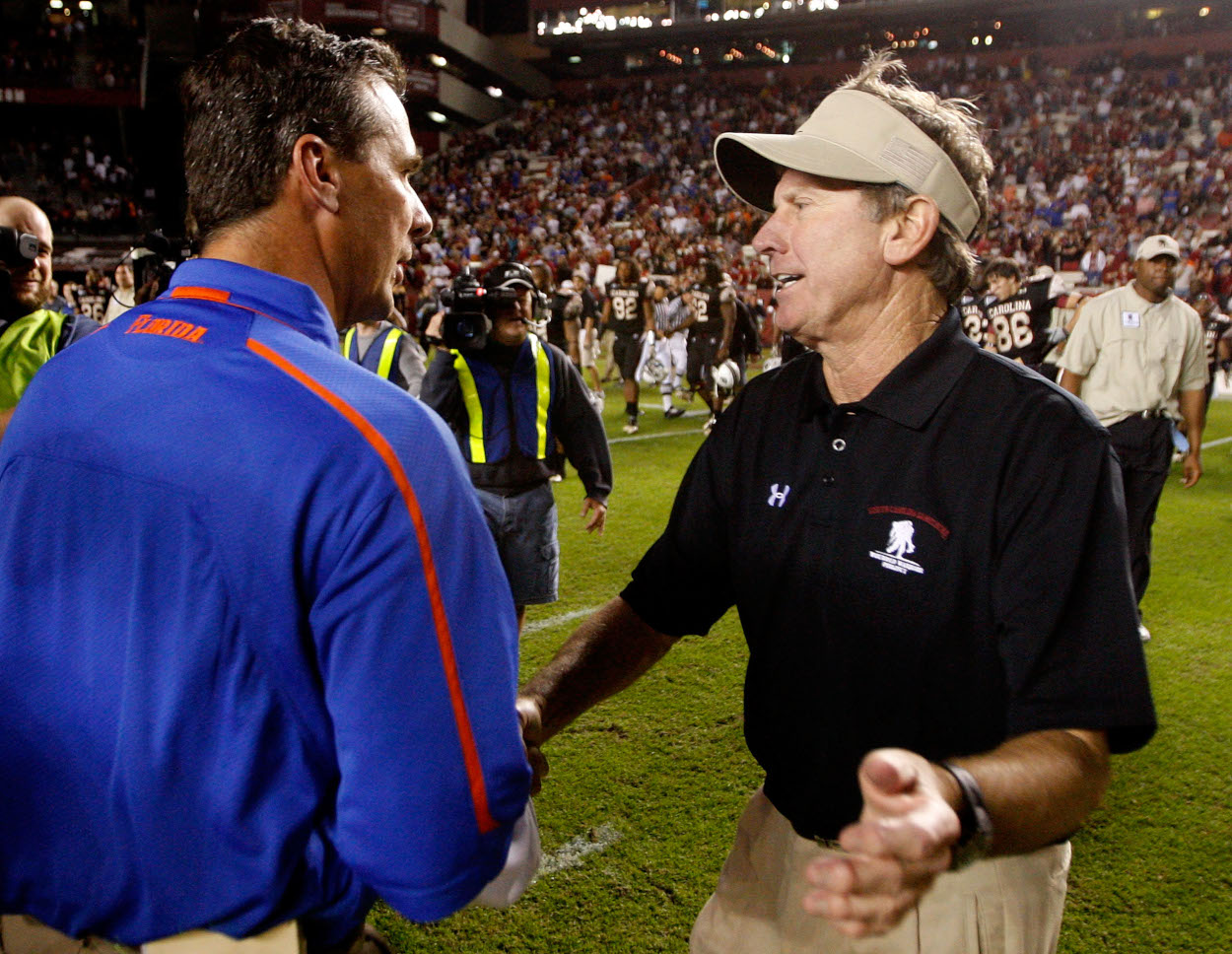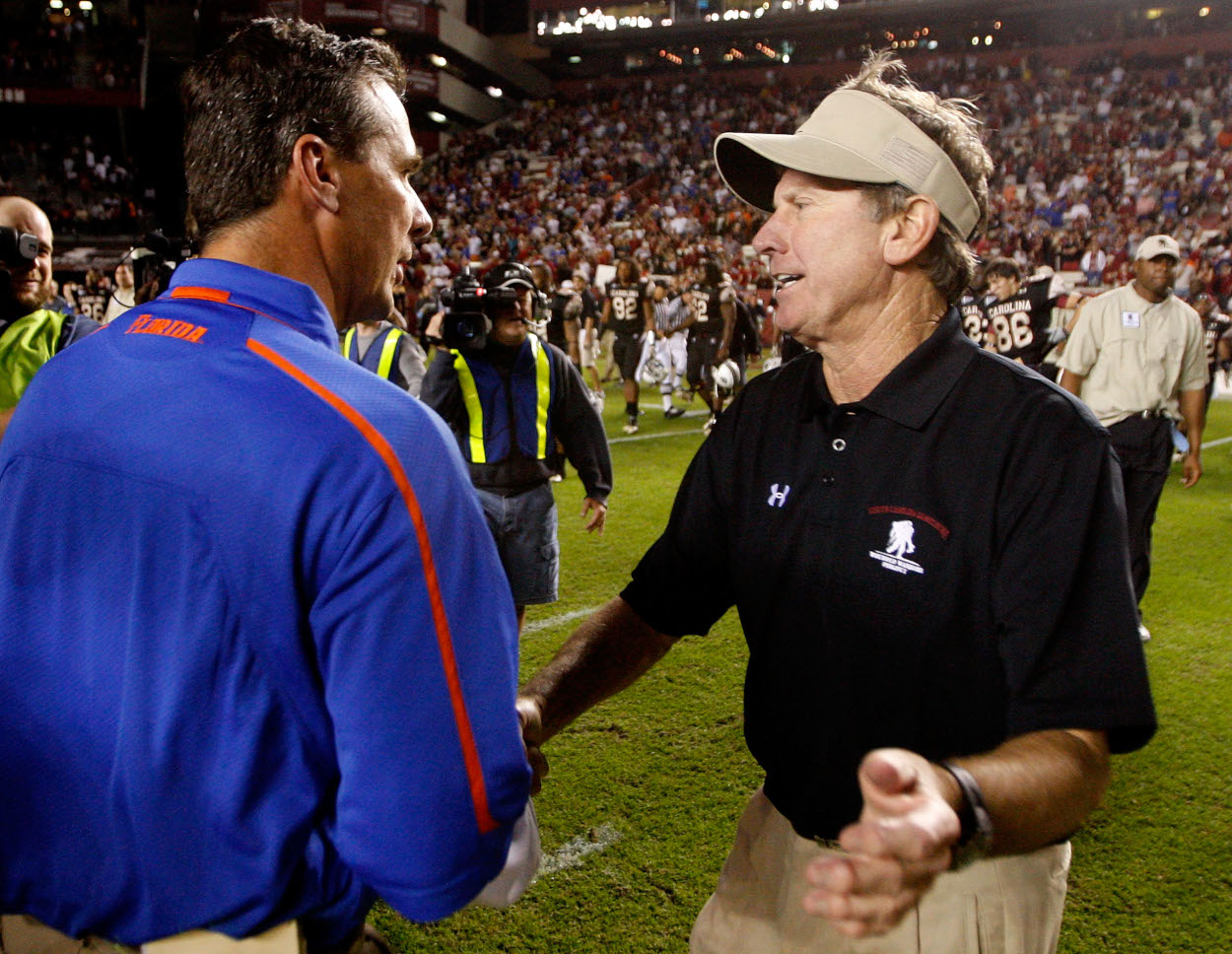 Steve Spurrier left the University of Florida campus after the 2001 season to take over the reins of the Washington Football Team (under its previous name). He spent 12 years at Florida, where he was 122-27-1 and won a national title in 1996.
Unlike Meyer, Spurrier had previous pro experience. After a 10-year NFL career as a quarterback (and occasional punter), he got his first head coaching gig in the mid-1980s with the Tampa Bay Bandits in the old USFL.
But when he got to Washington, he started signing former Gators. Lots of former Gators. In 2002, Spurrier had five of his former players on the roster, including two quarterbacks in Shane Matthews and Danny Wuerffel.
Spurrier quit after two seasons with a 12–20 record. His high-powered offensive system didn't translate to the NFL; Washington finished 20th and 23rd in total offense, respectively, in Spurrier's two seasons.
The road behind Urban Meyer littered with debris
Outside of Hall of Famer Jimmy Johnson, most of the college coaches who made the NFL jump with no previous experience flamed out.
Most recently, Chip Kelly was 47–6 in four years at Oregon and took the Philadelphia Eagles to the playoffs in his first year. He was fired late in his third season (his first making the personnel decisions, so that went well). Then he slogged through a 2–14 season with the San Francisco 49ers before going back to the college ranks.
Nick Saban has an incredible resume in college with national championships at both LSU and Alabama. His two years with the Miami Dolphins, though? They did not go particularly well. The Dolphins were 15–17, and Saban notably made a bold declaration he was not leaving to take the Alabama job. Just before leaving to take the Alabama job. Saban came in with six years as an NFL assistant but still couldn't transition well.
Former Oklahoma coach Barry Switzer won a Super Bowl the second season after replacing Johnson with the Dallas Cowboys. But by his fourth year, Dallas was a sub-.500 team, and Switzer was playing a color commentator in Oliver Stone's Any Given Sunday.
Dating back even further, Bud Wilkinson was a legend at Oklahoma, going 145–29–4 in 17 seasons from 1947–63. His Sooners won a record 47 straight games between 1953–57. With the old St. Louis Cardinals in 1978–79, Wilkinson went 9–20 and was gone before the end of year two.
Urban Meyer might be wildly successful with the Jacksonville Jaguars. Some of his early moves, however, look eerily familiar.
Statistics courtesy Pro Football Reference and SRCFB.