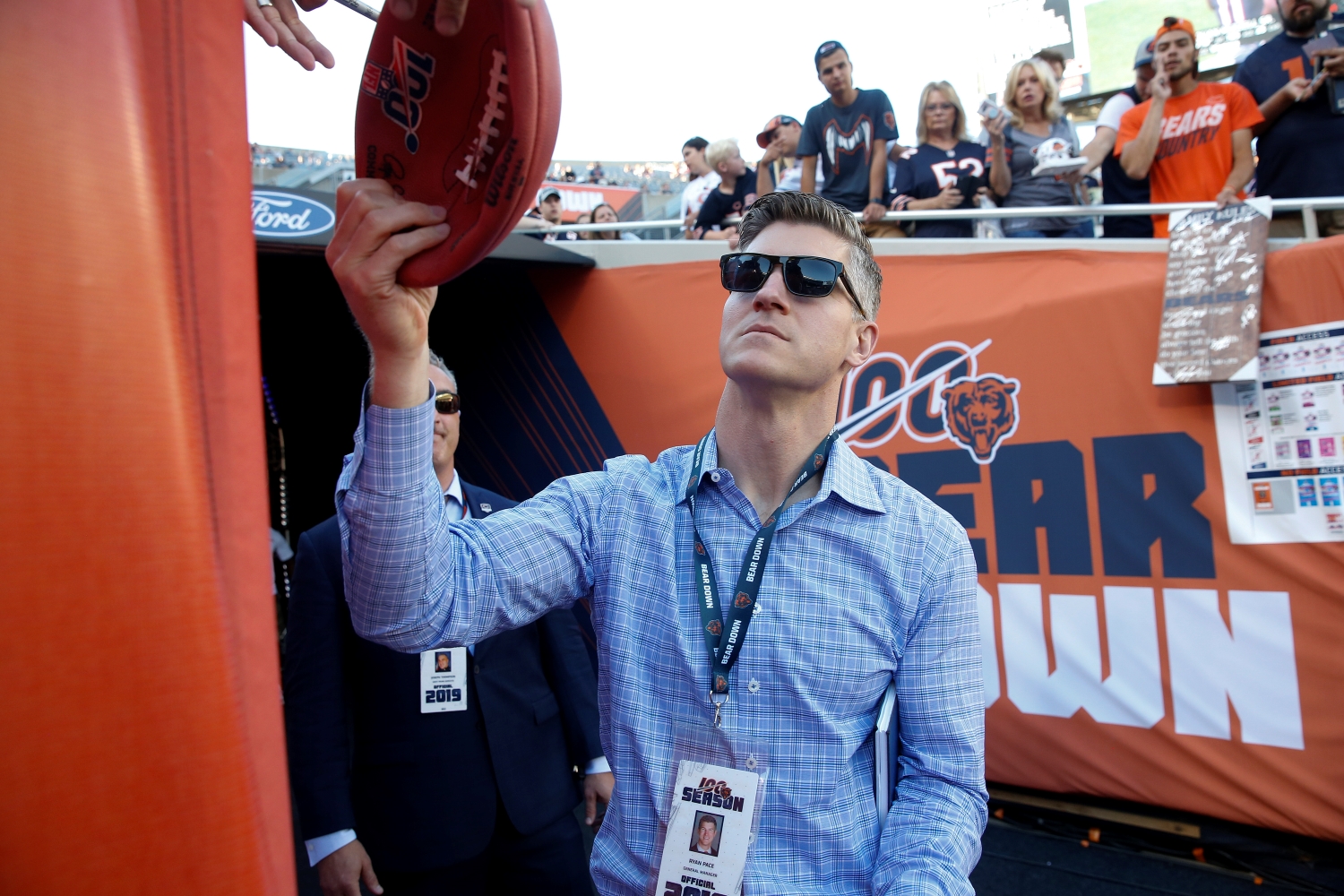 The Bears' Latest Confusing Move Confirms Chicago Needs to Cut Ties With Ryan Pace Before He Completely Ruins Justin Fields
With Ryan Pace making yet another confusing move, it's time for the Chicago Bears to finally cut ties with their oft-criticized general manager.
Justin Fields better hope the Chicago Bears realize the error of their ways before it's too late.
The former Ohio State star may have the physical skills and mental makeup to succeed at the NFL level, but he will never reach his full potential without a strong supporting cast around him. Unfortunately for Fields, he joined a franchise that's run by a general manager with a history of making moves that backfire badly.
In fact, the Bears' latest head-scratching move should seal Ryan Pace's fate with the franchise. And if Chicago cares at all about Fields and his pro football future, the team needs to cut ties with the disappointing GM sooner rather than later.
Ryan Pace has made a number of critical mistakes since he took over in 2015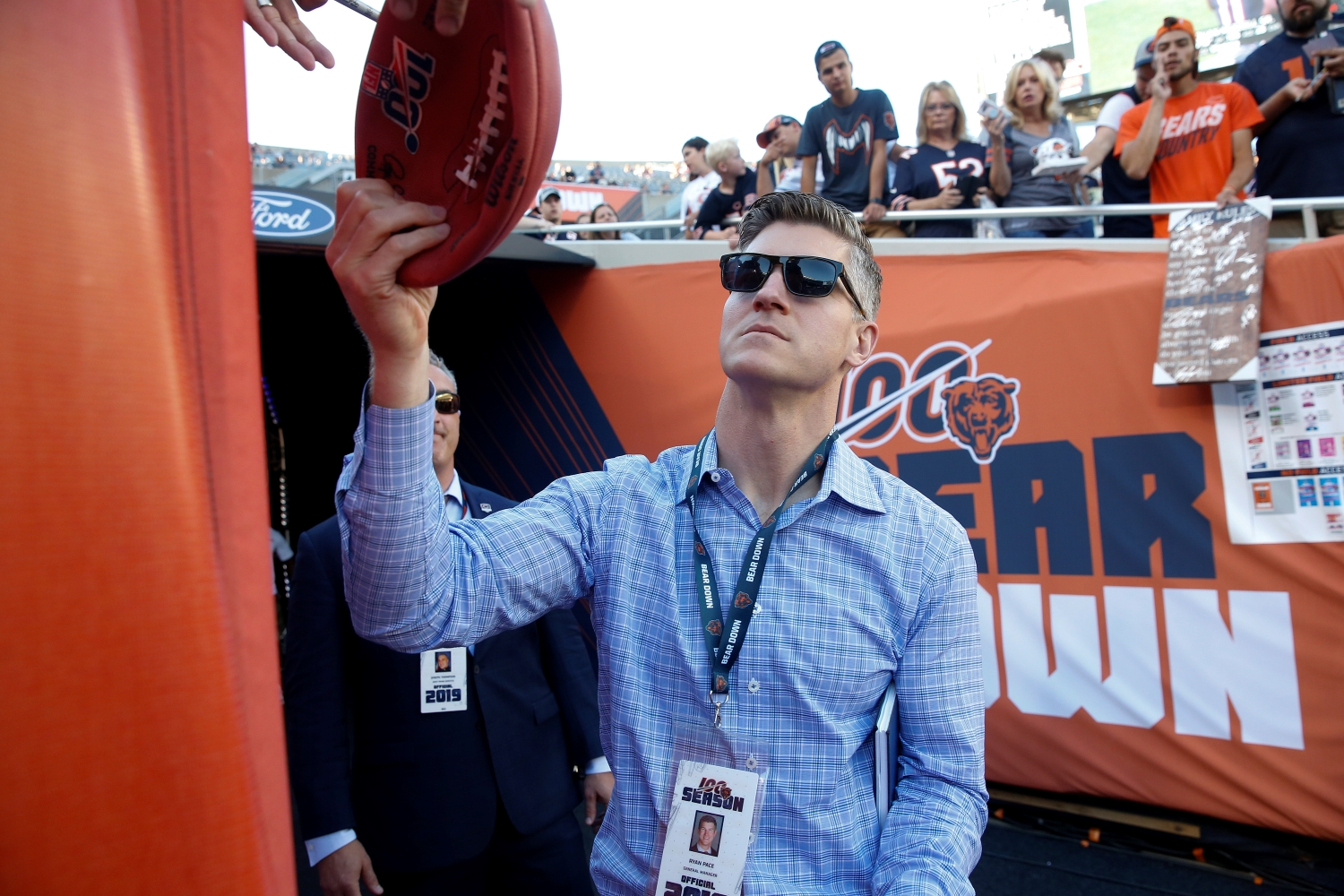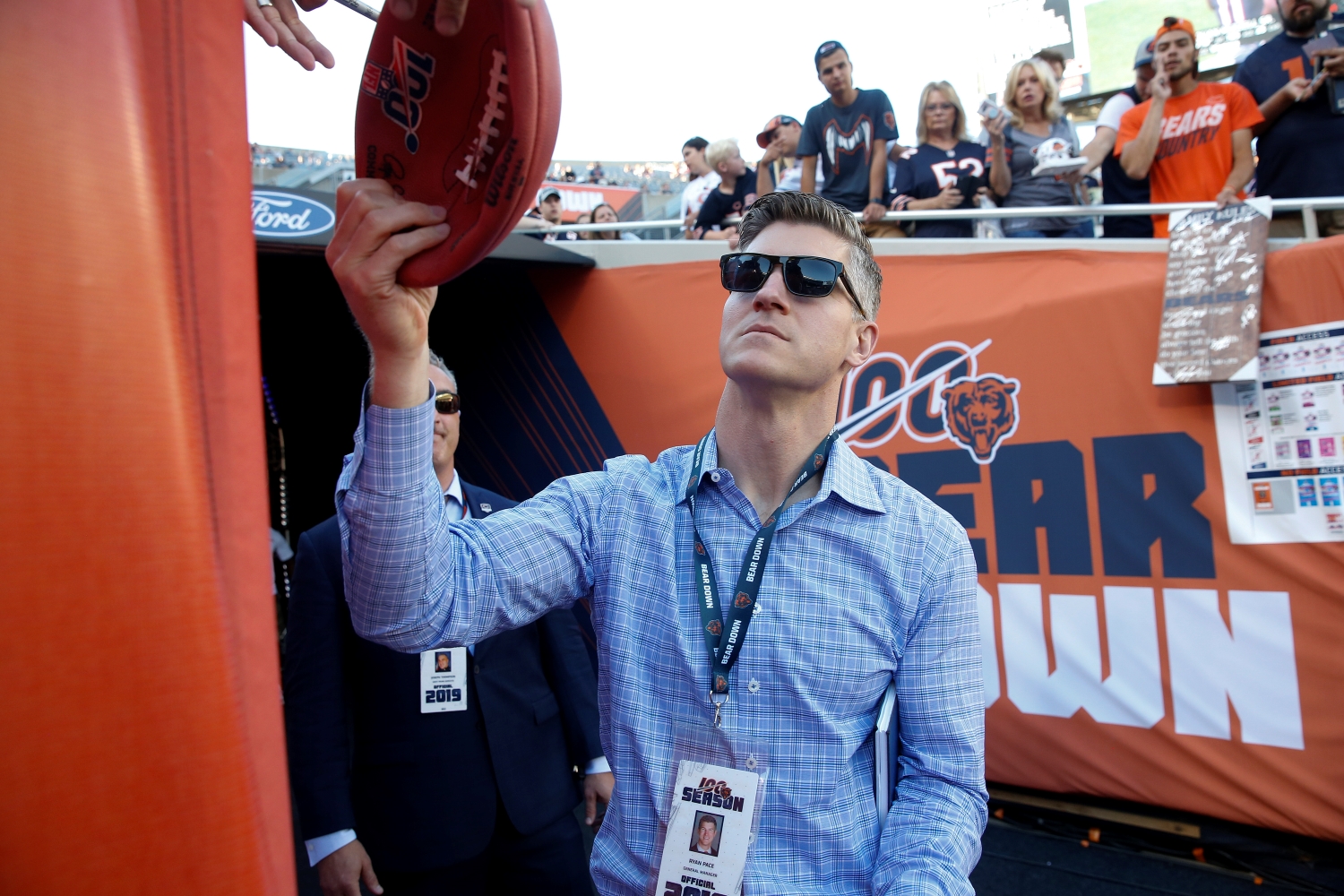 Think the Bears messed up by handing decision-making power to Pace?
Considering Chicago has posted a winning record just once in his six years as GM, it's hard to view hiring the former New Orleans Saints executive as anything but another misfire by ownership. When you delve deeper into some of the moves Pace has made during his tenure, it's easy to see why the Bears have struggled to crack the .500 mark since he arrived in 2015.
First, he bet big on West Virginia's Kevin White. Let's just say drafting the 6-foot-3, 216-pound wideout with the seventh overall pick did not pan out for Pace. Persistent injury woes limited White to 25 catches in 14 games before the Bears finally moved on from the disappointing receiver.
Pace's next first-round pick also failed to live up to expectations. After Chicago traded up to the No. 9 spot to select Georgia's Leonard Floyd, the athletic outside linebacker never became the elite edge rusher the Bears envisioned when they made him the highest-selected defensive player in franchise history since they took Brian Urlacher ninth overall in the 2000 NFL Draft.
Of course, Pace made his most egregious mistake in 2017 when he took Mitchell Trubisky over Patrick Mahomes and Deshaun Watson. To compound matters, he wasted more draft capital and financial resources on journeyman quarterbacks Mike Glennon and Nick Foles. The Bears' instability at the most important position in sports has certainly played a significant role in their lackluster 42-54 record over the last six years.
Even though Fields represents hope for a brighter future, the fact the Bears had to trade up for him in the first round shows how desperate Pace is to make up for botching the 2017 draft.
The Bears' latest move confirms Chicago needs to cut ties with Pace before he completely ruins Justin Fields
Bears fans know all too well about disappointment. After all, they've watched several of Pace's early-round picks fail to pan out in Chicago.
Right before training camp kicked off last summer, 2017 second-round pick Adam Shaheen got traded to the Miami Dolphins for a sixth-round pick. The tight end joined the Bears as the 45th overall selection, but he only caught 26 passes in 27 games after Chicago traded two fourth-rounders and a sixth-round selection to move up to take him.
Ironically, Pace recently pulled the plug on another player who required extra draft capital to acquire. On Saturday, July 24, ESPN reported the Bears traded Anthony Miller to the Houston Texans in what amounted to a swap of late-round draft picks.
A second-round pick in 2018, the talented slot receiver totaled 134 catches for 1,564 yards and 11 touchdowns as a part-time starter for the Bears. However, despite trading up to No. 51 overall to take Miller three years ago, Pace decided to deal one of the team's few semi-proven receivers right before Fields begins his first NFL training camp.
Once again, the oft-criticized GM has made a move that doesn't make a ton of sense on the surface. Getting rid of Miller undoubtedly makes Chicago's receiving corps less talented. That definitely doesn't make life easier for Fields, who needs adequate weapons to succeed. Why not at least see what Miller shows in camp before deciding to trade him?
After all, isn't Fields supposed to make everyone around him better?
Pace has wasted high draft picks and millions of dollars trying to build a championship-caliber roster. At what point do the Bears realize he simply can't get the job done?
If they don't have someone in charge of personnel decisions who can actually make good ones, Fields will have a difficult time living up to expectations in Chicago.
Fields shouldn't be surprised if his supporting cast looks entirely different in 2022
With Miller in Houston, the Bears enter training camp with a thinner receiver depth chart than anticipated. Unfortunately for Fields, he might only get to play one season with his No. 1 target.
Allen Robinson may have the talent and resume that warrants a long-term deal, but Chicago hasn't given him one. A top-flight aerial artist who's put up big numbers playing with bad quarterbacks, Robinson has plenty of motivation to have a career year in 2021. The impending free agent doesn't seem like a strong bet to stay with the Bears, so Fields could easily go from throwing to one of the NFL's most consistent pass-catchers to not having a starting-caliber receiver at his disposal.
Darnell Mooney and Riley Ridley are the Bears' only two receivers under contract beyond the 2021 season, so it's safe to say the position is not well-stocked for the future.
What does that mean moving forward?
Justin Fields should expect (and wish) for Chicago to completely overhaul its offense. That begins with finding a better GM who can execute a well-devised plan that's based on maximizing the talents of a true dual-threat quarterback — not the one Ryan Pace foolishly selected over Mahomes and Watson four years ago.
All statistics courtesy of Pro Football Reference. All contract data courtesy of Spotrac.