Aaron Rodgers and Davante Adams Could Soon Force Brian Gutekunst to Make Packers Fans' Worst Nightmare Come to Life
Green Bay Packers fans have witnessed Aaron Rodgers and Davante Adams develop into arguably the most dominant quarterback-receiver duo in the NFL. Last season, the strong-armed signal-caller won his third MVP trophy after leading the league with 48 touchdown passes. His No. 1 target captured first-team All-Pro honors for the first time in his career.
However, the chances of Rodgers and Adams replicating their success together seem slimmer than ever before.
In fact, based on the latest reports on the team's two biggest stars, general manager Brian Gutekunst may be forced to make Packers fans' worst nightmare come to life.
The Packers' two biggest stars face uncertain futures with the franchise
Packers fans watched Rodgers and Adams dominate defenses unlike ever before during the 2020 season. But after torching corners and safeties for seven years together, the tandem may never play together again.
After all, both stars face uncertain futures with the only franchise they've ever played for.
For Rodgers, his issues have to do with the front office. Considering he reportedly turned down a contract extension offer from the Packers that would have made him the highest-paid player in the league, it's clear money won't get the reigning MVP to return to Green Bay. But with Gutekunst refusing to entertain the idea (publicly, at least) of trading one of the best quarterbacks of all time, it's incredibly difficult to predict what will happen between Rodgers and the Packers.
Meanwhile, Green Bay fans also have to worry about what lies ahead for another irreplaceable member of the offense. Coming off a season in which he recorded a career-high 115 catches while leading the NFL with 18 receiving touchdowns, Adams enters the final year of the four-year, $58 million extension he signed in December 2017. The impending free agent clearly brings tremendous value to the passing game. However, if the Packers can't agree on a price that will satisfy Adams' financial demands, they will likely have to find a new No. 1 receiver.
Not exactly a recipe for long-term success, right?
Aaron Rodgers and Davante Adams could soon force Brian Gutekunst to make Green Bay fans' worst nightmare come true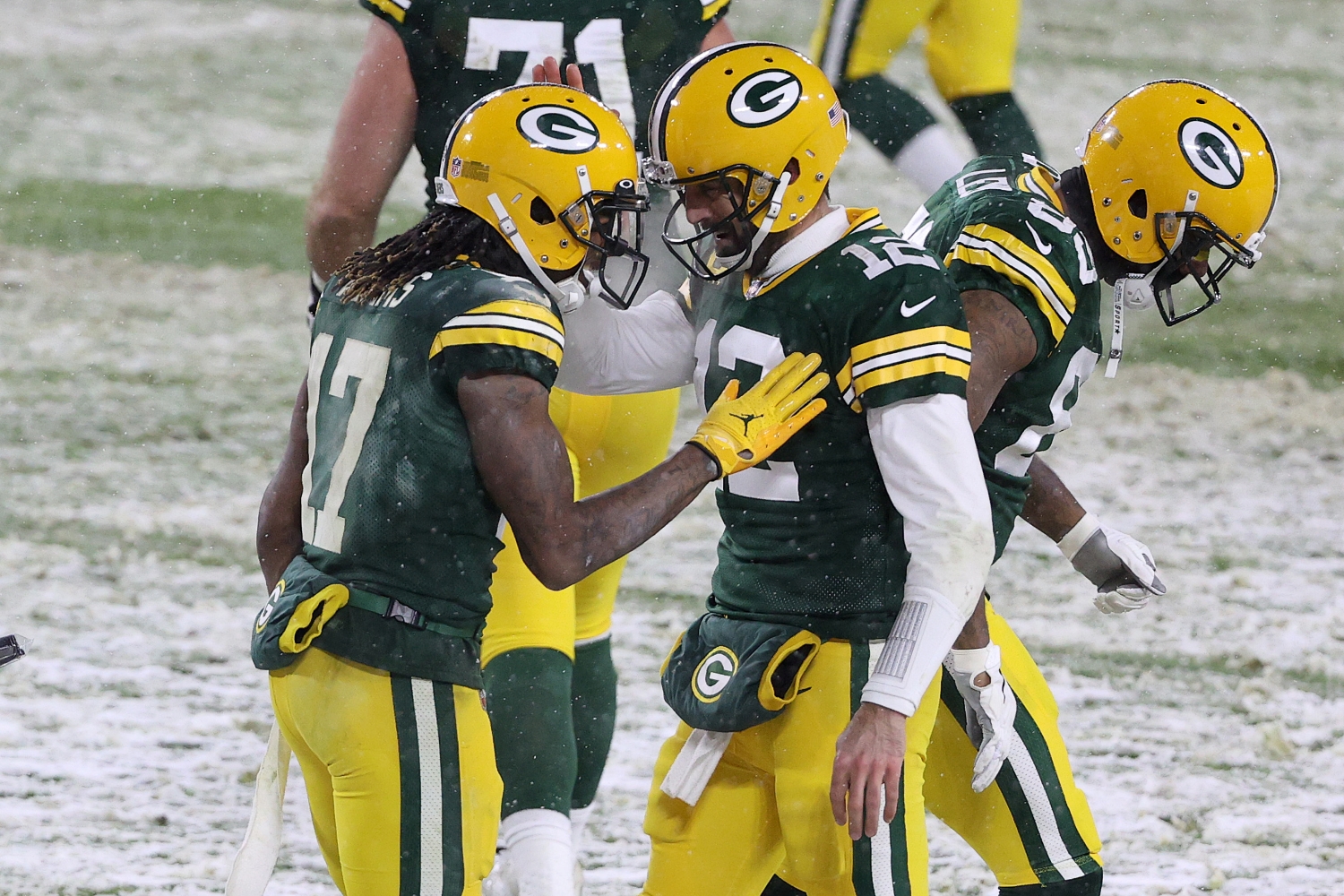 Unfortunately for Packers fans, the latest reports on the team's two offensive stars spells trouble for the future of football in Green Bay. In fact, with the way the situation looks at the moment, the possibility exists that Rodgers and Adams could soon force Gutekunst to do the unthinkable: trade them both.
While that represents a nightmare scenario for a fan base that's already had to contemplate the reality of never seeing No. 12 under center again, it seems more likely than ever before.
According to Sports Illustrated's Bill Huber, "Las Vegas sportsbooks are preparing for Aaron Rodgers to retire and not return to the Green Bay Packers."
Obviously, that doesn't bode well for the team's chances of making a Super Bowl run. But if Rodgers plans to retire, it makes no sense for the Packers to hold on to him and not try and get a solid return for a quarterback who won his third MVP award in his age-37 season.
Moreover, based on Ian Rapoport's report that Adams and the Packers "are now in a bad place" after breaking off long-term extension talks, it's fair to wonder whether the 28-year-old wideout could get dealt, too. If Adams takes a similar stance as Rodgers as a result of the way the negotiation process has gone, Green Bay could have disgruntled stars who want out.
Gutekunst may want to maintain control over both situations, but given the issues at hand, he may have no choice but to sell high on both players. Unfortunately for Packers fans, the idea of Rodgers and Adams playing for other teams as soon as this upcoming season seems much more likely than anyone could have expected until this week. Trading away two longtime leaders and elite-level producers would certainly ruin Green Bay's chances of winning a Super Bowl title in the near future, but it may be the only way for Gutekunst to move forward.
What are some ideal trade destinations for Rodgers and Adams?
While it would be fun to see Rodgers and Adams continue their relationship elsewhere, the fact remains that most teams don't have anywhere near the draft capital to acquire both players.
So, where should each player want to land?
For Rodgers, the Denver Broncos look like an ideal fit. Unlike Gutekunst, John Elway invested heavily in the skill positions over the last few years. Rodgers would get to lead an offense that includes the talented receiver trio of Courtland Sutton, Jerry Jeudy, and KJ Hamler. Plus, tight ends Noah Fant and Albert Okwuegbunam have the speed and athleticism to inflict serious damage as pass-catchers. Throw in the fact that Denver has a defense that looks championship-caliber and it's easy to get excited about the prospect of a Rodgers-led Broncos squad.
As for Adams?
His situation differs slightly since he needs a new deal. Given his resume, the four-time Pro Bowler has a strong case to ask for a record-setting contract, which means a team will have to pay him at least $20 million per season.
Based on positional need and future salary-cap implications, a few teams stand out as potential landing spots for Adams.
First, the Patriots have to be considered in any conversation about acquiring an elite receiver. Even after spending a decent chunk of change on Nelson Agholor and Kendrick Bourne, Bill Belichick could certainly use more help at the position. However, between the draft compensation and guaranteed money it could take to acquire and retain Adams, Belichick may not want to devote such a significant amount of resources on a single player.
Could the Indianapolis Colts make a run at Adams? General manager Chris Ballard has constructed a rock-solid roster, but the offense needs more firepower. Instead of taking a gamble on a receiver in the draft, why not acquire a proven commodity?
Ultimately, just about every NFL team would get better by acquiring either Aaron Rodgers or Davante Adams.
With the way things are going, the potential of adding both before the 2021 season begins seems like a dream that might come true for one lucky fan base.
All statistics courtesy of Pro Football Reference. All contract data courtesy of Spotrac.