Bill Belichick Has Officially Suffered a Critical Blow to His Coaching Staff Thanks to the NFL's Controversial COVID-19 Vaccine Policy
No team got hit harder by COVID-19 opt-outs than the New England Patriots. With battle-tested veterans like Dont'a Hightower and Patrick Chung choosing to not play the 2020 season, Bill Belichick entered the first year of the post-Tom Brady era with a team that lacked capable starters at key positions. Plus, COVID-19 caused problems for a few Patriots players during the course of New England's disappointing 7-9 campaign.
While Belichick undoubtedly upgraded the roster over the last few months, he officially suffered a critical blow to his coaching staff this week because of the NFL's controversial COVID-19 vaccine policy. For a franchise that touts the "next man up" mantra, the pressure is firmly on Carmen Bricillo to make sure the Patriots' most talented position group performs up to its potential.
COVID-19 had a major impact on New England's 2020 season
Belichick certainly didn't do his best job as a general manager last offseason, but the Patriots entered the season with a talent-depleted roster not just because of his personnel mistakes. After all, New England lost eight players to the league's opt-out policy.
Coming off a season in which they allowed the fewest points in the NFL, the Patriots took a sizable step back on defense. Not having a pair of three-time Super Bowl champions (Hightower and Chung) in the lineup definitely didn't help. Besides missing their production, the Patriots also missed the leadership and experience the two homegrown defenders provided for years.
On the other side of the ball, New England had to replace starting right tackle Marcus Cannon. Luckily for Belichick, 2020 sixth-round pick Michael Onwenu emerged as a legitimate force as a rookie. Still, losing Cannon obviously hurt the team's tackle depth.
Of course, the regular season featured a few surprise appearances from COVID-19. Cam Newton missed the Kansas City Chiefs game because he tested positive for the coronavirus. Meanwhile, backups Brian Hoyer and Jarrett Stidham got badly exposed against Andy Reid's team. Plus, several other Patriots players — including top cornerback Stephon Gilmore — spent time on the reserve/COVID-19 list during the course of the 2020 season.
Bill Belichick has officially suffered a critical blow to his coaching staff because of the NFL's controversial COVID-19 vaccine policy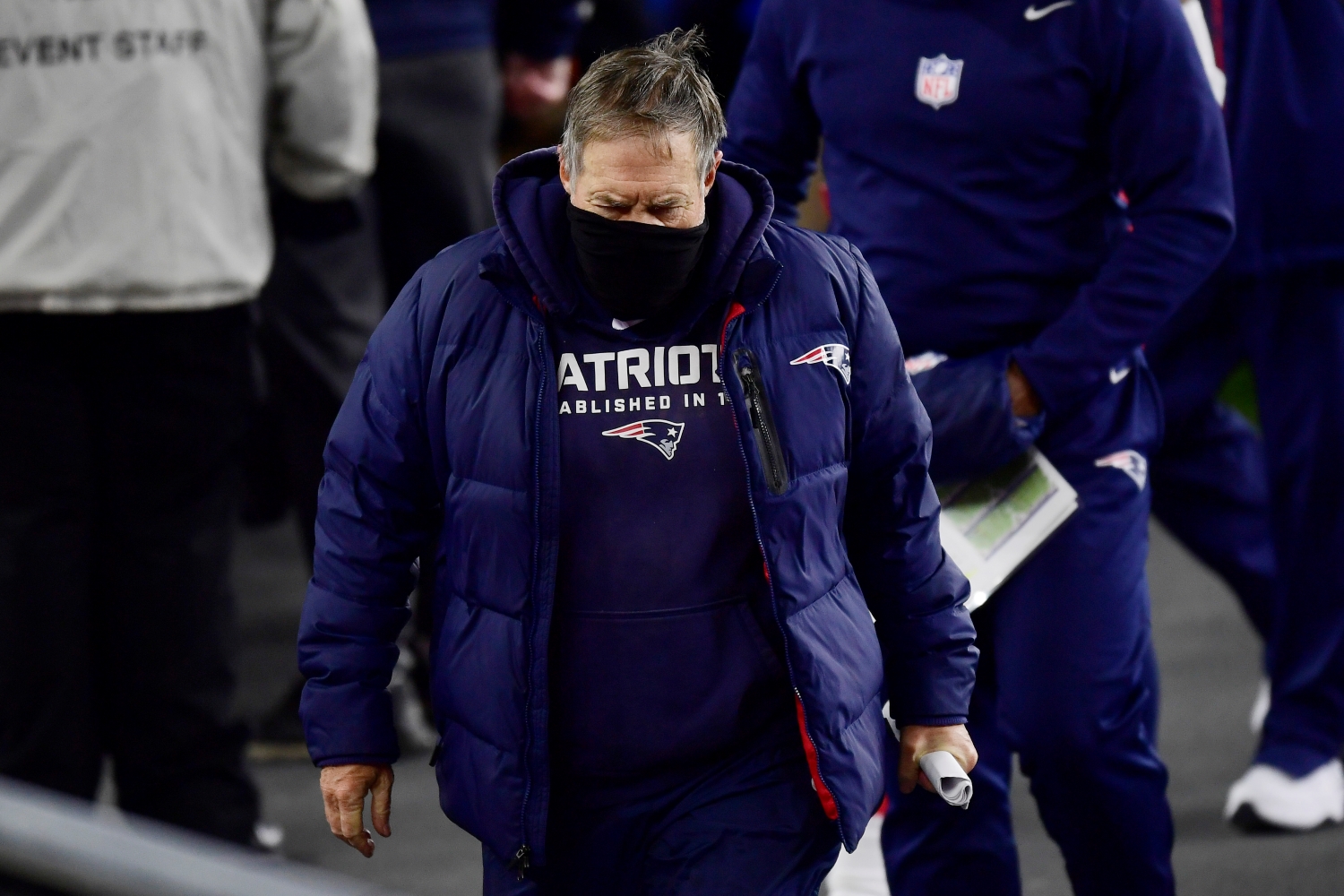 No matter how Belichick feels about the NFL's COVID-19 vaccine policy, he can't be too pleased about losing a member of his coaching staff right before training camp begins.
According to Jim McBride of the Boston Globe, Cole Popovich will not coach with the Patriots this season. He and Carmen Bricillo handled the offensive line together in 2020 following the retirement of legendary position coach Dante Scarnecchia. However, Popovich, who joined the team in 2015, will not be a part of Belichick's staff for the upcoming season.
NFL Network reporter Michael Giardi provided more context about the situation via Twitter.
"Sources tell me it is related to COVID-19 requirements," Giardi wrote. "Popovich was masked up (at times) during the spring sessions."
Per McBride, all Tier 1 staff — including coaches, front-office executives, equipment managers, and scouts — must get vaccinated unless they provide a valid religious or medical reason. With the Patriots kicking off training camp next week, the timing of the Popovich news suggests he didn't get on board with a policy that has caused some controversy.
On Friday, July 23, ESPN's Courtney Cronin reported Rick Dennison "is out as a Minnesota Vikings assistant coach" after he refused to receive a COVID-19 vaccine. The fact a coach lost his job because of a personal medical decision shows the life-altering consequences of not following the league's policy.
Needless to say, not everyone agrees with getting vaccinated, so the NFL's strict measures could result in some of Belichick's peers losing members of their own coaching staffs, too.
Will losing Cole Popovich have a detrimental effect on a talented Patriots offensive line?
With Popovich no longer a part of the Patriots' 2021 plans, Bricillo will assume the responsibility of making sure the offensive line lives up to expectations. Luckily for the 45-year-old assistant coach, he has more than enough talent with which to work.
Considering the uncertain status of the quarterback and wide receiver positions, the fact New England boasts quality depth along the offensive line should inspire confidence about a turnaround in 2021. Isaiah Wynn, the team's top pick in 2018, has the athleticism and pass-protection skills needed to play the left tackle position at a high level. On the right side, impending free agent Trent Brown has plenty of motivation to rediscover his Pro Bowl form now that he's back in New England.
Meanwhile, Bricillo gets to coach a starting trio of interior linemen that boasts dominant ability. The 6-foot-3, 350-pound Onwenu should fill in seamlessly for Joe Thuney at left guard. Veteran David Andrews should continue to serve as the leader of the offensive line from his center position. When healthy, right guard Shaq Mason is a devastating blocker who uses a combination of power and movement skills to bury defenders.
Overall, the Patriots boast one of the best projected starting offensive lines in the NFL.
Only time will tell, however, if losing Cole Popovich will come back to bite Bill Belichick.