Zach Wilson and New York Jets Suffer Devastating Loss With Tragic Death of Assistant Coach Greg Knapp
Several months before the New York Jets selected Zach Wilson with the second overall pick in the 2021 NFL Draft, the franchise smartly hired renowned quarterback expert Greg Knapp. A well-traveled assistant coach who spent almost a decade of his life as a practice-squad player, he officially joined the Jets in January following a three-year stint with the Atlanta Falcons.
Unfortunately for Knapp, his life took a completely unexpected turn on July 17.
Less than a week later, the dedicated husband and father of three took his last breath.
While Knapp's tragic death represents a devastating loss on multiple levels, it's clear he made a lasting impression on the NFL community. After all, players and coaches who knew him have wasted no time turning to social media to pay tribute to a man who truly embodied what it meant to be an NFL lifer.
The Jets hired a renowned quarterback expert to help shape the future of their offense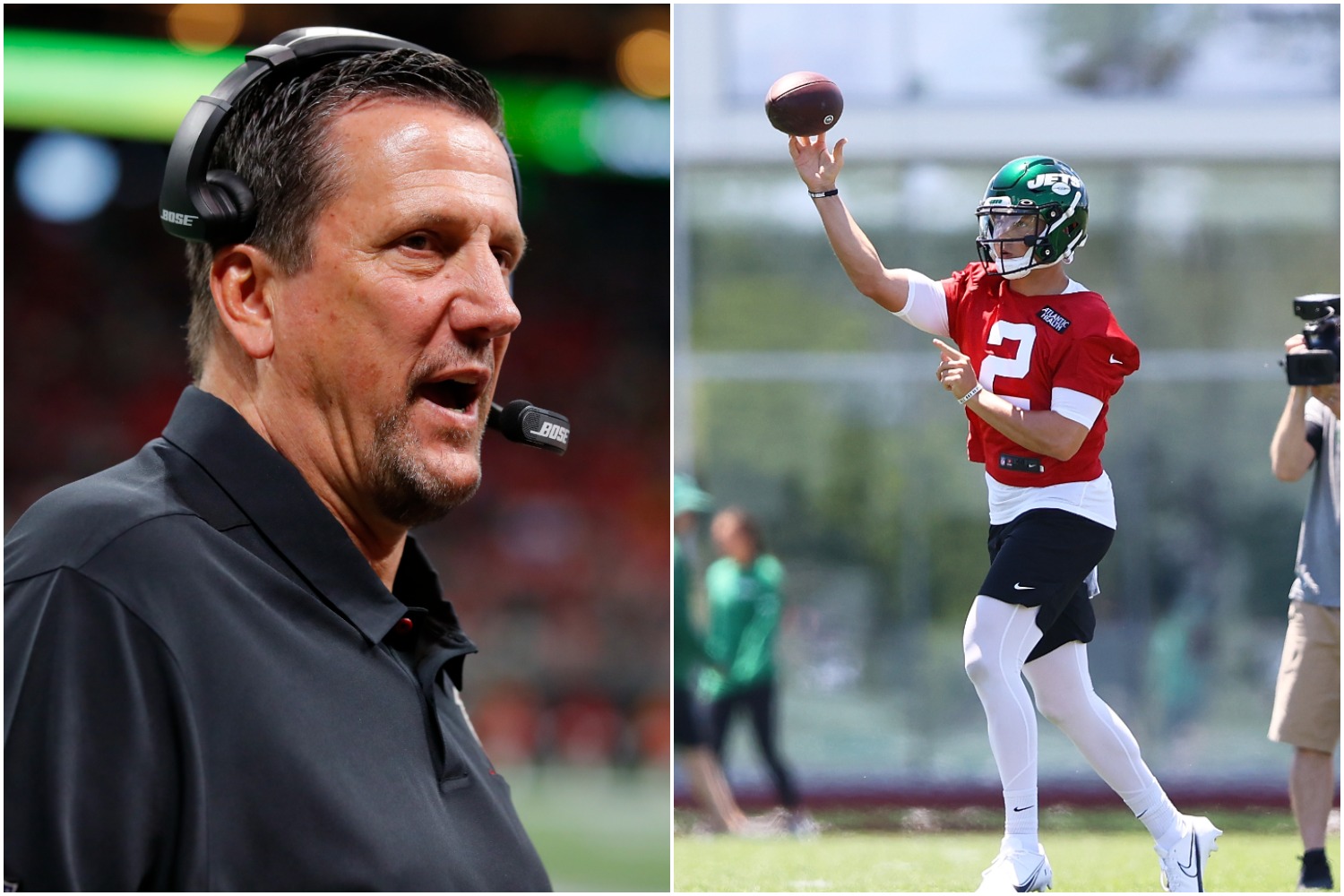 Before the Jets officially hitched their wagon to Wilson, they brought in an experienced coach with a history of getting great play out of vastly different quarterbacks. Knapp became a well-known figure in San Francisco as he worked his way up from offensive quality control coach to offensive coordinator. Of course, that put him in close proximity to one of the best signal-callers of all time: Steve Young.
Knapp's next stop on his coaching journey gave him the opportunity to mold another athletic passer with a powerful left arm: Michael Vick. As the Falcons' offensive coordinator from 2004-06, he helped the physically gifted quarterback unleash the dual-threat skill set that inspired Atlanta to take him No. 1 overall in the 2001 NFL Draft. Under Knapp's watch, Vick earned two Pro Bowl berths and solidified his status as one of the league's most electrifying stars.
Following brief stints with the then-Oakland Raiders, Seattle Seahawks, and Houston Texans, Knapp found himself working with a quarterback who went first overall in the draft three years before Vick. He served as Peyton Manning's position coach for three seasons before the legendary signal-caller retired. Of course, the Denver Broncos won a Super Bowl title and put up ridiculous numbers on offense during that period.
Following another three-year stint with the Falcons, Knapp got hired by the Jets on Jan. 18 to become their passing game specialist. Expected to help unlock the best out of Wilson, he seemed like the perfect person to tutor the talented 21-year-old. However, the Jets' plan of having Knapp mold their new quarterback took an unexpected turn six months after they became his latest employer.
Zach Wilson and the Jets suffer devastating loss with Greg Knapp's tragic death
On Saturday, July 17, a motorist struck Knapp with a car while he was biking in San Ramon, Calif. The avid cyclist reportedly suffered serious injuries.
Unfortunately for Knapp's family, the situation took a tragic turn on Thursday.
According to ESPN, the 58-year-old died from the injuries he sustained in last weekend's crash. Knapp was expected to fly to New Jersey this week to begin his first season in his new role with the Jets. However, his tragic death represents a brutal start to training camp for head coach Robert Saleh and the rest of the organization.
"Greg had such an inner peace about him that people always seemed to gravitate towards," Saleh said in a statement posted to Twitter. "He lived life in a loving way that helped him connect with people from all walks of life in a unique way. In his short time here, I believe the people in this organization had a chance to experience that connection. Greg, thank you for all that you have shared with us, you will be missed brother."
Knapp's family also released a statement in the aftermath of his death.
"Those of us who were so blessed to have known him, know that he would have wanted even this moment to be a teachable one," the family said in a statement. "So this is it…'Live every day as if it's your last, and love those around you like it won't last!'
Knapp's untimely passing inspires powerful words from members of the NFL community
Considering he spent 25 years as an NFL coach in some form or fashion, Knapp most certainly got a chance to connect with a number of high-profile players and other coaches throughout his career. While Wilson won't have the benefit of learning the nuances of the position from the experienced and highly-respected assistant, Knapp clearly made an impact on those he crossed paths with during his time in the league.
Since news of his tragic death broke, members of the NFL community have shown tremendous class by paying tribute to the late coach.
"He was a tremendous football coach who achieved at the highest levels of our game, but more importantly he was a wonderful person who had the love, admiration and respect of those who were blessed to work with him," Falcons owner Arthur Blank wrote in a statement on Twitter. "Rest In Peace, Greg Knapp."
Blank's longtime quarterback also took to social media to deliver a message honoring the man who directly coached him from 2018-20.
"Saddened by the passing of Greg Knapp. He was one of the most positive, consistent and caring coaches I have ever been around. He made it a point to know our families and for us to know his. My heart goes out to his family. Greg made a significant impact on everyone he came into contact with and while he will be missed by so many he will never be forgotten. I'm so thankful for the time we were able to spend together," Matt Ryan wrote on Instagram.
All statistics courtesy of Sports Reference and Pro Football Reference.