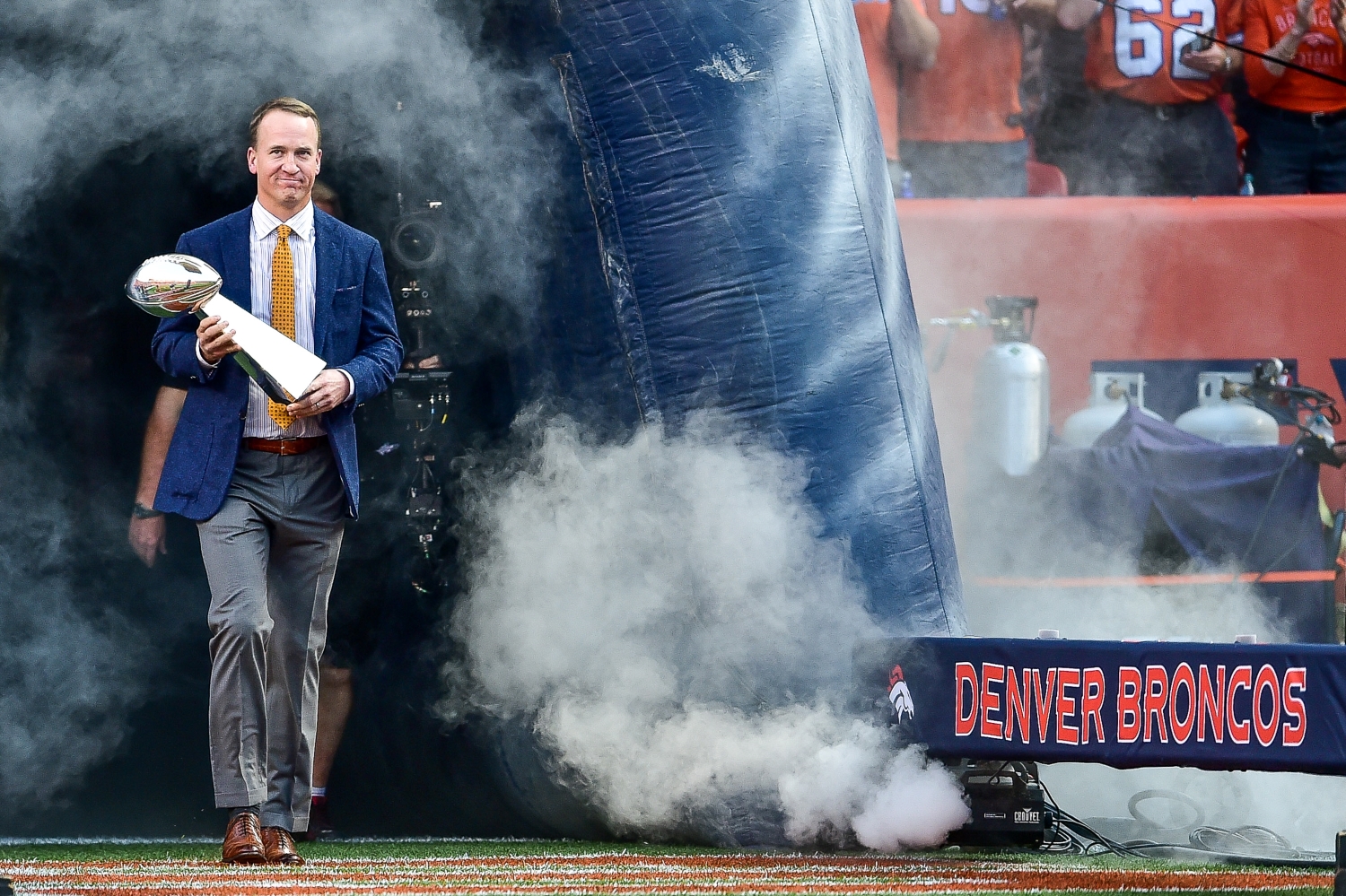 Peyton Manning Just Earned The Ultimate Sign of Respect From the Broncos
Convincing Peyton Manning to come to Denver changed everything for the Broncos. Later this year, he will receive a special honor from the franchise he helped lead to a Super Bowl title back in 2015.
Although the city of Indianapolis will always hold a special place in his heart, Peyton Manning didn't finish his career playing in front of a packed crowd of Colts fans at Lucas Oil Stadium. Rather, he took his final NFL snap in Super Bowl 50 as a member of the Denver Broncos.
Ultimately, Manning's decision to join forces with John Elway paid off for all parties involved. And even though he only spent four years with the franchise, the legendary quarterback still earned the ultimate sign of respect from the Broncos on Wednesday.
Peyton Manning made magic happen during his brief time in Denver
Colts fans got a chance to watch Manning carve up opposing defenses for 13 years. However, his time with the team came to a rather abrupt end due to a career-threatening neck injury. With Indianapolis electing to build around Andrew Luck, Manning decided to take his talents to Denver.
Needless to say, he made the right call.
After missing the entire 2011 season, Manning stormed back with a vengeance. In his first year with the Broncos, he led the league with a 68.6% completion rate while guiding the team to a 13-3 record. The following year, he broke Tom Brady's single-season record by throwing 55 touchdown passes. Although the Broncos lost in the Super Bowl, they still put together one of the most impressive offensive seasons in league history.
Two years later, Manning finally achieved his ultimate goal.
Thanks to a dynamic defensive performance, Denver defeated the Carolina Panthers in Super Bowl 50. While Manning struggled mightily in the game (141 passing yards, one interception), he still earned the right to hoist the Lombardi Trophy for the second time in his career.
That represented the end of the road for the longtime Colts star. But in the span of just four seasons with the Broncos, Manning earned three Pro Bowl selections and won his fifth MVP award while securing a second Super Bowl ring.
Manning just earned the ultimate sign of respect from the Broncos
Earlier this year, Manning got elected into the Pro Football Hall of Fame. To no surprise, the 14-time Pro Bowler received the stamp of approval from voters in his first year of eligibility.
But Canton, Ohio, isn't the only place that will feature a bust of Manning. Because on Wednesday, the Broncos organization showed their former quarterback the ultimate sign of respect.
According to the official team website, the first-ballot Hall of Famer got unanimously elected to the Broncos' Ring of Fame. Manning will become the fifth quarterback to join the team's Ring of Fame.
"When Peyton arrived in 2012, his impact and standard was felt throughout our team, the entire organization and in the community," team president and CEO Joe Ellis said. "Coming back from a serious injury — with a new team in a new city — to not only win MVP but to have one of the greatest single seasons ever by any player was a remarkable feat. Peyton defined greatness as a Bronco. We're thrilled that he will now join the other Broncos legends as our newest Ring of Famer."
Manning paid tribute to several of his former teammates in a statement published in the news release.
"Once I got my confidence, we went on a heckuva run and never looked back. That's a credit to the many great teammates and coaches I had during my time with the Broncos," his statement read. "The chemistry with D.T. [Demaryius Thomas], Eric Decker, Wes Welker, Emmanuel Sanders and all those guys on offense was special. Winning the Super Bowl in 2015, we had an all-time defense and a really fun group with Von [Miller], Aqib [Talib], DeMarcus [Ware] and some other outstanding players."
Can Manning's former team get back to winning?
You can't talk about the history of Broncos football without mentioning Manning. But those days are in the past. And ever since he retired, the team simply hasn't been able to find his permanent replacement.
So what does the future hold for Manning's former team?
The offense features some exciting players at the skill positions (Jerry Jeudy, Courtland Sutton, Noah Fant), and a potential franchise quarterback in Drew Lock. But at this point, the former University of Missouri star has yet to cement his case as the long-term answer at the most important position in sports.
Meanwhile, Teddy Bridgewater doesn't bring much upside to the table. Still, his leadership and experience might convince Vic Fangio to go with Bridgewater over Lock.
In reality, the Broncos' season rests on their ability to slow down opposing offenses. Luckily for Denver fans, the team has plenty of talent on that side of the ball.
Up front, Von Miller and Bradley Chubb should provide a devastating one-two punch as pass rushers. On the back end, first-round rookie Patrick Surtain rounds out a secondary that features proven veterans in Justin Simmons, Kareem Jackson, Kyle Fuller, and Ronald Darby. Ultimately, if the front seven gets consistent pressure on the quarterback, Denver's defensive backs should have no trouble making plays on the ball.
Will that be enough to give the Kansas City Chiefs a run for their money in the AFC West?
Probably not.
But don't sleep on the Broncos as a team that could threaten for a playoff spot as soon as this season.