Peyton Manning Makes Interesting Comments About Aaron Rodgers' Future
A decade ago, Peyton Manning made a career-altering decision by taking his talents to the Denver Broncos. While Aaron Rodgers doesn't have the same level of control over his future, it's no secret the reigning NFL MVP wants a change of scenery. Still, the Green Bay Packers have steadfastly refused to trade one of the top quarterbacks in league history.
With speculation swirling about whether Rodgers will remain with the franchise that stole him with the 25th overall pick back in 2005, Manning shared his thoughts about a situation that doesn't appear to have a resolution on the horizon. And if the Packers do decide to deal the future Hall of Famer, their most logical trade partner couldn't be more ironic.
Peyton Manning can speak from experience about choosing your own fate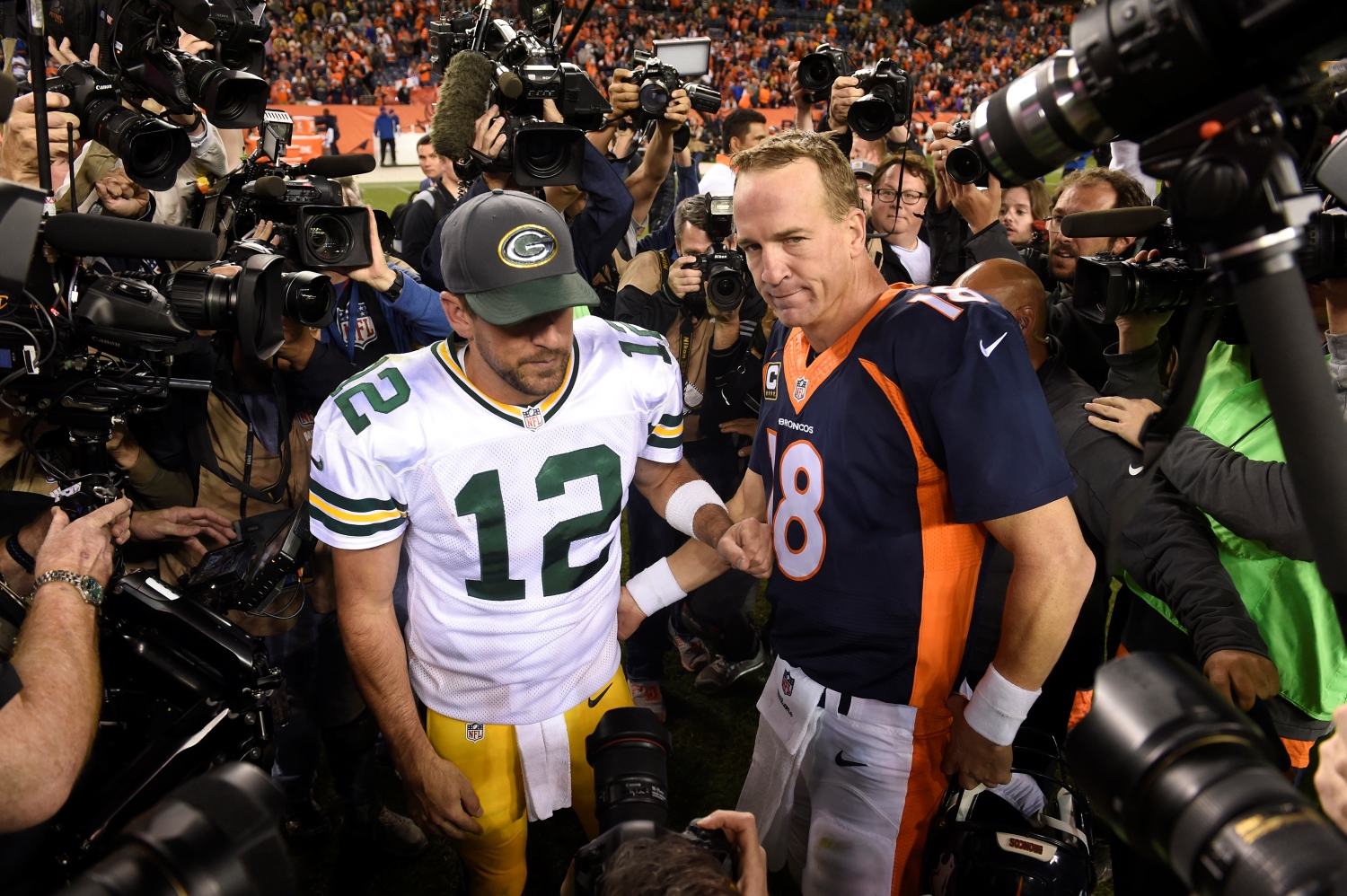 Colts fans got a chance to watch elite QB play for essentially a decade. Manning's ability to diagnose defenses, call audibles, and consistently deliver accurate throws helped him capture four NFL MVP awards during his time in Indianapolis. However, after leading the league in completions and attempts in 2010, he missed the entire 2011 season after undergoing neck surgery.
With Manning's football future in doubt, the Colts elected to release the iconic quarterback. Indianapolis used the No. 1 overall pick on Andrew Luck, who many viewed as a once-in-a-lifetime prospect.
As for the man he replaced? Manning entered free agency with a long list of interested suitors. Although the Miami Dolphins and Tennessee Titans looked like strong candidates to win the sweepstakes for his services, they lost out to John Elway and the Broncos.
On March 20, 2012, Manning signed a five-year, $96 million contract to join forces with the AFC West franchise. In his second season with the team, he broke Tom Brady's single-season record by totaling 55 touchdown passes. Two years later, Manning secured his second Super Bowl ring and retired from the game as one of the most respected and accomplished players of all time. Ultimately, choosing Denver as his final NFL destination paid off big time for the legendary signal-caller.
The retired NFL star makes interesting comments about Aaron Rodgers' future
As someone who benefitted from having the opportunity to choose his own fate, Manning understands the importance of freedom. After all, if the Colts hadn't released him, his career could have gone in a much different direction.
In Rodgers' case, the situation isn't exactly the same. Manning's departure centered around concerns about his long-term health. Plus, Indianapolis owned the No. 1 overall pick in a draft class that included two highly-rated quarterback prospects in Luck and Robert Griffin III. In other words, the divorce had nothing to do with a clash of personalities or issues with management.
Speaking with TMZ Sports about the ongoing power struggle between Rodgers and the Packers, Manning gave the disgruntled signal-caller credit for doing "such a great job there in Green Bay." He followed up with an interesting comment about how he'd like to see the drama get resolved.
"I think every player their goal is to stay with one team the entire time if they can," Manning explained. "Obviously, Tom [Brady] made a move. But when I think of Aaron, I think of him as a Green Bay Packer. Hopefully, they can get it worked out."
The Packers couldn't have a more ironic logical trade partner
Considering he finished his career with another NFL team, Manning shouldn't bank on Rodgers remaining with Green Bay for years to come. As much as the Packers want to hold on to a valuable asset, a trade still seems like an ideal outcome for both parties.
Looking for a logical landing spot for Rodgers? You don't have to search far and wide.
Once again, the Broncos have a need at the most important position in sports. Drew Lock may have talent, but the 2019 second-round pick has yet to cement his case as the long-term answer. So after landing Manning in free agency in the spring of 2012, could Denver make a move for another Hall of Fame-caliber quarterback?
That depends on a few factors.
First, the Packers have to open their phone lines for business. If Rodgers holds out, the team may have no choice but to accept the reality that it's time to move on.
In addition, Denver must consider the cost of acquiring the 37-year-old. Will it require multiple first-round picks plus proven players to convince Green Bay to ship Rodgers to the AFC? If that's the case, the Broncos better be sure they can compete for a Super Bowl title right away. Otherwise, parting ways with a package of premium picks and young talent doesn't make much sense.
But for a team that's struggled to find a franchise quarterback since Elway retired, perhaps no price will be too steep if it leads to Aaron Rodgers wearing a Broncos uniform.
Like Sportscasting on Facebook. Follow us on Twitter @sportscasting19.