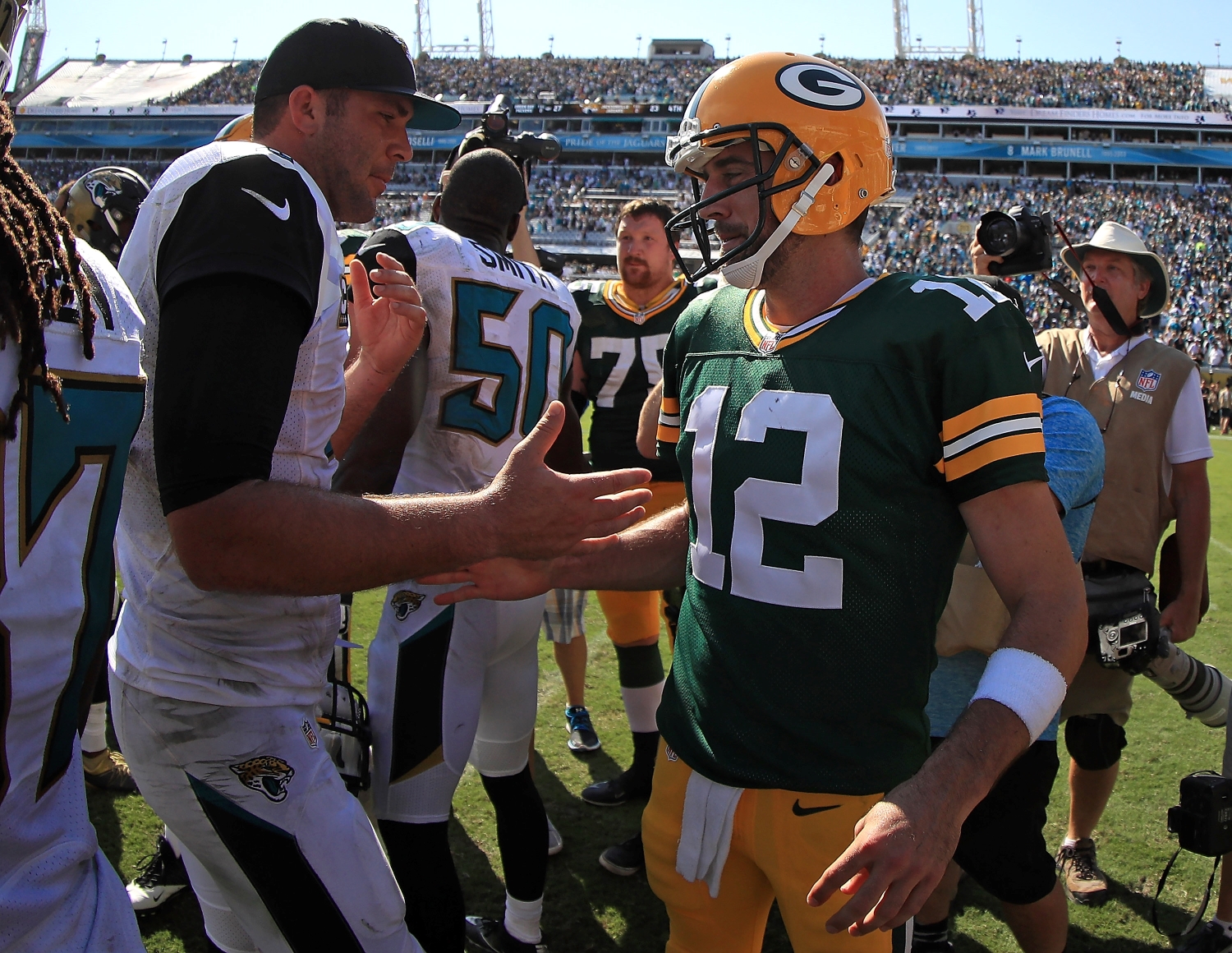 A Shocking Statistic Shows How Bad Things Have Gone for Aaron Rodgers and New Packers QB Blake Bortles
Aaron Rodgers and Blake Bortles share a shocking statistic that reflects just how badly things have gone in recent years for the two quarterbacks.
On the surface, it seems silly to mention Aaron Rodgers and Blake Bortles in the same sentence. After all, the former has three NFL MVP trophies and a Super Bowl ring sitting at home. Meanwhile, the latter failed to convince the Jacksonville Jaguars he deserved a second contract.
Yet, the two Green Bay Packers quarterbacks do share an unfortunate statistic in common. And while Rodgers doesn't deserve all the blame, the fact Bortles is in the same conversation shows just how bad things have gone in recent years for both players.
Blake Bortles' journey from Jacksonville to Green Bay
Talk about a pick that set the franchise back for years. Back in 2014, the Jaguars foolishly bet big on Bortles, who they selected ahead of future stars like Khalil Mack, Aaron Donald, and Zach Martin. The former UCF quarterback flopped badly as a rookie before rebounding with a 35-touchdown campaign in 2015.
Bortles fell back to earth the following year before putting together a more efficient season in 2017. Yet, his run as the team's starting quarterback didn't last much longer. After compiling a disappointing 24-49 record, the Florida native got released by the team that selected him with the third overall pick five years earlier.
Since his time in Jacksonville ended, Bortles has spent time with the LA Rams and the Denver Broncos. However, the 6-foot-5, 236-pound signal-caller only attempted two passes in 2019 and none in 2020.
Despite his rather uninspiring resume, Bortles will have another opportunity to get paid to hold a clipboard. On Thursday, Packers general manager Brian Gutekunst officially announced the team signed the journeyman to a one-year contract.
A shocking statistic shows just how bad things have gone for Aaron Rodgers and the former Jaguars draft bust
Packers fans have gotten used to seeing the same man under center for more than a decade. But even though Aaron Rodgers has established a reputation as one of the greatest quarterbacks of all time during that span, Green Bay has little to show for it. In fact, the future Hall of Famer happens to share a shocking statistic with his new backup.
Despite playing for a franchise many describe as a winning organization, Rodgers only has two playoff victories since 2017. As for Bortles? He has totaled the exact same number of postseason wins, which speaks volumes about how bad things have gone for both players.
For Rodgers, he has suffered from some questionable personnel decisions by the front office. He could easily have four or five playoff wins (and perhaps another Super Bowl ring) if Green Bay had done a better job from a roster-management perspective. However, after suffering premature postseason exits time and time again, Rodgers seems ready to find a new NFL home.
For Bortles, his two postseason wins stand out because he has essentially no chance of ever leading a team to another one. The Jaguars looked like a legitimate threat to hoist the Lombardi Trophy in 2017, but they ultimately fell to the New England Patriots in the AFC title game. It's basically been all downhill for Bortles, and he looks destined to finish his career as a backup.
Does Rodgers still have a future with the Packers?
Although they are teammates at the moment, it'll be interesting to see if Rodgers and Bortles share the same meeting room this season. Will the decorated quarterback force Green Bay to trade him? Or will the Packers call Rodgers' bluff and refuse to entertain offers for one of the most exciting players in NFL history?
The entire situation remains a fascinating storyline to follow. If a record-setting contract couldn't convince Rodgers to change his mind, Gutekunst should seriously consider moving on from the aging star. After all, why not set Jordan Love up for success by acquiring early-round draft picks and established players who can help the team in the post-Rodgers era?
In that case, Bortles would back up the second-year pro. And while he doesn't exactly inspire a ton of confidence in his ability to make plays on Sundays, at least the 29-year-old has 73 starts under his belt.
At this point, it's entirely possible to envision a scenario in which Bortles—and not Rodgers—calls Green Bay home. It just goes to show how quickly things can change in the NFL. Let's see if that situation plays out, or whether the Packers can pull off a last-minute save to keep their biggest star around for a little while longer.
Like Sportscasting on Facebook. Follow us on Twitter @sportscasting19.