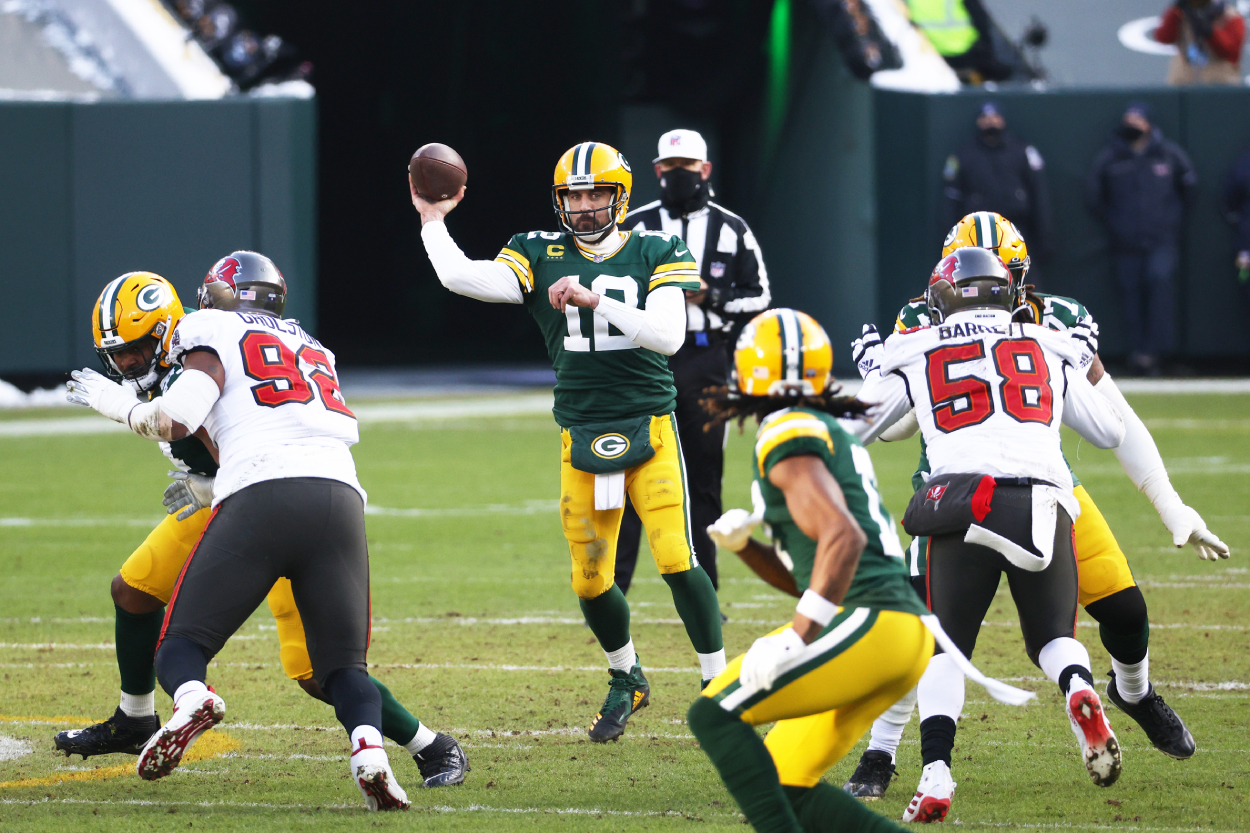 The Green Bay Packers Need to Give Grudge-Holding Aaron Rodgers a Dose of His Own Medicine
The Green Bay Packers need to play hardball with Aaron Rodgers.
In 2020, the Green Bay Packers had a draft they'd probably like to forget. They drafted for the future when they were in win-now mode, and it may have proved costly. Maybe it prevented them from getting to the Super Bowl this year. It certainly contributed to the fractured relationship between the team and quarterback Aaron Rodgers.
While the drama builds in Green Bay, the team needs to take a hard stance with its MVP.
Yes, the Packers messed up the 2020 NFL draft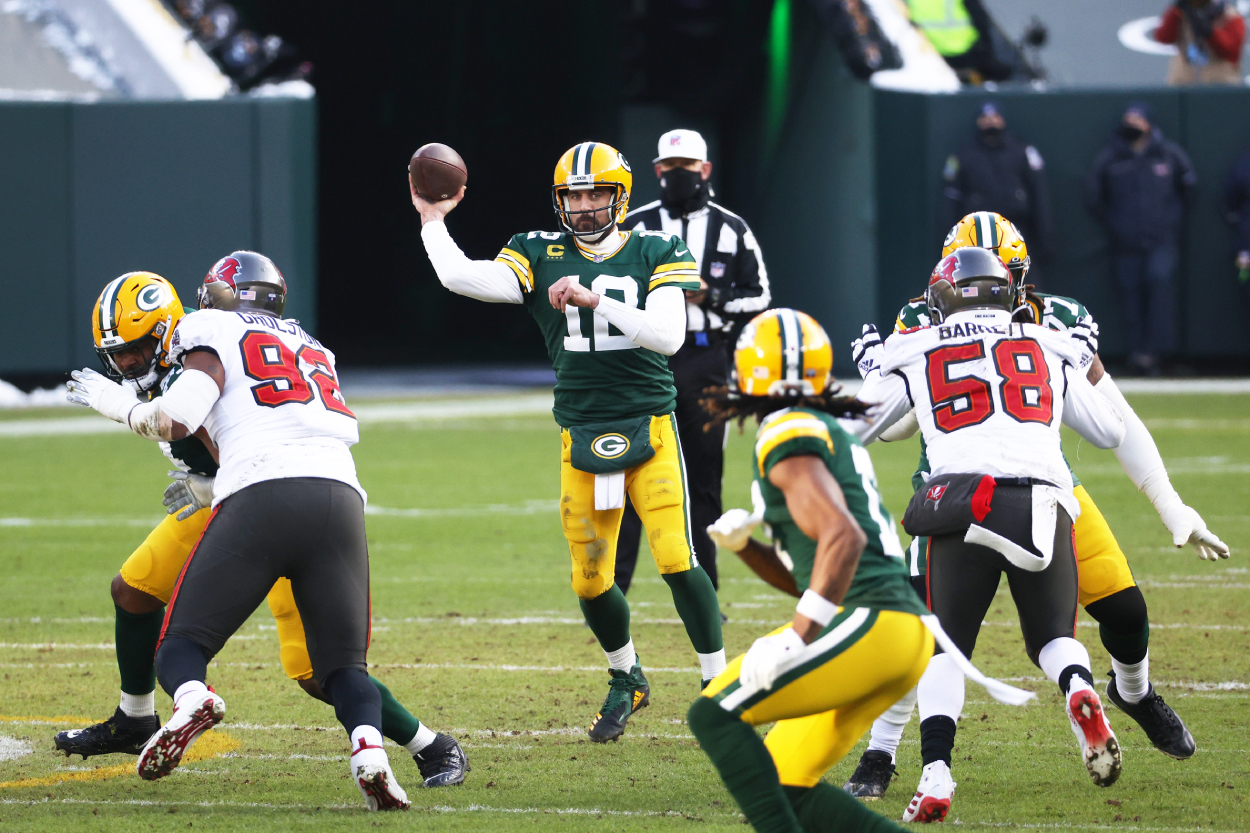 Jordan Love and AJ Dillon just might turn out to be great NFL players down the line, but they weren't what the Packers needed at the moment. Sure, the draft can be used to build for the future, but Green Bay isn't a rebuilding team that needs to stash away players. The Packers are in win-now mode after reaching the NFC title game the last two seasons.
GM Brian Gutekunst selected Love and Dillon with the team's first two picks in 2020, knowing neither had a chance of making an immediate contribution. Maybe if he took a wide receiver or a cornerback at No. 1, the Packers would have scored a touchdown or wouldn't have let up a back-breaking score right before the half in the NFC Championship Game. The Packers lost by five points.
The Packers also used some draft capital to move up in the first round to select Love. Rodgers apparently wasn't even made aware they were taking a quarterback, let alone trading up to do so. If the relationship between Rodgers and the Packers wasn't already in trouble, it certainly was that draft night.
Brian Gutekunst admitted he handled the draft situation wrong
While the Packers/Rodgers drama has unfolded, Gutekunst appears to have taken the first step in trying to mend fences. The draft was a slap in the face to Rodgers, and Gutekunst has publicly stated he handled the whole thing wrong. He admitted there should have been better communication throughout draft night.
"I certainly look back to last year's draft, and some of the communication issues we could have done better, no doubt about it," Gutekunst said after the first round of the 2021 draft. "The draft is an interesting thing, it can unfold differently than you think it will unfold, and it happens pretty fast. Certainly, looking back on it, certainly, where we sit today, there could have been some communication things we did better."
That's the first step of trying to fix a problem.
Unfortunately for the Packers, Rodgers seems like a guy who carried a grudge. Former teammate Ryan Grant said Rodgers held one on Mike McCarthy when the former Packers coach was the offensive coordinator with the San Francisco 49ers and passed on Rodgers in the 2005 NFL draft.
"Aaron's always had a chip on his shoulder with Mike," said Grant, according to Bleacher Report. "The guy who ended up becoming your coach passed on you when he had a chance. Aaron was upset that Mike passed on him – that Mike actually verbally said that Alex Smith was a better quarterback."
The Green Bay Packers need to play hardball with Aaron Rodgers
The Packers owe nothing to Rodgers. Prior to the 2018 season, he was rewarded handsomely with a four-year extension that temporarily made him the league's highest-paid player. He still has three years on his deal.
Rodgers is 37 years old, and it shouldn't be out of the ordinary for the team to consider the future. Using a first-round pick on a quarterback after being one game away from the Super Bowl wasn't the smartest of moves, but Rodgers needs to get past that.
It appeared he did. He went out and won his third MVP. He proved his point, and if he keeps playing at that level, he'll continue to show the world how wrong Gutekunst was.
Instead, Rodgers continues to hold a grudge and apparently no longer wants to play for the team. If that's the case, why should the Packers cater to him? If he wants to play hardball, they can play, too.
Again, they owe him nothing. They have said they won't trade him, and they need to stick to that plan. Rodgers' ego is huge, and he's proved he can still play at a high level. There's no way he walks away from the game and retires, especially coming so close to tasting a Super Bowl berth the last two years.
If he holds out, let him. Don't trade him. He'll be back. He wants to build on his legacy and the Packers hold the cards. If he does hold out, then it's the perfect time to show exactly what they saw in Jordan Love.