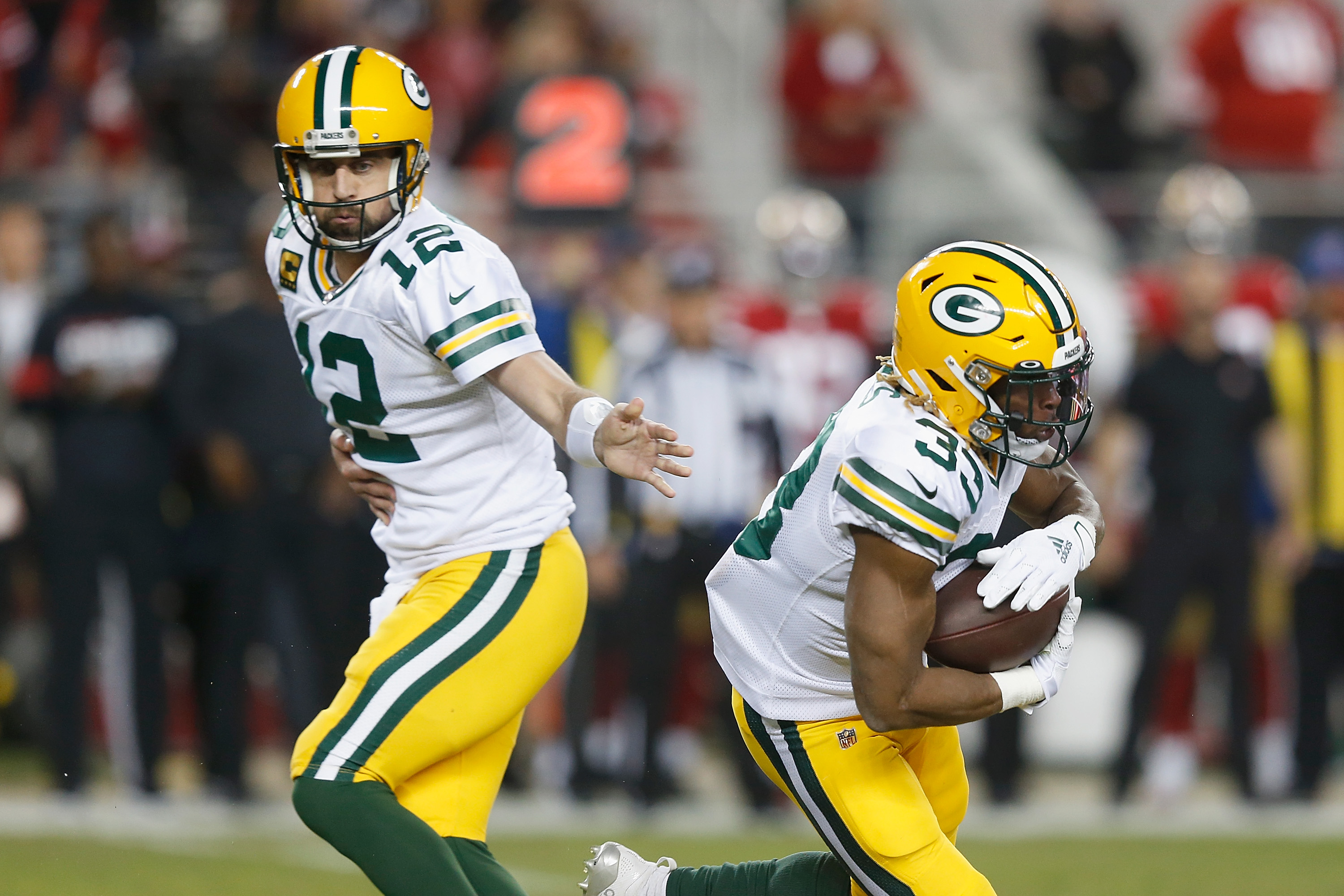 Aaron Jones, Aaron Rodgers Making Packers' 2020 Draft Look Even Worse
Green Bay Packers stars Aaron Jones and Aaron Rodgers are making the Packers' 2020 draft look even worse than first thought.
The rumblings by many Green Bay Packers fans during and after the 2020 NFL draft were loud and clear. They weren't happy. Just a few months after playing in the NFC title game, Packers GM Brian Gutekunst was drafting like he was planning for 2024. The recent play of running back Aaron Jones and quarterback Aaron Rodgers has magnified just how poor that draft was.
Reliving the Packers 2020 draft
Who knows, maybe this was a motivational tactic by Green Bay Packers GM Brian Gutekunst. If that's the case, it's working. Gutekunst stunned most of the football world this year when he traded up in the first round to grab Utah State quarterback Jordan Love.
Nothing against Love, but Aaron Rodgers guided the Packers within one game of reaching the Super Bowl. He continues to play at a very high level. Drafting a player in the first round who might not see the field for three or four years was a head-scratcher.
Gutekunst then went and repeated the process in Round 2. Although he didn't trade up, he drafted running back A.J. Dillon to back up/replace arguably their second-best player in running back Aaron Jones. If you're counting at home, that's two backups in the first two rounds for a team that nearly reached the Super Bowl. The Packers, ridiculously thin at wide receiver, especially with Davante Adams hurt once again, went the entire draft without drafting a receiver.
Aaron Jones off to a torrid start
Aaron Jones has done everything for the Green Bay Packers through two games this season. Jones leads the league in rushing yardage with 234 yards. He's also rushed for three scores. Jones has been valuable as a pass catcher out of the backfield with eight catches for 78 yards and a touchdown.
Against the Detroit Lions last weekend, Jones was the team leader in both rushing and receiving. He rushed for 168 yards and two touchdowns. He added 68 receiving yards and a touchdown. Jones had a beautiful 30-yard catch, outjumping a defender, that set up his final touchdown run in Green Bay's 42-21 victory.
"That was a pretty spectacular catch," Rodgers said, according to USA Today. "Him high pointing that, in tight coverage. That wasn't a ball I second-guessed at all. That's a credit to him. There's not a high percentage of people around the league, back-wise, who are going to even get plays called for them like that, and who can come down with those. He is special. He's a great kid…He's such a great teammate and fun guy to be around."
Aaron Rodgers still playing at a high level
Maybe a fire was lit under Rodgers after the Packers drafted Jordan Love in the first round. He's come up firing in the first two weeks of the season. He's guided the Packers to a 2-0 record, and the team had put up 43 points in Week 1 and then 42 last week.
Rodgers threw four touchdowns in a season-opening win over the Minnesota Vikings. He completed 32 of 44 passes for 364 yards. Last week against the Detroit Lions, he completed 18 of 30 passes for 240 yards and a pair of touchdown passes.
Both Aarons are lighting it up for the Packers. Rodgers has gotten paid and is showing he's worth the money. Jones is in line for a huge payday, especially after running backs Alvin Kamara and Dalvin Cook recently signed long-term extensions. Sure, winning has helped tone down the talk of Green Bay's strange 2020 draft. The Packers need to lock up Jones, and when they do, it will make their second-round pick look just as bad as their first-rounder.
Statistics courtesy of Pro Football Reference.