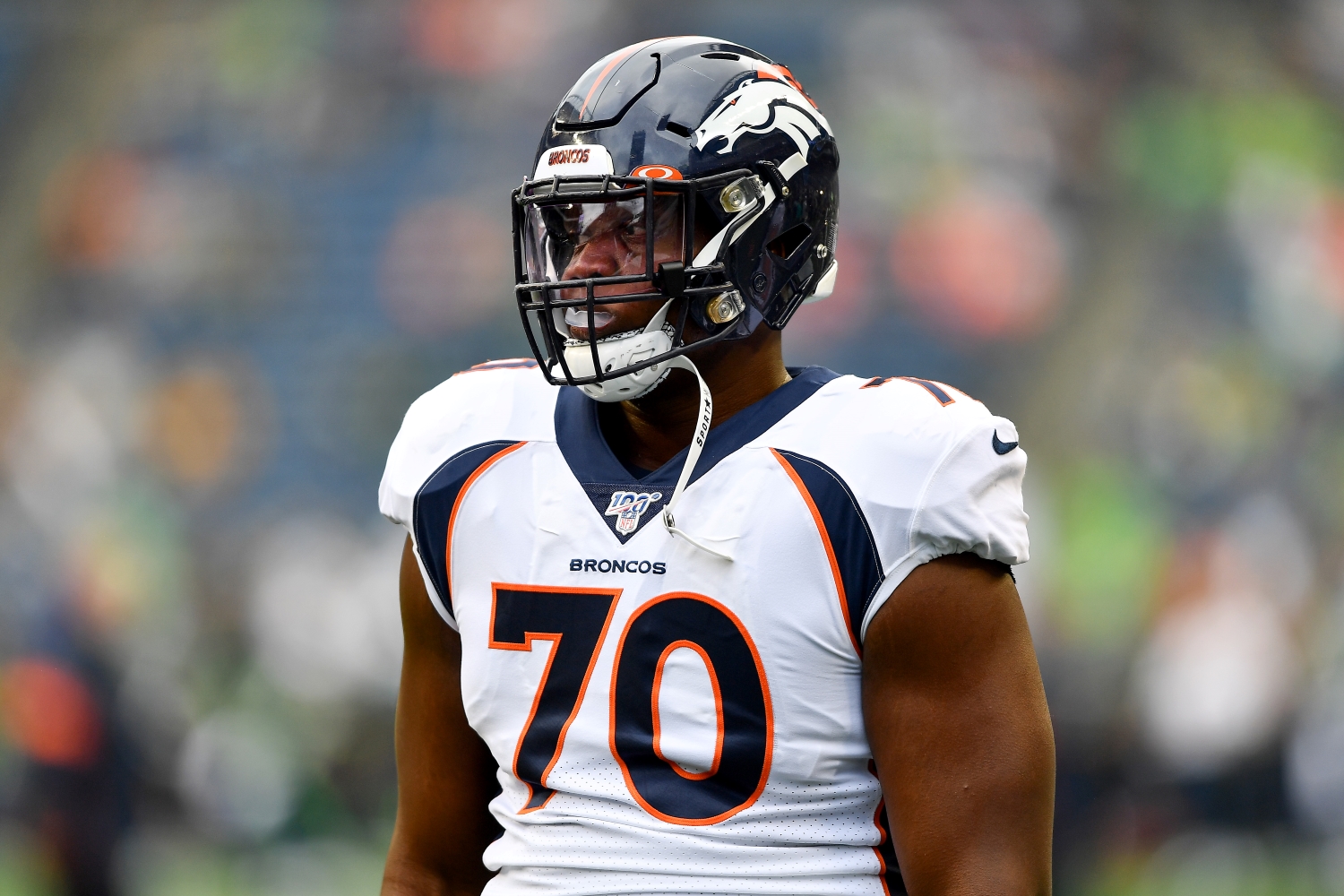 The Denver Broncos Have a $10 Million Problem That Won't Go Away Quietly
Ja'Wuan James doesn't sound ready to bow down to the Broncos. Will Denver find a way to fix a $10 million problem that doesn't paint the franchise in the best light?
NFL players put their bodies on the line for a living. In order to prepare for what takes place on the field, they spend hours upon hours working on their physical conditioning. Unfortunately for Ja'Wuan James and DaeSean Hamilton, their offseason workouts ended up doing more damage than good.
Although both players appear destined to suit up for new teams in the near future, that doesn't mean the Broncos are out of the woods yet. Because based on the latest report about James' plans, Denver has a $10 million problem that won't go away quietly.
The Broncos recently suffered two significant injury blows
The Broncos committed big money on their offensive line by signing James to a four-year, $51 million contract two offseasons ago. Given how much time he missed in Miami (15 games across five seasons), the investment carried some inherent risk. Coming off a 15-game campaign in 2018, the 2014 first-round pick only started three games in his first year in Denver.
James chose not to play the 2020 season due to the COVID-19 pandemic. With a chance to finally showcase why the Broncos handed him such a lucrative deal, the towering tackle suffered a serious setback earlier this month when he tore his Achilles tendon while training away from the team facility. The injury represented a brutal blow for a player who hasn't made an impact since taking his talents from Miami to Denver.
To make matters worse, the Broncos lost another player to a major injury Friday. Hamilton, a fourth-round pick back in 2018, tore a knee ligament during his own workout away from the team's training complex. The wideout had been on the trading block, but it seems unlikely a team will make a move for him now that he's hurt.
Denver has a $10 million problem that won't go away quietly
Just 10 days after their projected starting right tackle tore his Achilles, the Broncos officially cut ties with James. Denver released the 28-year-old Friday with a post-June 1 designation. The team protected itself further by listing James with a non-football injury, which will help the Broncos save a significant amount of money.
Then again, that may not happen if James gets his way.
According to Jeremy Fowler of ESPN, the veteran offensive lineman is strongly considering filing a grievance through the NFL Players Association for lost wages. He reportedly could seek more than $10 million in salary he would have made this season.
A memo sent from the NFL's management council to team executives and head coaches the day after James sustained his injury provided more clarity on the non-football injury policy.
"Clubs are encouraged to remind players of the significant injury-related protection provided if they choose to work out at the club facility and the risks they undertake in choosing to train at a non-NFL location," the memo read.
It will be interesting to see how far James takes his case. More importantly, if a grievance gets filed, how will the situation get resolved? Will the veteran recoup some of those lost wages? Or will the Broncos win out and avoid having to pay him?
Losing Ja'Wuan James shouldn't stop the Broncos from scoring points this season
No matter what happens in the future between James and the Broncos, losing him shouldn't have a dramatic effect on the team's ability to win on Sundays. After all, he didn't contribute much during his brief time with the franchise.
Although Denver doesn't boast the strongest offensive line in the league, there's still plenty to get excited about when it comes to Pat Shurmur's group. The addition of Teddy Bridgewater gives the Broncos a solid fallback option in case Drew Lock fails to take a step forward. And whoever starts at quarterback will have the luxury of working with a strong cast of pass-catchers that includes Jerry Jeudy, Courtland Sutton, and Noah Fant. Plus, rookie running back Javonte Williams should provide a nice counterpunch to veteran Melvin Gordon.
Of course, the Broncos could immediately thrust themselves into the Super Bowl conversation by pulling a big-time power move. But do they have enough resources to entice the Green Bay Packers to trade Aaron Rodgers?
Drop the reigning MVP into this offense and it's scary to think how dynamic Denver could be.
All statistics courtesy of Pro Football Reference.