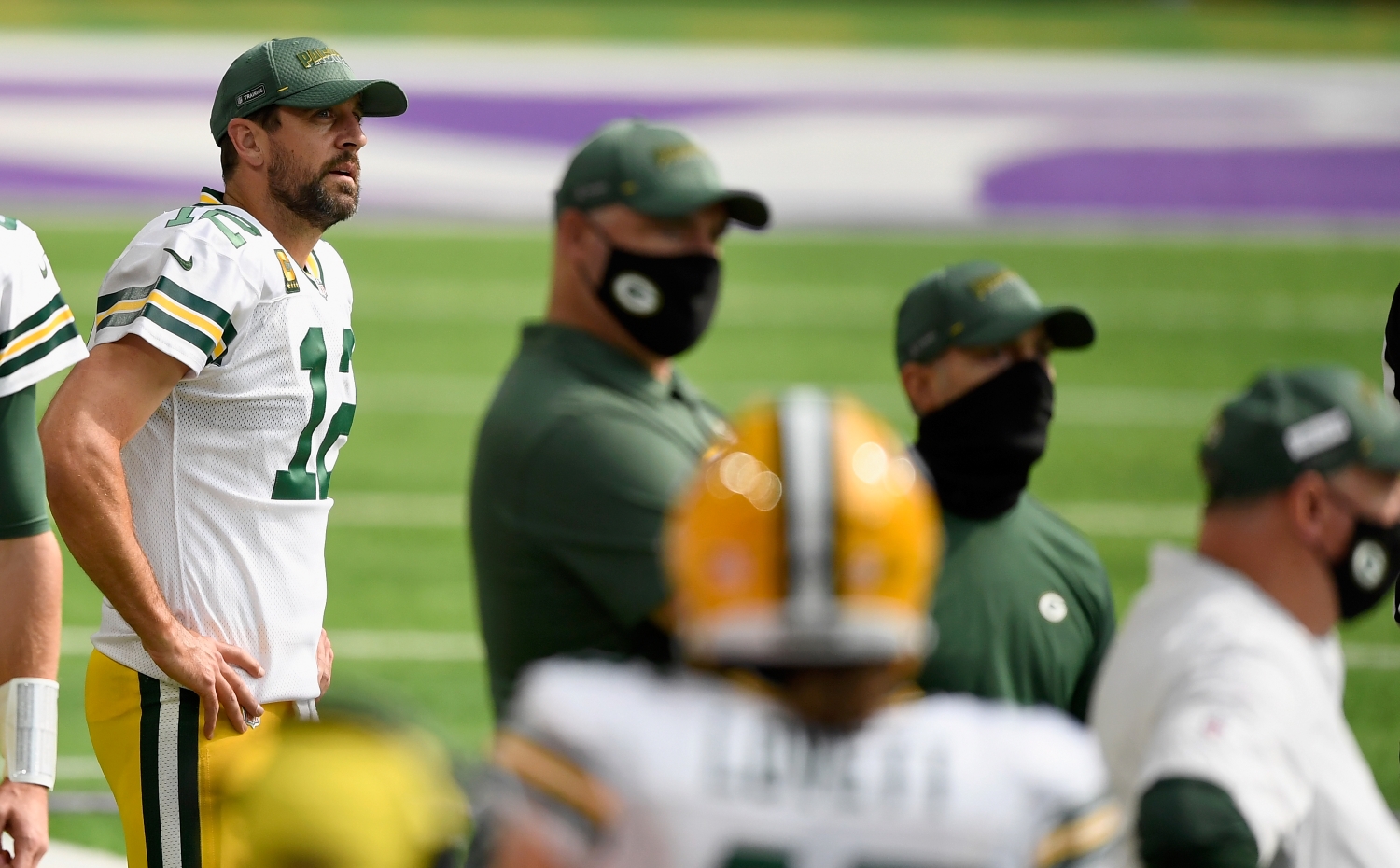 Aaron Rodgers Will Be Forced to Sacrifice $23 Million if He Pulls the Ultimate Power Move Against the Packers
Star quarterback Aaron Rodgers will have to sacrifice $23 million if he pulls the ultimate power move against the Green Bay Packers.
Aaron Rodgers has spent his entire NFL career with one organization. And by establishing a reputation as one of the league's top quarterbacks, he has secured several lucrative contract extensions from the Green Bay Packers. But if the future Hall of Famer pulls the ultimate power move against the franchise, Rodgers will have no choice but to sacrifice $23 million.
Then again, another solution exists that would give the reigning MVP what he wants. Only time will tell, however, if the Packers finally come to their senses and go all-in on the future.
Aaron Rodgers may have already played his final snap for the Packers
Green Bay shocked everyone by trading up to draft Jordan Love last year. The pick immediately raised major doubts about Rodgers' long-term standing with the team. He responded by winning MVP honors for the third time in his Canton-worthy career. Unfortunately for Rodgers, the Packers suffered another crushing playoff loss that once again left him watching the Super Bowl from home.
Based on everything that's transpired since then, it looks more and more likely that Rodgers has played his final snap in a Packers uniform. In fact, the situation took a major turn shortly before the 2021 NFL draft began.
On Thursday, Adam Schefter of ESPN reported the 37-year-old told some members within the organization he does not want to return to the team. Naturally, general manager Brian Gutekunst tried to do some damage control.
"As we've stated since the season ended, we are committed to Aaron in 2021 and beyond," Gutekunst told ESPN. "Aaron has been a vital part of our success and we look forward to competing for another championship with him leading our team."
The Packers have remained adamant about holding on to Rodgers. At the same time, the veteran quarterback seems committed to his stance of wanting out of Green Bay.
Rodgers will have to pay an expensive price if he pulls the ultimate power move against Green Bay
The Packers actually hold most of the leverage in this situation. With Rodgers under contract, they maintain full control of his NFL rights. As he continues to make a case to become the permanent host of Jeopardy!, the disgruntled quarterback has to think long and hard about his future in Green Bay. But if Rodgers wants to pull the ultimate power move against the only franchise he's ever played for, he better expect to pay a premium price.
According to the NFL Network's Ian Rapoport, if the nine-time Pro Bowler retires, he must repay the Packers $11.5 million this year. If he stays retired in 2022, Rodgers will have to repay another $11.5 million. Sacrificing $23 million to stick to his guns would certainly send a strong message to Green Bay's front office.
Don't be surprised if that scenario happens, either. Rapoport said retiring remains a "serious consideration" for Rodgers unless "the situation is repaired to his liking." Needless to say, the future appears quite murky up in Wisconsin.
Trading the reigning NFL MVP is the best solution for all parties involved
Rodgers may pull a Carson Palmer and retire in order to force his way out of a bad situation. But it shouldn't have to come to that.
Instead, the Packers need to open their eyes to the reality of what's going on. Rodgers clearly wants a change of scenery. The team already has a first-round replacement waiting in the wings. It makes much more sense to trade the reigning MVP and go all-in on Love, who already spent a full season on the sidelines.
Even though he turns 38 in December, Rodgers still inspires fear in defenses thanks to his ability to make throws from anywhere on the field. For a team ready to win right now, it can't hurt to give the Packers a call and make a compelling offer. If Green Bay can get back at least one first-round pick and a young, established star, that makes them a stronger squad than having Rodgers sitting at home with $23 million less in his bank account.
Trading him would allow Love to take over a team that has enough talent to compete for a Super Bowl title. Rodgers would get his wish of continuing his pro football career with another franchise.
At this point, Green Bay doesn't sound interested in executing any deal involving one of the greatest quarterbacks of all time. But if Rodgers digs his heels in all summer, don't be surprised if the Packers pivot from their stance down the line.
Like Sportscasting on Facebook. Follow us on Twitter @sportscasting19.