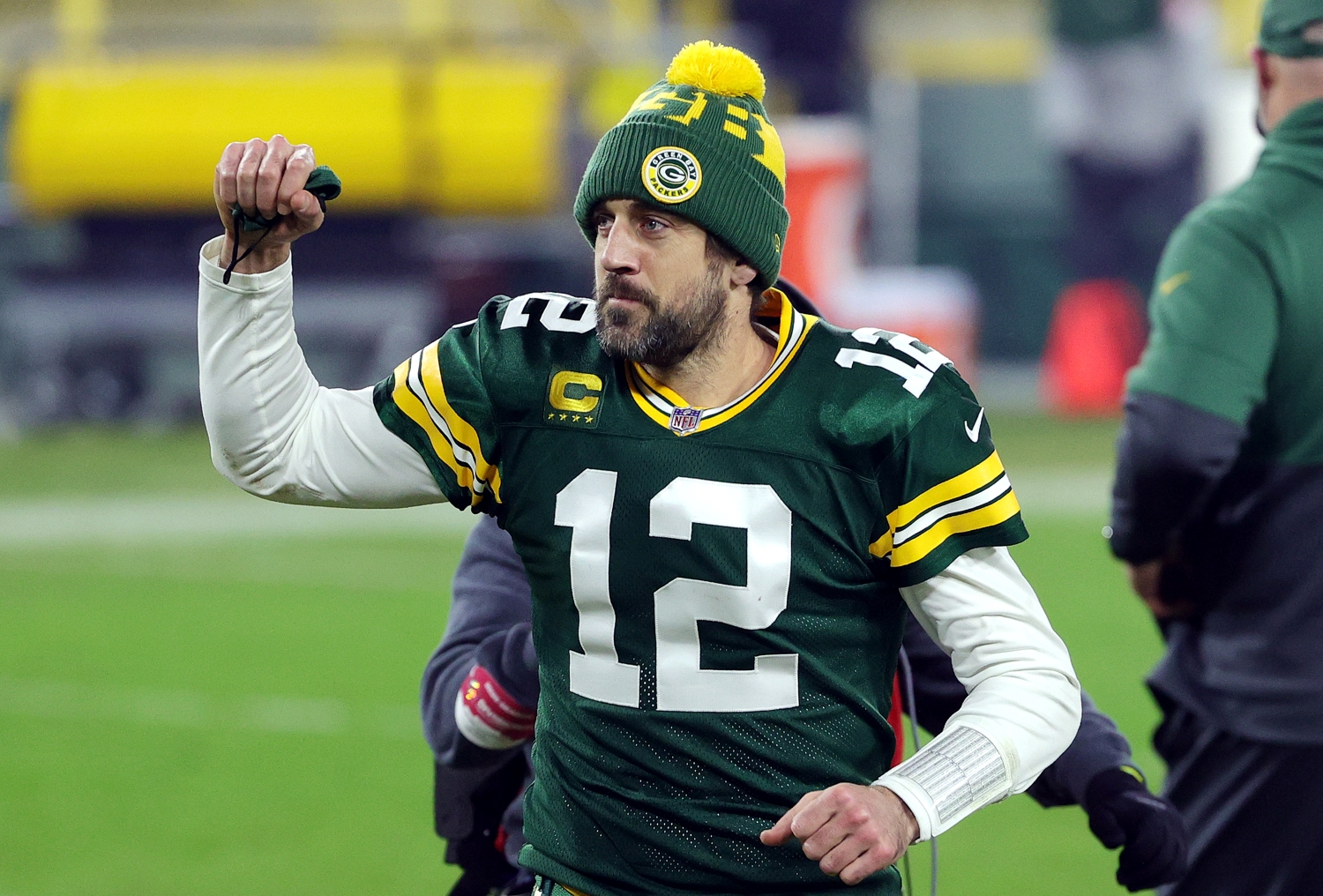 Aaron Rodgers Has Already Crunched the Numbers to Confirm His 'Dream Job' Won't Interfere With His Packers Career
Aaron Rodgers may have a lucrative NFL contract, but the Green Bay Packers star refuses to hide his true feelings about pursuing his dream job.
Aaron Rodgers has worked in the same profession for more than a decade. And while he still ranks as one of the top quarterbacks in the league, the Green Bay Packers star won't collect NFL paychecks forever.
Now on the back end of his Hall of Fame-worthy career, Rodgers already has his sights set on pursuing a "dream job" that has nothing to do with football. In fact, if he had it his way, the reigning MVP would gladly accept the challenge of working two high-profile gigs at the same time.
Aaron Rodgers gets paid handsomely to be the face of the Packers
Aaron Rodgers has become quite a wealthy man thanks to his prowess on the football field. A true once-in-a-lifetime talent, he bided his time before taking over for Brett Favre. And ever since he became Green Bay's starting quarterback in 2008, the California native has consistently put up monster numbers.
And Rodgers has been paid handsomely to do so.
In the middle of his first season as a starter, he signed a six-year, $63.5 million contract extension. Two years later, Rodgers led the Packers to their first Super Bowl title since 1996.
Although Green Bay has yet to taste championship success again, it hasn't been because of a lack of production from the most important position in sports. Rodgers' consistently dominant play helped him score a $110 million extension in 2013.
His bank account received an even bigger boost right before the 2018 season began. Despite coming off an injury-shortened campaign, Rodgers secured a four-year, $134 million deal to remain in Green Bay.
But even though he gets compensated well to defeat defenses on Sundays, Rodgers refuses to hide his true feelings about pursuing a new job.
Rodgers has crunched the numbers to make sure his 'dream job' can work with his current schedule
A self-described nerd, Aaron Rodgers recently embarked on a new career path. The 37-year-old NFL star currently serves as the guest host of Jeopardy!
However, Rodgers has even bigger plans (or dreams, at least) involving the popular game show. And during a recent interview with the LA Times, he didn't hold back in hiding his true feelings about making Jeopardy! a permanent part of his life.
"It's definitely a dream job for me," Rodgers said. "They film 46 days a year. I worked about six months out of the year this last year. I worked 187 days this year in Green Bay, which gives me another 178 or 179 days to film 46 episodes. So look, it's definitely a dream job for me."
The longtime Packers star further added that he would be "honored to be in the mix" to serve as the successor to the late Alex Trebek. Of course, it seems unlikely that his current employer would be amenable to the most important player on the team spending so many days dedicated to another profession.
Still, it's fair to wonder whether Rodgers will actually push the issue. After all, he's never been afraid to express his opinion. And on the surface, he certainly seems to have the qualities necessary to excel in front of the cameras.
Will the guest host of 'Jeopardy!' finish his career in Green Bay?
Aaron Rodgers clearly loves Jeopardy! And perhaps one day he will secure his "dream job" outside of football. But juggling his NFL career with hosting the highly-watched game show seems like a pipedream.
Then again, if he wants to commit himself to another job, it's not as if the Packers have given him much incentive to not start planning for the future. After all, Green Bay drafted his potential successor last year.
Considering he just won NFL MVP honors for the third time, you would think his future would be secured. Yet, there's a very real possibility that the Packers could move on from Rodgers sooner than later.
Although his $38.4 million dead-cap charge for 2021 makes him a lock to remain in Green Bay for one more year, Rodgers only carries a $17.2 million dead-cap hit for 2022. The Packers will have to make a tough decision about whether to transition to Love even with one of the greatest quarterbacks of all time already on their roster.
Of course, they could put an immediate end to speculation about their biggest star's future by signing Rodgers to an extension.
But given what's transpired over the last year, that seems like wishful thinking.
And as we know, not all dreams come true.
All contract data courtesy of Spotrac.