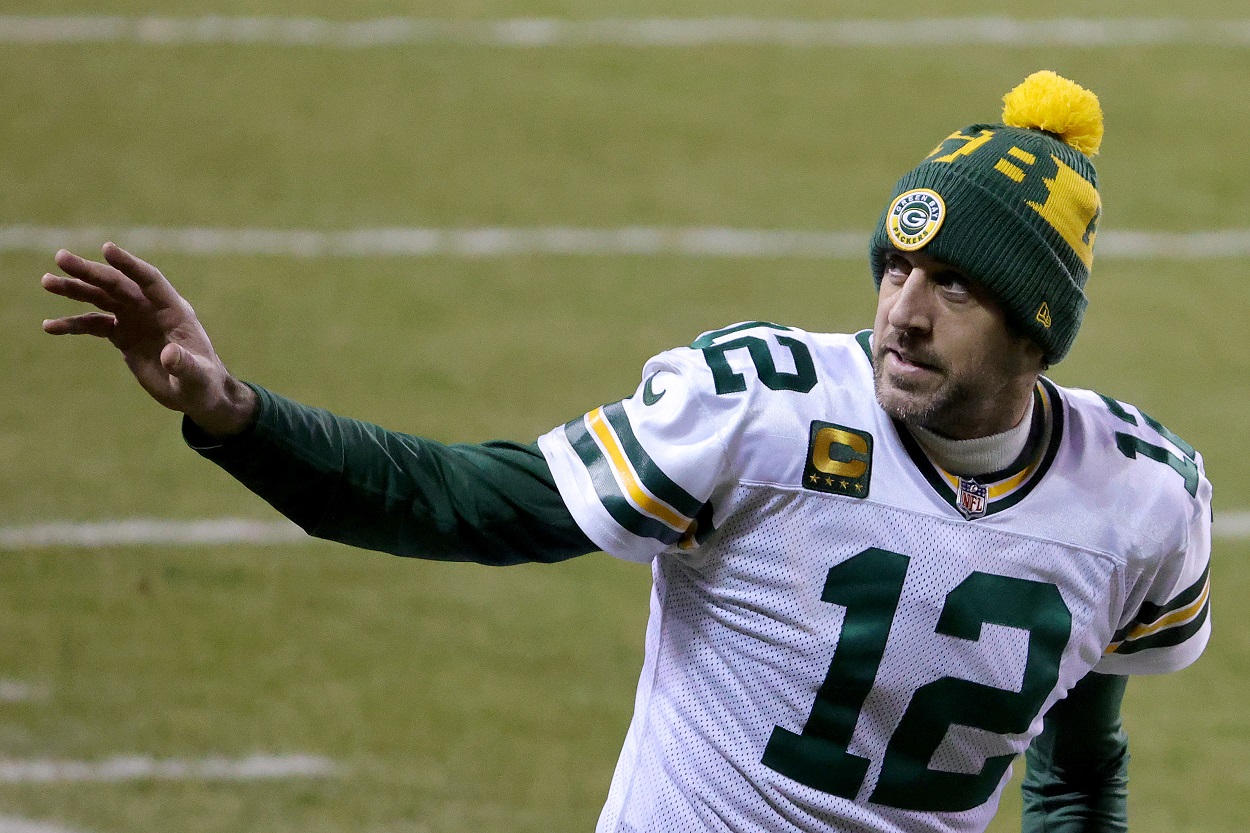 A 'Jeopardy!' Contestant Torched the Packers During Aaron Rodgers' First Episode as Guest Host and His Reaction Was Priceless
A contestant on 'Jeopardy!' lit up the Green Bay Packers in the final round and guest host Aaron Rodgers' reacton was absolutely perfect.
For those unaware, Green Bay Packers quarterback Aaron Rodgers will be hosting Jeopardy! for the next two weeks as the longtime quiz show continues to bring in guest hosts to fill in for the late Alex Trabek, who hosted the show for 37 years before passing away last November after a two-year battle with pancreatic cancer.
The first episode featuring the three-time NFL MVP aired on Monday and it's certainly going to be difficult to top over the next two weeks as one of the contestants fired a massive shot at the Packers and head coach Matt LaFleur, specifically taking aim at the decision to kick a fourth-down field goal late in Green Bay's NFC Championship Game loss to the Tampa Bay Buccaneers.
Don't remember what happened there? Here's a quick recap before we get to what happened on Jeopardy! on Monday afternoon.
Aaron Rodgers didn't get a chance to throw the ball on the Green Bay Packers' final offensive play of the NFC Championship Game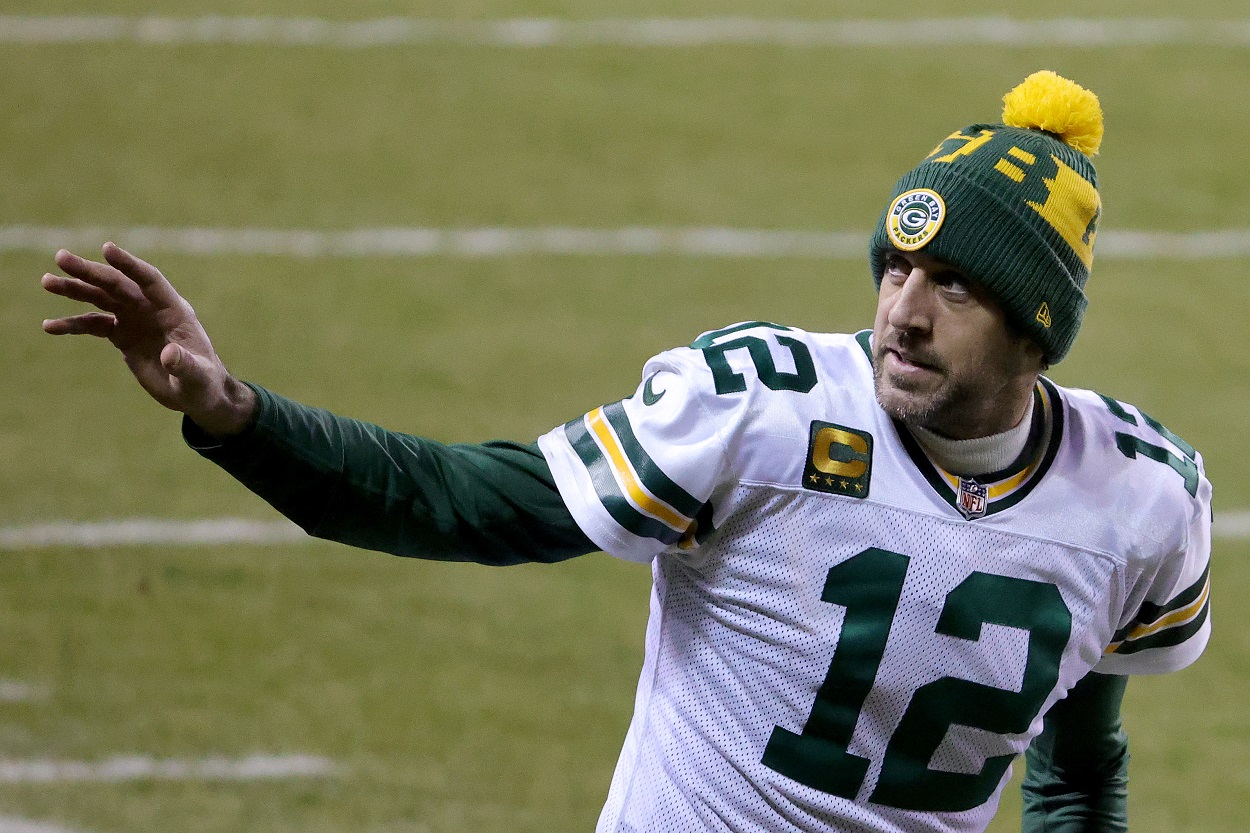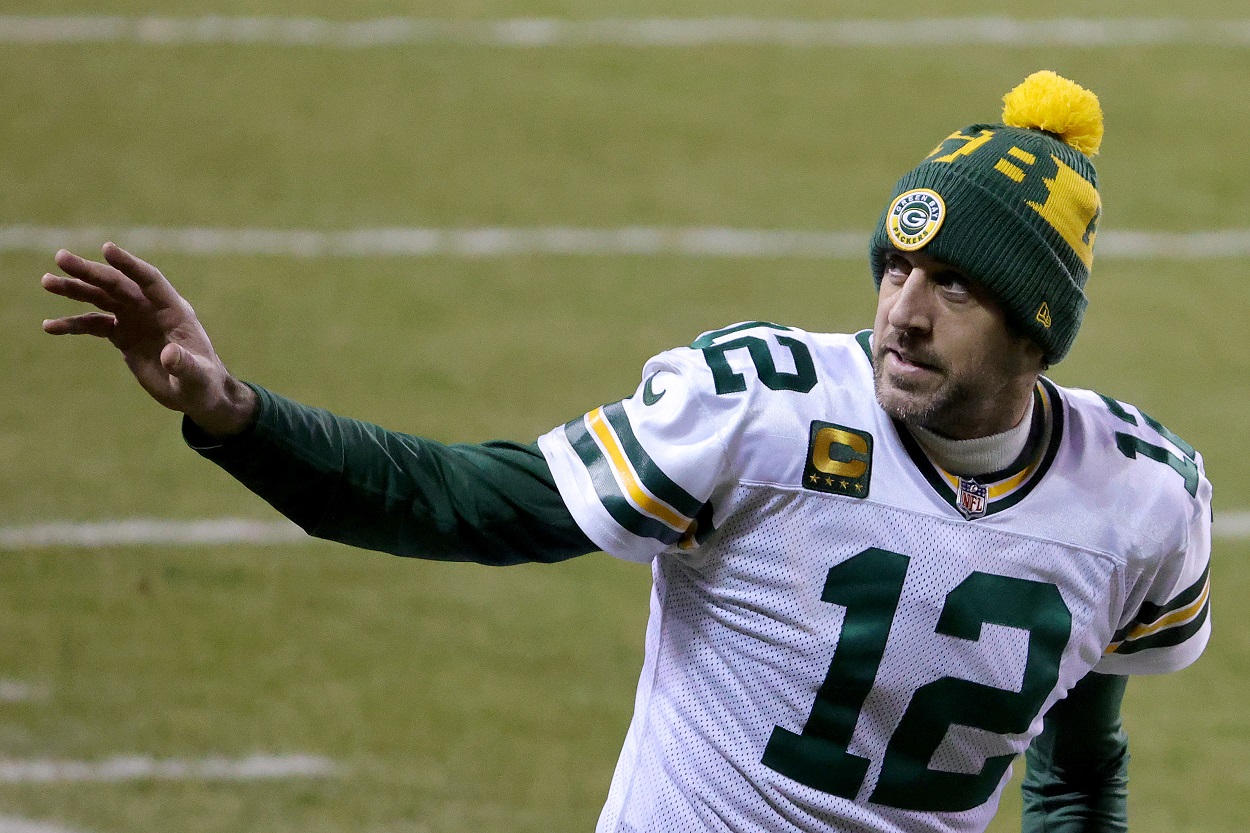 After going 13-3 in the 2020 NFL regular season, Aaron Rodgers, who won his third NFL MVP award after completing a career-high (as a starter anyway) 70.7% of his passes for 4,299 yards and 48 touchdowns against just five interceptions, and the Green Bay Packers then waltzed through their NFC divisional-round matchup with the Rams to set up an NFC Championship Game showdown with Tom Brady and the Tampa Bay Buccaneers.
In a fantastic back-and-forth battle, the Bucs held a 31-23 lead with 2:22 remaining in the game. Rodgers and the Packers had already marched 58 yards down the field against the Tampa Bay defense and were looking at 1st & Goal from the Bucs' eight-yard line. Rodgers threw three consecutive incomplete passes and it was quite easy to tell that he wanted to attempt a fourth pass.
However, Packers coach Matt LaFleur yanked the NFL MVP off the field and sent in the field-goal unit. Mason Crosby kicked a 26-yarder to cut the deficit to 31-26 but Green Bay never got the ball back, which obviously led to quite a bit of criticism. Brady and the Bucs obviously went on to win Super Bowl 55 while Aaron Rodgers and the Packers went home early yet again.
A 'Jeopardy!' contestant torched the Green Bay Packers in Aaron Rodgers' debut as guest host
So now that we've got you all caught up on what happened in the NFC title game, here's what went down on Monday's episode of Jeopardy!, which, again, was Aaron Rodgers' first as guest host.
During "Final Jeopardy!," Rodgers threw this answer out to the three contestants: "Accepting a lifetime achievement Emmy, he said, 'Just take … 10 seconds to think of the people who have helped you become who you are.'" As the host does, he waited patiently for the three to write down their questions but certainly couldn't have been prepared for what happened next.
The correct response was Mr. Rogers. However, two-day returning champion Scott Showfelt, who is obviously an NFL fan, didn't know that so he decided to have some fun with the nine-time Pro Bowler and responded with, "Who decided to kick that field goal?"
Hilarious, right? So how did Rodgers respond? Like the pro he is.
The three-time MVP took it all in stride
The look on Aaron Rodgers' face following Showfelt's response was absolutely priceless and while he certainly could have responded differently, the Packers' signal-caller was a complete professional and simply responded with, "That is a great question. It should be correct, but unfortunately for this game today, that's incorrect." You can view the clip above.
Aaron Rodgers' run on Jeopardy! ends on April 16.
Stats courtesy of Pro Football Reference