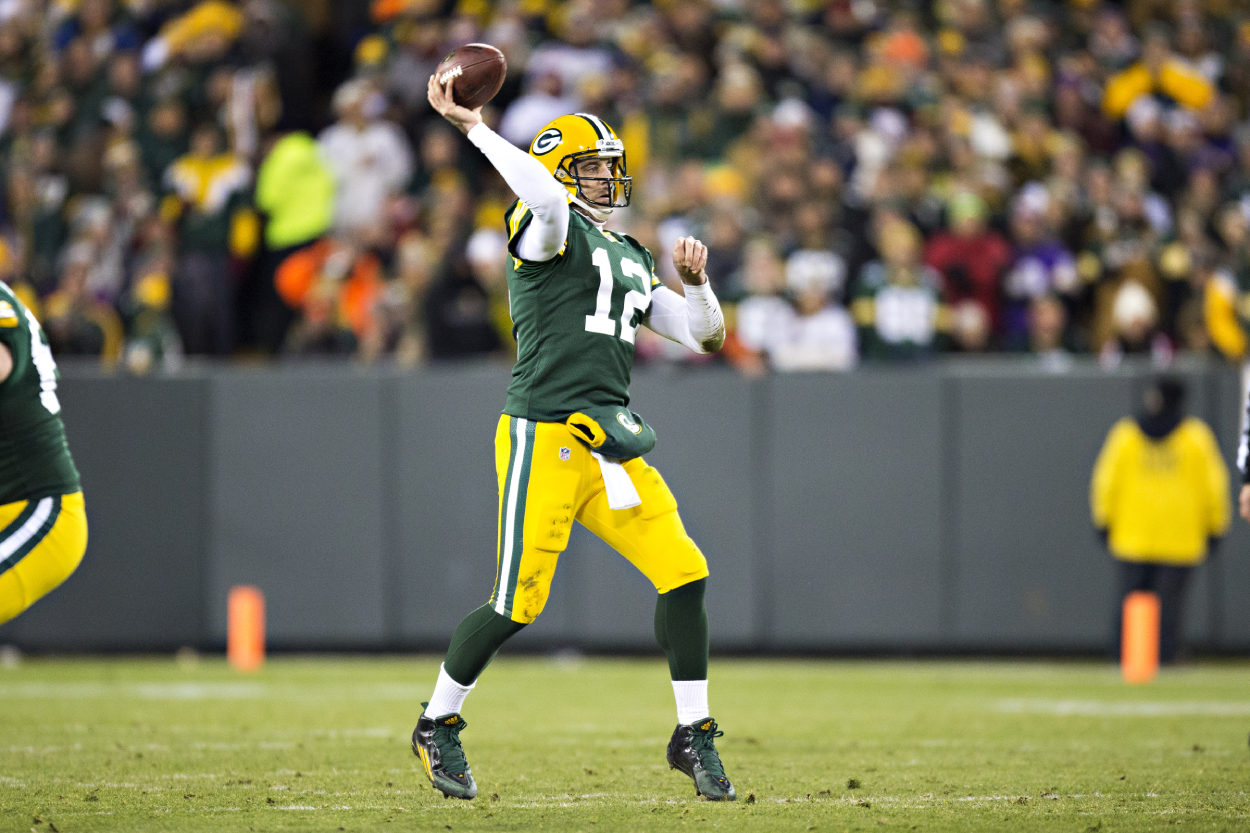 Aaron Rodgers Isn't Clutch? This Bizarre 0-42 Stat Says It's True
Aaron Rodgers isn't a clutch player? One crazy stat says that's the case.
There are stats, and then there are off-the-wall stats. Consider this one far away from the wall. Quarterback Aaron Rodgers just won the third MVP of his career, but he may not be clutch. The Green Bay Packers find themselves in a dilemma with their 37-year-old quarterback, who has said he no longer wants to play for the Packers. If the team decides to move on from Rodgers, it can fall back on one crazy stat that shows he's 0-42 in the fourth quarter in certain situations.
Aaron Rodgers wants to move on from the Green Bay Packers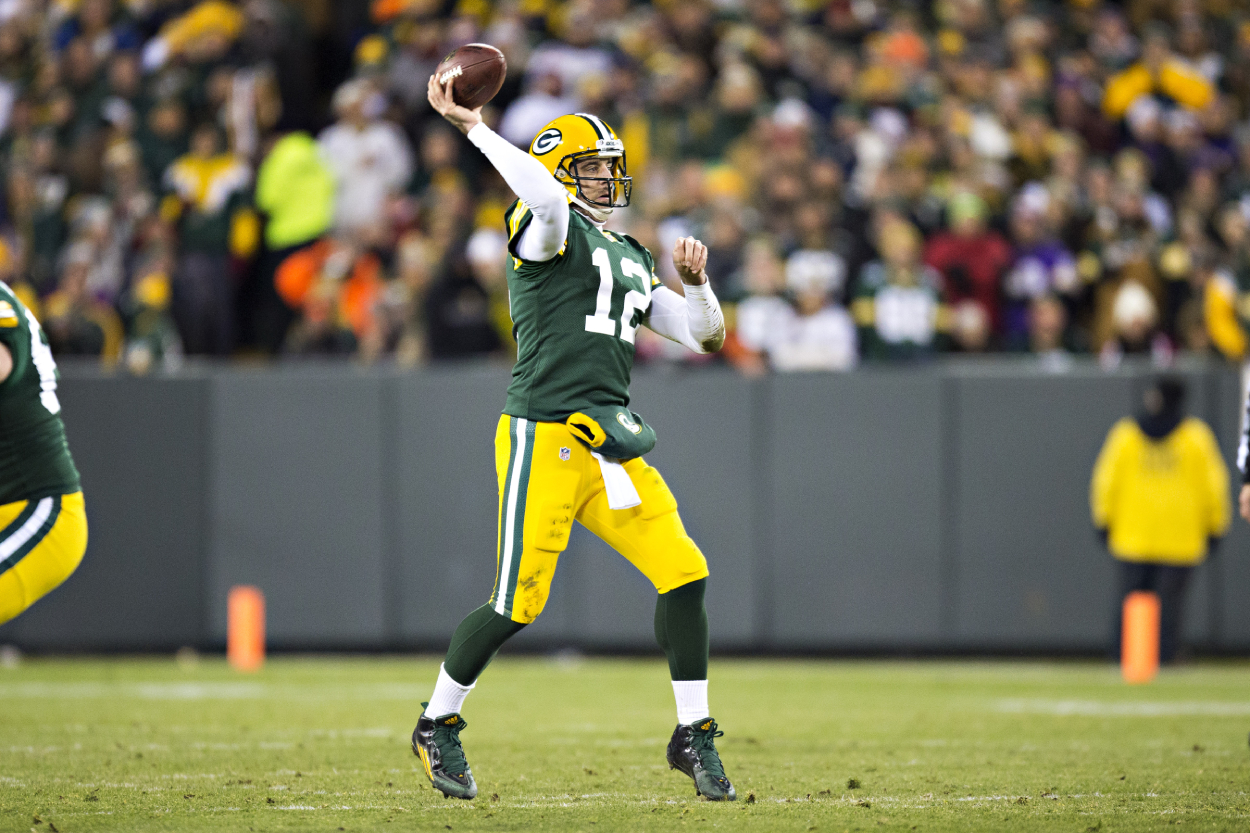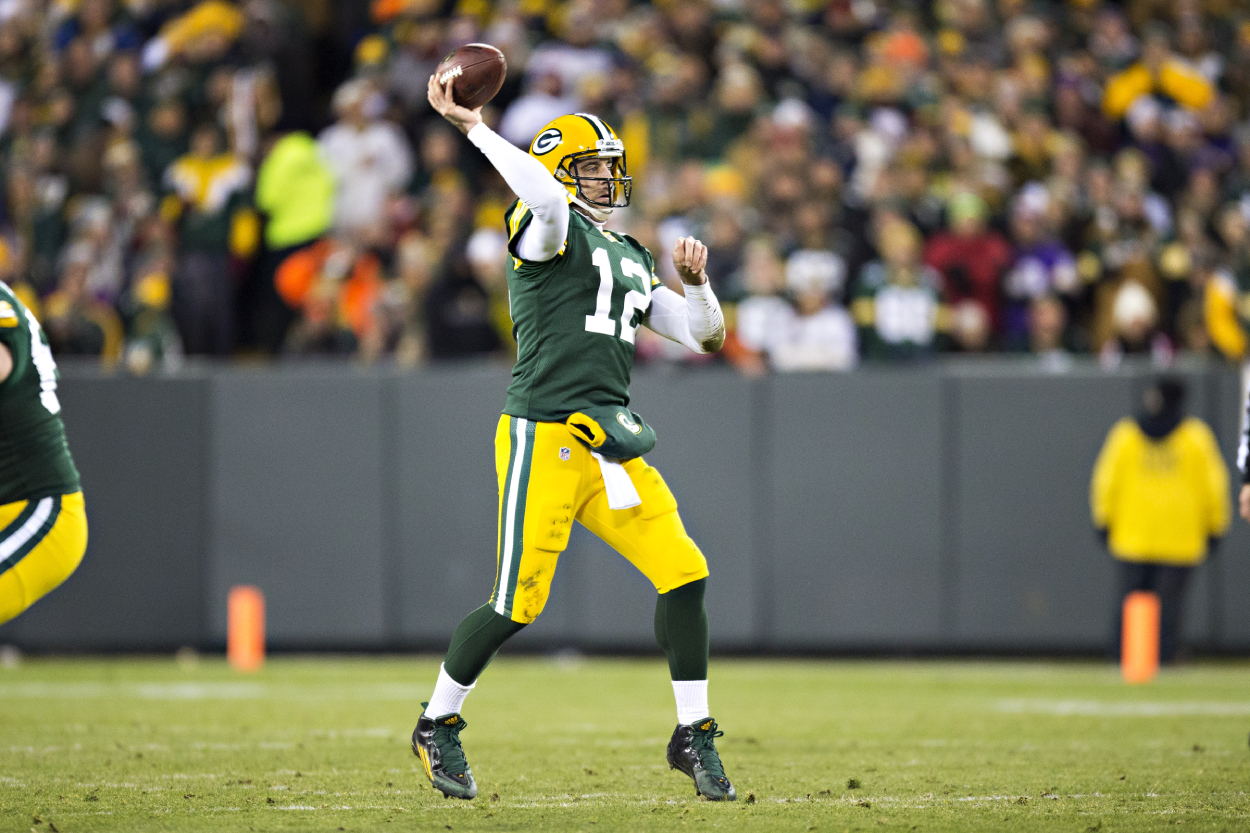 In a shocking move that was first reported Thursday by ESPN's Adam Schefter, Rodgers said he no longer wanted to play for the Packers, the team that drafted him in the first round in 2005. With no specific reason given, it can be expected that Rodgers was either still bothered by the team trading up in last year's draft to take his eventual replacement or it's a contract issue. Maybe it's a combination of both.
Rodgers is under contract with the Packers through 2023. General manager Brian Gutekunst said the team has zero plans to trade him. "We've been working through this for a little while now, and I just think it may take some time," Gutekunst said, according to ESPN. "But he's a guy that kind of makes this thing go. He gives us the best chance to win, and we're going to work towards that end."
Gutekunst said he believes Rodgers will eventually for the team again. "I'm not going to speak for Aaron, but I think obviously we have a really good team and I do think he'll play for us again," Gutekunst said. "And like I said, we're going to work towards that and we've been working towards that on a number of different fronts. The value that he adds to our football is really immeasurable, you know what I mean? He brings so much to the table not only as a player but as a leader."
Bizarre stat says Aaron Rodgers isn't clutch
It's a bizarre stat, but it's certainly an interesting one. It may not mean a whole lot, but it may raise some eyebrows. For a guy who has won three MVPs and owns a Super Bowl ring, some off-the-wall numbers show Rodgers might not be as clutch as we think.
When Rodgers is trailing by more than one point in the fourth quarter against a team with a winning record, he is 0-42. It's a crazy stat – a foolish one actually – but it is interesting. For that situation to have happened 42 times and Rogers and the Packers to come up winless in all 42 games, is definitely intriguing.
As great as Rodgers has been throughout his career, he has only been to one Super Bowl. He's lost four NFC title games. Maybe he isn't clutch, but don't let that stat be the determining factor.
Breaking down that ridiculous 0-42 stat
RELATED: Aaron Rodgers Officially Has a New Obstacle to Overcome in What Could Be His Final Season With the Packers
The 0-42 stat is foolish, and you have to give credit to Nathan Marzion, who did some digging for The Dekker Post to prove just how ridiculous the stat is equating Rodgers with not being clutch. Marzion went to town to cite examples of how it wasn't Rodgers' fault the Packers failed to escape with a victory after trailing by more than a point in the fourth quarter against a team with a winning record.
Marzion cited several examples beginning with Week 9 in 2008. The undefeated Titans lead the Packers by 3 in the 4th quarter. Rodgers leads a game-tying drive with 5 minutes left and the game ends up going to OT. He never touches the ball in overtime and the Packers lose. He adds another one from their 2013 Wild Card game. Packers trail the 49ers by 3 with 10 minutes remaining. Rodgers leads a game-tying drive and then never sees the ball again.
He gave 21 examples backing Rodgers, a sure-fire Hall of Famer. Rodgers is one of the best ever to play the game, and the Packers will be lost without him if he follows through with his threat not to play for Green Bay again – even if he's not clutch.