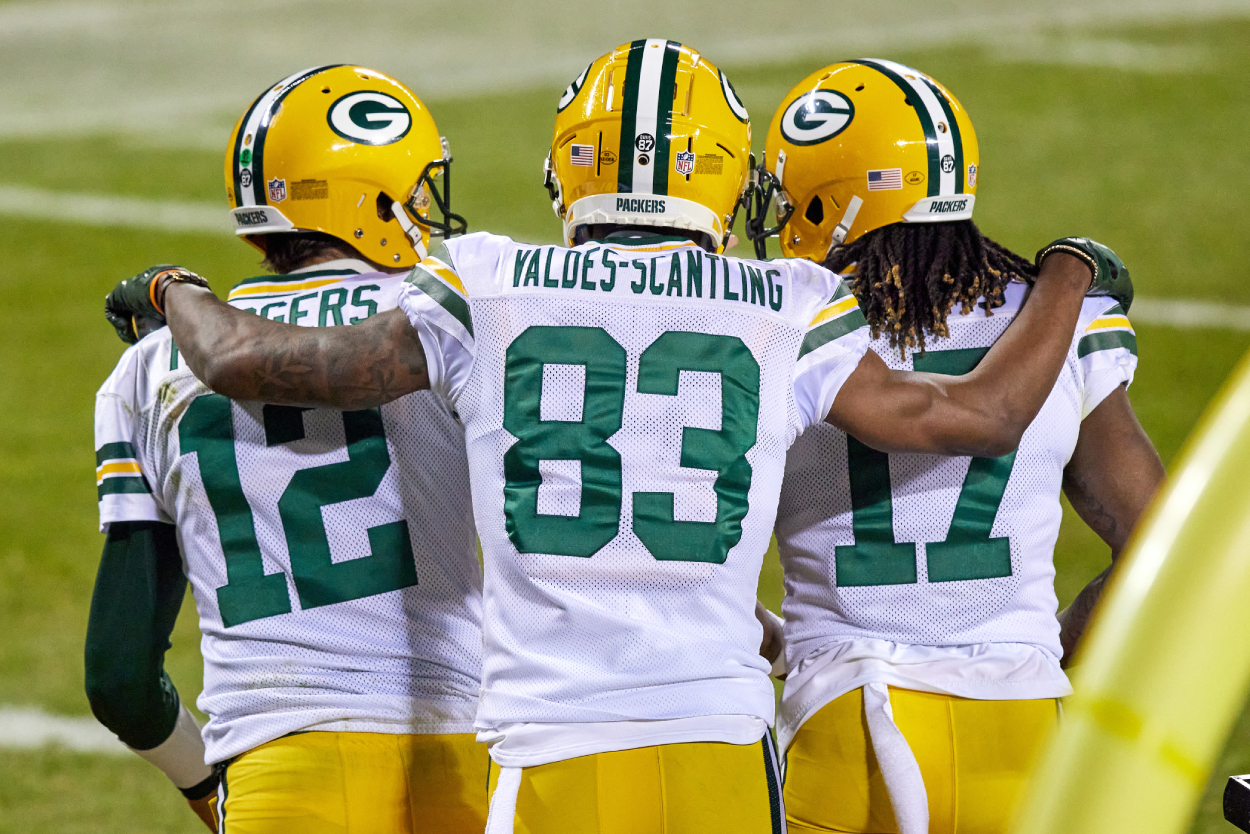 Aaron Rodgers Suddenly Isn't the Only Problem for the Green Bay Packers
Things are not looking too good for the Green Bay Packers.
Just when the Aaron Rodgers drama with the Green Bay Packers was starting to get stale. Rodgers has been at odds with the team for quite some time, but things became public on draft day when it was reported he no longer wanted to play for the team.
As the team gets ready to prepare for training camp on July 28, they appear to be moving forward with Jordan Love at quarterback as Rodgers has shown no sign of heading to camp. That isn't the only problem the Packers are facing.
Davante Adams and the Green Bay Packers have broken off talks
According to NFL Insider Ian Rapoport, All-Pro wide receiver Davante Adams and the Packers have broken off contract talks, and there's no immediate plan to resume them. Adams is entering the final year of his deal. He signed a four-year extension worth $58 million back in 2017.
Adams has clearly been the best receiver on the team, and many will argue he's the best in the NFL. He's made the Pro Bowl the last four seasons. Last year, he had a league-high 18 touchdowns in the regular season despite missing two games. He was named First-Team All-Pro.
According to ESPN, part of the reason for the stalled talks is the uncertainty of Rodgers, who reportedly told people within the organization he no longer wanted to play in Green Bay. Rodgers reportedly turned down a two-year extension that would have made him the highest-paid quarterback.
Will Davante Adams stay true to his word or will he pull an Aaron Rodgers?
Back in early June, reporters asked Adams if he would still be attending training camp without an extension locked in place.
"Yeah, I'll be here," Adams said, according to Ari Meirov of Pro Football Focus. "I signed up to go to work and play. I'm from East Palo Alto, California. I grew up with zero dollars. I'm not forfeiting any of the money that I earned and signed for already, so I'll be there for sure."
In May, Adams said the situation with Rodgers might affect how those negotiations might go.
"Potentially, potentially; that's my guy," Adams said, according to ESPN. "That's the only guy that I've had – other than that 2017 season when he got hurt. He's the only guy that I've played with. We've built up a special connection over the years that has put us both in really good positions in our careers. Not that he needed me to come along for it, because he was already in that spot, but we've established a lot together.
"So, it would change a lot. Doesn't mean potentially I'd be gone, but I'd definitely have to do some extra thinking if my guy wasn't here."
Aaron Rodgers and Adams are close
The Packers QB-WR duo has spent the last seven years together in Green Bay. They've developed into a dominant duo, and Rodgers couldn't say enough positive things about Adams last season.
"I've said for so long that Charles (Woodson) was the best player that I've played with," Rodgers said in December, according to Packers News. "And Charles could dominate in a way that I've never seen a nickel corner dominate before. It's probably time to start putting Davante in that conversation because he's that type of player. He's a special player."
With Rodgers away from voluntary OTAs, Adams and the team's top-five wideouts also were absent, although he said he didn't organize any type of boycott. "In no way did I tell anybody to do anything. They all made their own decisions," Adams told beat writer Rob Demovsky.
Despite what Adams told Demovsky, it makes you wonder. It also makes you wonder if Adams will actually attend training camp. Will he go back on his word? Will he stay away to make a point with Rodgers that everything seems to be the fault of the front office?
No matter what happens, it's not a good look for the Packers. With both of them staying out, it could make an already ugly situation much worse.