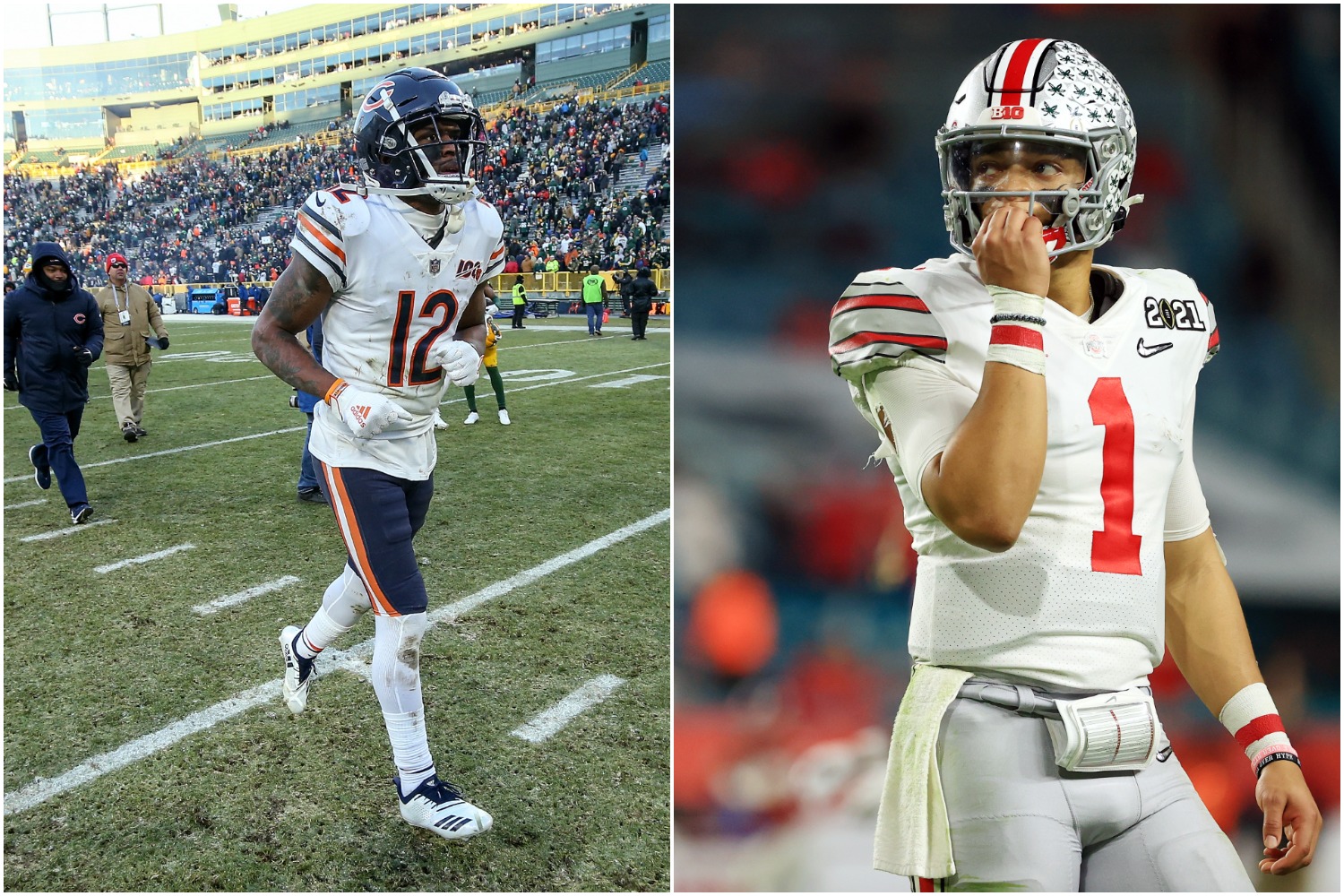 The Latest Report on Allen Robinson Should Make Justin Fields Furious With Bears GM Ryan Pace
The Chicago Bears drafted Justin Fields to be their quarterback of the future. But by not getting Allen Robinson signed to a long-term deal, general manager Ryan Pace doesn't seem interested in setting Fields up for long-term success.
Justin Fields may have all the talent in the world, but the former Ohio State star still needs to have a strong supporting cast around him in order to succeed with the Chicago Bears. Unfortunately for the talented quarterback, general manager Ryan Pace doesn't seem to understand this concept. 
In fact, based on the latest report about wide receiver Allen Robinson, Fields should be furious at the man in charge of making the final roster decisions in Chicago. And at this point, it's fair to wonder how much longer the Bears should employ a GM who has a startling history of making bad personnel decisions. 
Allen Robinson has more than lived up to the $42 million deal he signed with the Bears in 2018
The Bears got a bargain when they brought Robinson aboard in 2018 on a three-year, $42 million deal. Coming off an ACL tear, the former Jacksonville Jaguars star showed no signs of a post-injury decline. Although he didn't come close to replicating his magical 2015 season (80 catches for 1,400 yards and a league-high 14 touchdowns), Robinson led the Bears in targets (94) and receiving yards (754) in only 13 games.
With his surgically repaired knee a non-issue, the 6-foot-2, 220-pound wideout got back to dominating defensive backs in 2019. Despite having to deal with a mess at quarterback, Robinson recorded seven touchdowns and 1,147 receiving yards on a career-high 98 receptions. He showed terrific body control, strong hands, and a unique ability to pluck the ball out of the air in contested-catch situations.
Robinson seemingly set himself up for a raise during the 2020 season by putting on another brilliant display of aerial acrobatics. Operating as the clear-cut No. 1 target in Chicago's passing attack, the 27-year-old posted a final line of 102/1,250/6 while playing all 16 games for the second straight season.
However, another year of elite production has yet to lead to a multi-year contract extension for one of the NFL's best wideouts. And considering the Bears drafted Justin Fields to be their quarterback of the future, the fact Robinson enters training camp without any form of long-term financial or job security should be a major concern.
The latest report on Robinson should make Justin Fields furious with Ryan Pace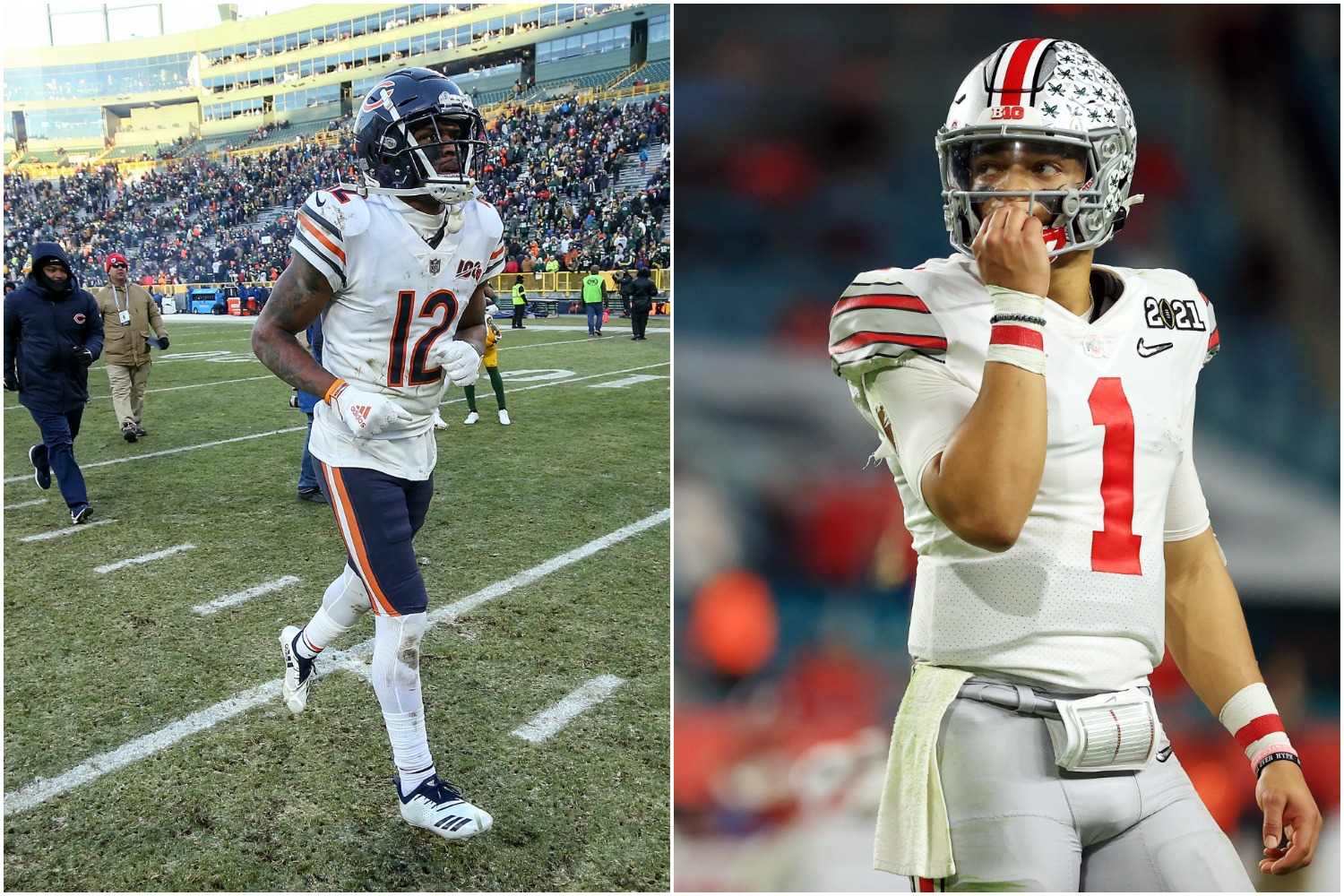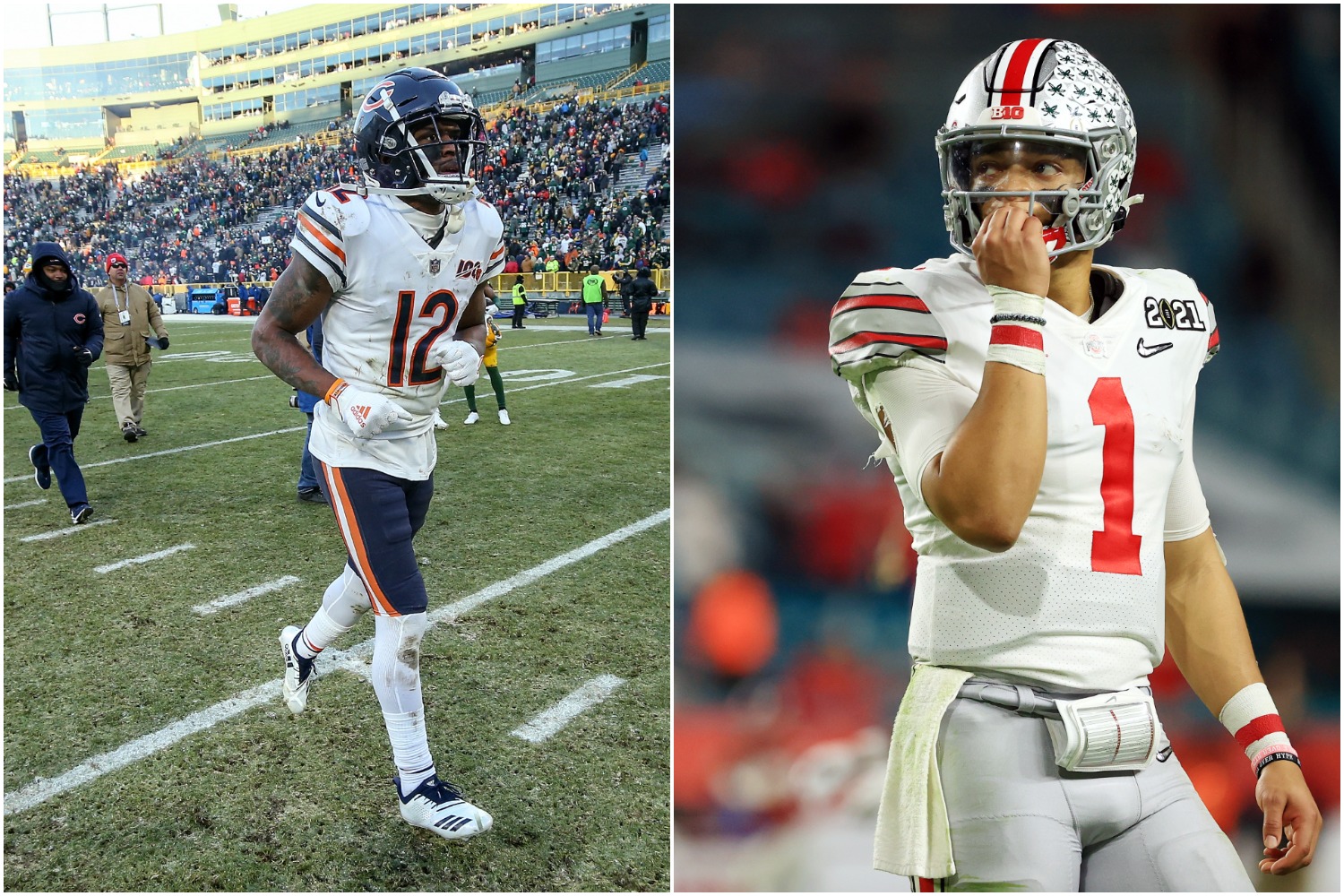 Robinson's $17.9 million franchise tag tender ensures he will be one of the league's highest-paid receivers for the upcoming season. What happens beyond that remains a mystery.
Set to hit free agency in 2022, the talented pass-catcher has done everything possible to prove he deserves a long-term deal from his current team. But based on the latest report on Robinson, the chances of him staying in Chicago beyond the 2021 season don't appear strong. And the truth about the situation should make Fields furious with his team's GM.
According to NFL Network reporter Tom Pelissero, Robinson and the Bears have had "no substantive talks" in months about a contract extension. The two sides had discussions immediately after the 2020 season, but they've made no progress since.
"At this point, it seems unlikely a long-term deal will get done," Pelissero said.
That's not a good look for a team that traded up to take a quarterback in the first round of the draft. Instead of giving Fields a legitimate weapon to work with for the next few years, Pace has taken the opposite approach with Robinson. The Bears only have the receiver under contract for one year, so it seems likely that he will leave in free agency. Not extending Robinson not only has major implications from an on-field perspective, but it also has potential locker-room ramifications.
Will Fields feel confident about his future if Pace lets a bonafide No. 1 receiver walk after the season? Will other players have a problem if the Bears don't take care of one of their most consistent performers? Ultimately, the way Pace has handled Robinson's contract deserves plenty of criticism. And considering his long history of botching critical decisions, it's time for Chicago to consider moving in a different direction.
Chicago's oft-criticized general manager should be on a short leash moving forward
If Pace excels at anything, it's at figuring out a way to keep his job. His track record as a GM shouldn't inspire any confidence about his ability to put together a championship-caliber squad. Yet for all his misfires and miscalculations, the 44-year-old front-office executive remains in charge of putting together the Bears' roster.
And the list of personnel sins committed by Pace should not get overlooked. Since taking over in 2015, he's made some truly baffling moves that backfired badly on the Bears, including:
Selecting wide receiver Kevin White with the No. 7 overall pick in the 2015 NFL Draft
Signing journeyman quarterback Mike Glennon to a three-year, $45 million deal in 2017
Taking Mitchell Trubisky over Patrick Mahomes and Deshaun Watson in the 2017 NFL Draft
Trading a 2020 compensatory fourth-round pick for Nick Foles
Given his alarming history of making mistakes with the roster-building process, Pace should be on a short leash moving forward. He needs to open his eyes to how much Robinson matters and reward him with a contract extension that reflects his status as one of the league's top wideouts.
If not, Fields will have a difficult time living up to the hype in Chicago. And he will have every right to be upset with Pace for mismanaging a situation that should have never gotten to this point.