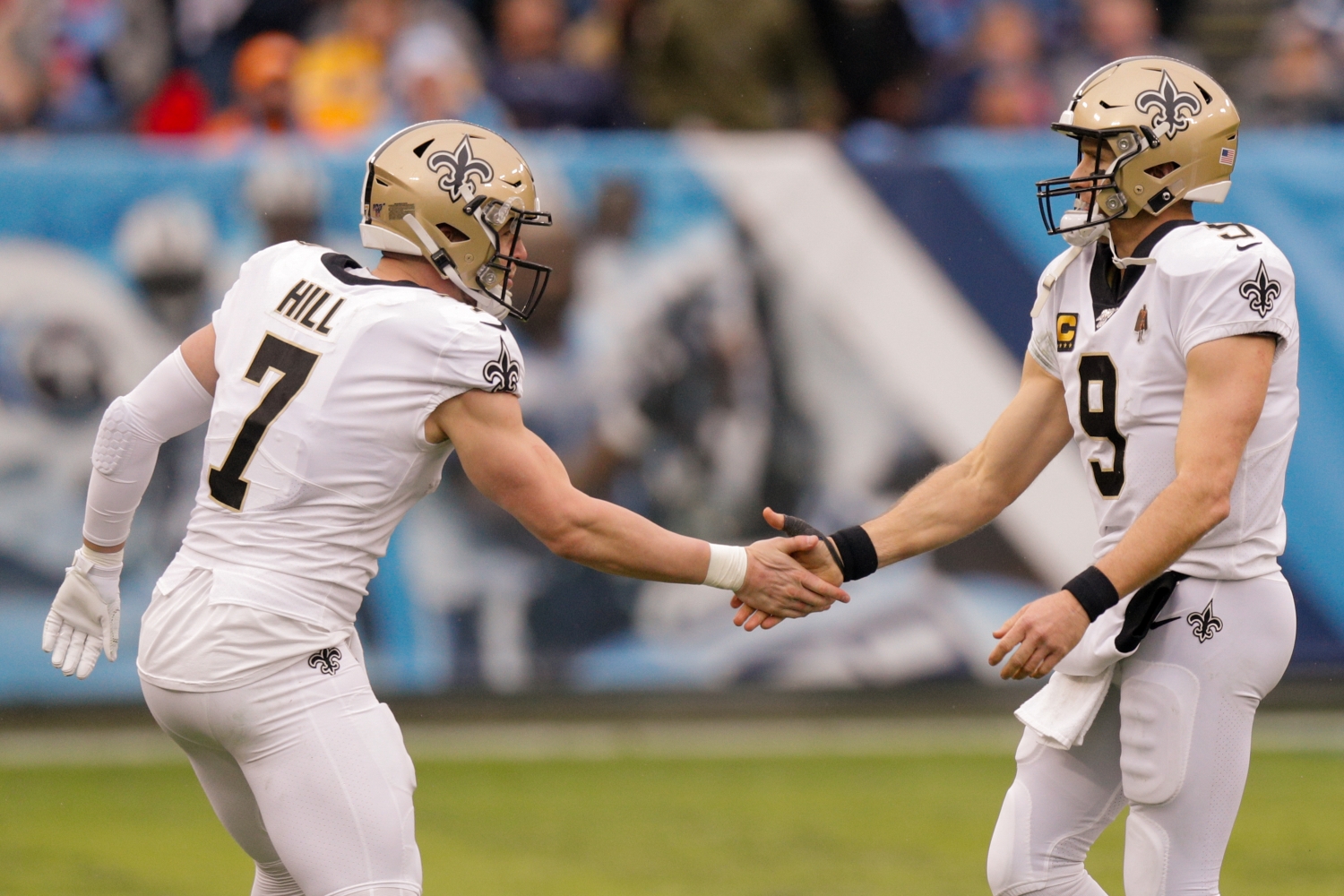 Saints GM Mickey Loomis' Surprising Admission About Taysom Hill Proves He Has No Business Replacing Drew Brees
Saints GM Mickey Loomis had some interesting things to say about Taysom Hill that should make New Orleans fans realize the gadget player has no business replacing the iconic Drew Brees.
With Drew Brees set to spend more time with his family than ever before, the New Orleans Saints have to find a new starting quarterback this summer. Jameis Winston and Taysom Hill will battle for the top spot on the depth chart, and you couldn't draw up two different types of players for Sean Payton to choose from.
Of course, it's up to general manager Mickey Loomis to find the long-term answer at the most important position in sports. And while his recent comments about Hill seem positive on the surface, the veteran GM chose his words very carefully. By making a surprising admission about the versatile gadget player, Loomis proved Hill has no business replacing Brees.
The Saints have to figure out who will start under center in 2021
The Saints enter training camp with two candidates to start at quarterback. And neither seems like a sure thing in the least bit.
First, you have Winston, the No. 1 overall pick of the 2015 NFL Draft. Following an up-and-down five-year career with the Tampa Bay Buccaneers, he joined the Saints in 2020 to get some tutelage from Brees and Payton. Winston has plenty of talent, but his penchant for turning the ball over (88 interceptions in 76 games) prevented him from earning a contract extension with the Buccaneers. He remains the favorite to start for the Saints based on his experience and skill set, but he will have to fend off an interesting contender who has spent most of his NFL career doing everything other than throwing the football.
A versatile player who suits up on offense and special teams, Hill saw more time in the pocket than ever before in 2020 because of Brees' absence from multiple injuries. Given his inexperience as a passer at the pro level, the former BYU standout acquitted himself fairly well. Still, the odds of a career-long backup with four touchdown passes to his name suddenly transforming into a franchise quarterback in his age-31 season seem slim. Hill certainly deserves credit for doing whatever the team needs him to, but expecting him to become a top-flight signal-caller at this stage of his career doesn't look like a likely outcome.
Loomis makes surprising admission that proves Taysom Hill shouldn't replace Drew Brees
As the man responsible for putting together the roster, Loomis should have a good grasp on what the future of the quarterback position will look like in New Orleans. The team used a fourth-round pick on Notre Dame's Ian Book, so they at least have a potential starter waiting in the wings. What exactly does Loomis see in Hill's future? His comments should raise a few eyebrows considering he didn't mention the one position the Saints have no clue about at the moment.
"He's a tremendous athlete, number one," Loomis said on The Adam Schein Podcast. "He's got a tremendous arm. He's got tremendous speed, strength. Smart football player. Look, for what he's done for us, to date, he has just been a great football player."
Loomis took things to the next level by admitting Hill could excel specifically at two non-quarterback positions.
"I think he can be, you know, a really top-flight tight end," he explained. "He can be a top-flight H-back in our league. And so first of all he's a really great football player, but he's got mobility. We've all seen him run the ball. Catch the ball. He can throw it. He's got a lot of God-given talent. And he's a smart football player as well, and he's got good leadership skills. So, we're going to see how all this shakes out, but we're definitely high on Taysom."
By saying Hill can be a top tight end or H-back, Loomis paid him one heck of a compliment. However, it's important to note that he didn't make such a bold prediction about Hill's potential as a quarterback. Intentional or not, the omission reflects why the fifth-year pro shouldn't be considered as a long-term replacement for Brees. Hill makes an impact because of his athleticism rather than his ability to diagnose a defense, make a read, and deliver the ball on time. In the Saints' rhythm-based, high-tempo offense, his best value comes as a multi-dimensional weapon since teams do not know exactly how he will be deployed. Having Hill come on as a wildcat option shouldn't be off the table. Putting him atop the quarterback depth chart should be, though.
Can the Saints win a Super Bowl with Hill or Winston under center?
With Winston and Hill set to compete for the starting job in training camp, the Saints have to figure out who gives them the best chance to win. Each practice rep will matter, and preseason games will give both quarterbacks an opportunity to prove themselves to Payton.
Unfortunately for the Saints, no matter who wins the job, the odds of the team capturing a Super Bowl title in 2021 seem slimmer than ever before. Sure, New Orleans boasts one of the strongest rosters in the NFL. The offense features proven playmakers in Alvin Kamara and Michael Thomas and a stout line anchored by star right tackle Ryan Ramczyk. Plus, the defense has a number of high-impact players, including veteran edge rusher Cameron Jordan, reliable linebacker Demario Davis, and ball-hawking cornerback Marshon Lattimore. But all that talent can't make up for a below-average quarterback room.
And when you consider the strength of the position in the NFC, it's tough to put the Saints on the same level as some of the other title contenders. After all, would you take Winston or Hill over Tom Brady, Aaron Rodgers, Russell Wilson, or even Matthew Stafford?
Even Loomis would have to admit the Saints don't have a passer on their roster who can touch those guys.