Michael Thomas Has a Major Reason to Worry About Jameis Winston Taking Over in New Orleans
Coming off a down year, New Orleans Saints wide receiver Michael Thomas has much to prove this season. Of course, his success largely hinges on what happens at quarterback. While Jameis Winston has far more experience as a passer than Taysom Hill, that doesn't mean Thomas should be thrilled about the prospect of him taking over.
In fact, Thomas has a major reason to worry about his future based on what happened in Winston's final year with the Tampa Bay Buccaneers.
The Saints will move forward with either Jameis Winston or Taysom Hill as their starting quarterback
The Drew Brees era finally came to an end this offseason. Although he didn't capture a second Super Bowl ring before he retired, the future Hall of Famer provided New Orleans with elite quarterback play for more than a decade. By finally walking away from the game, Brees opened the door for a new starter to emerge.
Saints head coach Sean Payton will spend the summer watching Winston and Hill battle it out for the QB1 role. Both players couldn't be more stylistically different, which will make the competition even more interesting.
On one hand, Winston fits the mold of a prototypical NFL quarterback. At 6-foot-4, 231 pounds, he possesses ideal size for the position. He also has a strong arm and just enough mobility to move around in the pocket.
However, any scouting report on Winston must include a bolded note about his penchant for turning the ball over. Over 72 games during his five-year tenure in Tampa, the former Florida State star threw 88 interceptions and committed 50 fumbles (including a league-high 15 in 2017). Plus, he didn't exactly live up to being the No. 1 overall pick from a leadership perspective, either.
On the other hand, Hill brings a unique skill set to the table due to his ability to contribute in multiple ways. But after spending his NFL career as a gadget player, the fifth-year pro faces an uphill battle to prove he can suddenly become a starting-caliber quarterback in his age-31 season.
Michael Thomas should be worried about Winston taking over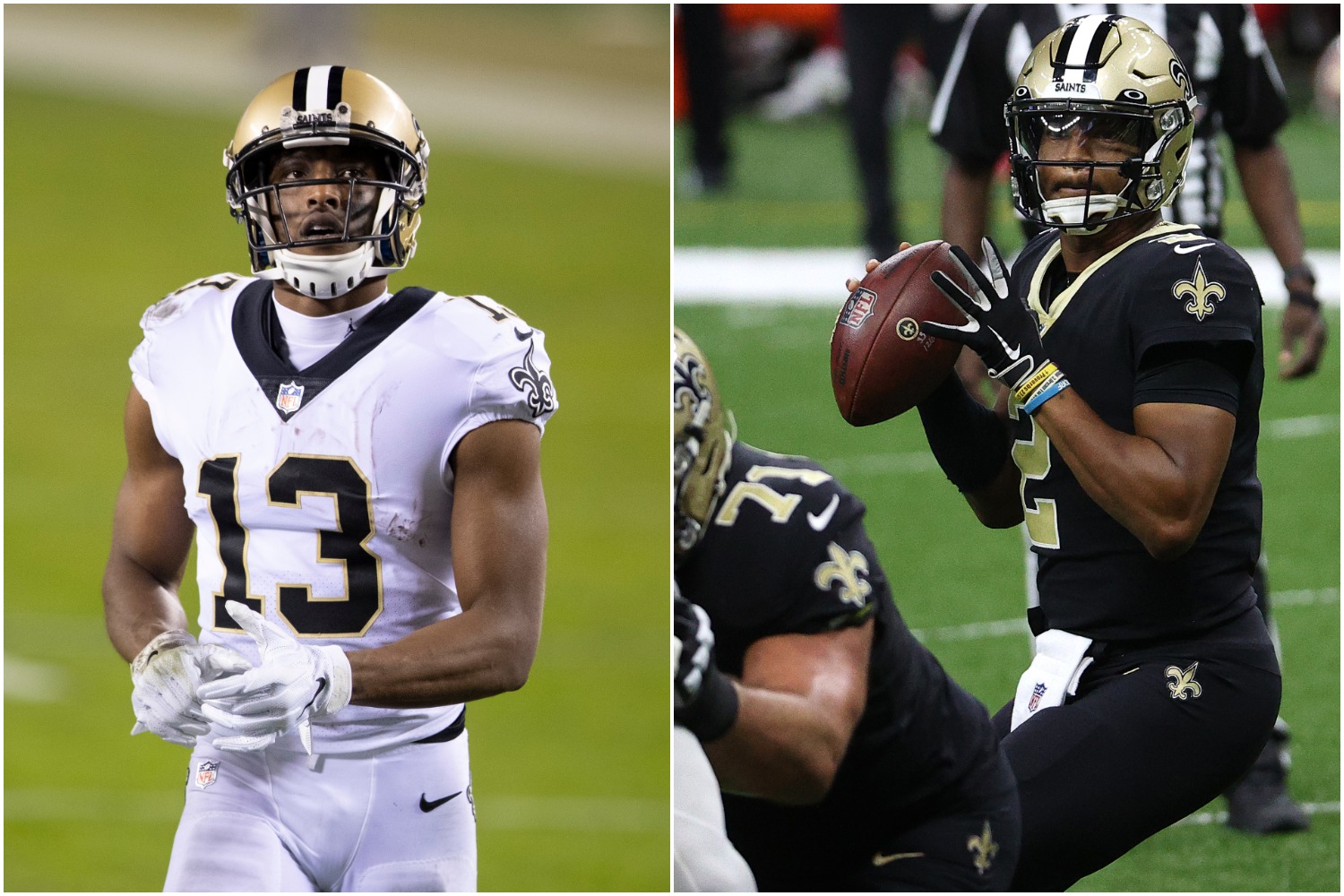 With so much uncertainty at the most important position in sports, it's difficult to project how the Saints will perform on offense this season. In particular, predicting what type of numbers Thomas will put up remains incredibly challenging.
Looking at Winston's recent production, he may not be the ideal fit for the team's top receiver. In fact, a closer inspection of Winston's work should give Thomas a major reason to worry about his future.
The Athletic's Larry Holder conducted a thorough breakdown of the quarterback's stats when throwing slant routes. In 2018, Winston threw a catchable pass 80% of the time on slant routes. He completed 68% of his attempts for 255 yards and two touchdowns. His quarterback rating checked in at 127.9.
But in 2019, Winston went in the complete opposite direction. During his final season with the Buccaneers, his catchable pass percentage on slants dropped almost 19%. Meanwhile, his completion percentage fell to 52.8%. He threw one touchdown and two interceptions while posting a dismal quarterback rating of 58.4.
Winston's dramatic decline should make Thomas nervous. After all, according to Holder, the 6-foot-3, 212-pound wideout got targeted 59 times on slant routes from 2018-19, hauling in 53 catches for 560 yards and four touchdowns. Since Thomas doesn't have elite speed, he relies on using his size and strength to beat defensive backs on short and intermediate routes. While Brees excelled at hitting him on time over and over again, the fact Winston struggled so badly throwing slants during his final year in Tampa doesn't bode well for Thomas.
Could both players be gone after the 2021 season?
If Winston and Thomas don't make magic happen this season, could the Saints move on from both players?
It's not as unfathomable as you may think.
With Winston playing on a one-year deal, it's clear New Orleans will take a wait-and-see approach about his long-term future with the team. Maybe he'll surprise people by taking better care of the football and leading the Saints to another double-digit-win season. But if he can't fix his slant-route issue (along with other parts of his game), Winston may have to find a new NFL home next spring.
As for Thomas?
His name already came up in trade rumors last year. Could New Orleans look to move on from him if he doesn't get back to being a top-five receiver? The Saints can get out of his deal after the season if they are willing to take on $22.7 million in dead money. And if they time things right, they can spread that cap hit out over two years.
So if Thomas doesn't prove worthy of his expensive contract coming off an injury-plagued campaign, don't be surprised if he suits up for another team in 2022.
All contract data courtesy of Spotrac.