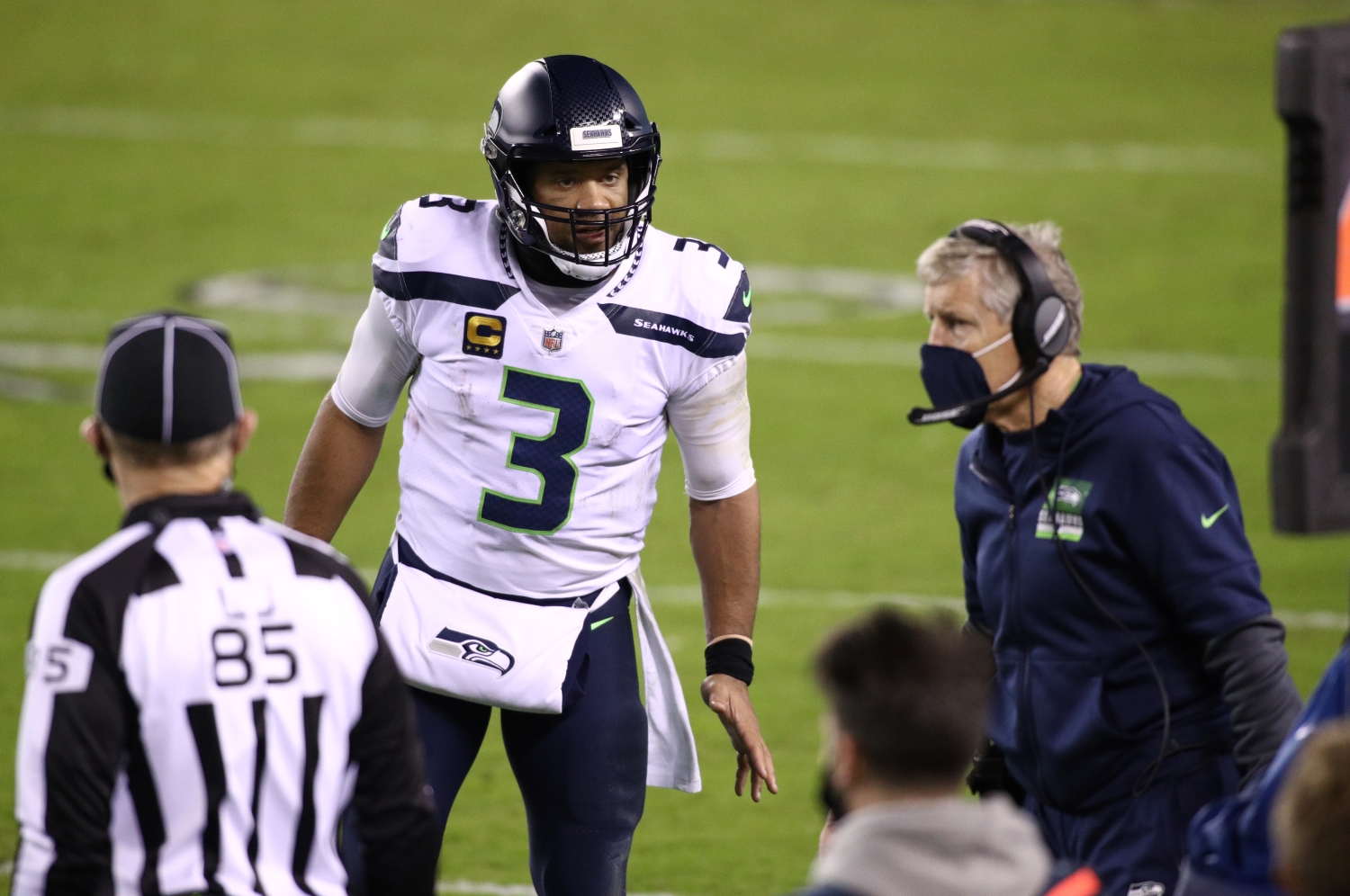 The Seahawks Must Ignore Russell Wilson's Wishes About Playing With Julio Jones if They Know What's Best for Them
Russell Wilson and Julio Jones have reportedly discussed the idea of playing on the same team. However, the Seahawks should steer clear of trading for the aging wide receiver.
Considering Russell Wilson may have plans to play elsewhere in the near future, the Seattle Seahawks need to think long and hard about how they invest financial and draft resources moving forward. After all, going all-in to acquire a proven playmaker like Julio Jones would cost the team valuable cap space and a premium pick (or more).
In fact, general manager John Schneider shouldn't even entertain the idea of trading for Jones. Because as much as it might make Wilson unhappy, Seattle needs to ignore the star quarterback's wishes and focus on building a successful offense that doesn't include an aging, overpaid receiver.
Seattle looks like a potential landing spot for Julio Jones
Barring a complete surprise, Jones will never catch another pass in an Atlanta Falcons uniform. But figuring out where he will play football in 2021 remains a mystery.
At 32 years old, the seven-time Pro Bowler doesn't have time on his side. Jones also missed seven games last season due to hamstring issues, so teams rightfully have concerns about his durability.
Still, that hasn't stopped a few NFL franchises from emerging as potential landing spots. While the New England Patriots have been connected to Jones for a while, ESPN's Dianna Russini delivered an interesting report Sunday highlighting Seattle's interest in acquiring the All-Pro wideout.
"The Falcons continue to field calls from teams interested in trading for Julio Jones. The Seahawks have had discussions about a possible trade with Atlanta, per sources. In fact, QB Russell Wilson & Julio Jones have spoken to discuss the possibility of playing together," Russini tweeted.
Visions of Wilson throwing deep bombs to Jones may make Seahawks fans giddy, but they shouldn't get their hopes up about a trade. Because if Schneider and Pete Carroll know what's best for the future of the franchise, Seattle won't get involved in the sweepstakes for Jones' services.
The Seahawks need to ignore Russell Wilson's wishes if they know what's best for them
Does the idea of a Wilson-Jones pairing sound exciting?
Without a doubt.
Should Seattle make a deal with Atlanta for the future Hall of Famer?
Absolutely not.
As much as Wilson may want the Seahawks to trade for one of the best receivers in NFL history, the team needs to take a step back and realize the reality of the situation. First, Jones' age, injury history, and contract (he's set to make about $38 million over the next three seasons) have to be taken into account. Does Seattle really want to part ways with a high draft pick for a player whose best days may be behind him?
In addition, the Seahawks don't have a need at the position. DK Metcalf and Tyler Lockett have established themselves as legitimate stars. Meanwhile, Seattle used the 56th overall pick in the 2021 NFL draft on Western Michigan wideout D'Wayne Eskridge. Why spend another valuable asset on a position that appears well-stocked?
If anything, the Seahawks should be looking to make upgrades at other positions. Even after trading for veteran guard Gabe Jackson, they still don't have a particularly impressive offensive line. At tight end, Will Dissly, Colby Parkinson, and Gerald Everett don't exactly strike fear into opposing defenses.
Plus, Seattle's own defense could use an infusion of talent at basically every position.
A Jones trade could create some other issues, too. How would Metcalf and Lockett deal with ceding targets to a new teammate? Would Eskridge even get a chance to develop as a rookie? Could the offensive line get exposed if it has to pass block more often?
The Seahawks don't need Jones, and with Wilson's future also uncertain, it makes little sense to get into a bidding war to bring him to Seattle.
Where should Jones end up?
Which NFL team should trade for Jones? A few candidates stand out as strong potential suitors.
The Patriots still need a true No. 1 receiver, and Jones may have just enough left in the tank to fill that void for at least a year. After making significant upgrades on offense this spring, could Bill Belichick cap off a franchise-altering offseason by trading for the big-bodied playmaker?
Perhaps one of Belichick's former players will end up pulling the trigger for Jones. Mike Vrabel has led the Tennessee Titans to the playoffs in each of the last two seasons. However, after losing Corey Davis and Jonnu Smith in free agency, the passing attack doesn't boast the same potential. Adding Jones would instantly make Tennessee a much more viable Super Bowl contender.
As for a sleeper team?
Maybe the Packers will make one last push to appease Aaron Rodgers and find a way to bring the disgruntled Falcons star to Green Bay.