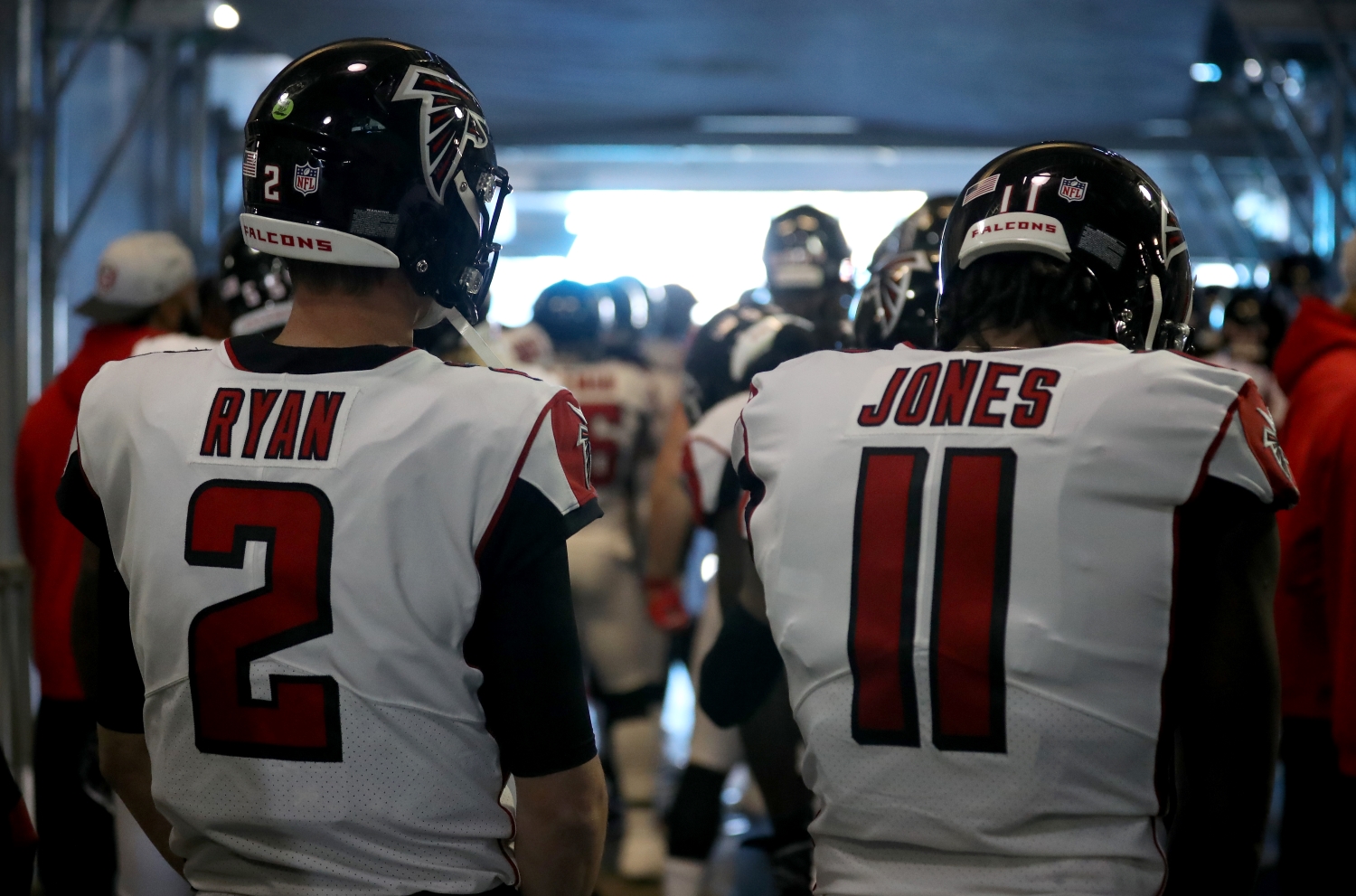 A $68 Million Roadblock May Force the Falcons to Change Their Stance on Julio Jones
Will the Falcons be forced to trade Julio Jones for whatever they can get? Based on their salary-cap situation, that may be the only way out for Atlanta.
As one of the greatest receivers in NFL history, Julio Jones would instantly make any offense better.
But what's a fair price to pay for the 32-year-old wideout?
Answering that question isn't so easy. While the Atlanta Falcons would surely like to sell high on the future Hall of Famer, the franchise may have to change its stance on Jones. Because with a $68 million roadblock standing in their way, the Falcons seemingly have no other option than to lower their demands before time runs out.
Julio Jones could be on the move after an injury-shortened season
The Falcons already made significant changes this offseason by hiring a new head coach and general manager. Could their next move involve getting rid of one of the most beloved players in franchise history?
Jones has been one of the league's most productive receivers for a decade. From 2014-19, he averaged 104 catches for 1,563 yards. Plus, he caught 37 touchdowns during that stretch.
However, Jones struggled to stay on the field in 2020. After missing only one game across the previous three seasons, he sat out seven contests. Still, he performed well by totaling 51 catches for 771 yards and three touchdowns for a Falcons team that finished at the bottom of the NFC South standings.
Based on recent reports, though, it looks like the 32-year-old will record his next reception as a member of another NFL team. With the Falcons looking to trade their longtime star, speculation has swirled about potential deals involving Jones. He added more fuel to the fire on Monday while speaking to Shannon Sharpe on the phone during a live segment of Undisputed.
"Nah, I'm out of there, man," Jones said about being in Atlanta. "Right now, I want to win."
A $68 million roadblock may force the Falcons to change their stance on Jones
According to Albert Breer of Sports Illustrated, the Falcons asked inquiring teams for a first-round pick for Jones prior to the 2021 NFL draft. Given his age, injury history, and expensive contract, that seems like a high asking price. And based on the fact a trade has yet to occur, it's clear the other 31 teams don't think Jones warrants that type of compensation.
Even if the Falcons want to hold out hope that a receiver-needy team will meet their asking price, they may be forced to abandon that plan and change their stance on Jones.
Why's that the case?
Money, of course.
As Breer highlighted, Atlanta pushed $68.014 million toward the future by restructuring deals for Matt Ryan, Deion Jones, and Jake Matthews this offseason. Cutting all three after the 2021 season would result in that amount of dead money—a crippling blow to a team already stuck in a salary cap nightmare. Meanwhile, the Falcons don't even have enough cap room at the moment to sign all of their draft picks.
That essentially makes trading Jones a necessity. Because they desperately need financial wriggle room, the Falcons may be forced to completely change their expectations about a trade return. With June rapidly approaching, Atlanta can't afford to let the situation linger much longer.
Which NFL teams should be in the mix to acquire the All-Pro wideout?
Because he carries a $15.3 million salary for the 2021 season, Jones won't fit every team's budget. In fact, only about a quarter of the league's franchises have enough room to accommodate his contract.
So which teams should be in the mix for Jones?
To no surprise, the New England Patriots remain one of the favorites to acquire the talented wideout. Bill Belichick already invested significant financial resources on offense in free agency, but acquiring Jones would take New England's passing attack to another level.
The Indianapolis Colts also have plenty of cap space to fit Jones on the roster. Giving Carson Wentz a true No. 1 receiver seems like a surefire way to help resurrect his career. After giving up valuable draft capital to acquire the former Philadelphia Eagles quarterback, will general manager Chris Ballard want to part ways with another high pick to land Jones?
It sure will be interesting to see how much a team pays to pry him from Atlanta. Because the franchise that wins the sweepstakes for Julio Jones better hope he still has a few years of elite play left in the tank.
All contract data courtesy of Spotrac. All statistics courtesy of Pro Football Reference.