The Saints' Undying Loyalty to Drew Brees is Coming Back to Bite Them
Did the New Orleans Saints make a mistake by sticking by Drew Brees till the very end?
Most NFL fans would agree he deserved to finish his career with the franchise he served as the face of for more than a decade. Yet, it's entirely fair to question how the front office handled the final years of the Brees era.
As much as he meant to the city and team, it's impossible to ignore the detrimental effect of the Saints' undying loyalty to their iconic quarterback. And if they can't find a way to fix a major roster hole before the 2021 season begins, the first year of the post-Brees era may not go so well for Sean Payton and Co.
The Saints committed significant financial resources to keep the Drew Brees era going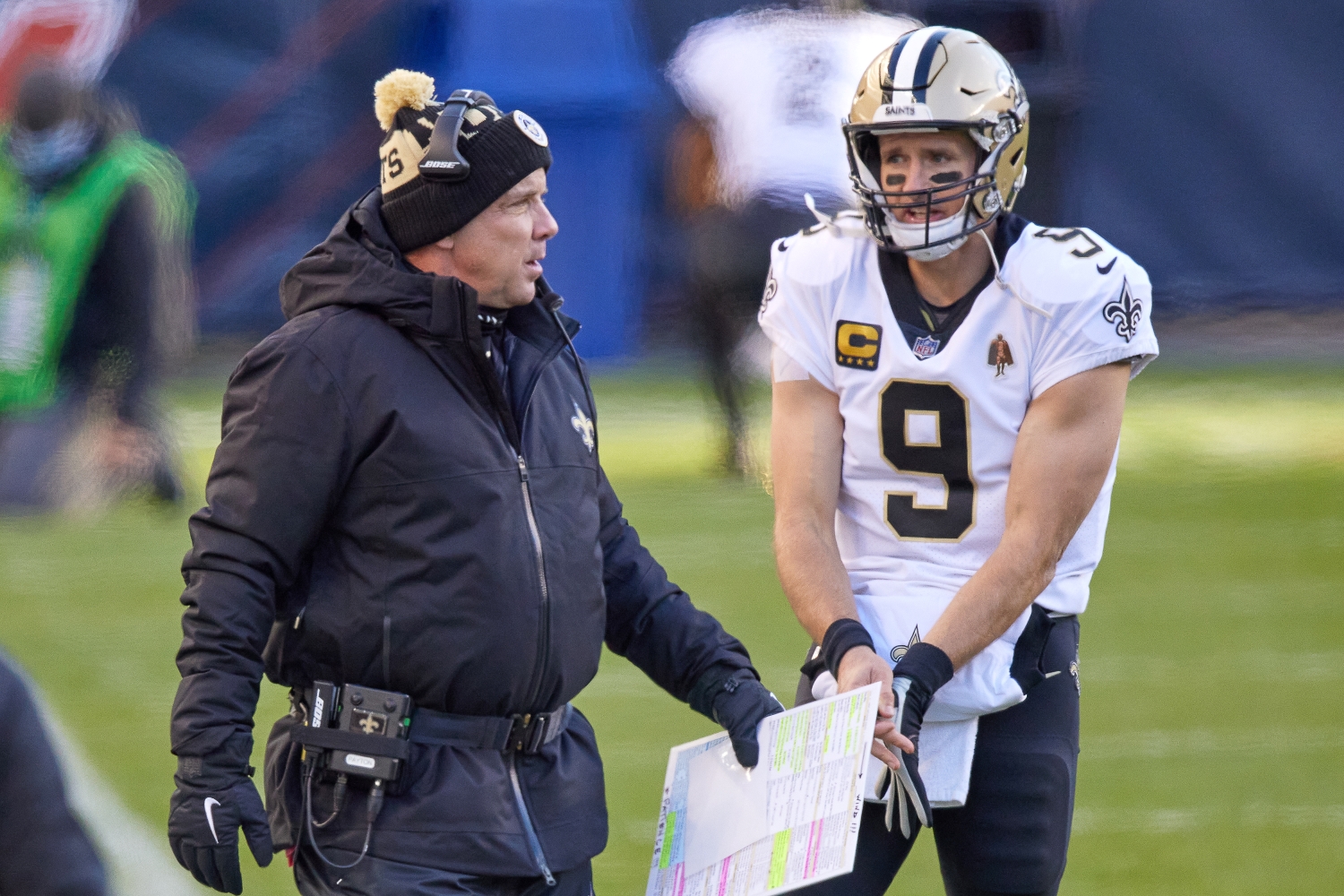 The Saints certainly made the right call to sign Brees back in 2006. In fact, his six-year, $60 million deal looks like a steal when you consider how much value he provided over the course of that contract.
Brees started his Saints career by earning his first (and surprisingly only) first-team All-Pro selection. Two years later, he led the NFL with 34 touchdown passes. He followed up by leading the league in touchdowns again while guiding New Orleans to a Super Bowl title. Needless to say, the Saints scored a major steal with Brees' first deal.
Although the future Hall of Famer never made another Super Bowl appearance, he consistently put up big numbers in Payton's creative offense. That put Brees in a prime position to cash in on multiple occasions. And the Saints didn't hesitate to commit significant financial resources to keep the franchise icon in New Orleans.
In 2018, they signed Brees to a two-year, $50 million contract extension that included $27 million guaranteed. He responded by earning second-team All-Pro honors for a 13-3 Saints squad that lost in the NFC Championship.
However, Brees suffered a torn thumb ligament in 2019 that limited him to only 11 starts. Coming off another disappointing playoff defeat (the Vikings eliminated the Saints for the second time in three seasons), he had to decide whether to continue his career. Ultimately, Brees signed another two-year, $50 million contract extension. Though, unfortunately for both he and the Saints, the 2020 season ended with a 30-20 loss to the Tampa Bay Buccaneers.
New Orleans is paying the price for its undying loyalty to the legendary quarterback
The Saints should have second thoughts about how loyal they remained to Brees.
Sure, it made sense to keep him around, but committing guaranteed money on a quarterback who essentially went year-to-year at the end of his career looks like a bad move based on their current salary-cap situation. In fact, the team's loyalty to Brees has come back to bite them.
Even after restructuring his deal to give the Saints much-needed breathing room, the retired quarterback counts $11.5 million against the 2021 salary cap. That expensive dead money hit partially explains why New Orleans only has about $6.4 million in estimated cap space, according to Spotrac. With little financial flexibility due partly to Brees' contract, the Saints can't take care of an important piece of business.
"We'd love to have another [cornerback] in the building and create depth," general manager Mickey Loomis said during a recent appearance on WWL Radio. "I like the guys that we've got but I think that's one of those positions that you can never have enough."
So why can't Loomis address an obvious need?
"Truthfully, if the cap situation was different, we might have made a different move with Janoris [Jenkins]. I don't know ultimately how that would have shaken out," Loomis said. "We're just so limited in terms of what we can do. We're still looking and if something presents itself that we can boost that position or another one, we'll do everything we can to make the move."
Should the Saints commit guaranteed money on other stars to help create cap space to sign a corner?
The Saints can't do anything about Brees' $11.5 million cap hit. At this point, it's just a bitter (and expensive) pill to swallow.
But that doesn't mean they can't solve their cornerback problem.
New Orleans can create cap space by signing some of their young, established stars to contract extensions. Marshon Lattimore, the team's top pick in 2017, recently restructured his deal to give the team some financial relief. The Saints should explore extending the three-time Pro Bowler's contract so they can lock up one of the league's elite corners and achieve more cap flexibility.
Fellow 2017 first-round pick Ryan Ramczyk also looks like a strong candidate to receive a long-term deal. An All-Pro selection in each of the last three seasons, the 6-foot-6, 314-pound right tackle carries a team-high (excluding Brees) $11 million cap hit for 2021. An extension would lower that significantly and allow the team to offer more money to a free-agent corner.
With five-time Pro Bowler Richard Sherman, longtime Cincinnati Bengals starter Dre Kirkpatrick, and underrated veteran Steven Nelson still available, the Saints can add a quality player at the position if they open up more cap room.
But if financial inflexibility prevents New Orleans from addressing a major need, that doesn't bode well for a team that will have a new Week 1 starting quarterback for the first time since 2006.
Unfortunately for the Saints, their old one will take up $11.5 million in cap space even though he'll never take the field for them again.