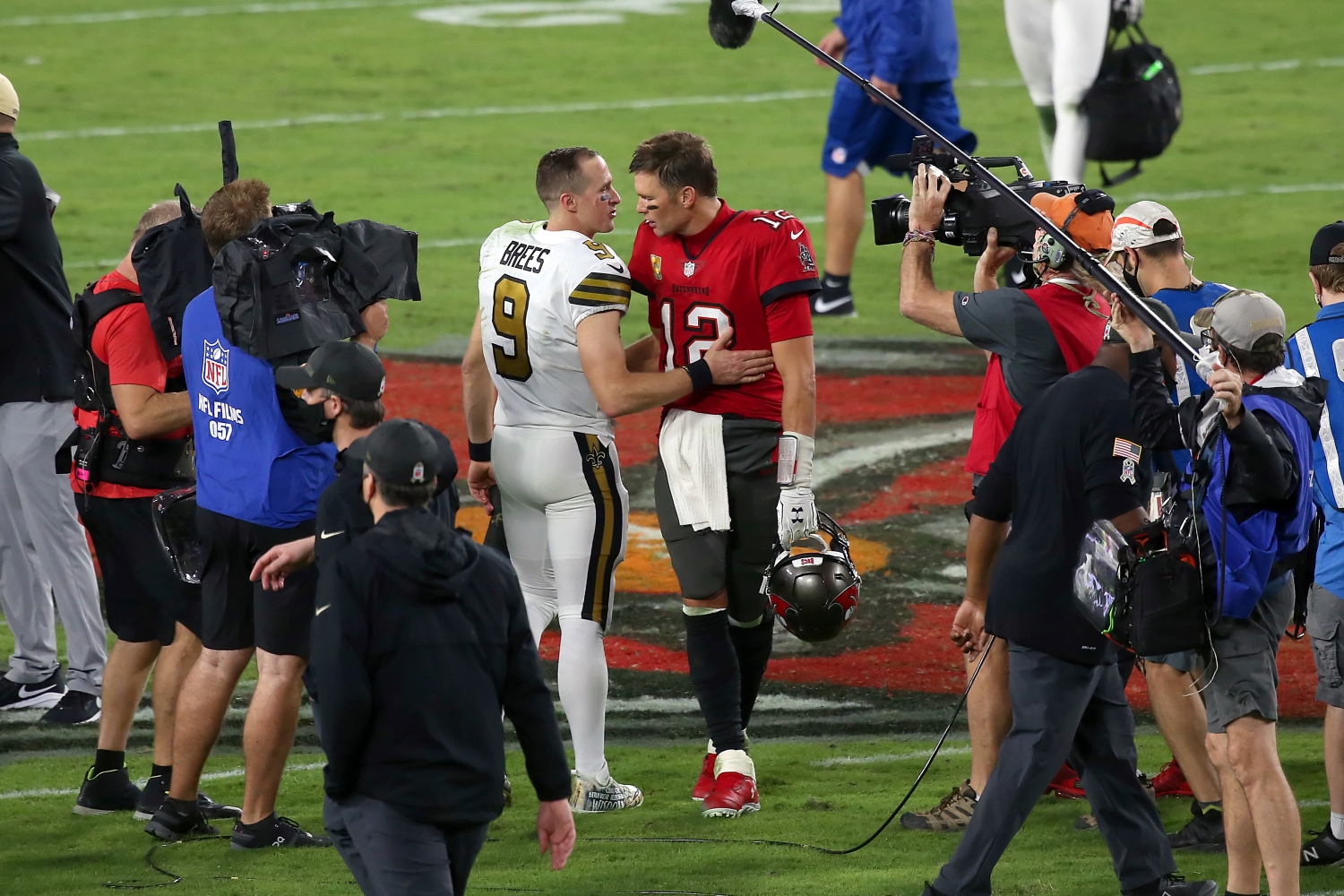 The Latest Report on Tom Brady Will Make Saints Fans Sick to Their Stomachs
Would Tom Brady have seven Super Bowl rings if he had joined the Saints? Nobody knows the answer to that question, but it seems like the legendary QB could have ended up in New Orleans as Drew Brees' replacement.
Even diehard New Orleans Saints fans have to admit Drew Brees didn't always live up to expectations during his final few years with the team. While injuries factored into that, it doesn't change the fact that the Saints suffered premature postseason exits in each of the last four seasons.
And as much as New Orleans fans respect Brees for his toughness and dedication to the franchise, they should feel sick to their stomachs by the latest report involving one of his peers. With Tom Brady looking to lead the Tampa Bay Buccaneers to back-to-back Super Bowl titles, the Saints may have some regrets about how they handled the most important position in sports.
Tom Brady became the latest quarterback to eliminate Drew Brees and Co. from the playoffs
Brees will undoubtedly get inducted into the Pro Football Hall of Fame one day. And his name deserves to get mentioned in any conversation about the greatest quarterbacks of all time (behind Brady, of course). Yet for all of his individual accolades and passing records, it's still fair to criticize Brees for his lack of postseason success.
Although the Saints haven't missed the playoffs since 2016, they haven't come close to winning a championship. Their 2017 season ended in heartbreaking fashion courtesy of Case Keenum and Stefon Diggs, who connected on a 61-yard touchdown pass at the end of regulation to send Brees and Co. home with a divisional-round loss. The following season also ended in bitter defeat as the Los Angeles Rams edged out the Saints in overtime in the NFC Championship.
Brees guided his team back to the playoffs in 2019, but he lost a fumble and threw an interception in the Saints' 26-20 loss to Kirk Cousins and the Vikings in the wild-card round.
His 2020 campaign didn't go as expected, either.
Brees missed four games due to multiple broken ribs and a collapsed lung, and he didn't look anything like his normal self in the most important game of the season. In a marquee matchup against the Brady-led Buccaneers, Brees completed just 19 of 34 attempts for 134 yards, one touchdown, and three interceptions. His poor performance played a significant role in the Saints getting eliminated from the postseason for the fourth straight year.
To rub salt in the wound, Brady secured his seventh Super Bowl ring in his first season with the Buccaneers.
Recent report on Brady should make Saints fans sick to their stomachs
Brees officially retired from the NFL on the 15th anniversary of him signing with the Saints. But based on a recent report from Jeff Darlington, New Orleans fans may wish he walked away from the game sooner. In fact, the truth about Brady's free-agency experience should make them sick to their stomachs.
"I think that people still underestimate how close Tom Brady was to signing with the New Orleans Saints until he ultimately decided on the Bucs," Darlington said on ESPN's Get Up. "I know that that's going to be a statement that people try to question. It's the truth."
The Saints could have moved on from Brees to build around the longtime New England Patriots star. Yet they didn't do that. Instead, they signed Brees to a two-year, $50 million contract extension and ended up getting eliminated by Brady in the playoffs.
"Sean Payton cannot look back and [not] say, 'Man I would've loved to have Tom Brady last year because it would also have meant that I have him for a few more years moving forward,'" Darlington said. "No question in my mind, the Saints, despite understanding they did what they had to do, there is a little bit of — let's call it regret — that Tom Brady is not their quarterback."
Should the Saints regret how they handled the most important position in sports?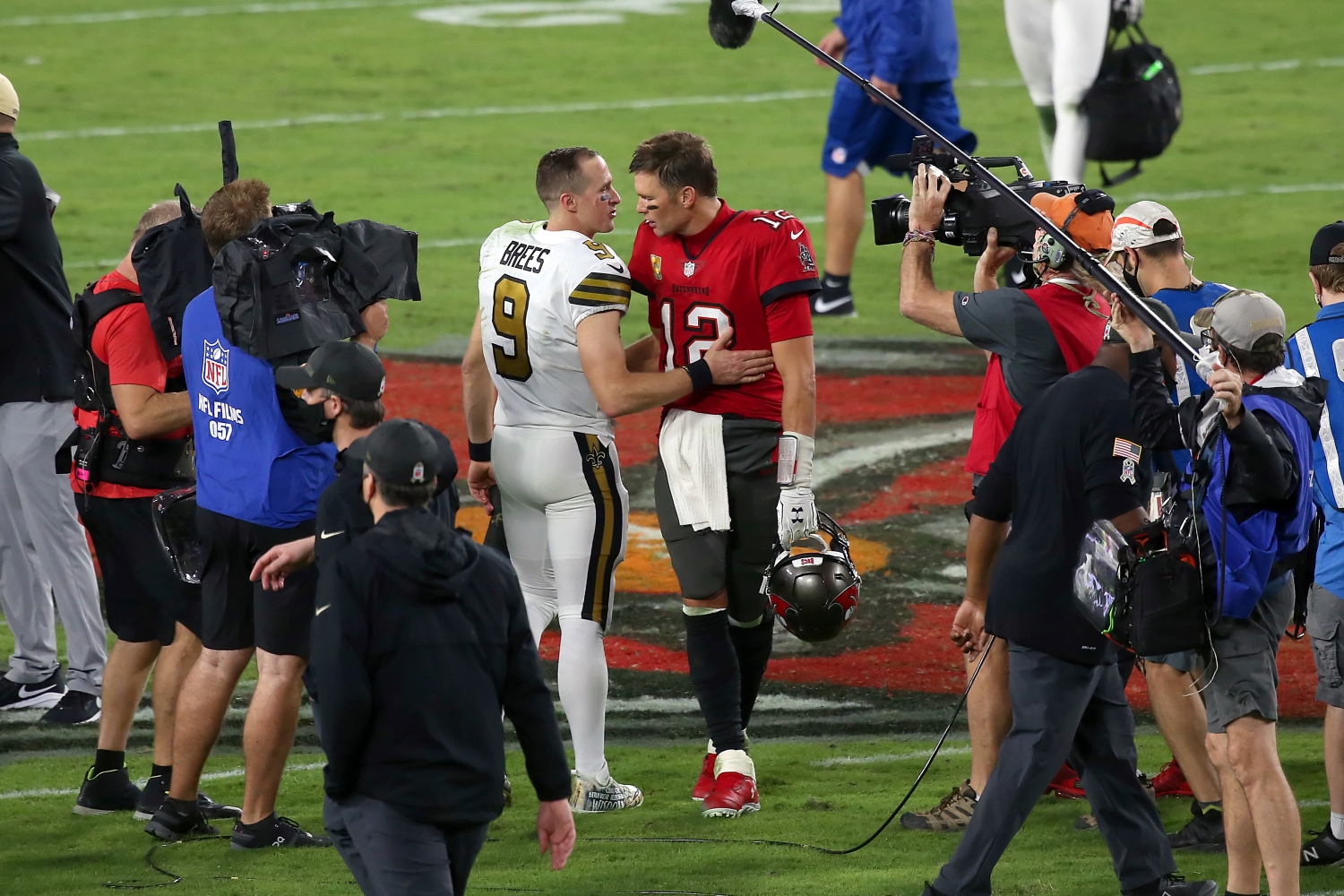 Should Saints fans be upset that the front office went with Brees over Brady?
On one hand, the decision made total sense. Brees served as the face of the franchise for more than a decade. He still looked capable of playing at a high level in 2019, so it wasn't a surprise to see the Saints bring him back for one more run at a Super Bowl title. And you have to imagine Brees' close relationship with Sean Payton factored into the equation, too.
However, the Saints should regret the way they handled the position. Not only did they miss out on signing the greatest quarterback of all time, but they didn't properly plan for life after Brees. Instead of having Brady for multiple seasons, they will enter training camp with Jameis Winston and Taysom Hill competing for the starting job. Let's just say the Buccaneers will have a decisive advantage over the Saints no matter who wins that battle.
At the end of the day, sticking with Brees didn't lead to different results. Unless Winston or Hill completely outperforms expectations, they won't bring the Lombardi Trophy back to New Orleans, either.
Maybe 2021 fourth-round pick Ian Book will develop into a starter down the line. By that time, though, Tom Brady might have eight Super Bowl rings in his collection.
Unfortunately for Saints fans, Drew Brees doesn't even have two.