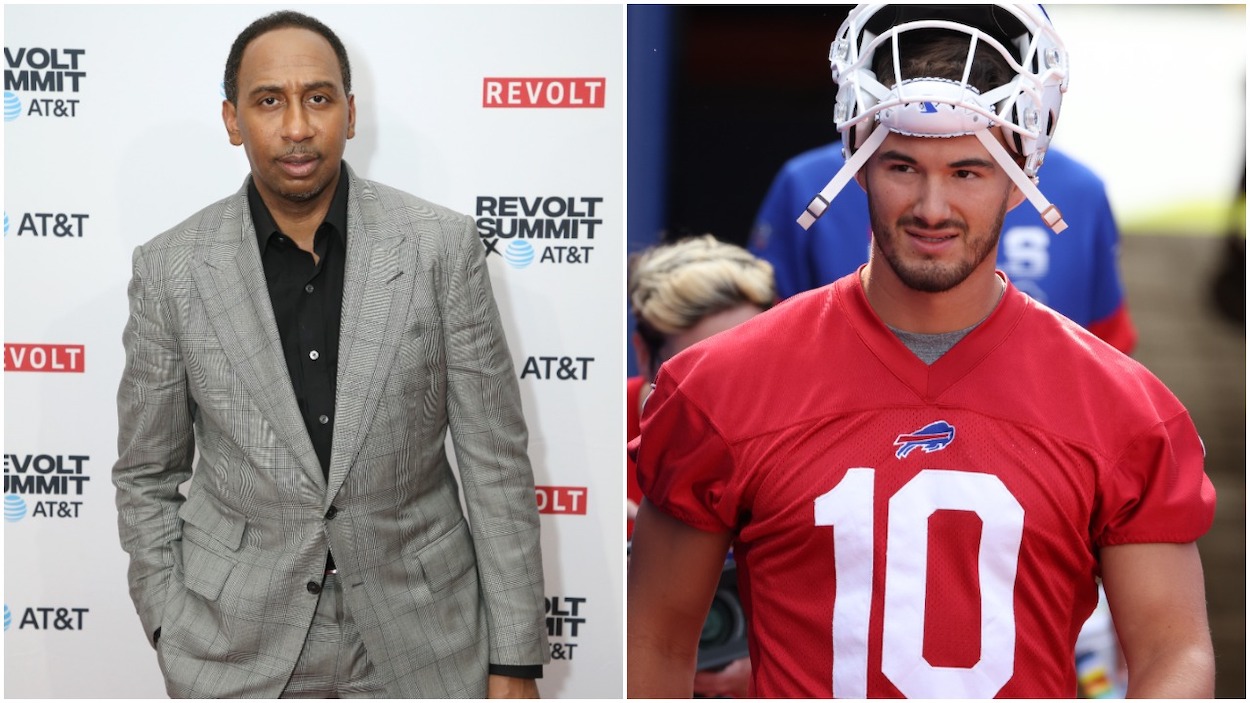 Stephen A. Smith Crushes Mitchell Trubisky For Throwing Shade at the Bears: 'There Wasn't a Single Team That Wanted You as a Starter, Bro'
ESPN's Stephen A. Smith destroyed Buffalo Bills backup QB Mitchell Trubisky for saying he enjoyed Buffalo who is very happy to have him. Smith went on a rant saying no one wanted Trubisky as a starter and that all he's going to do this season is sit behind the Bills' franchise QB, Josh Allen.
New Buffalo Bills backup quarterback and former Chicago Bears No. 2 overall draft pick Mitchell Trubisky recently shared some comments about how he feels about his new team. In the process of expressing how much he enjoys being with Buffalo, he also threw some subtle digs at his former club. ESPN's Stephen A. Smith didn't like these comments and used his TV platform to go on an epic rant crushing the QB.  
Buffalo Bills backup QB Mitchell Trubisky threw shade at his former team, the Chicago Bears
After four up and down seasons with the Chicago Bears, Mitchell Trubisky became a free agent. While he did help the Bears reach the playoffs twice and made the Pro Bowl in 2018, the organization didn't see him as a long-term franchise-level starter.
Chicago cut ties with the former North Carolina QB after the 2020 season and proceeded to trade up again for a signal-caller in the 2020 NFL draft, selecting Ohio State's Justin Fields.
Trubisky promptly signed a one-year, $2.5 million contract with the Bills to backup Josh Allen in 2021. He said that being with Buffalo makes him happy and, in the process, used some language that could be interpreted as being aimed at his former team:
It's just really nice to be part of a great team and be somewhere where people want you here, and they care about how you're progressing as a person, as a player.

Mitchell Trubisky on the Buffalo Bills
There is probably a little bitterness toward the Bears in these words, but it's pretty minor in the grand scheme of things. At least to most people outside of Stephen A. Smith.
Stephen A. Smith crushed Trubisky for his comments
Smith is well-known for his off-the-rails rants on TV, radio, and the internet. However, he usually takes on the biggest stars in sports, not backups QBs. For whatever reason, though, Trubisky's comments rubbed "Screamin' A." the wrong way, and he took to the ESPN airwaves to tee off on the draft bust:  
Really? What do you mean it's nice to be wanted? You are wanted. … As a backup! There wasn't a single team that wanted you as a starter, bro. Not one. And you're not just any kind of backup, Mitchell Trubisky. Oh no! You're the backup to a guy who just signed a six-year, $258 million contract! A guy who finished second in MVP voting last year. A guy who is actually a year younger than you, in Josh Allen. So guess what? There ain't no way you're ever going to see the field in Buffalo! There ain't no way that's gonna happen. You just gonna be standing there, holding the clipboard, doing pretty much nothing. … If that's being wanted to you, I don't know what to tell ya.

Stephen A. Smith on Mitchell Trubisky
Smith also invoked the fact that Bears traded up one spot to draft the UNC product and that they picked him over Deshaun Watson and Patrick Mahomes. It was an absolutely savage takedown.
A high-end backup is a nice luxury item for the Bills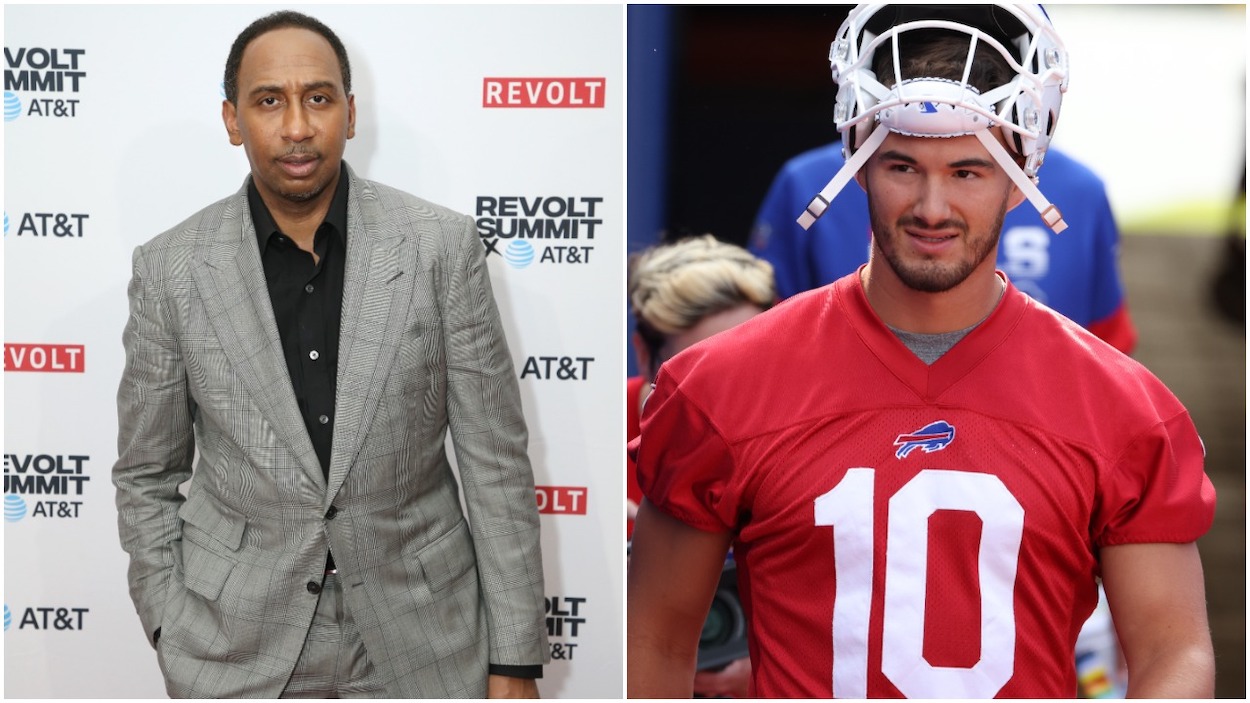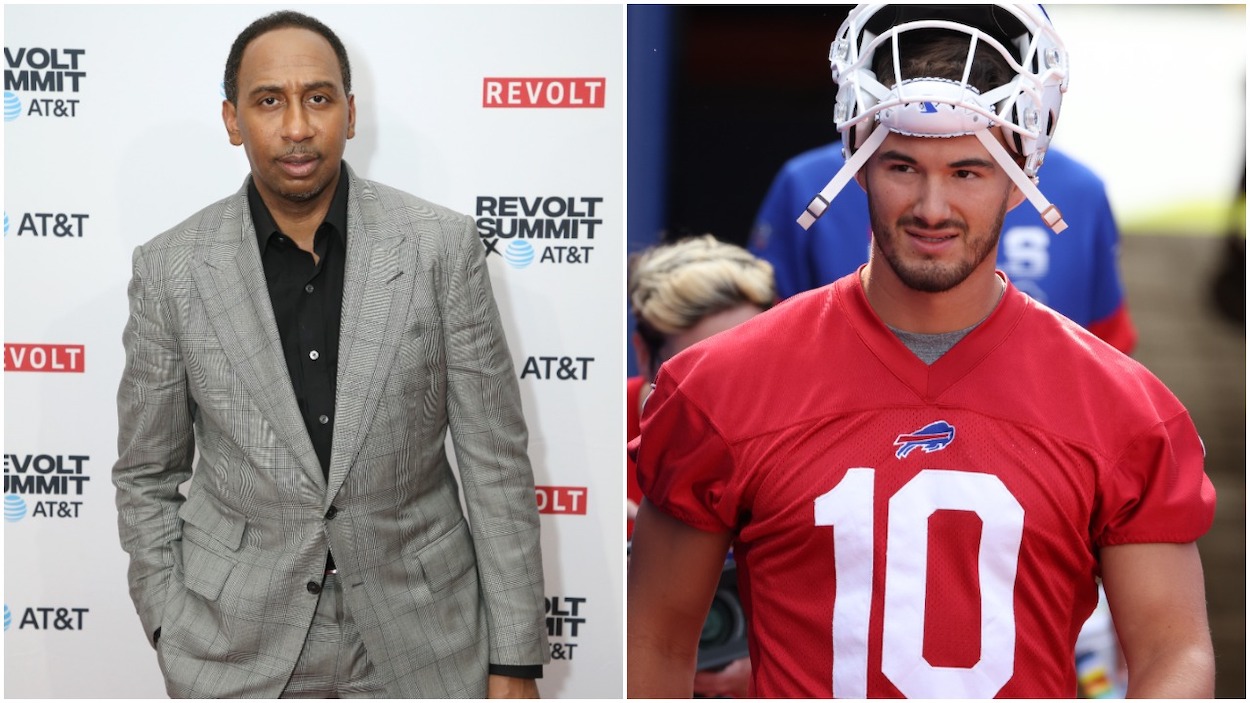 Despite Smith's feelings on Trubisky, his arrival is in Buffalo is a win for the franchise. The Bills are a team with Super Bowl aspirations (for the first time since the early 90s), but much of those hopes and dreams rely on the quarterback position.
The Bills will ultimately go as far as Josh Allen's arm and legs take them this year, but the team is talented enough to win a game or two without him if needed. Trubisky gives the team a QB with a winning NFL record (29-21) who may not be a Super Bowl-level passer himself but can certainly get the job done in a pinch.
Backup quarterbacks helping propel teams to the Super Bowl is an age-old story in the NFL. You just have to look to last year when Chad Henne came in for Mahomes late in the Divisional round against the Browns to get Kansas City the win.
Before Henne, there was Nick Foles and Jeff Hostetler and Roger Staubach and Jim Plunkett. The Bills even had Frank Reich lead the greatest comeback in NFL history in the 1993 playoffs on their way to the Big Game.
And, never forget that in 2001, the New England Patriots thought their Super Bowl hopes rested on Drew Bledsoe's shoulders. That certainly changed quickly when a relatively unknown backup name Tom Brady replaced him in Week 2.
Allen's cap hit is around $10 million this season and $16 million next season before jumping to almost $40 million in 2023. While the Bills can still afford a high-end backup, they're glad to have one, despite what Stephen A. Smith thinks.  
All contract figures courtesy of spotrac