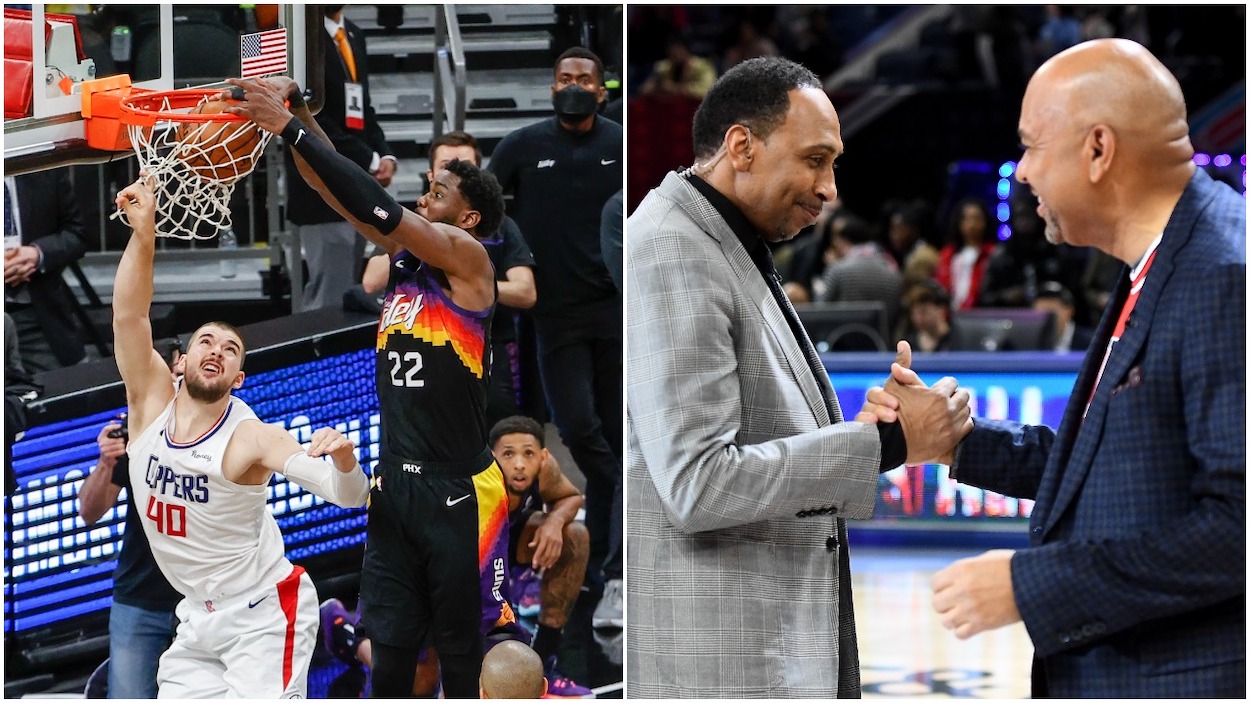 Stephen A. Smith and Michael Wilbon's Stunned Faces After Deandre Ayton's Buzzer-Beater Are Priceless
Longtime sports media analysts Stephen A. Smith and Michael Wilbon have pretty much seen it all in the world of sports. However, a viral video captured their looks of shock after a Phoenix Suns buzzer-beater in Game 2 of the Western Conference Finals. The LA Clippers then won Game 3 to narrow the series gap.
Veteran sportswriters-turned-TV-commentators Stephen A. Smith and Michael Wilbon have seen a lot in their decades-long careers. The sports media mainstays have both covered thousands of sporting events. So, these days, there likely isn't a lot on the field or court that shocks them.
The beauty of sports, though, is that you never know when you'll see a truly amazing moment that will stun and amaze even the most grizzled sports fan. This type of shocking moment occurred in Game 2 of the Western Conference Finals, and it was captured in a viral video. The looks on Smith and Wilbon's faces say it all.
The Phoenix Suns' Deandre Ayton slammed home a stunning alley-oop to give his team the Game 2 victory over the Los Angeles Clippers
The Phoenix Suns and the Los Angeles Clippers are vying for a spot in the 2021 NBA Finals. Game 2 of this series was an epic battle that will go down in history as one of the wildest, most memorable games in playoff history.
The game was tight throughout, with both teams matching each other punch for punch. There also was almost a literal knockout when the Clipper's Patrick Beverley and the Suns' Devin Booker banged heads. The collision left both players bloodied and Booker in need of stitches.
The Suns' star returned for the home stretch that included several prolonged replays and a host of dramatic possessions. Paul George hit some big shots in the final minutes. However, he missed two free throws late to leave the door open for the Suns.
After a missed Mikal Bridges 3-pointer that went out of bounds off the Clippers, the Suns had one final shot with 0.9 seconds left.
Deandre Ayton ran his man off a screen, and Jae Crowder threw a perfect alley-oop pass from out of bounds that Ayton slammed home, taking on 0.2 seconds off the clock. LA couldn't score in the remaining 0.7 seconds, and Phoenix won the game 104-103 to take a 2-0 series lead.
A viral video shows ESPN's Stephen A. Smith and Michael Wilbon in total shock after the buzzer-beater
One of the great joys of the 2021 NBA Playoffs is that fans are back after a year-plus hiatus due to COVID-19 restrictions. In this game, the crowd erupting in cheers helped make Ayton's buzzer-beater that much more special.
A spectator captured the moment on his Instagram account. He filmed Ayton dunking the ball and the crowd going wild when the ball went through. He panned right, then left, and at the tail end of the video, captured an image that made it go viral.
Standing next to the spectator was none other than Smith and Wilbon. The commentators were waiting to do their live post-game analysis for ESPN. The two longtime journalists stood in stunned shock — with Wilbon holding his dropped-jaw and Smith clutching his chest — after witnessing something that it seems like neither of them has seen before.
It was a moment that told you everything you need to know about the game's dramatic finish and the staggering power of sports to amaze.
The Clippers won Game 3 and are attempting to come back from 0-2 down in their third consecutive series
The instantly iconic play, already nicknamed the Valley-oop or the DeAlley-oop, gave the Suns what would usually be considered a stranglehold on the series. In the 2021 playoffs, though, the LA Clippers don't even start to play it seems until they're down 2-0.
The Clippers went down two games to none in both their previous playoff series. They trailed the Dallas Mavericks by two games in round one and beat them in seven games. The Utah Jazz also took a two-game series lead before falling to the Clippers in Game 6.
Even without their biggest superstar, Kawhi Leonard, LA started down the comeback trail against Phoenix in Game 3. Coach Tyronn Lue's team spoiled Chris Paul's return after a COVID-19-related layoff defeating the Suns 106-92. Atoning for his missed free throws in Game 2, George scored a game-high 27 points, and his running mate Reggie Jackson added 23.
The series is now back in doubt and should continue to provide dramatic and surprising moments in the coming games. However, Chances are none will stun Stephen A. Smith and Michael Wilbon like Ayton's slam did.
All stats courtesy of Basketball Reference