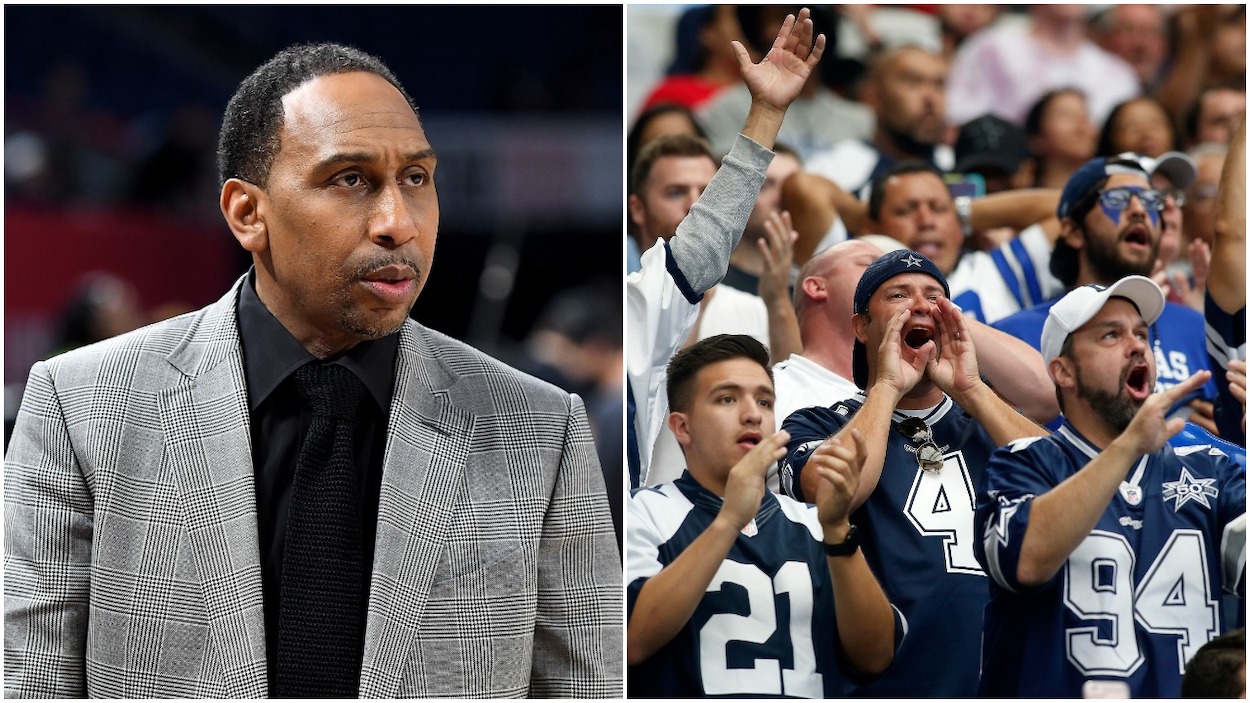 Stephen A. Smith Has Surprising Message for 'Disgusting, Nauseating Cowboys Fans'
Dallas Cowboys fans are not going to be happy to hear what ESPN's Stephen A. Smith says about their team's 2021 season. He thinks the Cowboys will have a good regular season but will fail to make the Super Bowl. This will get Cowboys' fans hopes up and the crash them down, making Smith gleeful.
Stephen A. Smith has a shocking message for Dallas Cowboys fans. The First Take co-host and all-around ESPN mouthpiece shared a piece of good news with the Dallas faithful but followed it up by explaining why it's actually a bad thing. He also delivered this message with a level of glee and name-calling that Cowboys fans certainly won't appreciate.
Stephen A. Smith thinks the Dallas Cowboys will win the 'NFC Least'
Smith discussed the 2021 Dallas Cowboys on his "Get @ Me" segment. "I actually think the Cowboys are going to have a very good season," the popular pundit said. He continued, "I think they're going to win the NFC Least. I think they're going to have about an 11-5 record." He later corrected the record to 11-6 to account for this season's 17 games.
While this might sound good to Dallas fans, Smith quickly U-turned:
They're going to tease those disgusting, nauseating Cowboys fans across the world, ok. … Here's the deal you disgusting, nauseating Cowboys fans everywhere that you are. I know y'all think that's good news. Y'all forgot who y'all taking to.
The multiple references to "disgusting, nauseating Cowboys fans" should tip listeners off that Smith is about to zag on his Cowboy's opinion. He continued by doing so in a big and possibly upsetting way to the fans of "America's Team" who expect big things from the 'Boys this and every season.
Smith tells Cowboys fans this is actually a bad thing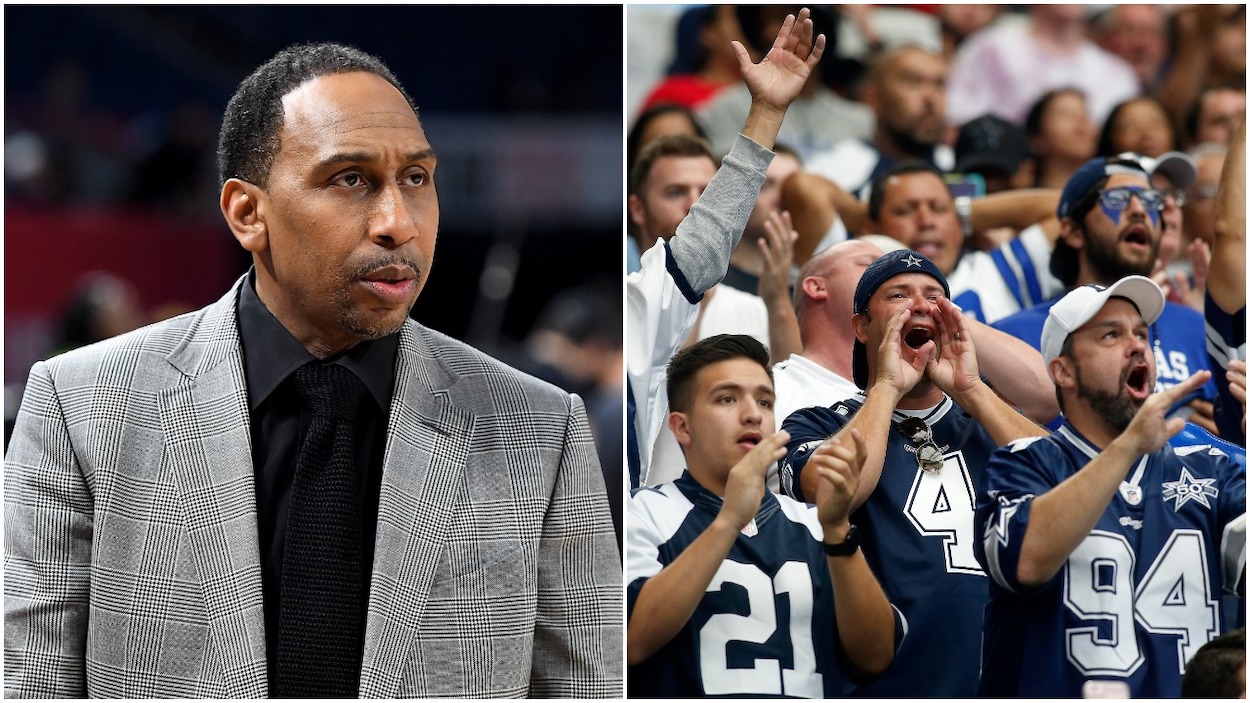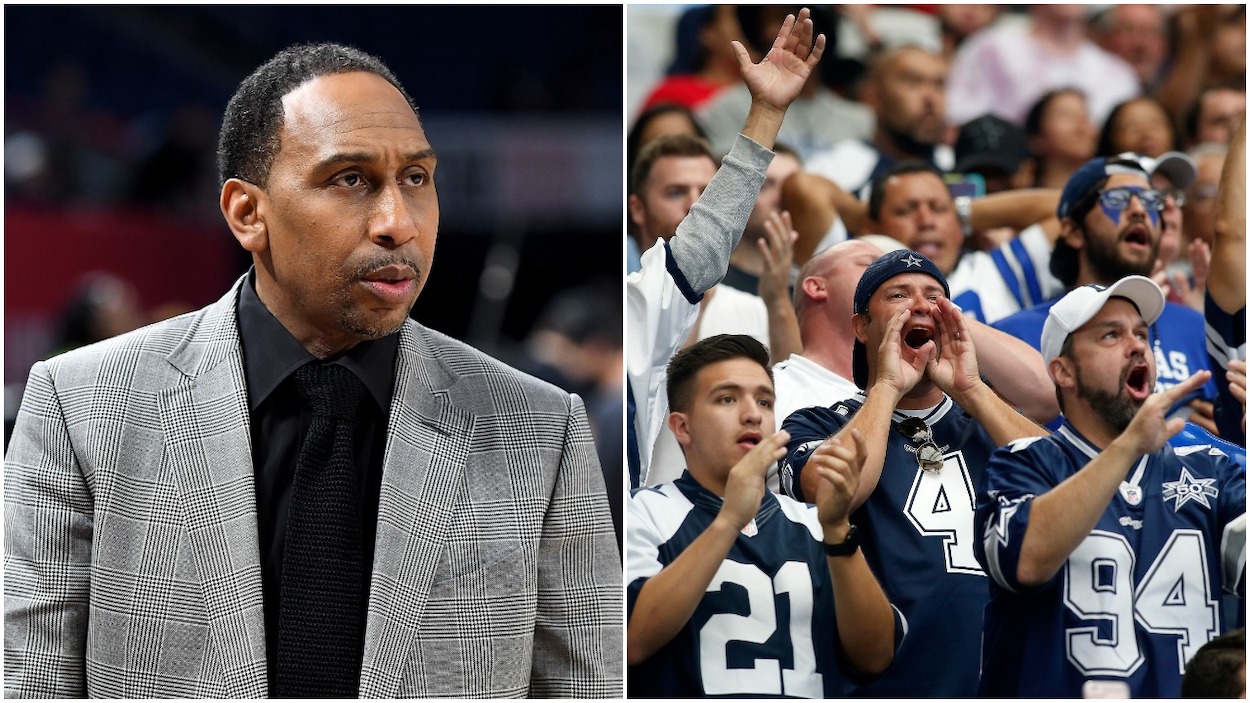 An 11-6 record, a playoff bid, and even a playoff game win would be a huge accomplishment for most franchises. That isn't the case for Cowboys fans who, after experiencing multiple Super Bowls in the 1970s and again in the 1990s, expect greatness from their team.
These expectations are why Smith took so much joy in his rant against the Cowboys and their fans:
All [going 11-6] is going to do is elevate your expectations and raise your hopes. Right before you plummet down to earth in colossal, epic fashion. And, therefore, you're going to be so miserable, and that's going to be worth it to me. The higher the climb, the deeper the fall, and when you crash-land, and it hurts so much, that is my wish for Cowboys fans.
The vocal Dallas critic summed up by saying, "11-6, might even win a playoff game, but you ain't going to no damn Super Bowl."
Former 'First Take' co-host Skip Bayless thinks Dallas will have a good season too
When Smith and Skip Bayless hosted First Take together, there were several topics that the two could always find a good argument over. One was LeBron James. Another was the Dallas Cowboys.
Bayless made his bones at the Dallas Morning News in the '80s and '90s. When he became a national media figure, he often trumpeted the team he covered for almost two decades. In 2021, he also believes the Cowboys will have a good season.
On his show, Skip and Shannon: Undisputed, Bayless said he believes that the Cowboys 2021 appearance on HBO's Hard Knocks will "help launch this team this year." While Bayless does "love this team on Hard Knocks" and thinks it will be a success, he stopped short of offering a prediction on a record or the team's Super Bowl chances.
His current co-host, Shannon Sharpe, responded that they always get all the attention "until the playoffs start." This indicates the former NFL tight end doesn't have the high hopes for Dallas that Bayless does.  
The Cowboys are by far the most talented and experienced team in the NFC East. However, plenty of questions still need answering, like how QB Dak Prescott will return from his gruesome 2020 injury, if Mike McCarthy is the right coach for the team, and whether Jerry Jones can build at least an average NFL defense?
If the organization answers these questions in the affirmative, Dallas has a real shot to not only make the playoffs but make noise, proving Stephen A. Smith at least partially wrong. If things break right for Dallas, there's no reason they can't at least make the Super Bowl in the weaker NFC Conference.
Like Sportscasting on Facebook. Follow us on Twitter @sportscasting19