Troy Aikman Recalls the Time He Lined Up Behind His Guard for a Snap: 'Hey Daddy, It Ain't Me'
Dallas Cowboys legend Troy Aikman told a story to Sean McVay and Peter Schrager on the Ringer's 'Flying Coach' podcast about the low point of his career when he tried to take a snap from his guard. After that, he would go on to win three Super Bowls with the help of a big trade.
Today, Troy Aikman is a Dallas Cowboy legend, a three-time Super Bowl champ, a Pro Football Hall of Famer, and a top NFL analyst. Most fans don't remember that the quarterback struggled mightily early in his career, and so did the Cowboys.
Aikman joined Los Angeles Rams head coach Sean McVay and NFL Network's Peter Schrager on their podcast to talk about his career, and he shared a story of his lowest moment as a QB. While it does sound painful at the time, with all Aikman's success, he can look back and laugh about it now.
Troy Aikman got off to a rough start in the NFL
In Aikman's senior season at UCLA, he won the Davy O'Brien Award for the nation's best quarterback. He also finished just ahead of Miami's Steve Walsh and behind USC's Rodney Peete and Oklahoma State's Barry Sanders for the 1988 Heisman Trophy. After that, the Dallas Cowboys drafted him first overall in the 1989 NFL draft.
After the draft, new owner Jerry Jones fired legendary Cowboys coach Tom Landry and hired Jimmy Johnson from Miami. In the supplemental draft that year, Johnson picked his old QB Walsh.
Aikman eventually beat out Walsh ahead of the 1989 season and Dallas traded the QB from The U. The former UCLA signal-caller responded with just nine touchdowns and 11 interceptions in 11 starts. Aikman finished with an 0-11 record, and Dallas finished 1-15.
While that had to be an incredibly difficult and humbling year, Aikman says the start of year two was even worse.
Aikman shared that he once lined up under his guard for a snap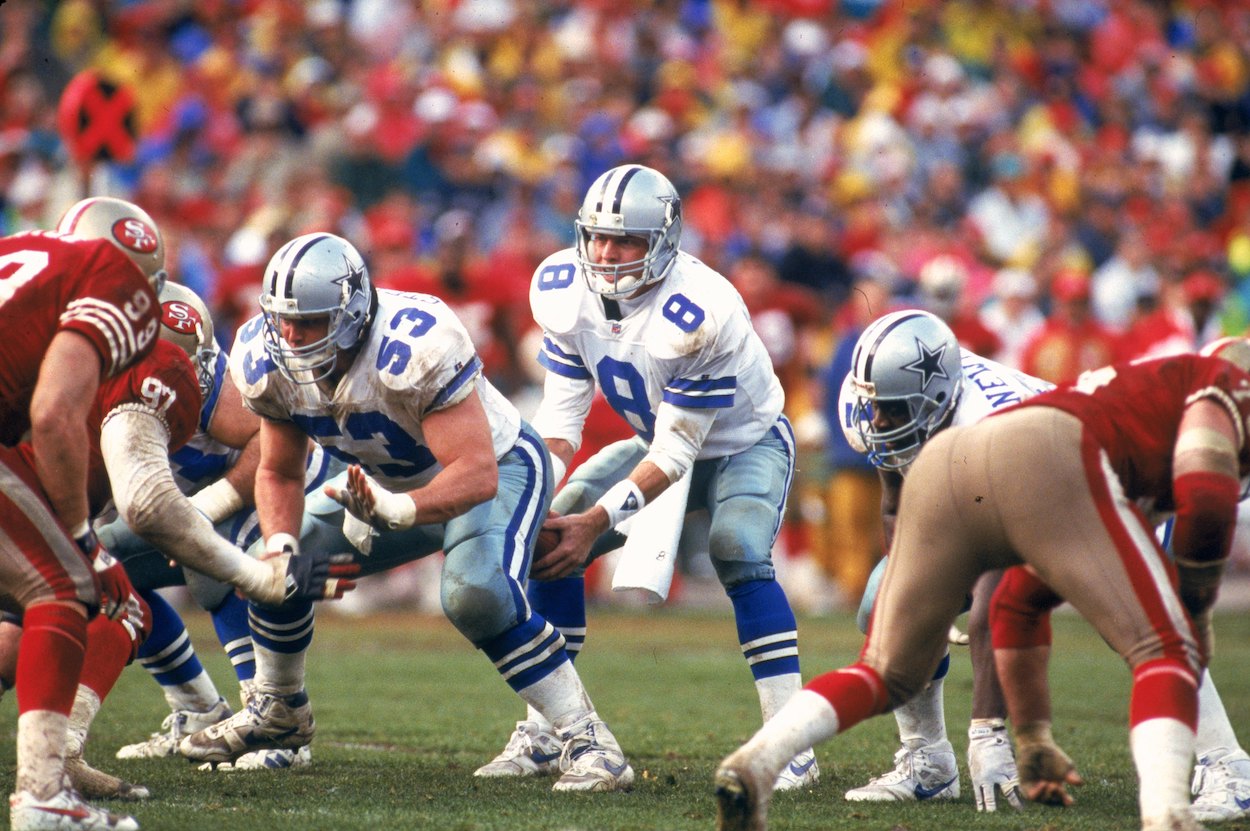 Aikman shared how difficult that second season was on the Flying Coach podcast with McVay and Schrager.
"My second year was even tougher than my rookie year," Aikman said. "Even though I won a few games as a starter." He went on to call it the "low point of my career." He said he didn't "have a whole lot of confidence in the coaching staff" and that Johnson probably thought they "traded the wrong guy."
Then he told a story that perfectly illustrated the issues he had that second year in the league:
We were in a two-minute situation in Texas Stadium, and I'm calling out the play, and I got underneath the guard to get the ball snapped, and the guard says, 'Hey daddy, it ain't me. You're at the wrong guy.' And I know Jimmy's sitting over there going, 'Jesus, what the hell's going on?' I'm sure he thought I was the dumbest quarterback that he'd ever had. So, that was probably my low moment.
Despite that low moment, the Cowboys finished the 1990 season with six more wins than the previous year. The year after that, Aikman and company went 11-5 and won a playoff game. Then, in 1991 the 13-3 Dallas Cowboys went all the way and won Super Bowl XXVII.
The Hershel Walker trade changed it all for the Dallas Cowboys
Jimmy Johnson's coaching and Troy Aikman's development as a quarterback played a huge role in the 1990s Cowboys becoming three-time Super Bowl champs. However, it was a trade that the team made in Aikman's and Johnson's first season that truly set the stage for what came next.
Herschel Walker, one of the most physically gifted running backs in football history, was already a two-time All-Pro in 1989. That didn't stop Jerry Jones from dealing him to the Minnesota Vikings in the largest trade in NFL history, according to the Pro Football Hall of Fame.
Jones sent Walker, along with a third- and tenth-round pick in 1990 and another third in 1991, to Minnesota in return for five players (one who was immediately they flipped for another pick) and first- and second-round picks in 1900, 1991, and 1992, a sixth in 1990, and a third in 1992.
The 18 player-and-pick deal still stands as the biggest trade, but it might be the most beneficial one as well. The main takeaway from the deal is that, after some more wheeling and dealing, the Cowboys added Emmitt Smith, Darren Woodson, and Russell Maryland. They all became vital cogs in the winning run.
While Jones was making this trade, he apparently also almost traded second-year wideout Michael Irvin away as well in a separate deal.
Sometimes the moves you don't make work out just as well as the moves you do.
All stats courtesy of Pro Football Reference and Sports Reference