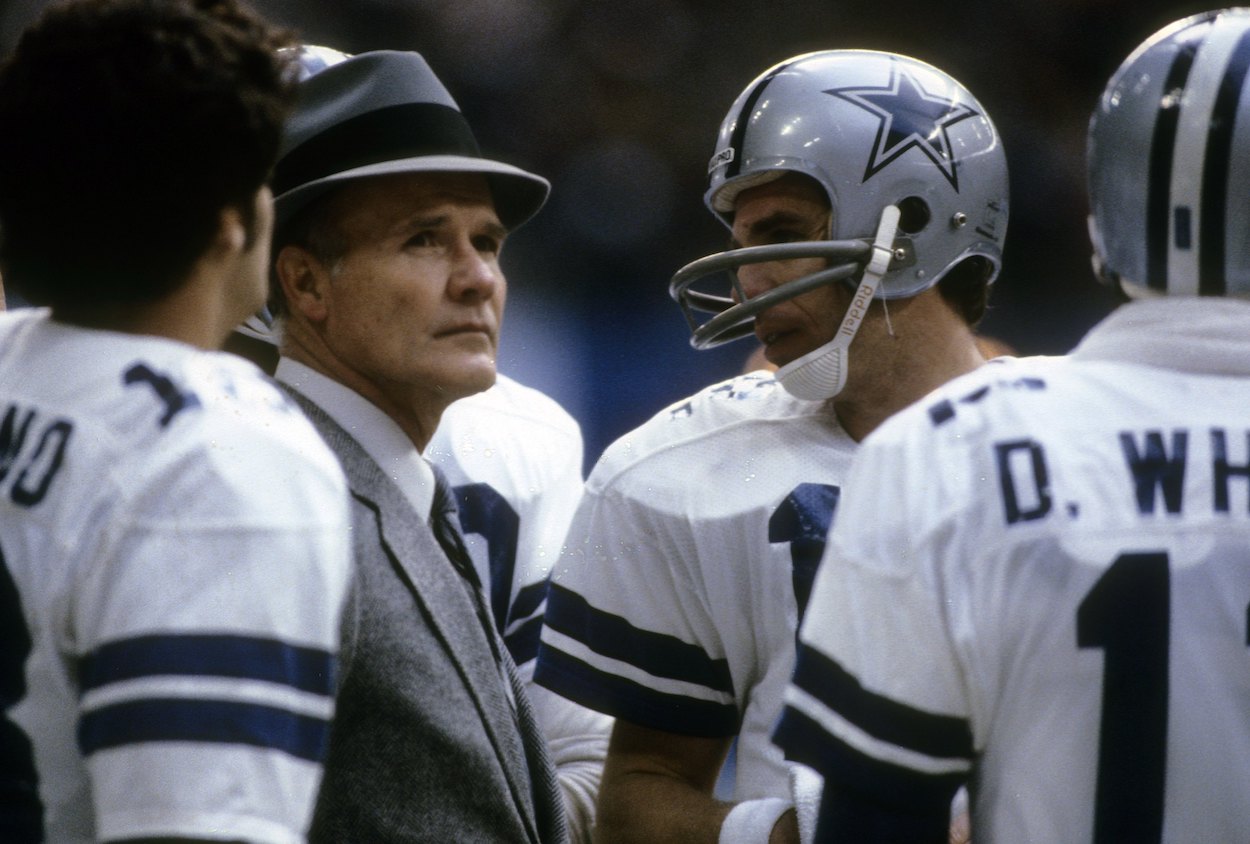 Former Dallas Cowboys Coach Tom Landry Received Death Threat During Game, Rushed Off Field, and Returned to Sidelines Wearing Bulletproof Vest
Former Dallas Cowboys coach Tom Landry was a fearless leader who once left the field after receiving a death threat and returned wearing a bulletproof vest.
Tom Landry was, and still is to many, the greatest head coach in Dallas Cowboys history. In his 29 seasons, he was one of the most innovative coaches in NFL history. He led the Cowboys to five Super Bowls, winning twice. 
At the end of his career, Landry faced one of the scariest moments of his life when someone threatened to kill him during the middle of a game. It was a surreal moment captured on live television. Landry's response to the situation revealed how he was not only a great football coach but a fearless leader. 
Tom Landry is one of greatest coaches in NFL history 
Tom Landry began his coaching career in 1954 as the defensive coordinator for the New York Giants. Interestingly, his first two seasons as a coach were also his final two seasons as a player, where he was an All-Pro defensive back. He was also the team's punter and kick returner. 
In 1960, the newly formed Dallas Cowboys named Landry as their head coach. During the next 29 seasons, he took the Cowboys from a brand new franchise and turned them into an NFL powerhouse. 
While Landry found great success in Big D, it didn't come early in his tenure. The Cowboys didn't achieve a winning record until 1966, when they finished 10-3-1 and lost to the Green Bay Packers in the NFC championship game. That initial winning season was the first of 20 consecutive winning seasons that included 18 playoff appearances. 
Landry led the Cowboys to the Super Bowl on five different occasions, winning it twice in 1971 and 1977.  
Tom Landry surrounded by law enforcement officials and escorted off sidelines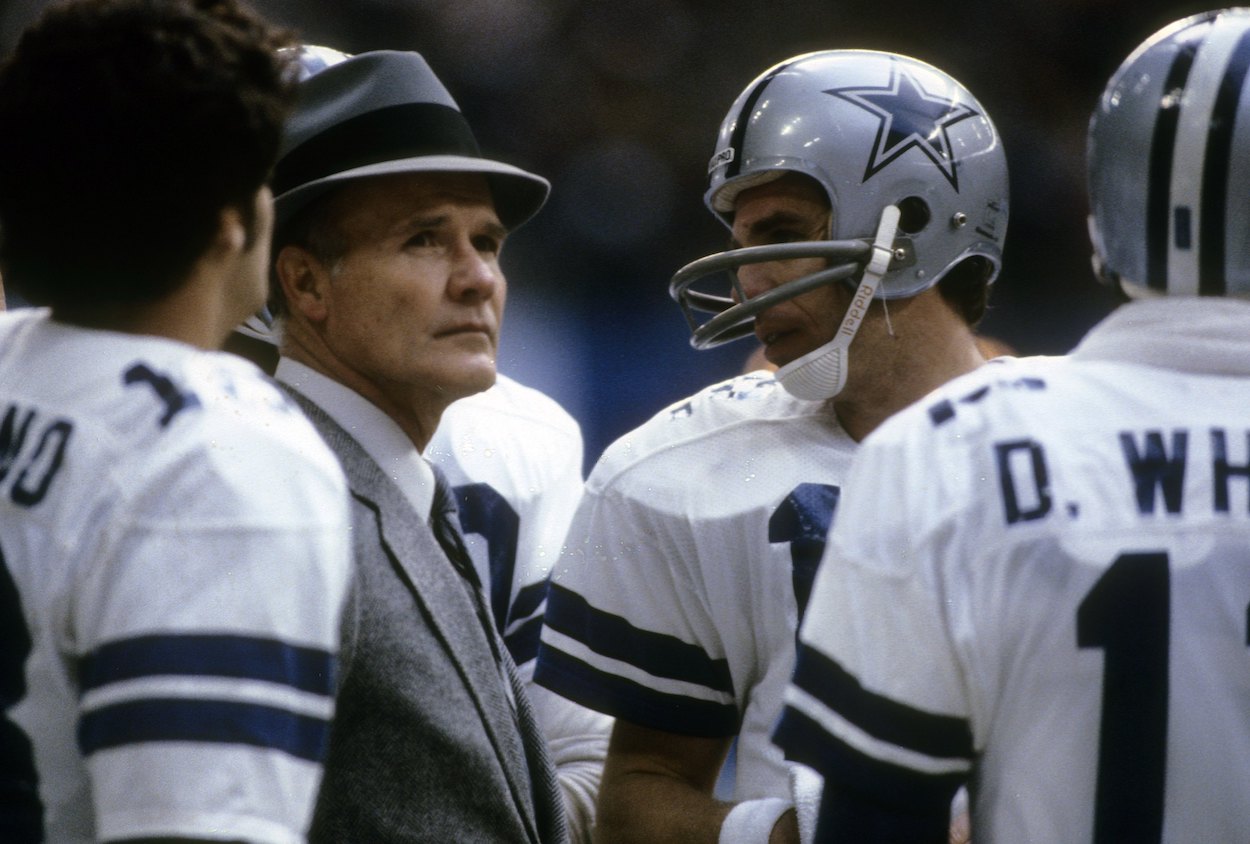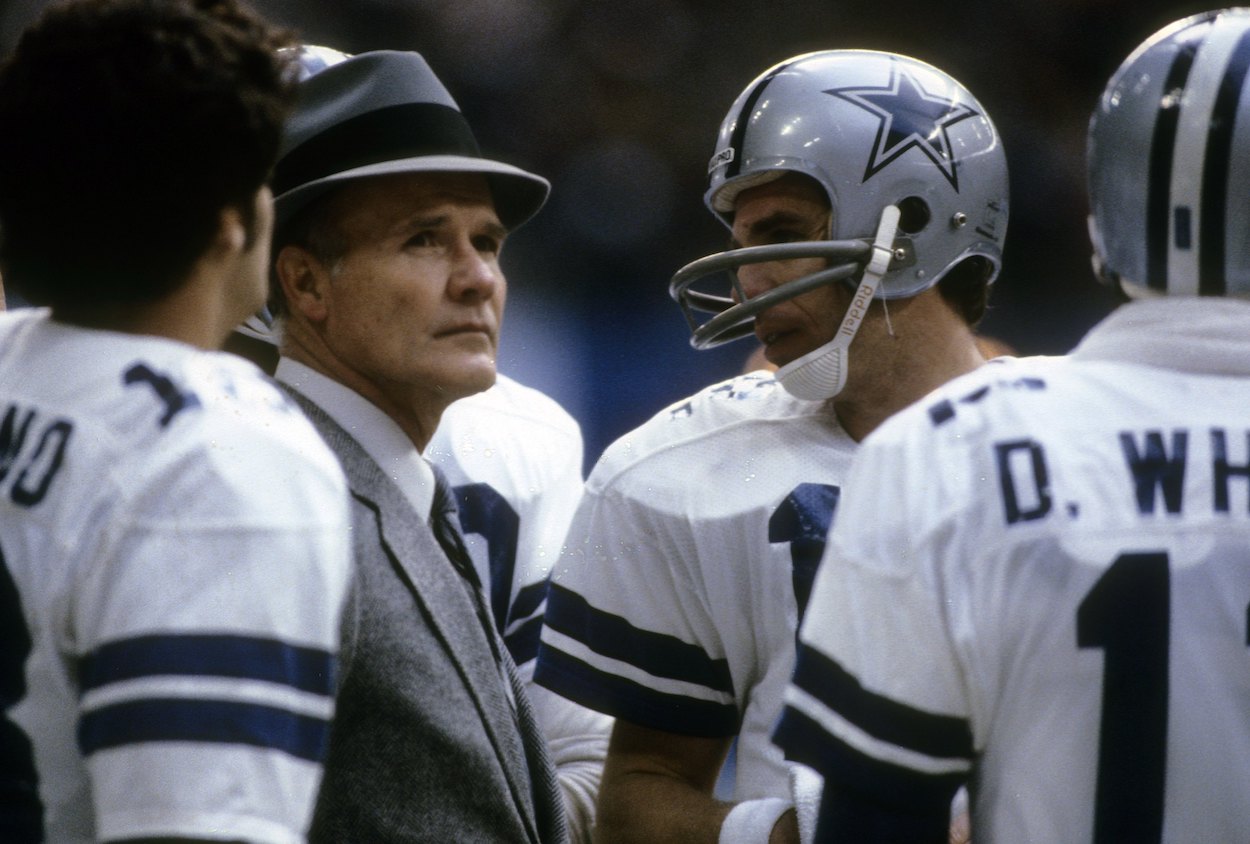 Tom Landry saw his team's streak of consecutive winning seasons come to an end in 1986. He also saw his personal streak of standing on the sidelines for every game during his entire career come to an end on December 7, 1986 when the Dallas Cowboys visited the LA Rams. 
Late in the third quarter, cameras showed Landry surrounded by six men, including one officer with his hand on his gun in its holster, hurriedly escorting the coach off the field. Up in the broadcast booth, Frank Gifford and Al Michaels could only speculate on the situation.
"Tom Landry is being escorted off the field," Michaels described. "We will get obviously for you, as soon as possible, a report. We would have to assume, looking at those circumstances, some sort of threat in regard to Landry. Tom is not on the sidelines as we start the fourth period." 
Gifford said if that was the case, it was "sick" and described how there had been other threats in the past on Monday Night Football, but officials must have deemed this one to be credible. 
Several minutes later, Tom Landry emerged from the locker room and stayed on the sidelines for the remainder of the game, where he watched his team lose the contest 29-10.
Fearless leader defined 
A day after Tom Landry was escorted off the field, details began to emerge on what happened. According to the Washington Post, a man made two anonymous phone calls to Anaheim Stadium, saying his mentally disturbed brother might try to shoot the coach. The call even cited the section number in the stadium where his brother was located. 
"It's hard to believe I'm important enough for people to shoot at me. It's kind of far-fetched, but you have to take these things seriously," Landry said.
After Landry left the field, security officials and the NFL suggested the Dallas Cowboys coach remain in the locker room or move up to the press box for the remainder of the game. Landry declined. Instead, he returned to the sidelines wearing a bulletproof vest under his sweater. 
According to Larry Wansley, a Cowboys security official and a former FBI agent, he respected the coach's decision. 
"Being the coach, he felt he wanted to be with the team. I understood that, although if we had insisted, he certainly would have gone upstairs [to the press box]."
Tom Landry's legacy will always be as one of the greatest coaches in NFL history and arguably the greatest in Dallas Cowboys history. And there's no one who will ever disagree with his courage after what he did on one December night in LA back in 1986.