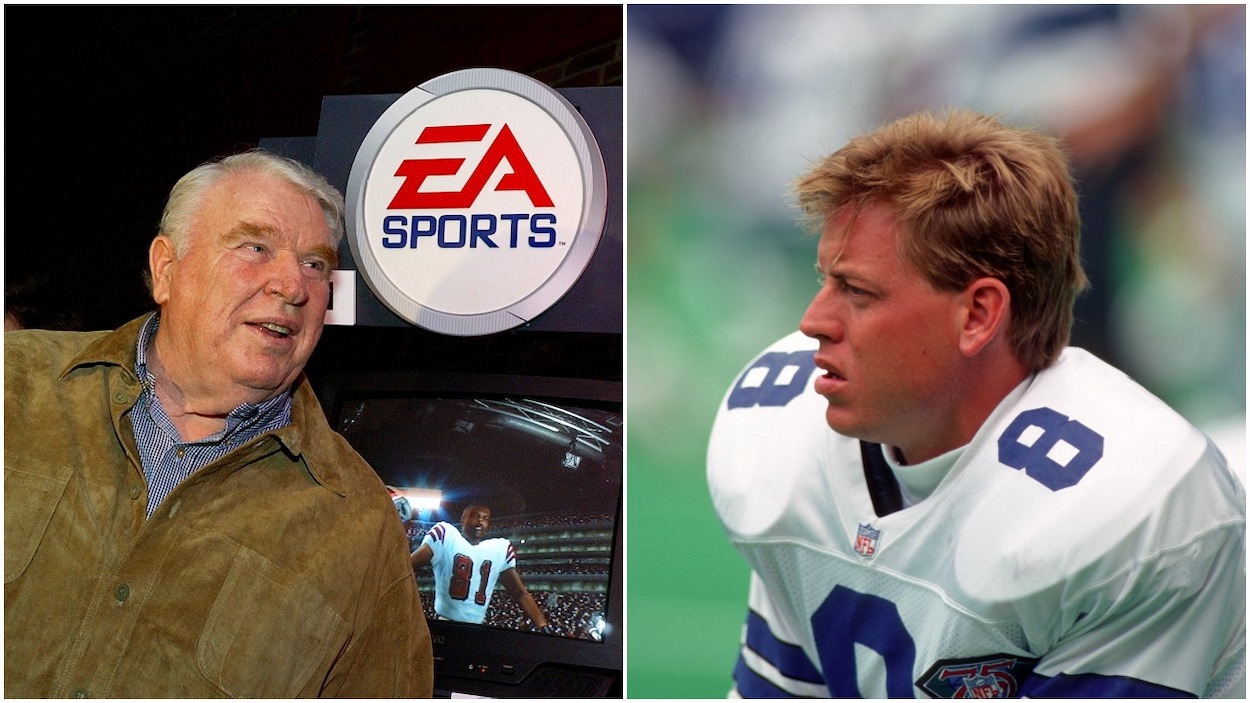 Troy Aikman Says John Madden was His Football 'Therapist'
With all his success, former Dallas Cowboys QB Troy Aikman also had frustrations throughout his NFL career. He often unloaded these on iconic NFL analyst John Madden. Now, in his role as the number one NFL analyst for FOX Sports, he plays the therapist role to many of today's top players and coaches.
Troy Aikman played his entire 12-year NFL career with the Dallas Cowboys. While he had incredible highs, including six Pro Bowl seasons and three Super Bowl wins, there were also lows. After winning Super Bowl 30 in 1995, Aikman never reached the Big Game again while playing for three different head coaches.
During those late-career travails, Aikman said legendary NFL coach and analyst John Madden helped him as a sounding board for his frustrations and became his football "therapist."
John Madden is one of the most influential figures in NFL history
There is nobody more involved, and probably more important, in the last 50 years of NFL history than John Madden.
From 1969 to 1978, Madden coached Al Davis' Oakland Raiders. He posted a stellar 103-42 record in his 10 seasons and only failed to make the playoffs twice. He also guided the 1976 Raiders to a Super Bowl 11 victory over the Minnesota Vikings.
After hanging up his coaching headset in 1978, Madden picked up another microphone as an NFL TV analyst. Over the next 30 years, Madden broadcast games with CBS, FOX, ABC, and NBC. Paired with Pat Summerall and later Al Michaels, Madden became the most influential analyst in NFL history.
If all that isn't enough, Madden signed a sponsorship deal with EA Sports in 1984 to help develop and lend his name to a new football video game, per ESPN. The coach-turned-commentator pushed for the game to be 11-on-11 "real football," and the Madden video game franchise was born.
EA released the first version of the video game in 1988, and over the next three decades, the game has helped generation after generation of young fans fall in love with the NFL.
Former Dallas Cowboys QB Troy Aikman's called Madden his football 'therapist'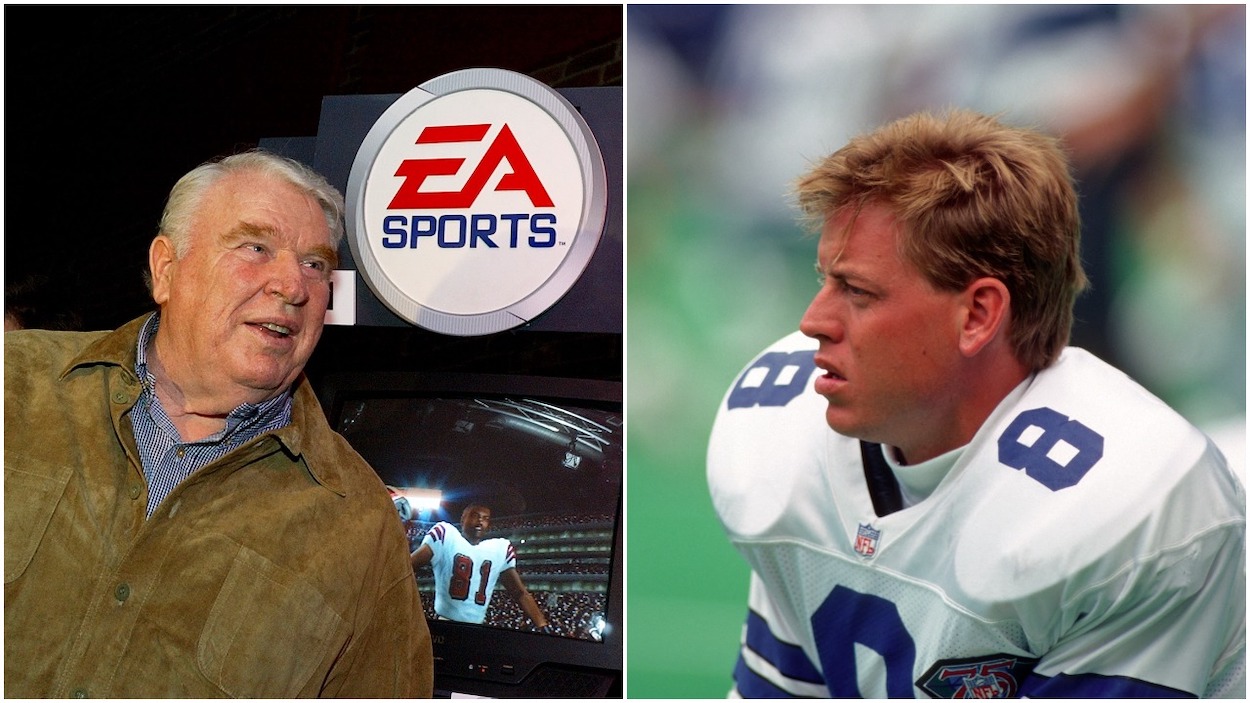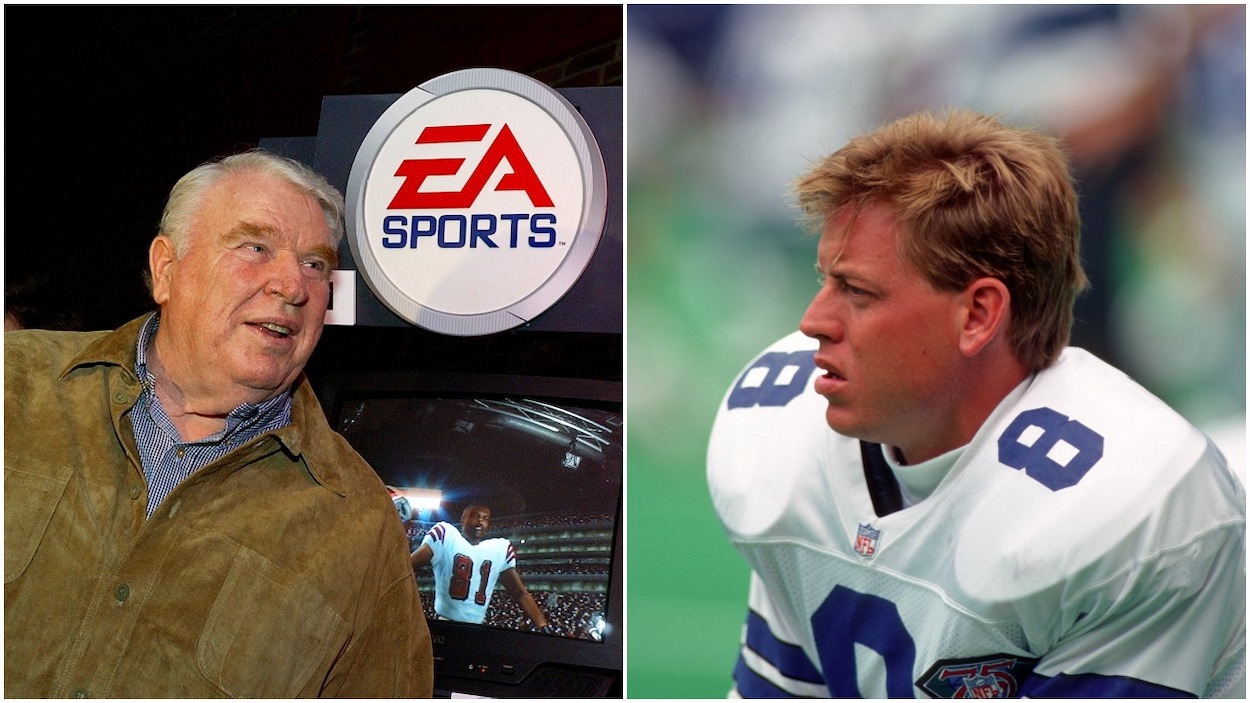 Aikman recently joined The Ringer's Flying Coach podcast to chat with the hosts, Los Angeles Rams head coach Sean McVay and the NFL Network's Peter Schrager.
The interview was so wide-ranging they broke it up into two parts. Part two focused on Aikman's broadcasting career. During a discussion of his favorite QBs to sit down with before a game as a broadcaster, Aikman shared a story about meeting with Madden in his playing days:
I know John Madden, back when I was playing at the end of my career, he kinda was my therapist. I mean, I'd go into production meetings, and I'd say, 'Aw, John, let me just tell you what's going on here.' And we wouldn't even talk about — I mean, he didn't say 'hey, what play are you gonna open with tomorrow?' It was an hour of me just kind of getting some stuff off my chest, and I'd walk out, and I just felt better.
With Madden's length and breadth of Madden's NFL experience, it is no surprise that he made an excellent sounding board for Aikman and likely other NFL players and coaches.
Aikman is now a broadcaster and says he plays that role for QBs today
Aikman retired from pro football after the 2000 season and, in 2001, became a TV analyst for FOX Sports. In 2002, FOX teamed Aikman with play-by-play man Joe Buck and made them the No. 1 crew for the network. This is a position the duo has maintained for the last 20 seasons.
Aikman now plays a similar role for today's most famous signal-callers as a two-decade veteran of pregame production meetings. When talking about how much he enjoys meeting with Tom Brady and their relationship, Aikman said:
And I am now, with it being my 21st year, I guess, I'm not saying I was Tom Brady's therapist by any means, but in some ways, I am some of these coaches and players' therapists.
Troy Aikman's admission about his and Madden's relationship and now the relationship between him, Brady, and others illuminates how the NFL works. Knowing this, there will soon surely be a generation of QBs that tap Tony Romo as their therapist before they become the next generation's football shrink.
All stats courtesy of Pro Football Reference