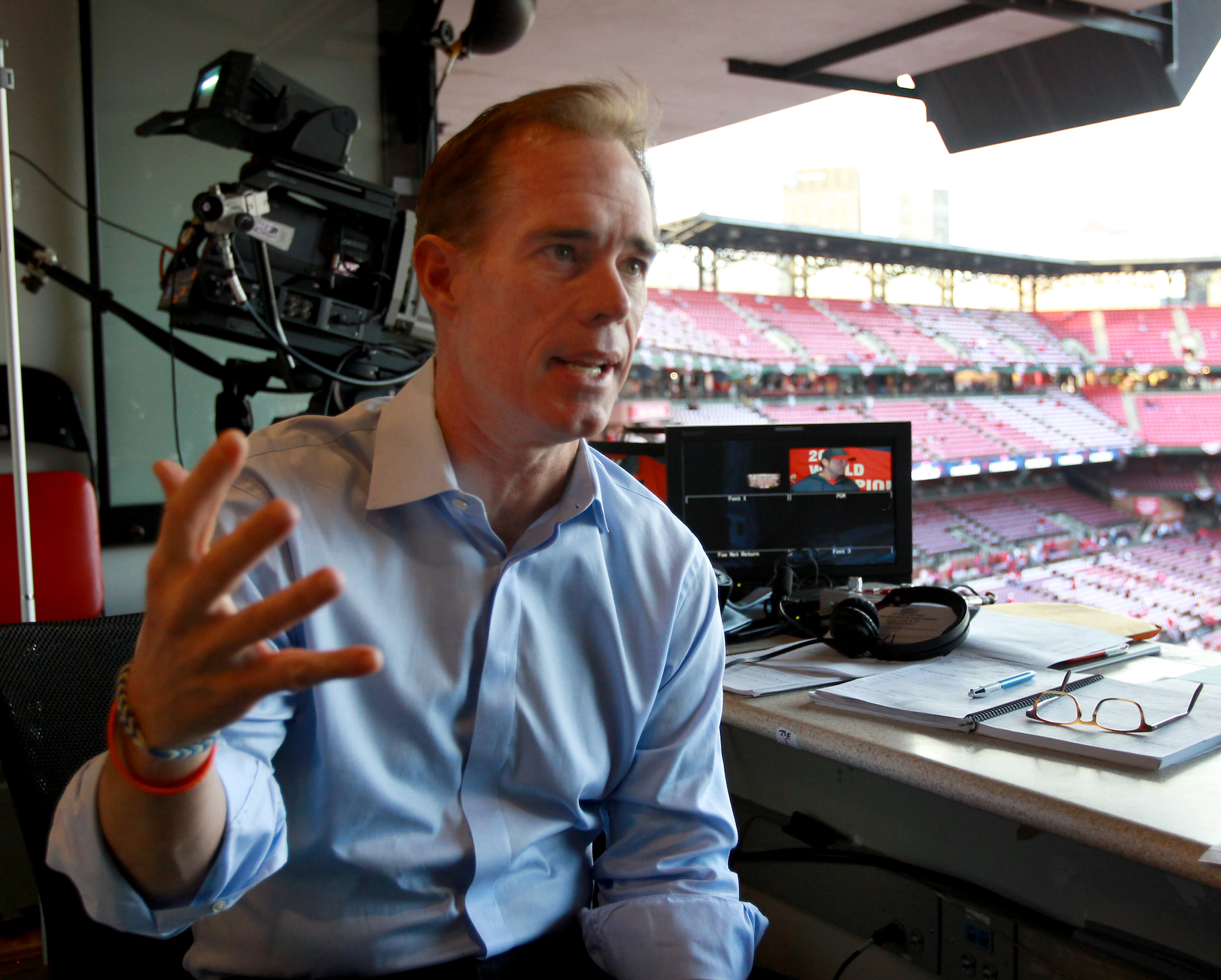 Joe Buck Relies on a Simple Technique Handle the Pressure of World Series and Super Bowl Broadcasts
While he's not taking the field and playing, Joe Buck still feels the pressure during World Series and Super Bowl broadcasts.
Whether you prefer baseball or football, you're probably well acquainted with Joe Buck. Even if the Fox broadcaster isn't the most popular man in sports, he's built up quite a resume; he's called Super Bowls, World Series, and plenty of regular-season games in between. Despite that experience, Buck can still feel the pressure when he steps up to the microphone in a big moment.
As a broadcast veteran, however, Joe Buck has perfected quite a few tricks of the trade. In fact, he's developed one specific routine to keep things in perspective when the heat is on.
Joe Buck followed his father's footsteps and became a big-name broadcaster
In the world of sports, there have been some famous father-son duos. If you're willing to include broadcasters in that equation, Jack Buck and Joe Buck deserve a place near the top of the list.
Jack Buck made a name for himself as the radio voice of the St. Louis Cardinals. He also called plenty of football games, dabbled in professional hockey, and narrated some iconic baseball moments on national radio, like Kirk Gibson's walk-off World Series home run, before calling it a career.
Joe has since followed in his father's footsteps, albeit on the television side of things. After cutting his teeth in the Midwest, Buck stepped onto the national stage in 1994. While he joined Fox as an NFL commentator, he took on baseball responsibilities two years later; the play-by-play man has since become the network's top voice, calling World Series, Super Bowls, and nationally broadcast games with incredible regularity.
That success, however, hasn't made him popular
Given his presence on national broadcasts, almost every sports fan has heard Joe Buck at least once. That familiarity, however, has bred some contempt.
While there have been a few one-off incidents that ruffled a few feathers—Buck overreacted to Randy Moss' pantomime mooning celebration and recently made headlines for criticizing a military flyover—they're all overshadowed by a larger accusation. Many fans simply feel like Buck is biased in the broadcast booth.
The veteran announcer, however, isn't too concerned with those accusations; in his mind, that's an unfortunate reality of being a more objective national voice and speaking to fans who have grown accustomed to their local broadcast teams.
Joe Buck relies on a relatable trick during World Series and Super Bowl broadcasts
Even though Joe Buck is sitting high above the field and has plenty of experience under his belt, even he can feel the pressure during a big game. Over the years, though, he's developed some tricks of the trade to keep things in perspective, whether he's calling a Super Bowl, a World Series, or a regular-season contest.
Like every broadcaster, Buck enters the booth with copious notes; there's no better way to fight stress than being prepared for any possible situation. He's also been known to write messages to himself on those papers or keep a picture of his family nearby, just in case.
Believe it or not, Buck will also check his phone during breaks in the action. While that might sound counterproductive, it helps him keep everything in perspective.
"I do that all the time," Buck told Charles Curtis of For The Win. "World Series, Super Bowl, championship game, random game in September. I think it kind of pops the balloon around me a little bit and connects me to my real world with my friends and family. There are stretches where, if I feel we're in an intense moment in the game, I'll turn it over."
In the heat of the World Series or Super Bowl, it's easy to feel the weight of the viewing audience on your shoulders. Joe Buck's tricks, however, underline one key reality: it's only a game.
"It's best if I remind myself we're not reversing the flow of the Nile when we're sitting in the booth," he explained.