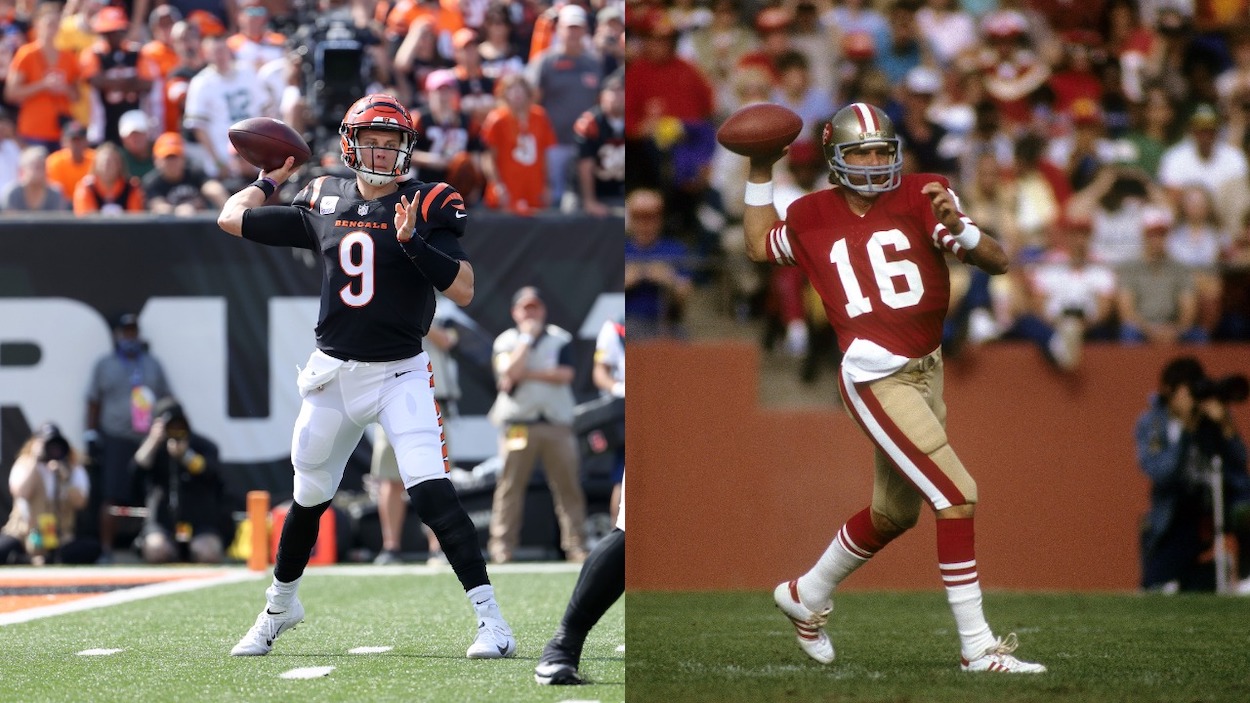 Joe Burrow Might Be a 'Modern-Day Joe Montana,' but Colin Cowherd Says That's Not Good Enough in 2021: 'I'm Not Looking for the Next Chrysler, I'm Looking for the Next Tesla'
Joe Burrow might be a "modern-day Joe Montana," but that might not be good enough to win a Super Bowl in 2021, according to Colin Cowherd.
For a generation of quarterbacks, there was no more flattering comparison than to San Francisco 49ers Hall of Famer, Joe Montana. Recently, Phil Simms said Cincinnati Bengals second-year signal-caller Joe Burrow is a "modern-day Joe Montana." FOX Sports host Colin Cowherd agrees but argues that the comparison isn't quite the compliment it used to be.
Joe Montana is one of the best quarterbacks of all time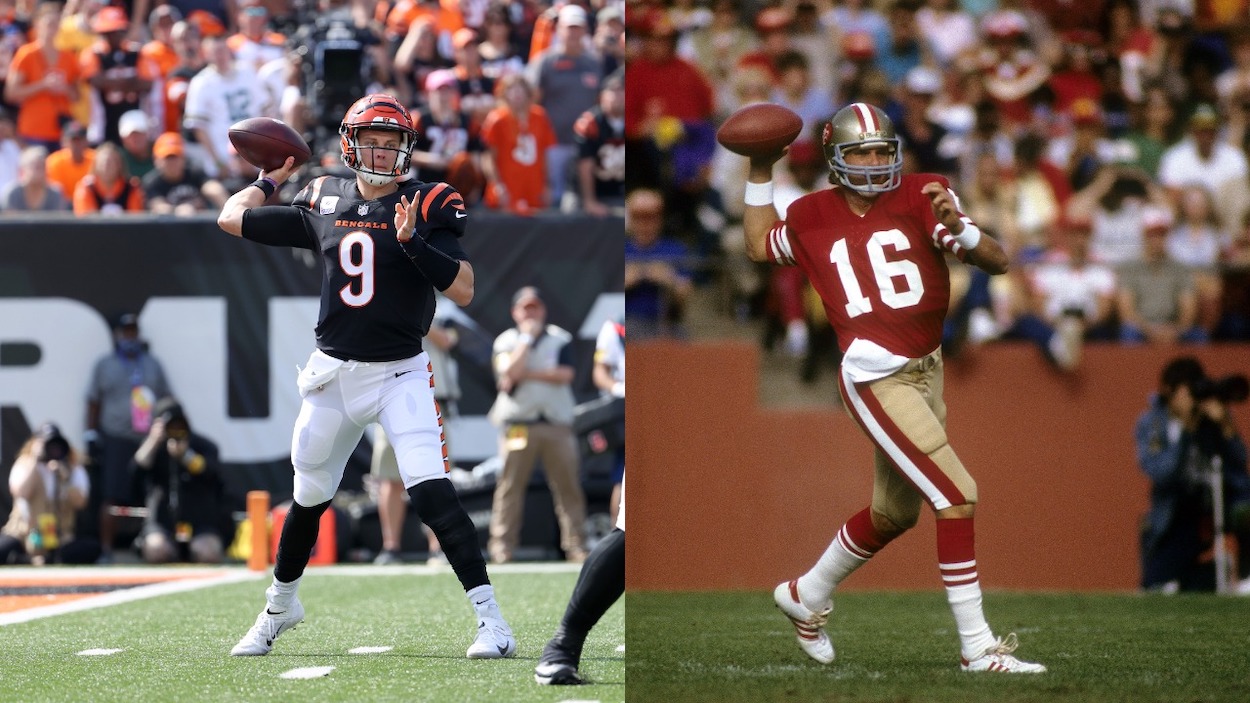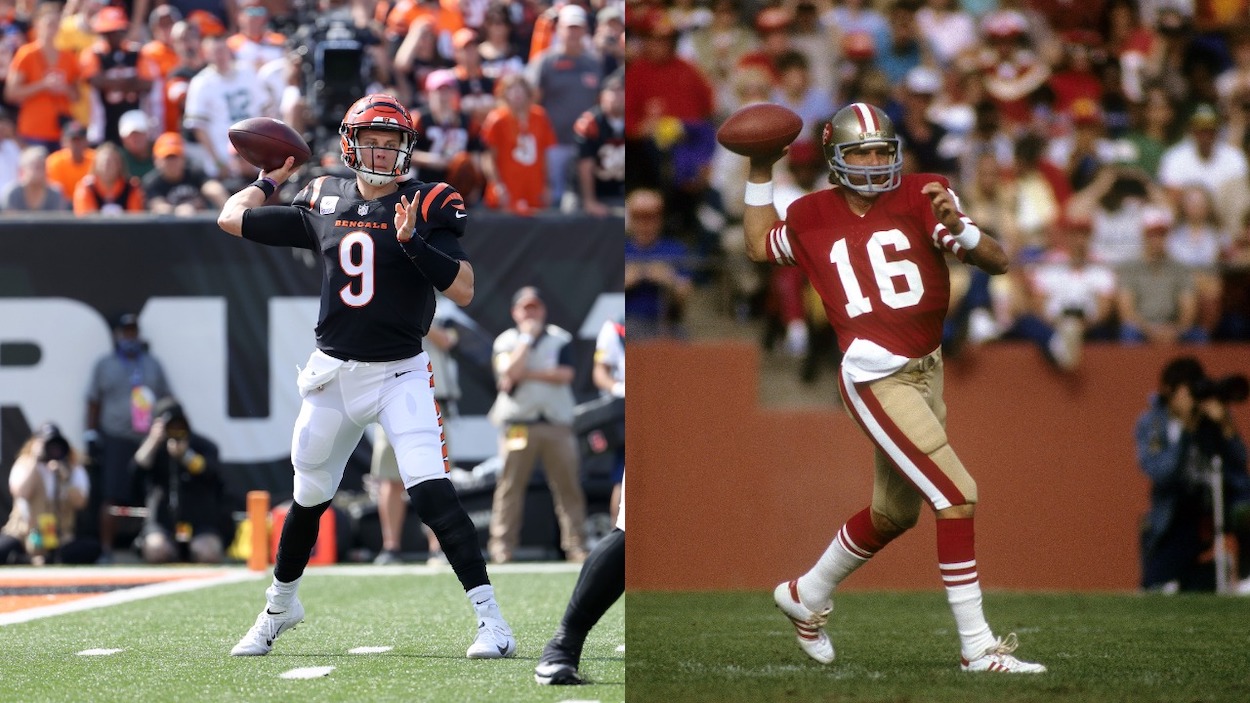 Joe Montana hails from Pennsylvania and played college football at the University of Notre Dame. At 6-foot-2, 200-pounds, with a good (not great) arm and above-average accuracy, Montana wasn't highly coveted coming out of high school or college.
In 1979, San Francisco 49ers first-year head coach Bill Walsh took Montana in the third round of the draft to back up incumbent starter Steve DeBerg. After a season and a half sitting behind DeBerg, Montana took over as the 49ers starter in 1980.
This move paid off big time.
Montana led the league in completion percentage (64.5%) in Walsh's short-passing-based West Coast offense in his first season. The following year, he led the NFL in completion percentage (63.7%) again and made his first Pro Bowl. He also led the Niners to a Super Bowl win over the Cincinnati Bengals.
This would kick off San Fran's run as the "Team of the '90s" and Montana's run as the QB of the decade.
All told in Montana's 15-season career with the 49ers and Kansas City Chiefs, the former Fighting Irish signal-caller threw for 40,551 yards. He also put up a career completion rate of 63.2% and 273 touchdowns. He made eight Pro Bowls, was named first-team All-Pro three times, and won two NFL MVP Awards (1989, 1990).
Most importantly, he led the 49ers to four Super Bowl wins in 1981, 1984, 1988, and 1989.
Prior to Tom Brady (and maybe Peyton Manning) coming into the league, Montana was considered by many to be the greatest quarterback in NFL history.
Colin Cowherd says NFL teams shouldn't be looking for the next Montana
On last week's edition of the NFL Today, former-QB-turned-commentator Phil Simms said, "When you're watching Joe Burrow, you're watching a modern-day Joe Montana," per CBS Sports.
This used to be the highest compliment an NFL passer could receive. Times have changed in the NFL, though, and so have the types of quarterbacks that are having the most success.
In response to Simms, on The Herd with Colin Cowherd, the host went on one of his trademarked rants about why NFL teams should no longer be looking for the next Montana. In true Cowherd style, the host brought up an NBA comp and even an auto industry comparison to underline his point:
That's really not the standard of what I'm looking for, and I love Joe Montana. What I'm looking for is [Patrick] Mahomes and Josh Allen: Six-four, six-five, six-six, wildly powerful arm, a plus mobility, can run around. … Saying you're looking for the next Joe Montana is like in basketball saying you're looking for the next Tim Duncan. Both are a compliment. I'm not looking for the next Tim Duncan. I want somebody as big as Duncan that can shoot threes. I'm looking for the next Kevin Durant. … The comps have changed. I'm not looking for the next Chrysler, I'm looking for the next Tesla. … If Joe Burrow's comp is Joe Montana, I think in 2021 football, you win a lot of games. You probably don't win a Super Bowl.

Colin Cowherd on Joe Burrow
Cowherd has a compelling and well-explained point. The offensive innovation in the NFL is such these days that athletic, big-armed quarterbacks are becoming the most successful. However, the days of the cool, accurate, pocket-passer may not be over.
The brilliance of Colin Cowherd's argument is that Burrow will have to win a Super Bowl to prove it.
Joe Burrow is impressing (and winning) in 2021
The "modern-day Joe Montana," Joe Burrow, may not be the physical specimen that Patrick Mahomes, Josh Allen, Justin Herbert, or Trevor Lawrence are. However, he is finding ways to win as well or better than any of those athletic QBs.
Through six weeks of the 2021 NFL season, Burrow has led his Bengals to a 4-2 record. Now, the squad takes on the Baltimore Ravens in Week 7 for a share of first place in the AFC North.
With the finally healthy all-purpose back Joe Mixon behind him and his college teammate and rookie sensation Ja'Marr Chase out wide, Burrow is leading one of the most exciting young offenses in the NFL this season.
So far, in 2021, Burrow has a staggering 70.7% completion rate. He's thrown for 1,540 yards with 14 touchdowns and seven interceptions. And, all this is coming back from a devastating knee injury that cost him the end of his promising rookie campaign.
The former LSU Tiger may not be Allen or Mahomes, or even Montana. That said, in his first two seasons, the QB has announced that he is the one and only Joe Burrow. And, so far, that is pretty impressive in its own right thus far. 
All stats courtesy of Pro Football Reference