Tom Brady Joins Michael Jordan in Accomplishing Something Wayne Gretzky and Peyton Manning Couldn't
How Tom Brady's homecoming compares to Michael Jordan, Wayne Gretzky, and Peyton Manning's returns to the places they made their names.
For 20 years, Tom Brady was the winning face of the New England Patriots football franchise. After 219 wins, 541 touchdowns, and six Super Bowl trophies, the GOAT quarterback left Massachusetts for the Tampa Bay Buccaneers. Sunday, he returned to his longtime home with his new team. When Brady put on his Bucs jersey at Foxborough, the QB attempted and do something that Michael Jordan did, but other legends like Wayne Gretzky and Peyton Manning couldn't do: win in their return "home."
Tampa Bay Buccaneers QB Tom Brady won in his return to New England
The Tom Brady story is well-known by sports fans now. In Week 2 of the 2001 season, New York Jets linebacker Mo Lewis injured New England Patriots starting QB Drew Bledsoe. A second-year signal-caller out of Michigan replaced him. The No. 199 pick of the 2000 NFL Draft then takes over and leads coach Bill Belichick's team to a Super Bowl win over the favored St. Louis Rams, and the rest, as they say, is history. 
Two decades later, Belichick and the Patriots let Brady go. The coach didn't believe that a QB in his mid-40s can get the job done anymore. 
Brady then goes to Tampa Bay and wins his seventh Super Bowl ring in 2020. In 2021, the schedule makers pencil in a Week 4 return to the greater Boston area for TB12.
The game was a showdown between Belichick and Brady as well as a showcase for the new Patriots Golden Boy, first-round pick Mac Jones. Played in a rainstorm for most of the night, it was an exciting and dramatic game, though not that well-played. 
Belichick's schemes (along with Rob Gronkowski's injury) held Brady in check for most of the Sunday Night Football match. Jones impressed throughout, looking like a young Brady at times. Brady led his team on a late game-winning drive. However, the Bucs had to settle for a field goal after two inexplicable shots at the end zone to Antonio Brown when all the team needed was a first down. 
Jones nearly led his own late comeback but the final drive stalled. It left Patriots kicker Nick Folk with a 56-yard field goal attempt that hit the uprights with a loud thud. 
It wasn't the prettiest win of Brady's career. But it was a W in his return to his football home of so many years. And, by winning this game, Brady joined Michael Jordan in accomplishing something other iconic stars like Wayne Gretzky and Peyton Manning couldn't pull off. 
Michael Jordan also won in his return to Chicago with the Washington Wizards
Michael Jordan also won six championships with one team on his way to becoming the best of all time in his sport. And, like Tom Brady, Jordan also spent his last few seasons as a professional athlete with another club. 
As well-documented in the Last Dance documentary, governor Jerry Reinsdorf and general manager Jerry Krause dismantled the Chicago Bulls dynasty following the team's sixth title of the 1990s. 
Jordan retired in 1998 following that last Bulls title season. However, he came back in 2001 to play his final two NBA seasons with the Washington Wizards. 
The NBA great got a shot at his old team in early January of 2002, albeit in Washington. Jordan scored a game-high 29 points, and the Wizards won 89-83. Two weeks later, MJ made his triumphant return to the Windy City. 
Like Brady's New England homecoming, the Bulls and Wizards played an ugly game. Jordan played fine, putting up 16 points, 12 rebounds, and four assists, but the Wizard shot an ugly 36.9% from the field. Luckily for Jordan, the Bulls shot an even worse 24.7%, and the visitors came away with a 77-69 victory. 
Wayne Gretzky and Peyton Manning couldn't get the W in their return games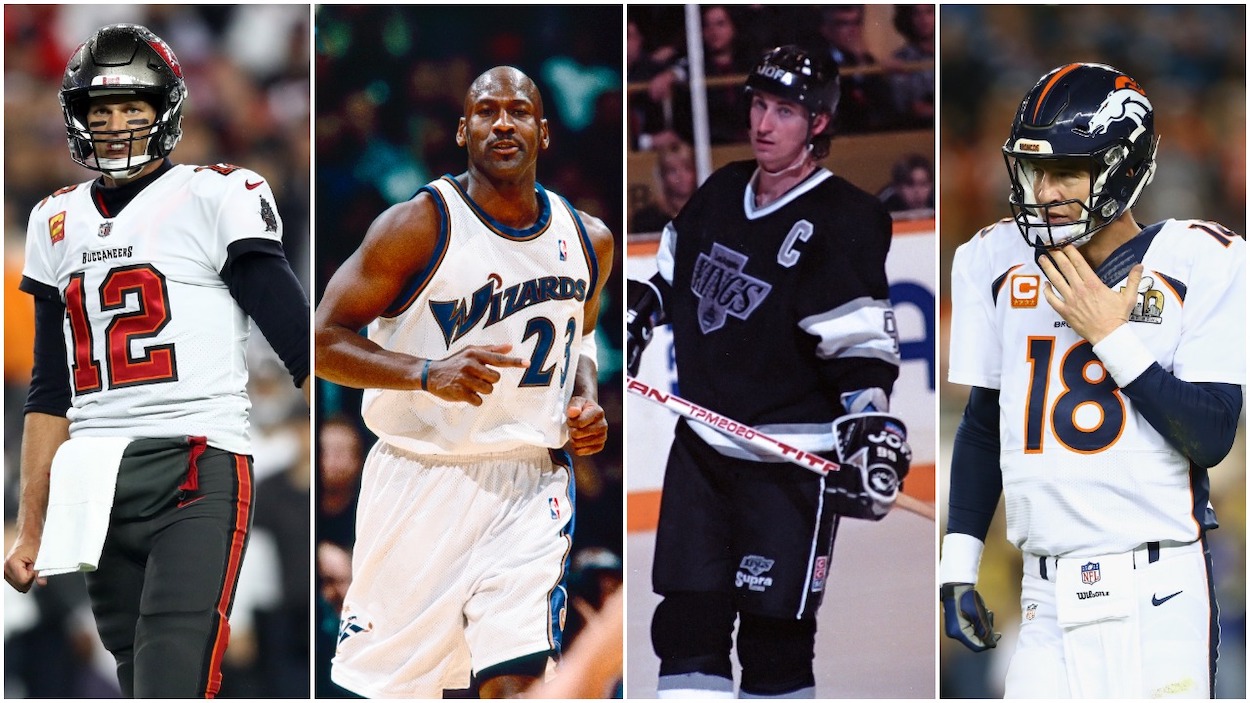 Not all legends are able to come back to the scene of their greatest successes and walk away winners. What Michael Jordan and now Tom Brady did isn't all that common. As two other all-time greats can tell you, winning in a return to your sporting home isn't as easy as it seems. 
NHL Hall of Famer Wayne Gretzky can certainly vouch for that. The Edmonton Oilers shockingly traded The Great One to the Los Angeles Kings in 1988 after nine seasons and four Stanley Cups. Just seven games into the 1988-89 season, Gretzky returned to Alberta, Canada. 
The NHL's career leader in goals, assists, and points tallied two assists on the Kings' six goals. That wasn't enough, though, to match the still-high-powered Oilers, and LA fell 8-6. 
Peyton Manning is another great to fall short in his return to his old stomping grounds. After sitting out the 2011 season with a neck injury (allowing the Indianapolis Colts to finish last in the league and draft Stanford QB Andrew Luck), Manning took his talents to Denver for the final four seasons of his career. 
During his second season in the Mile High City, Manning returned to Lucas Oil Stadium. Manning's replacement was the better QB that day. Luck threw three touchdowns and no interceptions on his way to a 36-33 victory. Manning had a good statistical game as well, throwing for 386 yards and three touchdowns, but a pick and four sacks doomed the recent Hall of Fame inductee's return to Indy.  
Returning to the scene of your greatest success in sports can be hard, even for (and maybe especially for) the all-time greats. By winning in New England, Brady showed that no matter what the circumstances, he'll always rise to the occasion. It is one of the biggest reasons Brady found so much success in New England to begin with.  
All stats courtesy of Pro Football Reference, Basketball Reference, and Hockey Reference