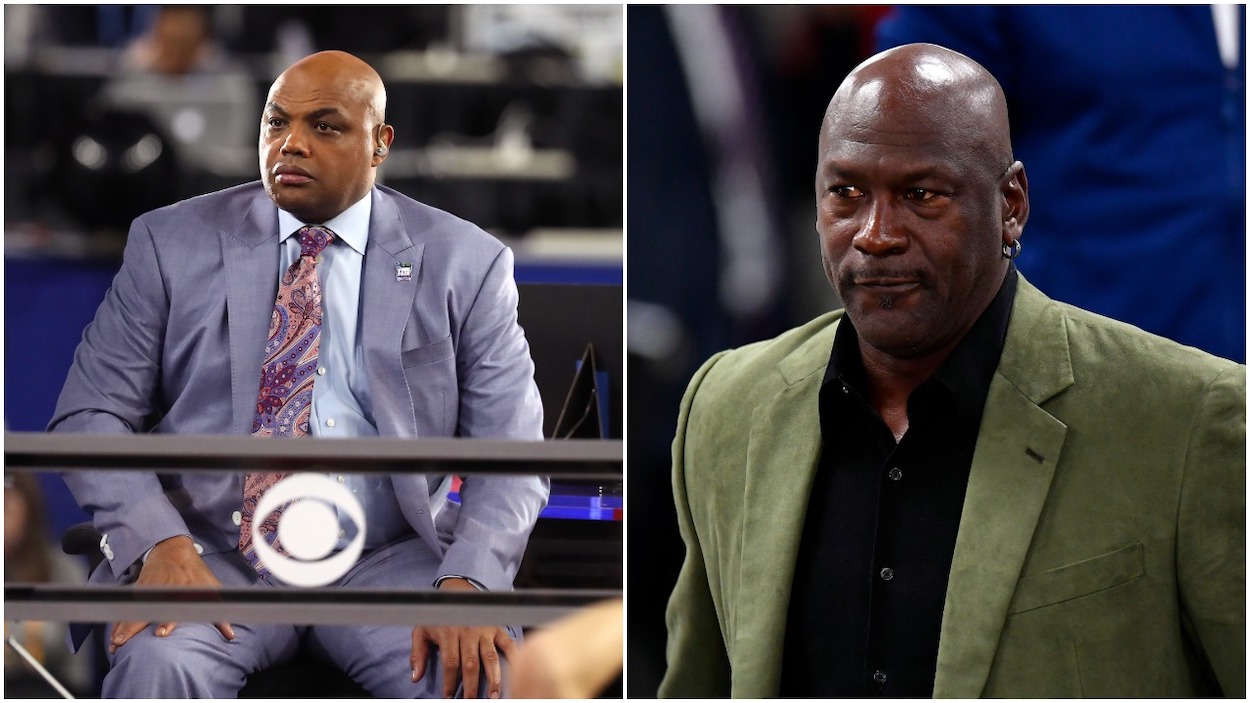 Charles Barkley Emotionally Explains Why He and Michael Jordan Are No Longer Friends: 'I Definitely Love Him and Miss Him'
For years, Charles Barkley and Michal Jordan were close friends. Now, Barkley emotionally explains why they're not anymore. Barkley sat down with legendary sports host Bob Costas and emotionally explained the comments he made that ended the long-time friendship between the two iconic NBA superstars and how it hurts him to this day.
Charles Barkley and Michel Jordan may seem like an unlikely pair, but the two NBA superstars were close friends for decades. The two players, drafted two picks apart in 1984, had a friendship that survived hard-nosed battles on the basketball court and even more contentious ones on the golf course. However, their friendship couldn't withstand a harsh dose of honesty about Jordan's front office skills from Barkley on live TV.
Charles Barkley and Michael Jordan were close friends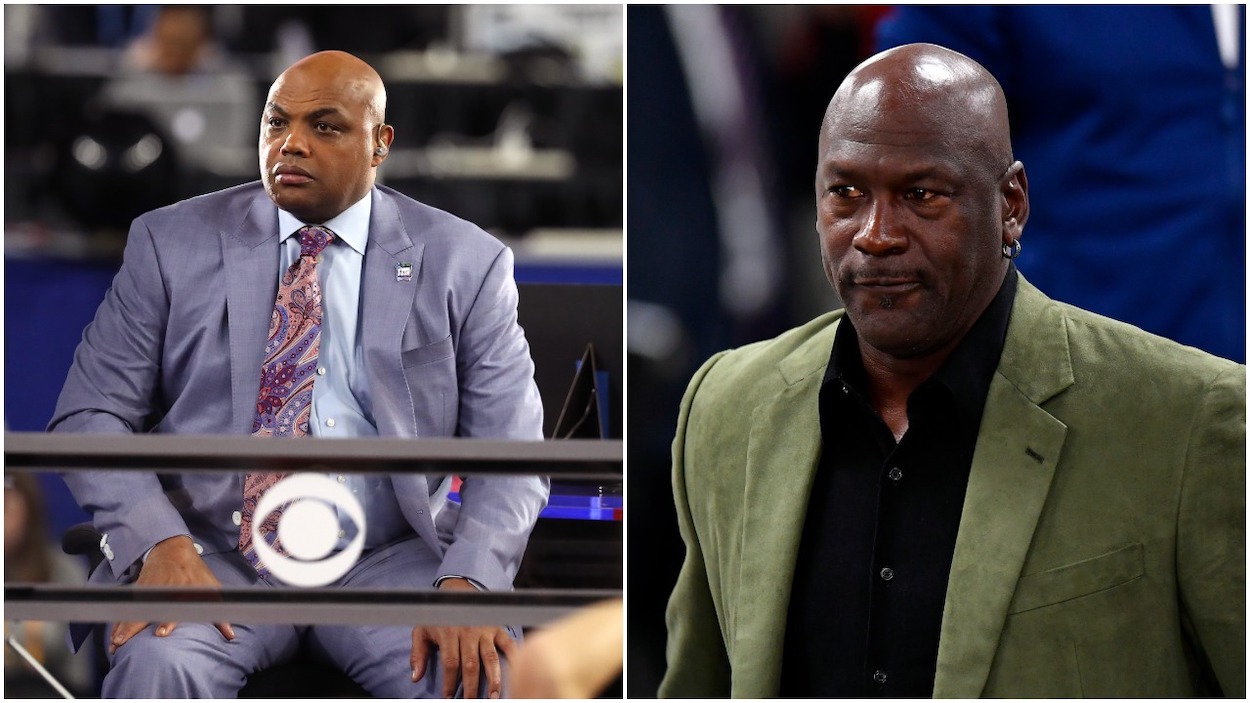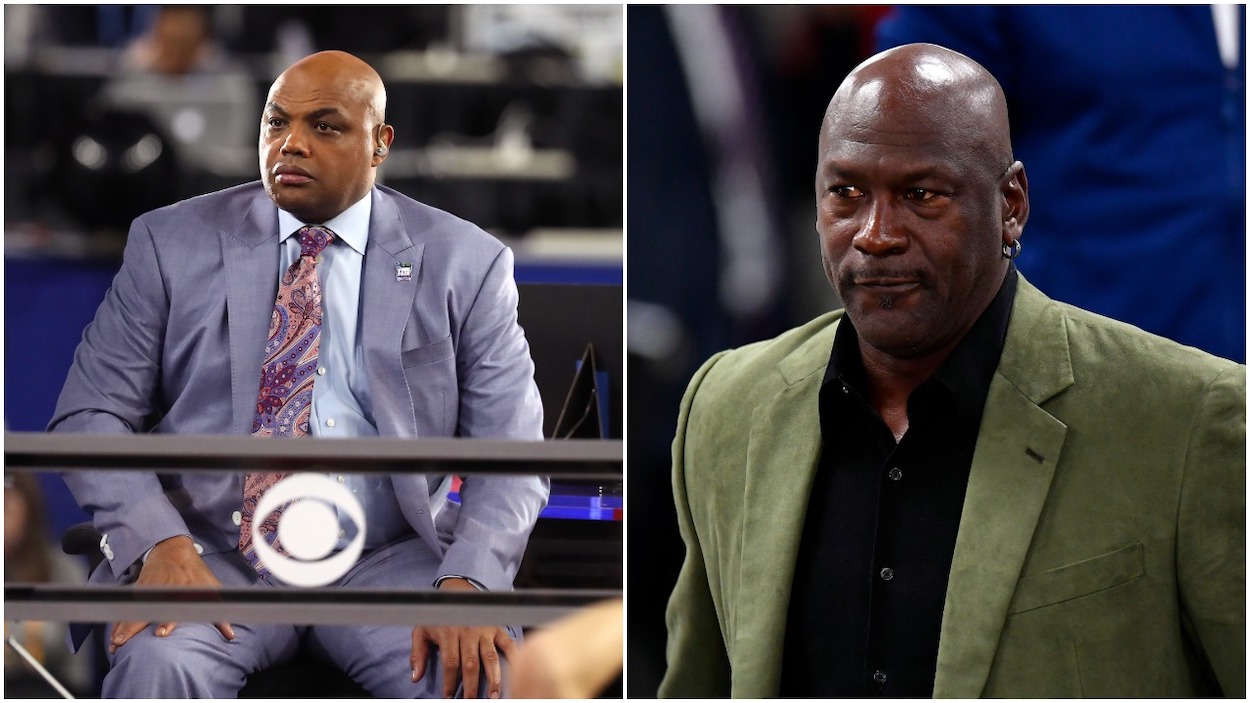 On some levels, Michael Jordan and Charles Barkley seem like complete opposites. Barkley has an outspoken, gregarious, and laid-back persona. Jordan gives off an intense, competitive, and private vibe.
Even with these differences, for years, the two were close friends. They share a love of golf and gambling. They were also two of the infinitesimal number of people on earth who know how it feels to be one of the world's best and most famous basketball players.
The two competed on the court but were close off of it. During their time with the 1992 Dream Team, the two 1984 draft picks finally got to team up and pal around as members of the same squad.
A famous clip shows the pair walking down a hallway in Barcelona in '92 while Sir Charles swigs a Gatorade. This inspires The Round Mound of Rebound to start teasing His Airness about Jordan's iconic sports drink commercial.
"Sometimes I dream. That he is me," Barkley sings. "I just wanna be like Chuck – I mean, Mike."
While Chuck hams it up for the cameras, you can see his good buddy Michael laughing in the background.
Barkley opened up about his and Jordan's friendship
Barkley appeared on HBO's renewed sports talk show Back on the Record with Bob Costas. The iconic host delved deep into Barkley's relationship with the basketball GOAT, using the Gatorade clip from Barcelona to set it up. Costas then got a touching, honest response from the NBA legend.
"You guys were tight. Normally I don't deal in this kind of stuff," Costas started. "But it's you and it's Michael Jordan. Are you guys still friends? What's up with that?"
Barkley was incredibly forthcoming when he answered:
We're not. And I take some responsibility for that. I criticized his – he was one of my best friends, and I definitely love him and miss him, to be honest with you – but I, Bob, I have to do my job. I said, at the time, and we can debate whether I should have said it, but I was asked a question, and I'm told always be honest at my job. I said, 'I don't know if Michael's ever going to be successful [running the Charlotte Hornets] because I don't know if he got enough strong people around him.'

Charles Barkley on Michael Jordan
Barkley explained that it's easy to surround yourself with Yes Men who aren't conducive to success when you're famous. He then continued to share more about the pair's relationship:
It was painful to lose him as a friend, and it's still painful, but when I said it at the time, it was true. Whether I was right or wrong, that's debatable. But when I'm asked a question on live television, I have to be honest because that's just who I am.

Charles Barkley on Michael Jordan
Costas probed a little further, asking Barkley if "that alone is the reason for the rift?" And Barkley answered affirmatively.
Jordan may be on the path to building a successful NBA team in Charlotte
While the two stars are no longer friends because of Barkley's remarks, Jordan may have taken them to heart.
In recent years, the Charlotte Hornets have started showing signs of life. This directly coincides with Jordan hiring Mitch Kupchak in 2018. Kupchak is a former North Carolina Tar Heel and multi-time NBA champion, just like Jordan. Unlike Jordan, though, the player-turned-general manager has built multiple championship-winning NBA teams as well with the Los Angeles Lakers.
As president of basketball operations and GM, Kupchak is skilled and experienced in ways that Jordan is not. The former Chicago Bulls great seems to recognize this and is leaving the former Washington Bullets draft pick alone to tend to the business of running the team.
When Kupchak took over, the Hornets had a bloated roster filled with overpaid veterans and prospects who never panned out. The seasoned exec was able to clear the books and bottom out, which led to the team selecting LaMelo Ball No. 3 overall in 2020. Ball would become Rookie of the Year and lead the team to the Play-In Tournament.
Now, after another good draft in which the team picked UConn's James Bouknight (No. 11) and Texas' Kai Jones (No. 19), the Hornets look to have a young core that could make them contenders for years to come.
If this happens, maybe Jordan will forgive Barkley and the two will be able to bury the hatchet and rekindle their lost friendship.
Like Sportscasting on Facebook. Follow us on Twitter @sportscasting19