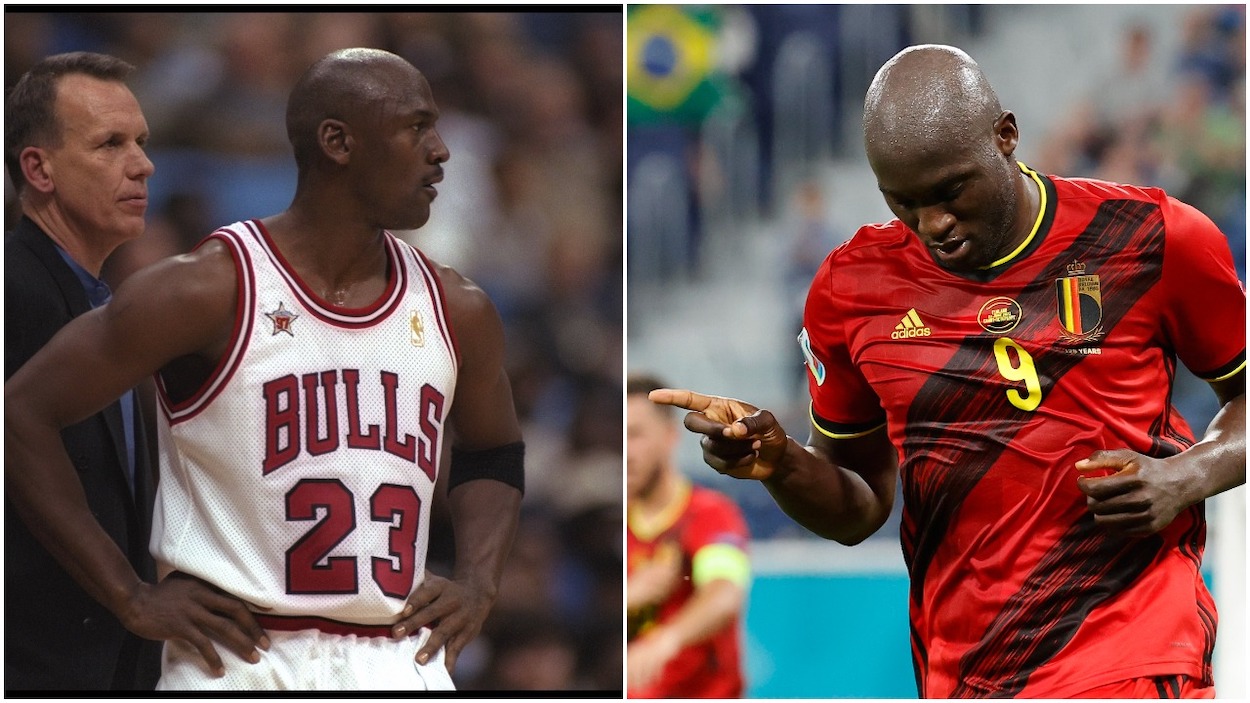 Michael Jordan Inspired Belgium's Romelu Lukaku in 'The Last Dance': 'I'm Not Alone'
After going from 16-year-old wunderkind to Premier League castoff and back to superstardom, Belgium's Romelu Lukaku is one of the best strikers in the world and has showed it at Euro 2020. To play this well, he's taking inspiration from an interesting place, the Chicago Bulls' Michael Jordan in 'The Last Dance' documentary.
Growing up in Antwerp, Belgium, striker Romelu Lukaku looked up to some of the best soccer players of the day. He loved smooth Brazilian strikers like Adriano and Ronaldo and the well-rounded Ivorian hitman, Didier Drogba. 
Like most of us, the Belgium National Team striker took some time to watch popular TV during quarantine. While we don't know if he took in Tiger King, he did catch the Chicago Bulls documentary The Last Dance and, in Michael Jordan, found a new idol to look up to and draw inspiration from.
Romelu Lukaku is one of the best strikers in the world 
Lukaku's journey from leading the Belgium Pro league in goal scoring as a 16-year-old to being one of the top strikers at Euro 2020 was not a straight line to the top. 
After just over two seasons with Anderlecht in his home country, Lukaku moved to London to join Chelsea in the Premier League. Buried on the depth chart behind a number of strikers, including one of his idols, Drogba, the 6-foot-3 Belgian spent loan spells with West Bromwich Albion and Everton. Then, in 2014, he joined Everton on a permanent deal.  
After four successful seasons in Merseyside — with 87 goals and nine assists in all competitions –Manchester United came calling to the tune of a $93.17 million transfer fee. 
Lukaku's put up decent numbers on the red side of Manchester. He had 42 goals in two seasons. However, the expensive squad disappointed, and Lukaku was one of the players who shouldered the blame. As a result, United exiled the striker to Italy's Inter Milan, where he tied another one of his idols, Ronaldo, for most goals in a single Italian campaign with 34. 
As the big Belgian tries to lead his national team to the Euro 2020 title, rumors abound that Lukaku's goal-scoring in Italy may earn him a command performance in London and reunite him with Chelsea. 
Romelu Lukaku is drawing inspiration from Michael Jordan after watching 'The Last Dance'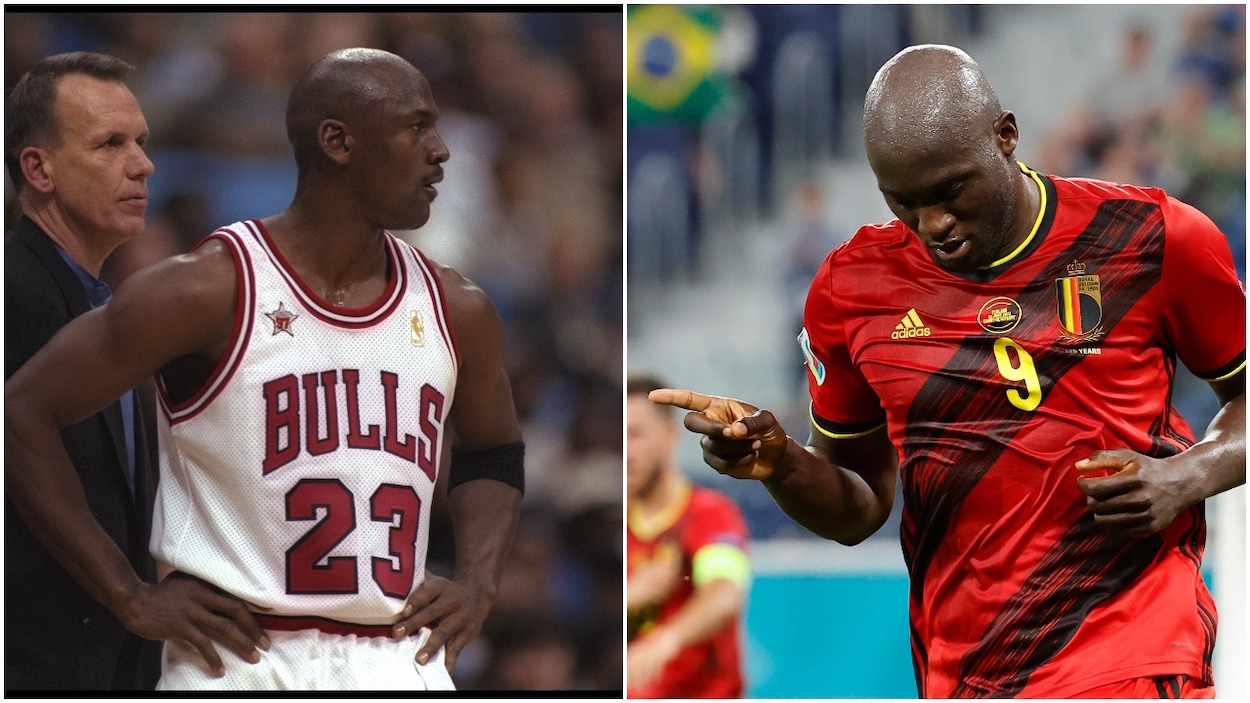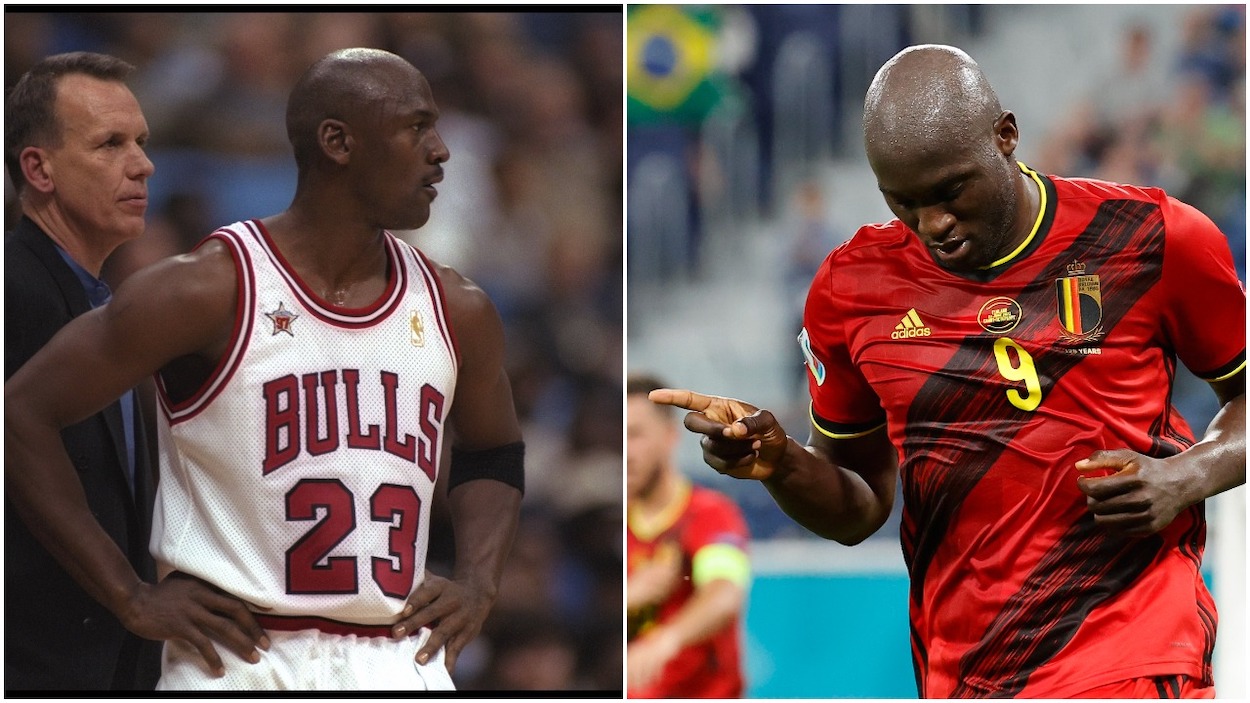 Ahead of Euro 2020, Lukaku shared what he's been drawing inspiration from leading into the international tournament. One of the sources he mentioned is The Last Dance, according to ESPN. 
"When I saw 'The Last Dance' and Jordan talking about how he motivates himself," Lukaku said through a translator, "I thought to myself, 'I'm not alone,'"
He expanded on the similarities between him and the NBA GOAT: 
I'm not saying I'm Michael Jordan, but some people need that, I'm not the only one. Cristiano [Ronaldo] will always want to be the best and break all the records, [Kylian] Mbappé will always want to win everything and be the next great one. People need something to push themselves. I need that as well.
That Jordan-esque chip on Lukaku's shoulder seems to be working well so far at Euro 2020. He has three goals in the tournament, and he and the Belgium squad are in the quarterfinals. They play Italy on Friday, July 2, at 3 p.m. EST.  
Euro 2020 has been a compelling tournament so far
Euro 2020, which is now actually Euro 2021 after a year-long COVID-19 delay, has been a fantastic tournament so far. It started with a terrifying medical emergency for Denmark's Christian Eriksen but rallied after that and produced some excellent group stage matches. 
The round of 16 brought even more drama and upsets. First, Lukau, Kevin DeBruyne, and Belgium took out the defending Euro champs in Portugal. Then, after Spain and Italy survived major scares, defending World Cup champs France fell to Switzerland in a penalty shootout. 
To wrap up the first knockout round, England beat Germany in a heavyweight fight, and Ukraine stunned Sweden in extra time. 
If the next rounds are anywhere near as good as the last rounds were, Euro 2020 may go down in history as one of the most interesting and exciting international tournaments of all time. 
All stats courtesy of Transfermrkt