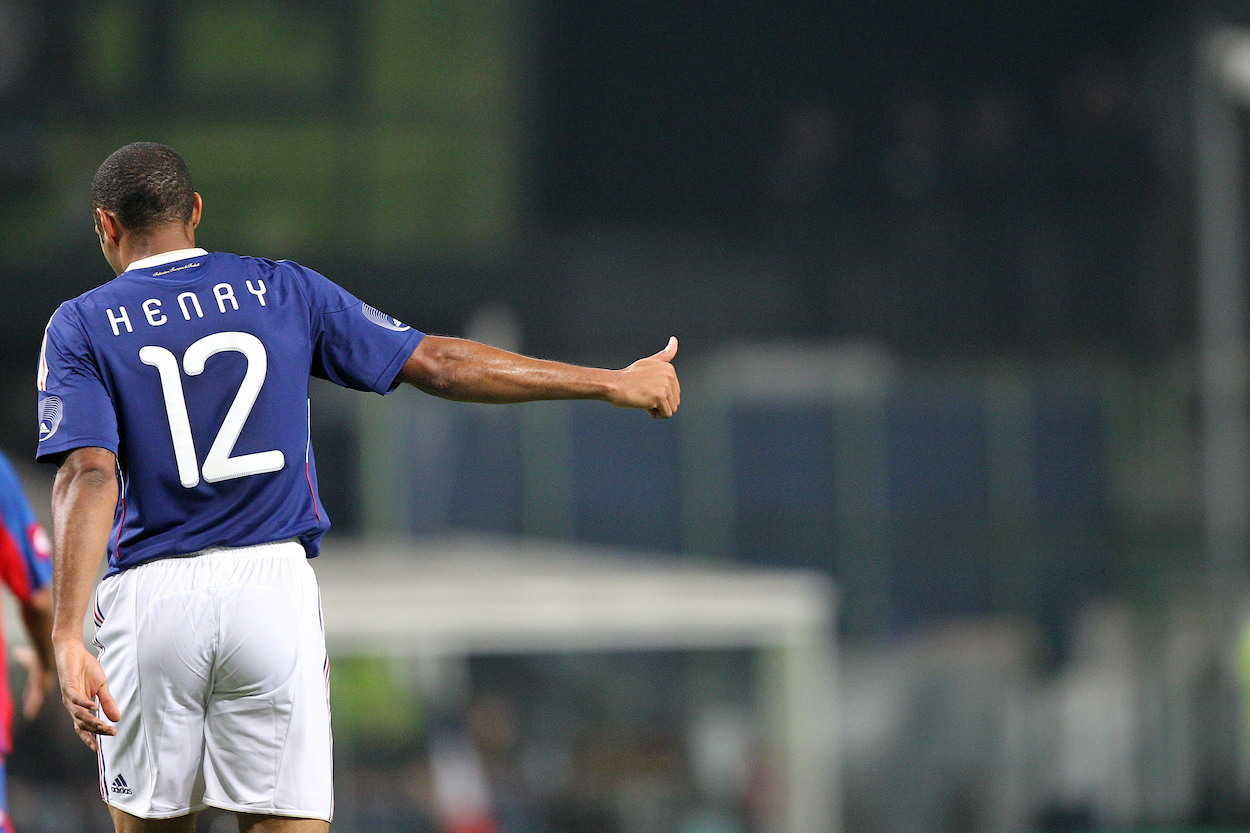 French Soccer Legend Thierry Henry Snubs His Home Country to Coach a Rival Nation in Euro 2020
French football legend Thierry Henry is the greatest goals scorer in the country's history and one of the best strikers ever to play the game. For Euro 2020, he will be an assistant coach for Belgium and not his for his former French Football Federation teammate, France's manager Didier Deschamps.
When the re-scheduled UEFA Euro 2020 soccer tournament kicks off on June 11, 2020, many former national team players will be managing the European sides they once played for. 
Italy's Roberto Mancini, France's Didier Deschamps, Spain's Luis Enrique, England's Gareth Southgate, Ukraine's Andriy Shevchenko, and Netherland's Frank de Boer were all consequential players for their national squads.
The best former player roaming the sidelines during the prestigious international tournament will be former French striker Thierry Henry, although he won't be coaching his home country.
Thierry Henry is one of the all-time great strikers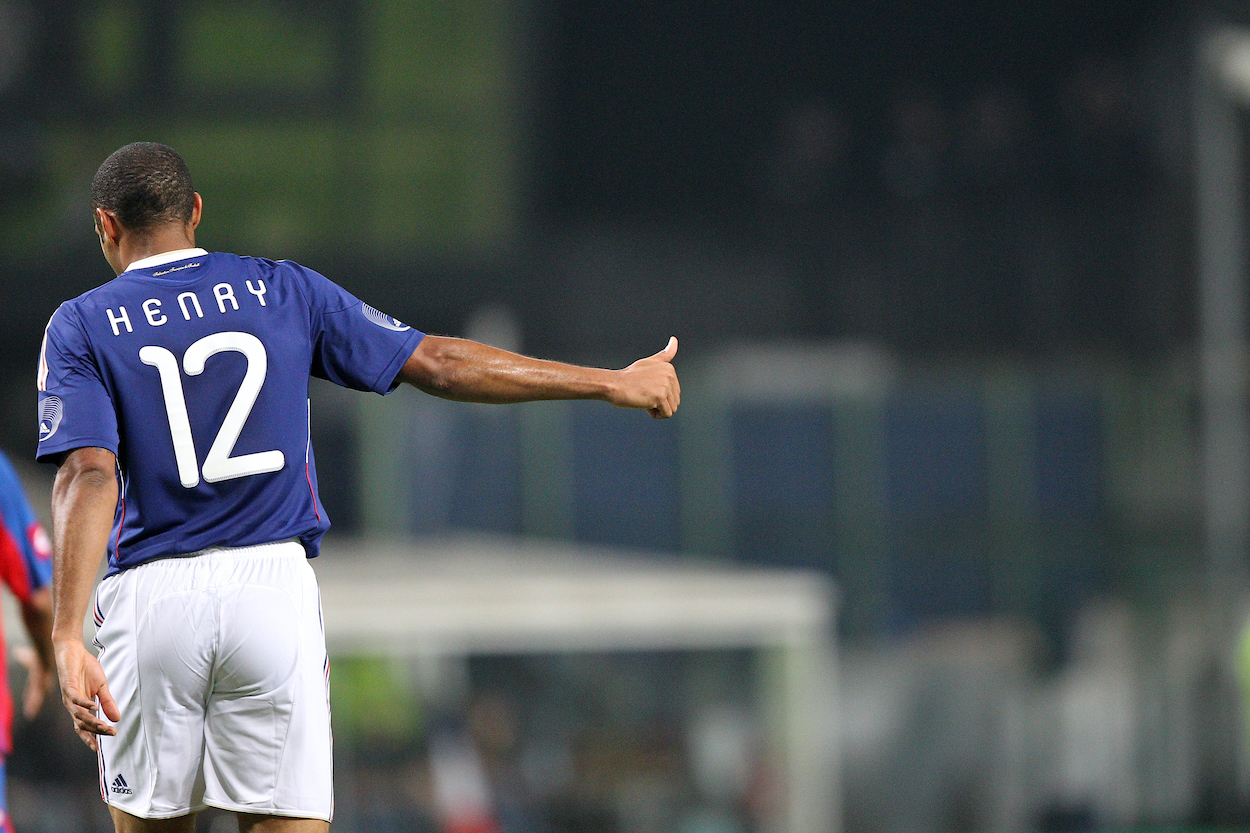 Henry is, without question, on the shortlist of greatest goalscorers of all time. Born in the suburbs of Paris, the Frenchman would go on to play and score goals for some of the most famous clubs in the world.
The forward made his professional debut at 17 for manager Arsene Wanger's Monaco side in France's top professional division, Ligue 1. After five years in Monaco, Henry moved to the Italian giants Juventus.
After one relatively unsuccessful season in Turin, Henry rejoined Wanger, now at the London-based club, Arsenal. It was here in the English Premier League that Henry truly blossomed.
The 6-foot-2 striker scored 228 goals in all competitions for Arsenal. His 175 Premier League goals make him the second-most prolific foreign-born goalscorer in EPL history behind Manchester City's Argentine, Sergio Aguero.
Henry was just as prolific for the France National Team. In 123 appearances from 1997-2010, he scored 51 goals which is the most in French history. He also helped France win Euro 2000 and the 1998 World Cup.
Henry will be an assistant on Belgium, not France, for Euro 2020
Two weeks before the start of Euro 2020, Belgium announced that Henry would rejoin their coaching staff for this year's tournament. The player-turned-coach also helped Belgium manager Roberto Martinez coach the team during the 2018 World Cup.
In between stints as a Belgium assistant, Henry had the head jobs at his former club Monaco and the Montreal Impact in the MLS.
During the 2018 World Cup, Henry's Belgian side faced off against his home country in the semifinals. Prior to the match, Henry's former French teammate Deschamps, who he won the 1998 World Cup with, said that his opposing assistant "is part of the enemy" now, per talkSPORT.
Despite the rhetoric, there seem to be no hard feelings between the current French players and coaches and their old star. Before that semifinal match, which France won 1-0 on its way to another World Cup trophy, French players expressed their empathy for Henry's difficult situation facing off against his homeland.
Belgium is a favorite to win Euro 2020, but Kevin De Bruyne's injury may hurt their chances
FIFA's currently ranks Belgium as the No. 1 team in the world. They were also, until recently, either the co-favorite with England or tied with France as the second-favorite to win Euro 2020.  
The team's chances have recently taken a hit, though with the team's best player, Kevin De Bruyne, suffering multiple facial fractures in Man City's Champions League Final loss to Chelsea.
According to FanDuel, Belgium's current odds (+650) are now solidly behind England (+470) and France (+500) and narrowly ahead of Spain (+700).
Without De Bruyne, Belgium will have to rely on several younger and unproven players in the midfield, such as Leander Dendoncker and Youri Tielemans. These players may struggle to connect Belgium's stellar defense to their dangerous weapons upfront: Real Madrid's Eden Hazard, Napoli's Dries Mertens, and Inter Milan's Romelu Lukaku.
Figuring out how to play without De Bruyne or how to adequately protecting him if he does play will be difficult for the Belgium coaching staff. Martinez is lucky he has a player as accomplished and experienced as Henry to help him navigate this challenge.
All stats courtesy of Transfermrkt