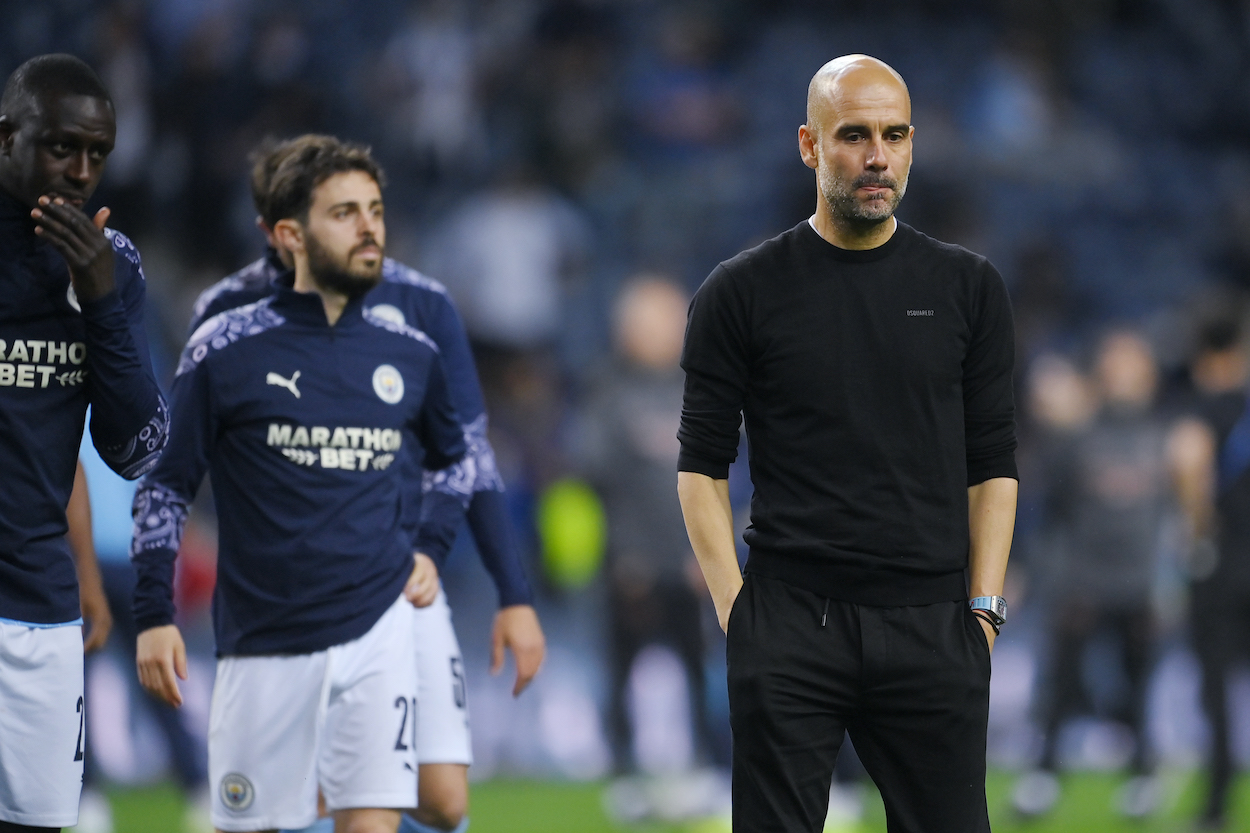 Pep Guardiola Loses Another Champions League Without Lionel Messi
Legendary soccer manager Pep Guardiola's Manchester City team lost the UEFA Champions League Final to Chelsea, 1-0. This is a tough loss for Guardiola who hasn't been able to win the Champions League since he left Barcelona and their superstar player, Lionel Messi. Messi, however, has won the prestigious tournament without Guardiola.
Pep Guardiola, widely regarded as the greatest manager in soccer history, had to watch as Chelsea celebrated after defeating Guardiola's Manchester City 1-0 for their second UEFA Champions League title in team history. This has become common in recent years as questionable tactics and lineup choices have doomed the manager's teams in the tournament.
While there is no doubt Guardiola's style has changed the game in the last decade-plus, he has not been able to win the most important trophy in Europe ever since leaving his biggest star. 
Pep Guardiola and Lionel Messi won UEFA Champions League together twice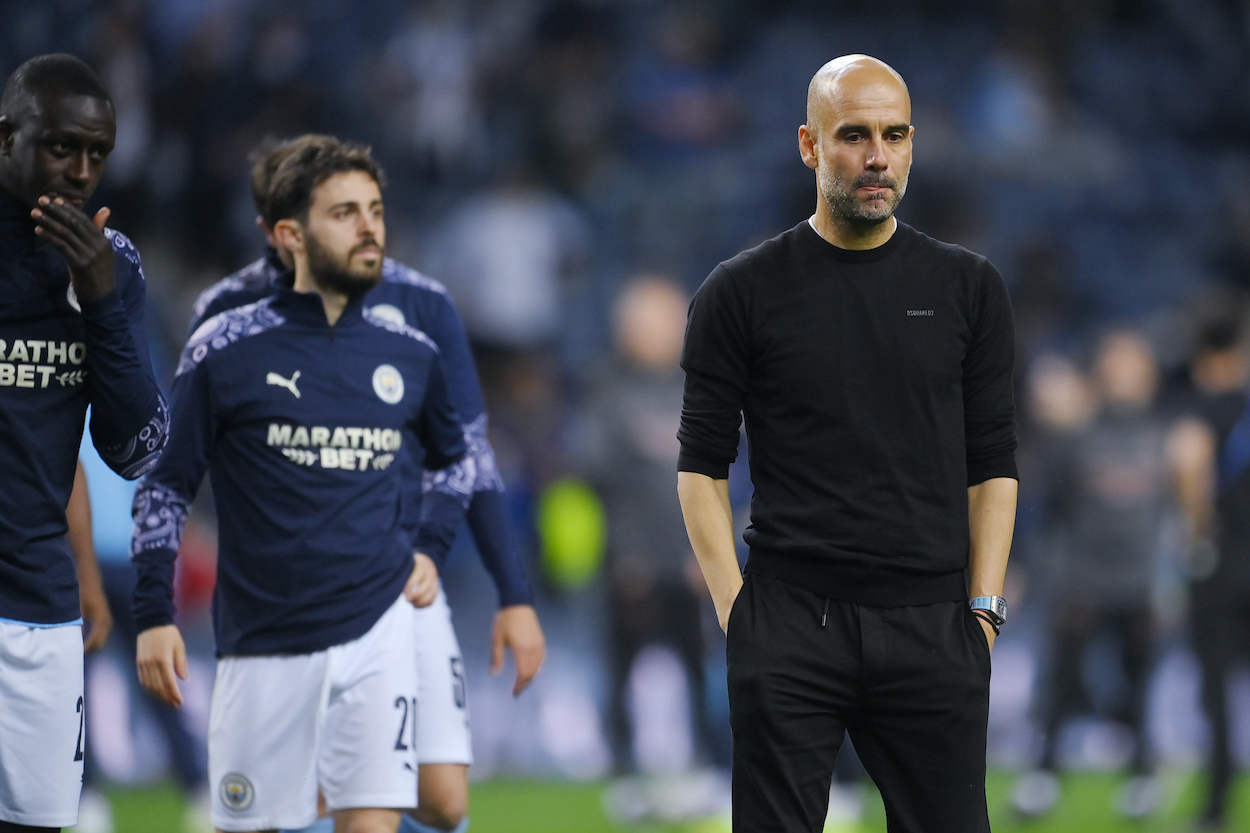 As a young player, Guardiola rose up the ranks of his hometown Barcelona's fabled La Masia youth academy. At 19, he made the side's first team. Under famed player and coach Johan Cruyff, Guardiola became a vital part of Barcelona's great teams in the 90s.
Several years after retirement, he made his way back to his hometown club to coach the Barcelona B Team. After a successful season at the lower level, Barcelona management promoted Guardiola. At just 37, he became the head man of the senior side.
Guardiola immediately made his mark on the club by getting rid of some highly-paid stars such as Deco and Ronaldinho. He also brought in several high-potential youngsters who would become stars like Gerard Pique and Dani Alves.
His most crucial move, though, was installing his brand of soccer, known as "tiki-taka." This possession-heavy, quick-passing style was a perfect fit for Barcelona's burgeoning superstar, Messi.
In Guardiola and Messi's four seasons together, Barcelona had a dominant run of success. The team won three league championships, five additional domestic trophies, and four international cups. Guardiola won La Liga Manager of the Year and Messi took home the Ballon d'Or, for the world's best player, each season they were together.
Most significantly, they won the UEFA Champions League trophy twice.
Guardiola has never won the UEFA Champions League without Messi, but Messi has won without Guardiola 
After four fruitful seasons, Guardiola moved on to new challenges. He next managed the German powerhouse, Bayern Munich, followed by the up-and-coming English side, Manchester City.
The midfielder-turned-manager experienced a good deal of success with both these clubs. He won the German Bundesliga in all his three seasons at Bayern. City has won 10 trophies in all under Guaradiola. This includes the historic 2018-19 "treble" where City won the league, Carabao Cup, and FA Cup, all in the same season.
Guardiola has yet to duplicate his Champions League success without Messi by his side. At Bayern Munich, Guardiola lost to Real Madrid in his first year and Atletico Madrid in his third. His second season is the fascinating one, though. This is because Messi's Barcelona knocked Guardiola's German side out of the Champions League. Messi and company would go on to win the title that year.
Chelsea defeated Manchester City to win the 2021 UEFA Champions League 
In 2020, Guardiola had a chance to settle the score with his former protégé and win a Champions League Final on his own when Manchester City took on Chelsea.
As has become Guardiola's way in the Champions League without Messi, the manager again made curious lineup decisions for the final. He also didn't adjust tactically like he usually does. City managed just one shot on net in the match against a much less heralded (and less expensive) Chelsea squad.
Questions will be asked of Guardiola about why he didn't start a striker or a defensive midfielder like he usually does. It's also fair to wonder why, down 1-0 at the half following a goal by Chelsea's Kai Havertz, he brought on the defensive-minded Fernandinho and saved his strikers, Gabriel Jesus and Sergio Aguero, for so late in the match.
Guardiola will return to Champions League next year with what figures to be another exceptionally talented Man City team. However, losing the 2021 finals is a huge missed opportunity.
The real intrigue could come this offseason when Messi's Barcelona contract will expire. Reportedly, extension talks for the Argentinian star have been positive. But, there are also rumors that Messi might be interested in moving to the English Premier League to reunite with his old manager.
If this happens, Guardiola may finally win the Champions League away from his boyhood club. However, if it takes teaming back up with Messi to do it, it will be clear who the most important person in the historic Guardiola/Messi relationship really is.  
All stats courtesy of FBref.com