Harry Kane Kicks Off a $200 Million Transfer Battle, Telling Tottenham Hotspur He Wants Out
The news was not totally unexpected, but it sent shockwaves through the soccer world nonetheless. 
Harry Kane, the 27-year-old goal-scoring machine for Tottenham Hotspur and captain of the English National Team, has told his club chairman that he wants out. This revelation will send the biggest clubs in the world – clubs like Manchester United, Chelsea, Real Madrid – scrambling to prep an offer for Kane.
The question is, can any of these teams afford him? 
Harry Kane is a star striker for Spurs and England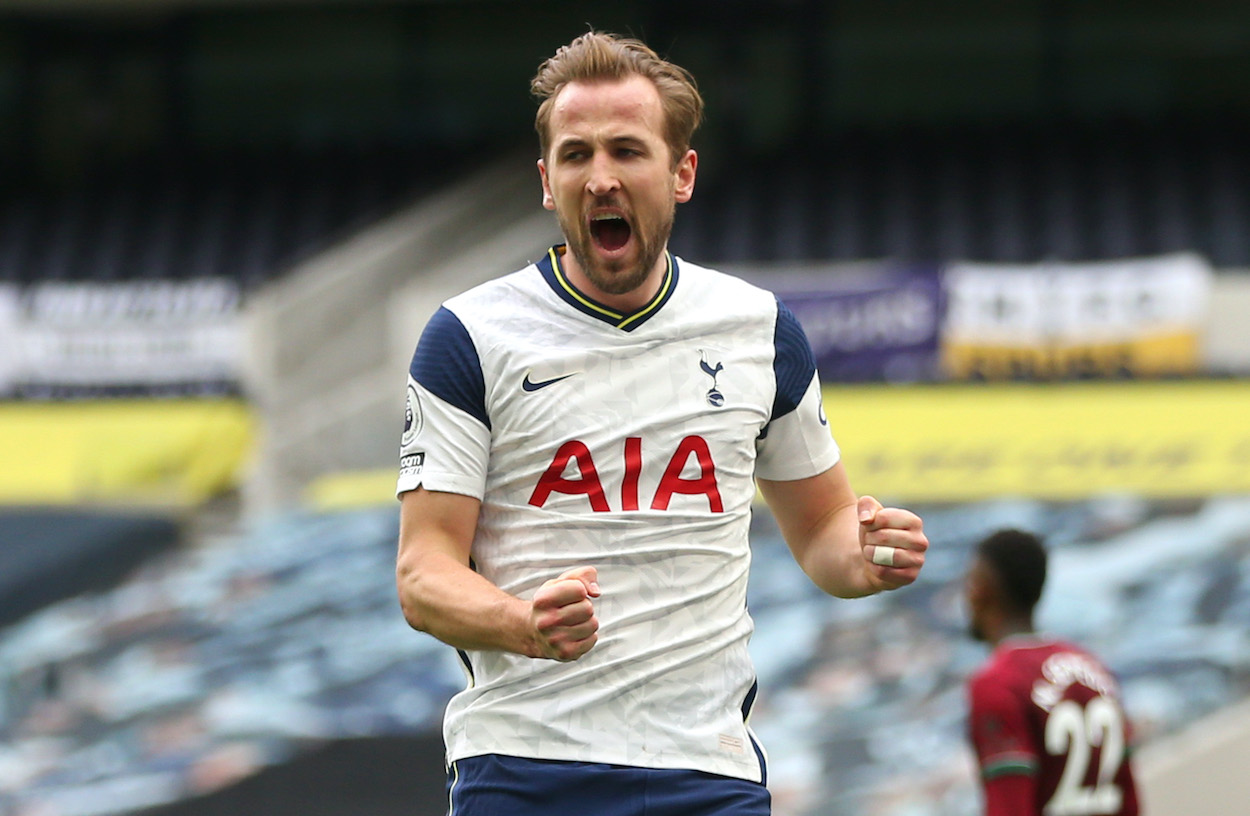 The 6'2" striker has 258 career goals for club and country, making him one of the elite goal-scorers of his era. His combination of size and skill makes him incredibly difficult to defend around the net or in the open field. The forward is adept at scoring goals both on the ground or in the air. 
Kane was born and raised in the English capital and, according to sportskeeda, started his career with London-based Arsenal at the age of 8. After that, he played for Rovers and Watford before catching on with his favorite boyhood club, Tottenham, at the age of 11. 
Following several years on loan, Kane made his way to Spurs' starting lineup at 20. He also featured on England's U-17, U-19, and U-21 teams before earning 51 caps with the senior National Team on his way to becoming captain. 
Kane wants to leave Spurs for a bigger club
While Kane's time at Spurs has been personally successful, the team has not won any trophies in his time there. Although the team is one of the top squads in the English Premier League, ownership is notoriously frugal. 
There has also been turmoil recently. After firing long-time manager Mauricio Pochettino, they hired the always-controversial Jose Mourinho. The team struggled under Mourinho, and the club fired him less than a year and a half after he started. 
Now, according to ESPN, Kane has met with Chairman Daniel Levy and is asking to be transferred to another club. This sale might prove difficult, however. 
Kane has three years left on his contract that pays him around $284,000 (£200,000) a week. Supposedly, Spurs only want to sell him to a club outside of England. They may have trouble finding international suitors though that can pay the rumored $200 million (£150 million) price tag. 
Making matters more difficult is the rescheduled UEFA Euro 2020 tournament. It starts just two days after the transfer window opens on June 9 and the games end on July 30. This gives teams just over a month to make this big-money deal before the EPL season starts on August 14. The transfer window stays open until August 31, but a move like this is much less likely once the season tips. 
The biggest clubs in the world are lining up, but can they make it happen? 
The top clubs in European football fall into one of three categories when it comes to Kane. Some teams can afford him but don't need him, other teams want him but can't afford him, and then there are the realistic landing spots. 
Paris Saint-Germain's owners, Qatar Sports Investments, has seemingly unlimited funds but likely won't pursue Kane. The team already has two of the biggest offensive superstars in the world, Brazil's Neymar and Frenchman Kylian Mbappe. Bayern Munich in Germany also could pay the fee, but, with Robert Lewandowski entrenched at the position, they wouldn't. 
Spain's Real Madrid and Barcelona and Italy's Juventus, Inter Milan, and AC Milan all would love to have Kane, but all these clubs are a mess financially and in significant debt. These clubs also led the way in pushing for the failed European Super League and are in hot water with their fans which doesn't help financial matters. 
That leaves United, Chelsea, and Manchester City as Kane's primary suitors.
A move for Kane would help bolster United's front line. Kane had twice as many EPL goals (22) as United's highest-scoring forward, Marcus Rashford (11). It might also help settle the fan base that has never loved the American owners. 
Kane's 22 goals were just two less than Chelsea's top four EPL goals scorers combined this season. It may seem excessive to bring in another striker a year after buying Timo Werner, but Chelsea owner Roman Abramovich is nothing if not excessive.   
City will also be involved in the chase for Kane this summer. The team needs to replace the departing Sergio Aguero, and the team's royal Abu Dhabi owners have the money to spend. Rumors are that legendary City manager, Pep Guardiola, prefers Borussia Dortmund's 20-year old Erling Haaland. However, Kane's age and EPL experience might make him a better fit. 
All stats courtesy of FBref.com