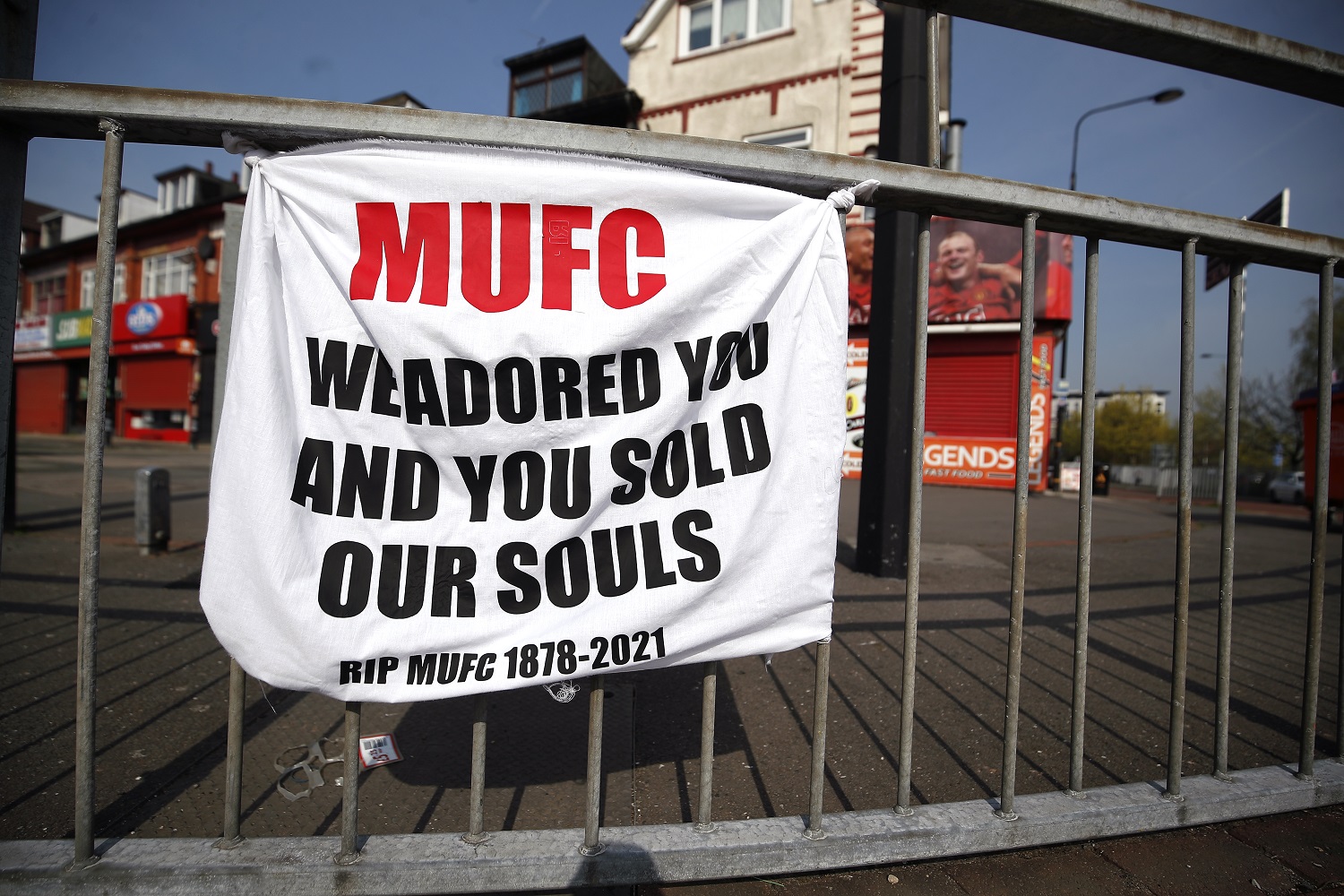 The Tampa Bay Buccaneers' Owners Are Dealing With a Serious Fan Revolt
Manchester United supporters are upset with the Glazer family, which owns the English soccer club as well as the Tampa Bay Buccaneers.
The Super Bowl victory, free agency, and the NFL draft came in quick succession, each generating excitement for Tampa Bay Buccaneers fans. Although the owners shared in that fun, they've had more on their minds lately. How they handle a crisis involving their Manchester United soccer club this weekend could affect the future of the Glazer family's trans-Atlantic empire.
The potential value of Manchester United has soared
In July 2020, Forbes estimated the value of Manchester United at $3.81 billion, making it the world's 10th most valuable team. The same list put the Buccaneers' value at $2.2 billion, tying for 49th.  This week, the Irish Mirror speculated that a motivated buyer could purchase Manchester United for $5.56 billion.
A 46% premium in 10 months during a pandemic seems preposterous but reflects how despised Malcolm Glazer's heirs are in England. People are asking what it would take to persuade the family to surrender its 83% stake in the English Premier League team.
That would mean that the Glazers more than tripled their investment, which began with a leveraged buyout in 2005. That doesn't count the more than $1 billion in dividends and other payouts that the owners, led by brothers Joel and Bryan Glazer, have collected since ManU began trading publicly in 2012.
The stock dividend is a seemingly modest 1% a year, but Manchester United is a cash cow with gross revenues that few teams can match. It's one more reason the Glazers are in no mood to sell.
ManU fans are planning a huge protest for May 2
Since catching Manchester City in the league standings is a virtual impossibility, Sunday's match against Liverpool means less for Manchester United than the drama expected before the contest. Authorities are preparing for as many as 10,000 protesters at Old Trafford demanding that the Glazers sell their majority stake and focus instead on the Buccaneers.
The ManU supporters were already frustrated by no league titles since 2013, no FA Cups since 2016, and no Europa League trophies since 2017. Now, they're furious over their club's involvement in the proposed European Super League (ESL), which fell apart in less than 48 hours last month. Joel Glazer was in line to serve as the vice-chairman.
Midfielder Paul Scholes, who made 499 appearances for Manchester United before retiring in 2013, told The Daily Mail he doubts the supporters will ever come to trust the Glazers after the ESL debacle, which could have damaged top divisions of leagues across the continent.
"As long as there are billionaires owners from another country," Scholes said, "I don't think there will be a connection and we have to stop pining for that … Look at the club, the resources they've had and they haven't won a trophy for four years. It's ridiculous."
He accused the Glazer family of prioritizing profits while risking the long-term well-being of the club.
What does the fan revolt mean to the Buccaneers' owners?
The Glazer family had nothing to apologize for following an NFL season culminating in the Buccaneers' victory in Super Bowl 55. Upon further review, maybe they could have used some practice saying they're sorry. Their first apology over joining forces with 11 other teams in the European Super League was brief and tone-deaf. Former ManU star Gary Neville called the 52-word statement a "farce." Joel Glazer came out with a more extensive statement later the same day.
"We have seen this week how out of touch some of the owners are," Neville said.
Nearly all the English, Spanish and Italian clubs that sought to launch the ESL have felt the blowback from their supporters. That includes Liverpool, owned by John Henry and his Boston Red Sox consortium, and Arsenal, controlled by Los Angeles Rams owner Stan Kroenke.
All the teams face the possibility of penalties from their leagues, but Henry and Kroenke are not at risk of losing control of their teams. Such a blanket statement is not necessarily true at ManU, which trades publicly on the New York Stock Exchange.
Someone snapping up enough of the 17% of stock the Glazer family does not own could push for seats on the board of directors. Still, that wouldn't be enough to set policy. In addition, an outsider buying blocks of stock would drive up the share price and make the Glazers' holdings even more valuable.
Like Sportscasting on Facebook. Follow us on Twitter @sportscasting19.