Sergio Aguero Signs a Contract With a $122 Million Buyout Clause to Join His Countryman Lionel Messi in Barcelona
One of the biggest stars in soccer is changing teams, and the move could keep one of the greatest players of all time in place at his current club.
Sergio Aguero's move to FC Barcelona has enormous implications throughout the world soccer landscape. The move is so important to his new organization that the team put a huge buyout clause in his contract to ward off any other suitors.
Sergio Aguero is a Manchester City legend who scored the most famous goal in Premier League history
The 32-year-old Aguero from Buenos Aires, Argentina, made his way from his hometown club, Independiente, to Atletico Madrid in Spain, to Manchester City in the English Premier League. 
It is at this last stop where the prolific goal-scorer became a soccer legend. 
When Aguero signed with the club in 2011, Manchester City was considered a second-rate club in its own town. After years as Manchester United's "noisy neighbors," as United's renowned manager Sir Alex Ferguson once referred to them, City's new ownership group was making a play to build a world-class organization.
Signing Aguero was one of the first steps in that process. The acquisition paid off in a huge way when he scored the most dramatic and most famous goal in Premier League history.
In 2012, tied 2-2 in stoppage time in the last match of the season, City needed a win to take the EPL title from their crosstown rivals. At the 93:20 mark, Aguero played a give-and-go with fellow striker Mario Balotelli and scored a goal for the ages.
Aguero's moment gave City their first-ever Premier League trophy, and the goal, along with announcer Martin Tyler's iconic "Aguerooooo!" call, have gone down in soccer lore.
The player, affectionately known by his childhood nickname, "Kun," leaves the EPL as the top foreign-born goal scorer of all time. His 184 tallies put him nine ahead of retired Arsenal star Thierry Henry. That total is almost double the next active foreign-born player on the list, Liverpool's Mohamed Salah. The Egyptian winger has 97 EPL goals, according to Transfermrkt.
Aguero is going to Barcelona on a free transfer
Manchester City let Aguero's contract expire following the 2020-21 season. While the Argentine has played well at times in the last two seasons, he has struggled with injuries. He only played in 20 matches this season in all competitions and 32 the year before.  
Barcelona, one of the highest-profile clubs in the world, is currently dealing with financial struggles and massive debt. They cannot pay much (if anything) in transfer fees this offseason, so signing free agents is their only way to add to the squad next year.
Even with his health issues, adding a player of Aguero's caliber is a massive coup for the Spanish side. The move is so vital to Barcelona that they reportedly put in a $122 million (€100 million) buyout clause to ward off other teams from trying to lure the striker away, according to Yahoo! Sports.
The Catalan club also announced Aguero's City teammate, defender Eric Garcia, as a free transfer. Midfielder Georginio Wijnaldum and winger Memphis Depay should follow in the coming days.
All these moves are a bid to keep their superstar, Lionel Messi, happy and at the club.
Aguero will likely be teaming up with fellow Argentine superstar, Lionel Messi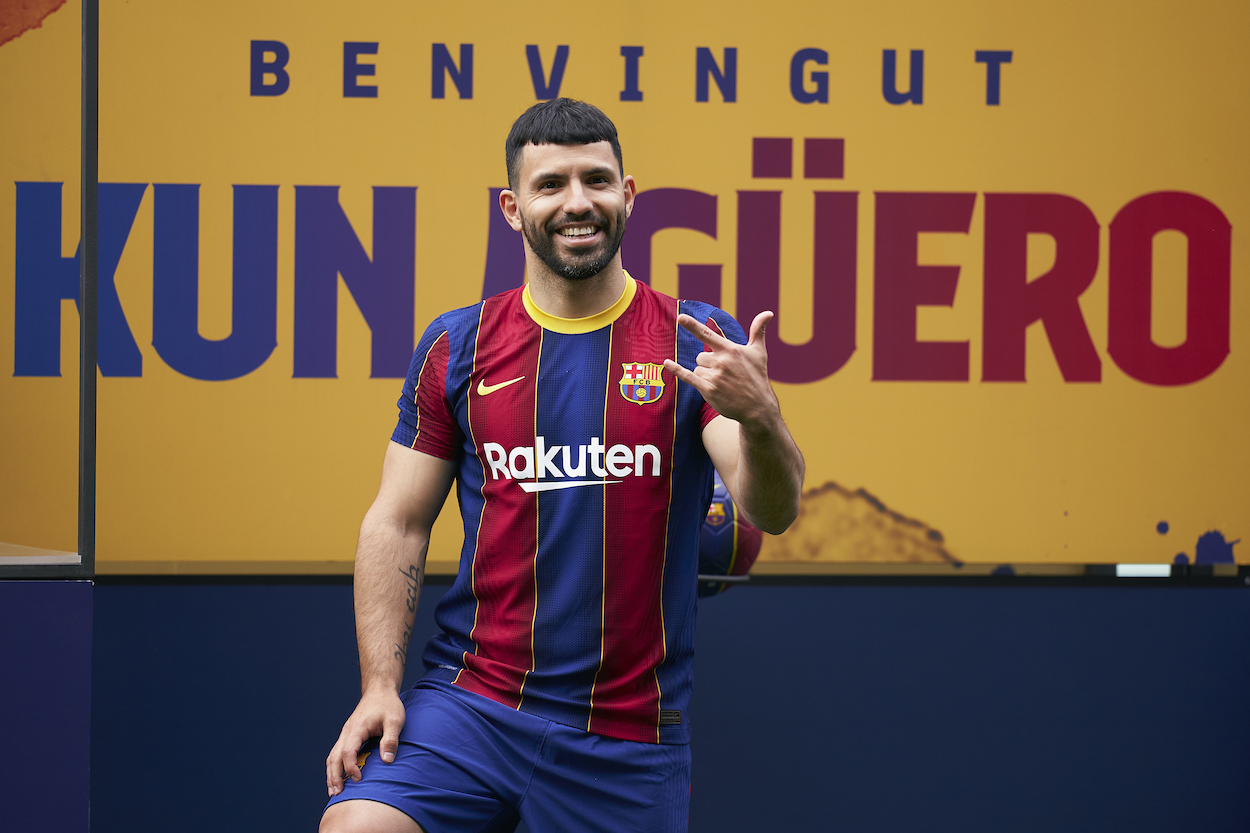 Following a COVID-19-related contract snafu at the close of the 2019-20 soccer season, it looked like Messi would be leaving Barcelona. The global superstar was supposed to have an opt-out opportunity following last season, but because the season was pushed back following the COVID-19 pause, Messi and his agents missed the deadline to void the contract.
Rumors that Messi would be going in the opposite direction of Aguero and joining his old manager, Pep Guardiola, at Manchester City, were rampant. However, the signing of his Argentina National Team running-mate now seems to signal otherwise.
ESPN recently reported that the Spanish club would be offering Messi a three-year deal with more long-term money and less short-term salary due to the organization's financial issues. The report says the club is "optimistic" about the star staying at his long-time home.
The Aguero signing is a good sign for Barcelona fans. The two South Americans have known each other since their youth soccer days, and, according to Aguero, they communicate regularly. The striker told ESPN:
We hope to play together, of course, but what happens with Leo is a decision he will take with the club. It's a pleasure to play with him. If he stays here, which I think he will, we will give our best for the club to achieve big things.
Aguero also added with a smile, "I speak with [Messi] every day, but I can't tell you what about."
All stats courtesy of FBref.com