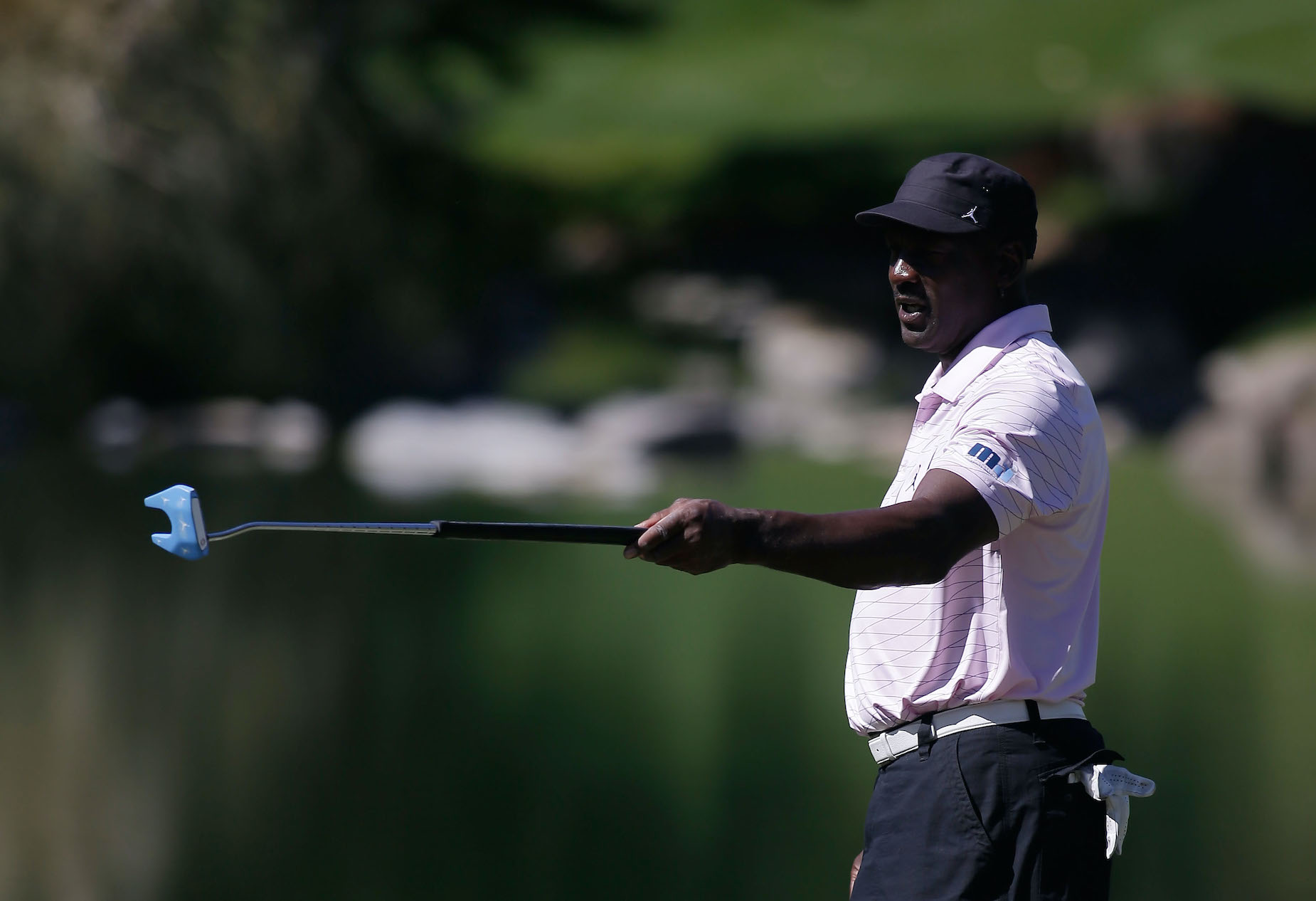 Michael Jordan Once Gave Charles Barkley a Free $1,000 as Part of a Larger Scheme to Win $100,000 on the Golf Course
Michael Jordan is no stranger to hitting the golf course with big money on the line. Just ask Charles Barkley
Even if you don't know that much about Michael Jordan, you've probably internalized a couple of truths about His Airness. First, the former Chicago Bulls star is incredibly wealthy; being a living NBA legend, unsurprisingly, pays pretty well. Secondly, MJ has an incredible will to win. Sometimes, those two realities will combine in a single moment. Just ask Charles Barkley about that.
According to Sir Charles, he and Michael Jordan were once playing a round of golf at $1,000 per hole. That wasn't the only cash on the line, though. In fact, MJ even conceded a hole to Barkley as part of a scheme to pocket an even bigger purse.
Michael Jordan is a proven winner, no matter the competition
During his time with the Chicago Bulls, Michael Jordan put together an impeccable NBA resume, winning six championships, five MVP titles, and virtually every award imaginable. His winning ways, however, weren't limited to the hardwood.
As a boy, MJ honed his competitive fire by battling against his brother, Larry. While that mostly manifested on the basketball court, His Airness simply needed to be the best, no matter what he was doing.
Take, for example, golf; not only is Jordan quite the talent, but he's willing to trash-talk former presidents and PGA pros alike. There have also been stories about the NBA legend cheating at board games, using inside information to bet on jumbotron races, and doing whatever else it takes to claim the top spot in virtually any competition.
It seems, however, like there was one exception to that norm. During a round of golf, he conceded a $1,000 hole to Charles Barkley without batting an eye.
Giving Charles Barkley a free $1,000 as part of a $100,000 play
Given their wealth and love of competition, it's not too surprising that Charles Barkley and Michael Jordan would hit the golf course and play for quite a bit of cash. On one occasion, though, MJ did something unexpected: he gave Sir Charles the win on a hole before the forward even sank his put.
"We were playing golf one day, and I think we were playing for $1,000 a hole," Barkley explained on GOLF's Subpar, according to golf.com. "And I was shaking over this putt. And he says, 'That's good.' It was a good-sized putt. He says, 'Hey, you might step in my line. That putt is good."
While avoiding someone's line is simply good etiquette, Sir Charles suspected that something was up. Why would the hyper-competitive Jordan forfeit a $1,000 hole? His instincts turned out to be spot-on; MJ, it turned out, had a bit more money riding on his own putt.
According to Chuck, Jordan had an additional $100,000 bet riding on his own putt; paying Barkley $1,000 to stay out of his way was, in the grand scheme of things, a small price to pay for a better chance at success.
Thankfully for Michael Jordan, even $100,000 is small change
While it's not clear if Michael Jordan sank that $100,000 putt or not, His Airness didn't have too much to worry about beyond the potential agony of defeat. In the big picture, being out $101,000 isn't a big problem for the NBA legend.
During his playing career, Jordan earned roughly $93 million in salary. While that number may seem small by today's standards, MJ wasn't left wanting for money. His endorsement deals with brands like McDonald's, Gatorade, and Nike more than picked up the slack. He's also become an NBA owner in retirement, which will only help pad his bank account.
In total, Forbes estimates Michael Jordan's net worth at $1.6 billion. That will pay for quite a few rounds of golf, even with big-money bets riding on each hole.