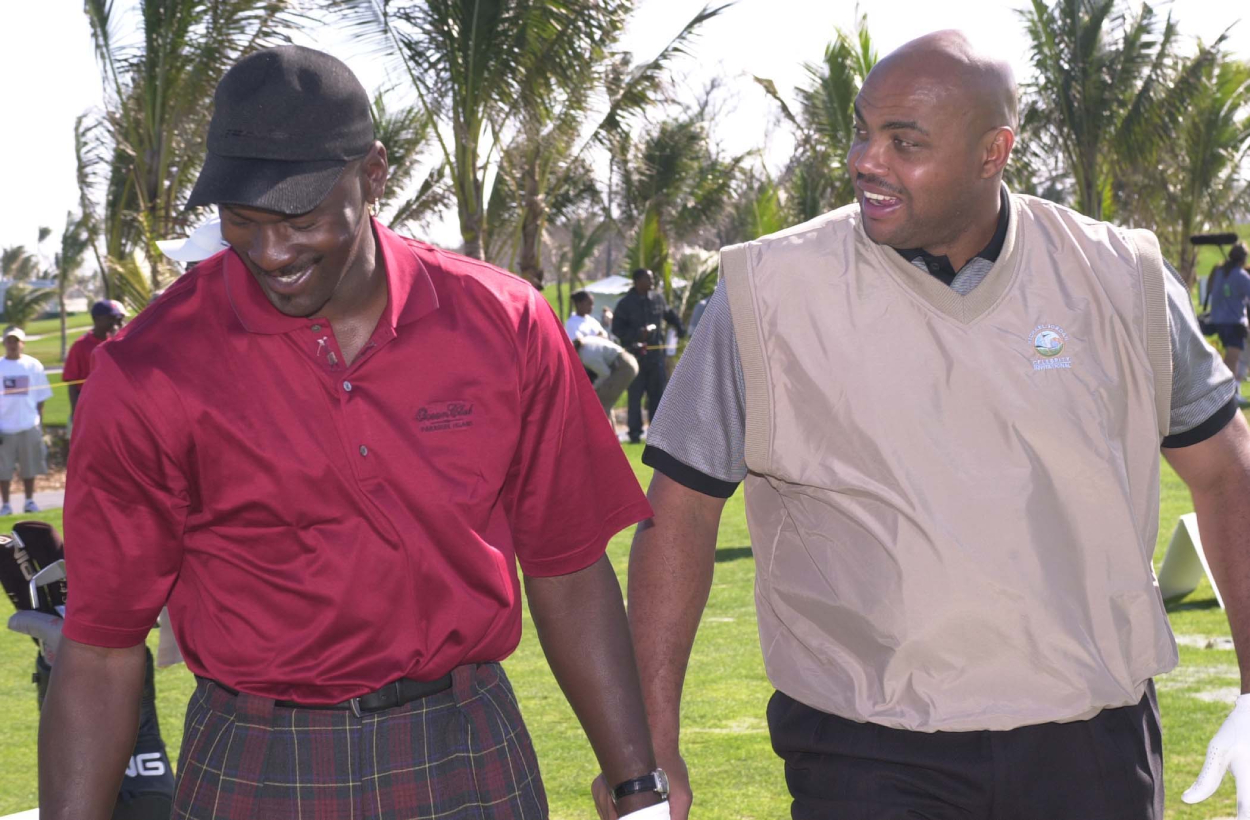 Charles Barkley Once Threatened to 'Slap the Hell out' of Someone While Defending Ex-Friend Michael Jordan: 'I'm Going to Take My Chances With the Judicial System'
NBA legends Charles Barkley and Michael Jordan appear to no longer be friends, but Barkley once threatened to "slap the hell out of" someone and said he would take his "chances with the judicial system" while defending Jordan over LeBron James.
For years, NBA GOAT Michael Jordan and basketball legend Charles Barkley were pretty close friends. However, ever since Barkley made some comments in 2012, the two have had a strained relationship. That hasn't kept Barkley from defending his old pal from time to time, though. In fact, he once said that he would take his "chances with the judicial system" and "slap the hell out" of someone while defending Michael Jordan over LeBron James.
Charles Barkley and Michael Jordan had a falling-out
Michael Jordan and Charles Barkley were two of the biggest NBA stars during the same era. Jordan won five NBA MVP awards and six NBA championships during his career, which occurred sporadically from 1984-85 through 2002-03. He was also a 14-time All-Star. Barkley, on the other hand, earned 11 All-Star selections and was the 1992-93 NBA MVP during his career, which lasted from 1984-85 through 1999-2000. They were selected with just one spot in between them during the 1984 NBA draft, too.
However, according to USA Today, Barkley said during a radio interview in 2012 that Michael Jordan's ability as the Charlotte Hornets' owner had been negatively affected by him having too many people-pleasers around him.
"Listen, if you're famous, and Michael at one point was the most famous person in the world, everybody around you is either on the payroll or letting you buy drinks and dinner and flying around on your private jet," Barkley said in 2020, per USA Today. "Very few of your friends are going to be honest with you. And that's very hard for any celebrity, but especially somebody of his stature."
The comments Barkley made in 2012 reportedly led to Jordan becoming distant with Barkley. The friendship between the two NBA legends has seemingly come to an end since then.
"The guy was like a brother to me for, shoot, 20-something years," Barkley said on The Waddle and Silvy Show, according to USA Today. "At least 20-something years. And I do, I feel sadness. But to me, he's still the greatest basketball player ever. I wish him nothing but the best. But, there's nothing I can do about it, brother."
The rift between the two, though, hasn't kept Barkley from defending Jordan.
Charles Barkley defended Michael Jordan by threatening to 'slap the hell out of' someone
Ever since LeBron James entered the NBA, the James versus Michael Jordan debate has been one of the hottest debates in sports history. 
However, shortly after James and the Cleveland Cavaliers lost 4-0 in the 2018 NBA Finals to the Golden State Warriors, Charles Barkley had a stern message for anyone taking James over Jordan.
"Any media person that I see in person for the rest of my life who try to tell me that LeBron James is as good as Michael Jordan, I'm just going to slap the hell out of them right on the spot … No questions asked," he said on TNT, according to Complex. "The next person who walks up to me and says 'LeBron James, he was amazing. As good as Michael Jordan' or 'competes like Michael Jordan,' I'm just going to slap the hell out of you right on the spot, and I'm going to take my chances with the judicial system."
Well, tell us how you really feel.
The Michael Jordan and LeBron James argument will still always be debated, though. So, while we're here, how do their resumes compare?
How does LeBron James compare to Michael Jordan?
LeBron James has already played in more seasons than Michael Jordan played in during his career. So, James has already surpassed Jordan in many statistical categories. James is third all-time in ABA/NBA history in total points and eighth in assists, while Jordan is fifth in points and 46th in assists. Jordan is No. 1 in points-per-game career average, though, and is third in steals while James is fifth in points per game and 14th in steals.
However, what people really look at when debating the two are their championships. Jordan went 6-0 in the NBA Finals. James already has more NBA Finals appearances, as he has played in the series 10 times and made eight consecutive trips from 2010-11 through 2017-18. However, his record is 4-6.
James, though, took a bad team to the NBA Finals during his first trip with the Cavaliers and then had to face the most talented team of all-time in the Warriors in two other trips. He also had to deal with injuries to Kyrie Irving and Kevin Love in another.
Still, Michael Jordan's undefeated record in the NBA Finals is a large reason why so many people consider him to be the GOAT. Even if James catches him in championships, it will be hard for him to surpass Jordan (in the minds of some people) because of all his losses.
Charles Barkley appears to be among those people, too.
Stats courtesy of Basketball Reference