LeBron James Made $169 Million With the Cavs, but Once Cost Them $150,000 While Still in High School
NBA superstar LeBron James did a lot of great things for the Cleveland Cavaliers. He took that franchise to heights it had never seen before and put more eyes on the city than had ever been on it before. However, before going to the Cavs in the 2003 NBA draft, LeBron James actually cost the team quite a bit of money as a high school player. This wasn't all his fault, but the Cavs ultimately had to fork over $150,000.
LeBron James was an unreal high school player in Ohio
RELATED: LeBron James' Life Revolves Around Basketball, but 'Romeo and Juliet' Once Came First
What helped form LeBron James' bond with the city of Cleveland and the state of Ohio was the fact that he was from there. James was a high school basketball star at St. Vincent-St. Mary High School in Akron, Ohio.
He was potentially the most hyped high school star of all-time, too. James led his team to three state championships and a national championship, according to the school's site. People often filed into high school arenas to watch him play, too, and he was even on the cover of Sports Illustrated as a junior.
LeBron James was ultimately so good in high school that he skipped college and went straight to the NBA, as the Cleveland Cavaliers selected him No. 1 overall in the 2003 NBA draft. However, James and the Cavs started working with each other well before the draft.
LeBron James cost the Cavs $150,000 while still in high school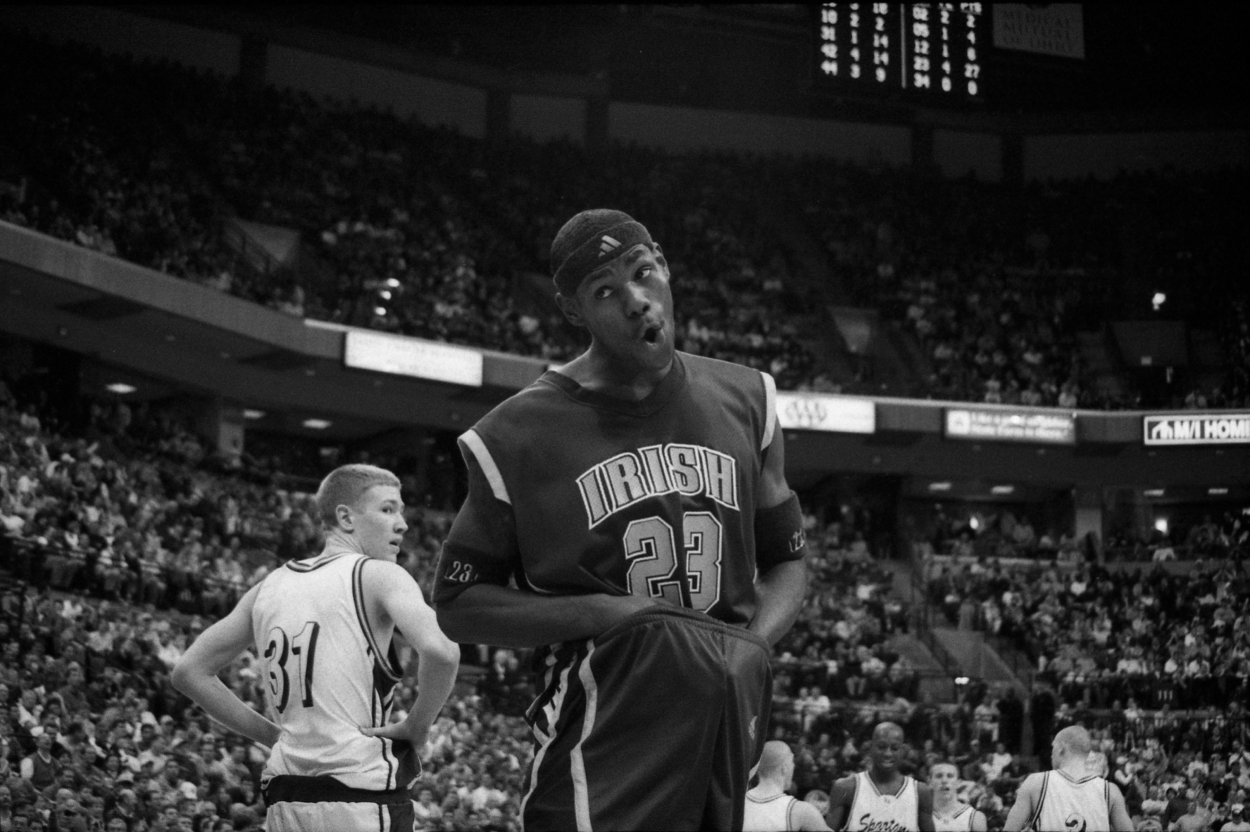 RELATED: LeBron James' Upcoming $1 Billion Achievement Is a Feat Michael Jordan Never Even Reached
The Cleveland Cavaliers were really bad in 2002-03. Former head coach John Lucas even accused the franchise of tanking to ensure a better chance of drafting James in the 2003 draft, according to ESPN. The Cavaliers ended up going 17-65 and fired Lucas after he went 8-34 as head coach.
Whether they were tanking or not, though, the Cavaliers clearly had their eyes on James, which ended up costing them. According to The Washington Post, before the 2002-03 season, the NBA fined the Cavaliers $150,000 and suspended Lucas for the first two games after the team allowed James, a high school junior in the area, to participate in a voluntary workout, along with college players and free agents.
The league said that Lucas violated "league rules prohibiting contact between NBA teams and players not yet eligible for the NBA Draft," per The Washington Post.
James also played on a team of Cavs players during the workout, and he apparently put on a show.
"He was the best player in the gym that day, on my team," Lucas later said in 2020, according to The Athletic. "Ricky Davis, Chris Mihm, DeSagana Diop, all of our players, he was the best player there."
Although LeBron James' workout cost the Cavs $150,000, he paid it back to them and then some with his play on the court.
LeBron James made $169.8 million with the Cavs and won a championship
RELATED: Stephen A. Smith Calls Out LeBron James, Claims He Just 'Lied to the American Public'
The Cavs ultimately paid a lot more for LeBron James to be on their team in the years that followed. According to Spotrac, James made over an estimated $169.8 million in 11 seasons with the Cavaliers.
After going to the Cavs with the No. 1 overall pick, James scored over 31 points per game and led Cleveland to the playoffs in his third season, and then carried the team to the NBA Finals in his fourth season in 2006-07. It was the franchise's first-ever trip to the Finals. James also led them to 66 and 61 wins in 2008-09 and 2009-10 before going to the Miami Heat for four seasons starting in 2010-11.
James then made four consecutive NBA Finals appearances with the Heat and won two championships. This came before he eventually made four more straight appearances back with the Cavs from 2014-15 through 2017-18. LeBron James also ultimately led the Cavs to an NBA championship in 2015-16.
James has since moved to the LA Lakers, but in 11 seasons with the Cavs, he scored 23,119 points, earned 10 All-Star selections, won two NBA MVP awards, and played in the NBA Finals five times. That workout was most likely worth it for the Cavaliers.
Overall in his career, James is a 17-time NBA All-Star and a four-time NBA MVP. His is also a four-time NBA Finals MVP, as he has won four total championships. Additionally, James is third in NBA history in points and eighth in assists.
The Cavs and the entire NBA knew that LeBron James would be special while he was still in high school. He has ultimately lived up to that hype, too.
Stats courtesy of Basketball Reference