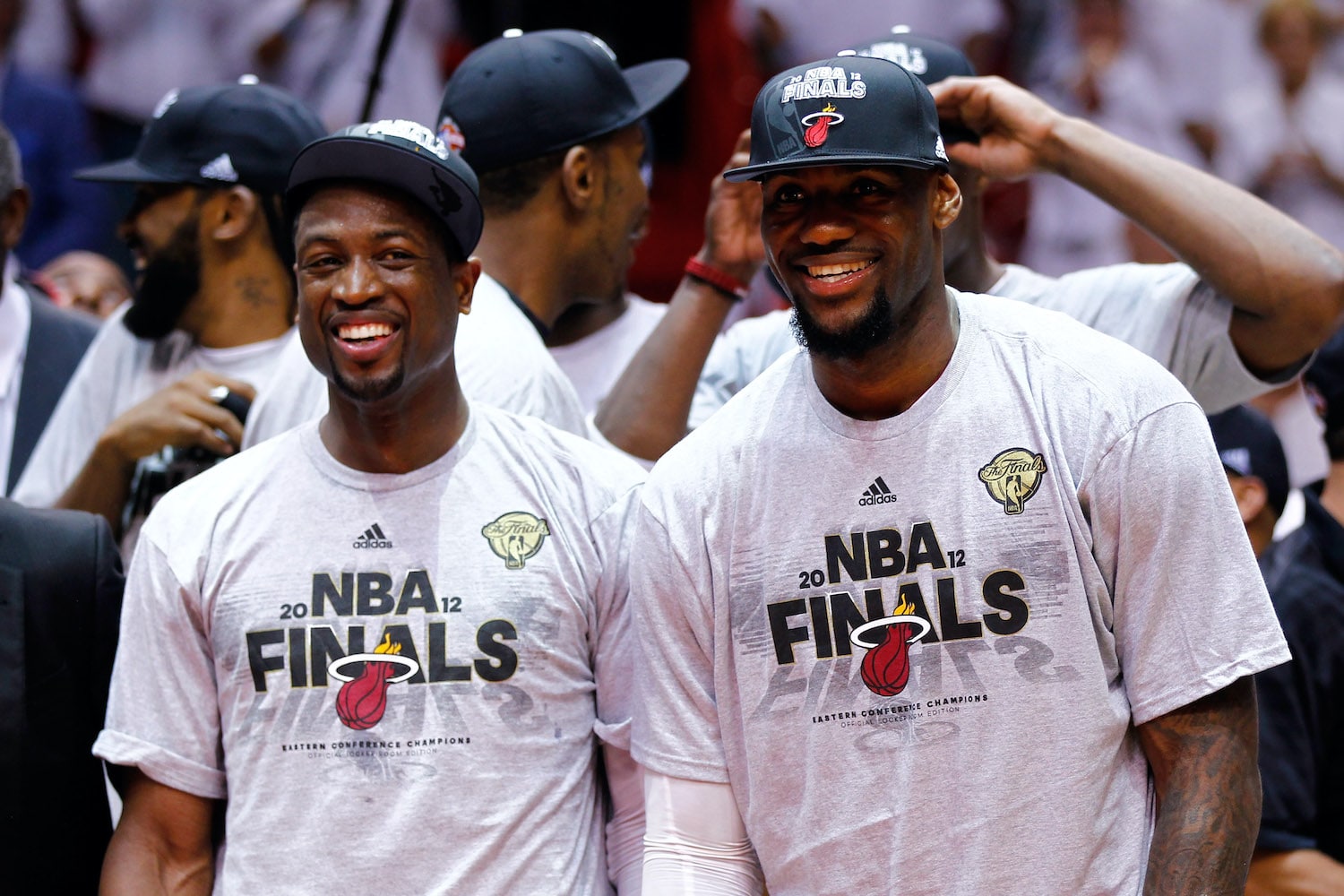 LeBron James Won 2 Championships With Dwyane Wade but Potentially Discussed Teaming up With Another Friend Instead
LeBron James won two championships on the Heat. However, he potentially discussed teaming up with former Nuggets star Carmelo Anthony.
NBA superstar LeBron James had some magical years with Dwyane Wade and Chris Bosh on the Miami Heat. They made four consecutive appearances in the NBA Finals together and won two championships. However, James potentially discussed teaming up with another one of his close friends instead. That friend was Carmelo Anthony, who was starring on the Denver Nuggets.
LeBron James won 2 championships with Dwyane Wade on the Miami Heat
LeBron James left the Cleveland Cavaliers to team up with Dwyane Wade and Chris Bosh on the Miami Heat in 2010. It was in Miami where he ultimately learned how to be a champion.
In their first season together, Miami proved almost instantly how dominant they could be, as the Heat went 58-24 and reached the NBA Finals. However, James' youth cost him, as the Dallas Mavericks got the best of the Heat, winning the Finals in six games.
James and the Heat then learned from their mistakes, though, and proved it in 2011-12. He ended up winning his third league MVP award that year and then led Miami back to the NBA Finals, where they faced the Oklahoma City Thunder. Despite OKC being stacked with Kevin Durant, Russell Westbrook, and James Harden, the Heat won in five games to help James win his first championship.
Miami was then one of the greatest teams of all-time in 2012-13, as they dominated through the regular season, winning 66 games. James won his second consecutive MVP award, too. The San Antonio Spurs then gave the Heat a tough series in the Finals that year, but Miami won its second consecutive championship, as they defeated San Antonio in seven games.
However, it all came to an end in 2013-14. Despite reaching the Finals for a fourth consecutive year, the Spurs got revenge, beating the Heat in five games.
That Finals loss was ultimately the end of the LeBron James-Miami Heat era, as he then went back to the Cleveland Cavaliers the next season.
However, LeBron James might not have won all those games with Dwyane Wade, Chris Bosh and the Heat at all had he, instead, teamed up with Carmelo Anthony.
Carmelo Anthony discussed potentially teaming up with LeBron James
During a former appearance by Carmelo Anthony on The Woj Pod, host Adrian Wojnarowski brought up the 2008 Olympics, where some players on Team USA discussed potentially teaming up together. Anthony's contract with the Nuggets, though, lasted longer than James, Wade, and Bosh's, so Wojnarowski asked him, had that not been the case, would the big three have been James, Wade, and Anthony.
"It probably wouldn't have came up like that; it probably would've been me and LeBron somewhere, and D-Wade and Bosh somewhere," Anthony said on the Feb. 22 episode. "After [the Olympics], the talk was 'Where we going? Where can we partner up at? Where can we team up at? This is too good; we want this feeling forever. We want to experience playing with other great players — we want that. Where can we go?' … For so long prior to that, the NBA was, everybody had their own team."
This led to Carmelo Anthony discussing his decision to sign a longer deal with the Denver Nuggets.
"Out of all of us at that moment, I felt the most comfortable and the most confident in my situation in Denver. We were winning, we were having some success, and we were building off of previous years. So, I didn't want to sign a three-year deal with an option. No, I want to be here long-term."
So, if Anthony and James had joined forces, what team would they have played on together?
Anthony wasn't sure. He said maybe on the Knicks, or maybe he and James would have figured something out in Miami with Dwyane Wade and Chris Bosh. Either way, he and James would have been tough to stop.
LeBron James and Carmelo Anthony would have been unguardable
If they had figured out a solid chemistry on the court, James and Anthony would have potentially become the best scoring duo of all-time.
Prior to joining the Heat, LeBron James scored between 28.4 and 30 points per game with the Cavaliers during the final three seasons of his first stint in Cleveland. Carmelo Anthony, on the other hand, scored 28.2 points per game in his last full season with the Denver Nuggets in 2009-10 and then led the league in scoring with 28.7 points per game in 2012-13.
It's hard telling if LeBron James would have won as many championships with Carmelo Anthony. The two of them certainly would have been fun to watch, though.
Stats courtesy of Basketball Reference